The train passed through small towns basking in the bright sun. I watched hikers on trails leading deep into the countryside and bicyclists on narrow two-lane roads stopping to take photographs of Lake Geneva's deep blue water.
My destination was the 5-Star Beau-Rivage Palace, a member of The Leading Hotels of the World and Swiss Deluxe Hotels and well known for its distinctive 19th century Belle Epoch exterior and its location on Lake Geneva in Lausanne's Ouchy marina.
Standing on the hotel's lake-view terrace with tall palm trees swaying overhead, I had to blink to remind myself this was Switzerland. Large canvas umbrellas protected against the bright afternoon sun. Waitstaff served snacks and beverages outside on the patio lounge. If the towering Alps weren't across the lake, I could easily have believed I was in the south of France.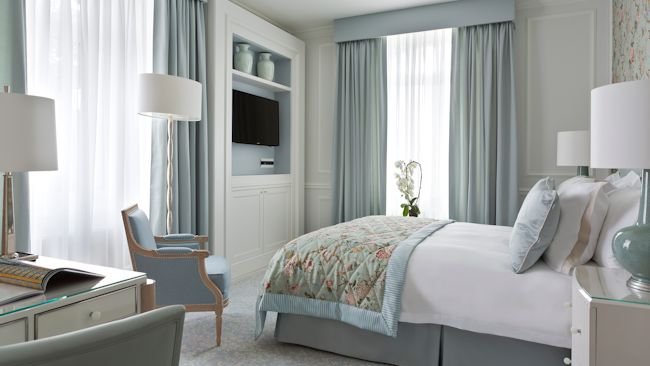 19th Century Elegance, 21st Century Comfort
Originally built during the golden age of 19th century European hotel construction, the Beau-Rivage Palace was designed with elegance in mind.
Many guests who return to the Beau-Rivage Palace year after year request traditional Swiss style rooms where the muted blues, forest browns and custard white colors, polished wood trim and hand woven tapestries on the wall reflect the region's French culture.
Looking to the future, the hotel upgraded the public spaces and renovated many of the rooms. Designer Pierre-Yves Rochon was given a mandate to modernize and yet protect the hotel's "classic story." Pursuing his renovation within a context, Rochon started with the color scheme. All the remodeled rooms share an elegant use of brown in its many hues and textures.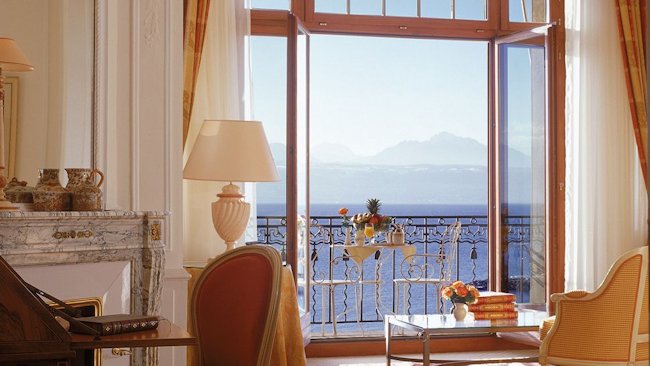 My renovated room had a balcony with a view of the lake, a sitting area, desk and king sized bed with a plush comforter, sheets, pillows and blankets from the Quagliotti collection. In addition to the pillows already in the room, from the Art of Sleep menu, I could have requested any one of four pillows (anti-stress, beauty, comfort and synthetic) and an atomizer of Eau Égyptienne Cinq Mondes tension relieving spray.
My plan for the weekend was to read, explore the old city and walk along the lakeside promenade. If I changed my mind and wanted to go through an exercise program, the hotel provided plenty of opportunities to work out in the fitness rooms, tennis courts and indoor-outdoor and Olympic sized pools.
Massages and beauty treatments were available in the Cinq Mondes Spa where small details delight like the rose petals sprinkled in the lounge adjacent to the treatment rooms.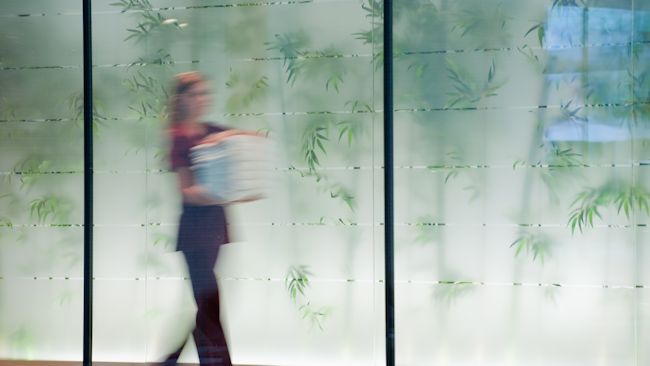 The Spa sells quality organic and cruelty-free beauty and health products. Personalized massage programs are offered in half a dozen massage rooms including a suite for two. Designed to give a couple a shared relaxation experience, there are two massage tables, a Japanese wooden tub for two with color therapy, a hammam (steam) room and a private garden where a meal can be ordered from the hotel.
In the summer, swimmers, paddleboats and sailboats populate the cool blue waters of the lake. On the terrace, plush chairs and sofas are arranged into outdoor salons where guests lounge and enjoy the weather. Smartly tailored waitstaff serve cold beverages, cocktails, aperitifs and snacks.
During the winter, the terrace is closed but because this part of Lake Geneva benefits from a micro-climate, the weather is remarkably temperate so guests can continue to enjoy cocktails and coffee outside.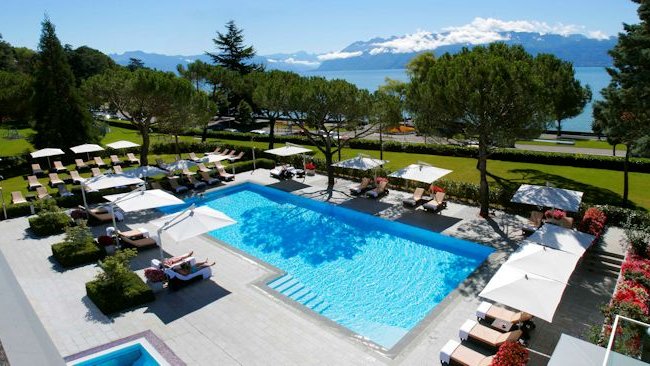 Enjoying the Areas Around the Hotel
The old city is five minutes from the hotel by cab or subway. Medieval Lausanne has an intimate feel but is large enough to have good restaurants, outdoor cafes, coffee shops retail stores, art galleries, museums and music venues.
The concierge desk helps guests explore the city and surrounding areas. Chef concierge Sylvie Gonin leads a friendly staff that can suggest tours of the area including visits to the Olympic Museum, Lausanne Cathedral, the villa of the Hermitage Foundation in the hills above town and the museum district in the old city's Place de la Riponne.
Lausanne is centrally located for a variety of excursions. To explore lakeside towns, the concierge desk can arrange day trips on boat cruises that explore nearby Vevey, Montreux and Chillon Castle.
Swiss Rail is another easy way to visit the villages along Lake Geneva. A short train ride from the hotel brought us to the charming Auberge du Raisin in Cully, where we had a lunch of rotisserie chicken, a garden salad and a tasting of wines produced from the vineyards we passed on the train trip.
Those terraced vineyards are part of the UNESCO World Heritage area called the Lavaux, which stretches between Lausanne and Montreux. Visits to wineries can be arranged by the concierge desk. Gonin's staff can also coordinate longer day trips to the mountains, other lakes in the area and towns on the French side of Lake Geneva.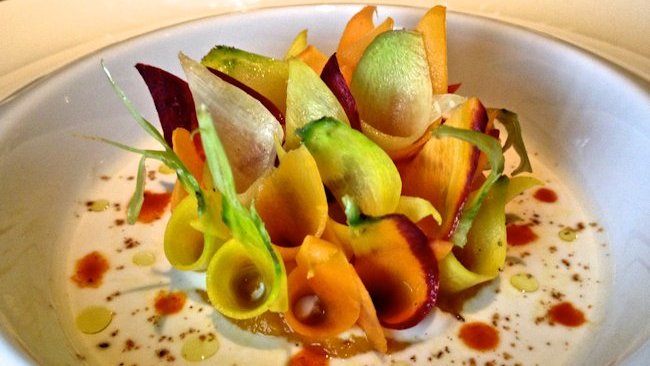 Dining Well in the Hotel
The restaurants in the hotel offer culinary choices ranging from the three-Michelin-star Anne-Sophie Pic to the intimate Miyako sushi restaurant. Two of the restaurants—the Lobby Lounge and Café Beau-Rivage—have adjoining bars. With a view of the lawns and Lake Geneva, a daily buffet breakfast is served in the sunny atrium La Terrasse.
Befitting a three-Michelin-star restaurant, the dining room at Anne-Sophie Pic was comfortably elegant. Pic is regarded as one of France's premier chefs, practicing a culinary art variously called molecular gastronomy or modernist cuisine. Not to everyone's taste, for diners wanting an adventure, the experience will be extraordinary.
For my tasting menu the amuse bouche drew a line in the culinary sand. Three orbs of color were presented on an elongated plate. Bearing no resemblance to what they were in nature, avocado, ham and mozzarella were transformed by chef Pic's alchemy into edible art.
Accompanying the meal was a wine pairing. Drawing on the restaurant's 75,000 bottle cellar, chef sommelier Thibaut Panas promised to take me on a journey to sample wines from around Switzerland.
With the amuse bouche Panas poured an Italian styled 2012 Sauvignon Blanc Ronco Bain - G. Brivio (Mendrisio-Tessin). For a contrast, his second white was done in the French style. The 2011 Salix Chenin Blanc - Louis-Philippe Bovard (Cully-Vaud), a vineyard east of Geneva, was paired with a filet of fera, a local lake fish. The minerality of the Chenin Blanc was a good counterpoint to the delicate fish, which was served in a both of Japanese green tea, Kombu and bonito flakes.
Rounding out the entrée pairings was a 2010 Lo Grafion - Cédric Flaction - Cave des Cailles (St-Pierre de Clages-Valais) with an equal blending of Merlot and Tempranillo grapes. Full bodied with a hint of barrel aging, the wine held its own with a robustly flavored petit rack of venison.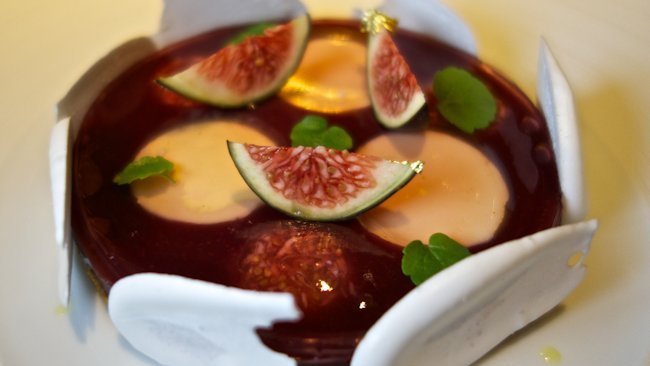 Chef Pic uses the gastronomic approach to levitate ingredients and, with a magician's skill, return them to earth as other-worldly objects. For my tasting, she transformed green, red and yellow tomatoes into acid-sweet half globes that glowed in the light and decorated a plate of turbot filets. With a serving of foie gras, she re-imagined a duck's fatty lobes as a crème brûlée topped with a foam-light grapefruit mouse.
For a salad, thin shavings of red, purple and white carrots were shaped to look like delicate lilies, anchored in a bed of carrot puree and yogurt cream.
Typical of the French style, dessert began with a savory selection of local cheeses. Not widely exported, I was happy to enjoy a sampling of organic Swiss cheeses, including slices of Tomme Vaudoise and Kree.
I would have been content to focus entirely on the cheese plate, but chef Pic creates confections that were difficult to resist.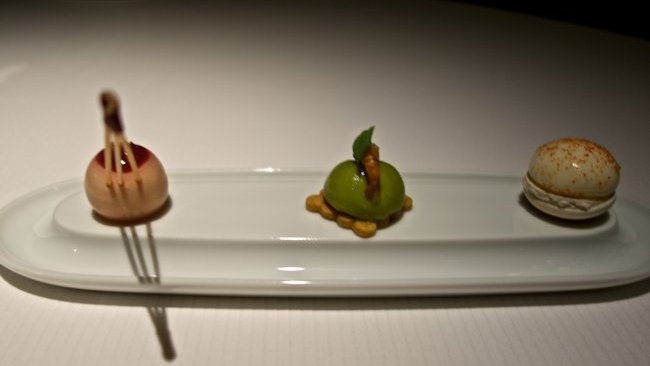 Her sweets came in many flavors and forms. Ginger flavored crumbs were sprinkled over a dice of poached pear and a smoked vanilla cream. For another dessert, looking like a crown for a child princess, wafers of meringue pressed against a thick disk of lemon bergamot gelée, topped with quartered baby figs.
And, because this is Switzerland, a plate of chocolates finished the meal. As much sculpture as candy, they were delicious.
The savory and sweet desserts were paired with a Morand Abricontine made from apricots and with a late August 2009 Ermitage Grain Noble - H. Valotton (Fully-Valais).
All the dishes and the wine pairings declared that Anne Sophie-Pic is no ordinary chef. Hers is a restaurant in pursuit of art in a hotel dedicated to elegance and service.
Beau-Rivage Palace, Lausanne (Place du Port 17-19, 1006 Lausanne (Switzerland) T. +41 (0)21 613 33 33, http://www.brp.ch/en/home.html
Lausanne is easily reached by car or by
Swiss Rail
. More information about the area is available on
www.MySwitzerland.com
.