The remodelling of the Lanzerac Spa is also underway, grandly opening its doors late 2016, making this property a bucket list destination for wine lovers and spa pampering enthusiasts alike.
Throughout the 20th Century, Lanzerac has been a glamorous backdrop for lavish parties and countless gourmet events, as well as a temporary home for the rich and well-traveled. Under new ownership since 2012, Lanzerac prides itself on offering the ultimate grande-dame experience while also providing its guests with the highest quality product and next-level luxury. A national monument dating back to the late-17th century, the Lanzerac Wine Estate is a heritage landmark on the outskirts of Stellenbosch town, set amid dramatic mountain ranges, endless rows of lush vineyards and hectares of landscaped gardens shaded by centuries-old oak trees. Combining a luxury hotel with a state-of-the-art wine cellar, the property still retains its old Cape Dutch charm and offers the idyllic scenery of a winelands escape just 50 minutes from Cape Town.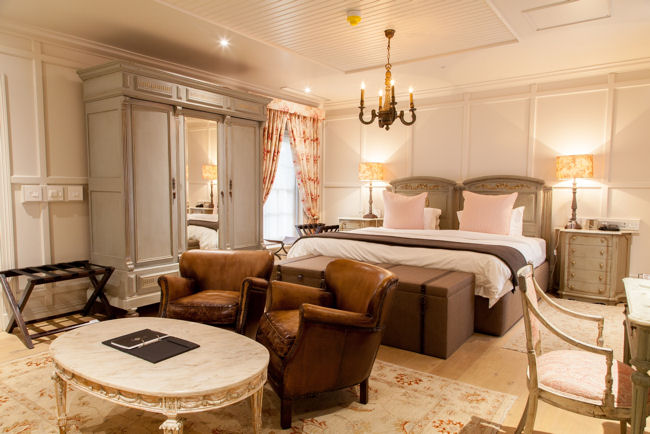 Over the past couple of years, designer Constant van der Colff has overseen the renovations and redesign to these specific projects while preserving the rich backdrop of history. No two rooms are the same and the design aims to express a sophisticated character and breathe personality. Each balances the estate's rich past and contemporary present in an eclectic mix of finishes and designs and the décor includes an extensive private collection of antique furniture and art. The spacious renovated guest suites exude luxurious splendour and feature all the trimmings expected of a five-star property: his and her vanities, rain showers and Victorian baths, three-tier mini-bars, Nespresso coffee machines, multi-media entertainment systems, super king-sized and/or ¾ twin beds and private terraces.
The working wine farm location gives hotel guests easy access to the cellar and wine-tasting center where they can embark on a sensory experience with innovative wine and chocolate pairings. The estate also offers vineyard and cellar tours. The world's first bottled Pinotage wine, now South Africa's world-famous signature variety, was produced under the Lanzerac label in 1959, and the farm has since developed a reputation for its well-crafted fine wines. At the 2015 Michelangelo International Wine Awards, Lanzerac was awarded the JF Hillebrand Trophy, giving the estate the highest accolade in Pinotage production for its 2013 Pinotage.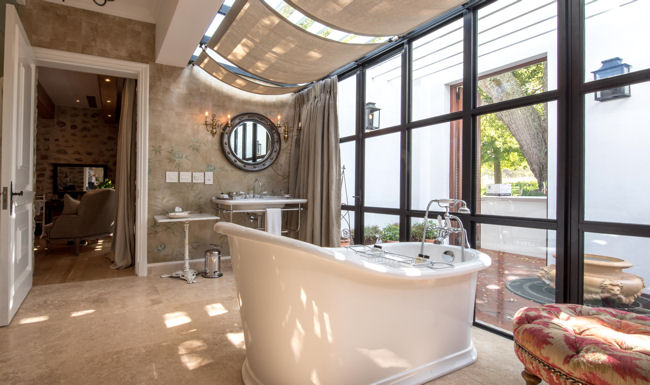 Despite its boutique size, Lanzerac Hotel has a big presence, and its wine-tasting centre, restaurants and bars also popular with well-heeled locals and tourists on Stellenbosch day tours. Food and beverage operations include:
The Lanzerac Deli: Certainly a foodie gem in the Winelands, boasting fresh artisan produce, adjacent to the Lanzerac wine-tasting area, specialising in light meals, breads, patisseries and boards to share. Offers indoor and outdoor seating.
Governor's Hall Restaurant: a quietly elegant restaurant serving buffet-style breakfast in the mornings and superb gourmet cuisine in the evenings.
Terrace Restaurant: a charming outdoor garden restaurant overlooking the historic Manor House and towering Jokershoek Mountains.
The Esquire Whisky & Cigar Bar: a chic and sophisticated lounge with large leather couches ideal for aperitifs and after dinner drinks.
Visit website:
www.lanzerac.co.za/