Entering
Las Alamandas
, the driveway is lined with canary yellow alamandas flowers that give way to verdant green lawns with palm trees and thatched palapas against the rolling surf of a blue Pacific beach. We have entered
Isabel Goldsmith-Patiño's
dream world on the Mexican Riviera that she has made a reality for a privileged few to share.
An intricate inlaid stone pathway with romantic sculpted fountains leads us to six vibrant pink and tangerine colored Mexican hacienda-style villas arranged around a central plaza with colorful bougainvillea. Three villas are beachfront and the other three are hillside with ocean views.
Our
chauffeured car
pulls up to the entrance of
Casa Isabel
, in the middle of the three beachfront villas with
Casa del Sol
, the Presidential Villa with its gorgeous infinity pool on one side of us and
Casa del Domo
with its signature pink domed roof on the other side. Three smiling staff members dressed in crisp white uniforms are waiting to greet us with cool towels and festive margaritas. We are led inside for a tour of the villa and its grounds. We are offered a key, but there is no need for room keys here, so we didn't accept it.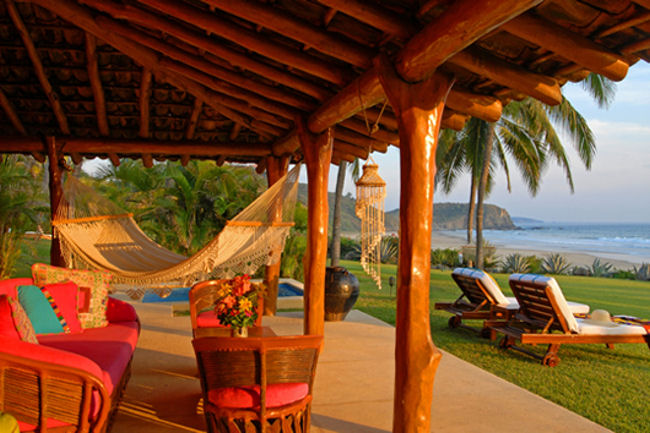 Las Alamandas offers life's simple but luxurious pleasures like sipping a margarita on your beachfront patio, reading a great novel in a peaceful hammock or dipping in a plunge pool
Our luxurious beachfront villa was previously the proprietor's private residence (thus the name Casa Isabel). She now resides in a palatial villa high on a hill overlooking the resort. Casa Isabel has an impressive double height entrance hall and includes three bedrooms. The villa is decorated with Mexican arts & crafts -- intricate clay sculptures, ornate wooden chests, and local ceramics and paintings.
The Master Suite bedroom features a king bed under a high-domed brick ceiling with romantic floral display on the bedspread and opens onto a beachfront patio with daybed, hammock and private plunge pool. The huge bathroom has double sinks in a garden-like setting and the tub is made entirely of pretty Talavera tiles with a louvered floor to ceiling window overlooking the ocean. The living room offers indoor/outdoor sitting and dining areas, coffee table books and magazines, a library of novels, and a large minibar stocked with refreshments and countless brands of tequilas. We are also welcomed with a fresh fruit plate and bright floral arrangements grown in organic gardens right on the expansive property.
This is "laid back" luxury, but some of the latest technology hasn't been overlooked such as A/C and an iPod docking station in the bedroom, Satellite TV in the livingroom and WIFI access in the resort's office and gallery areas. A large library of DVDs is available in the office and you can choose to watch a movie in the privacy of your suite or in the Media/Art Gallery with its oversized flat panel TV and plush sofas.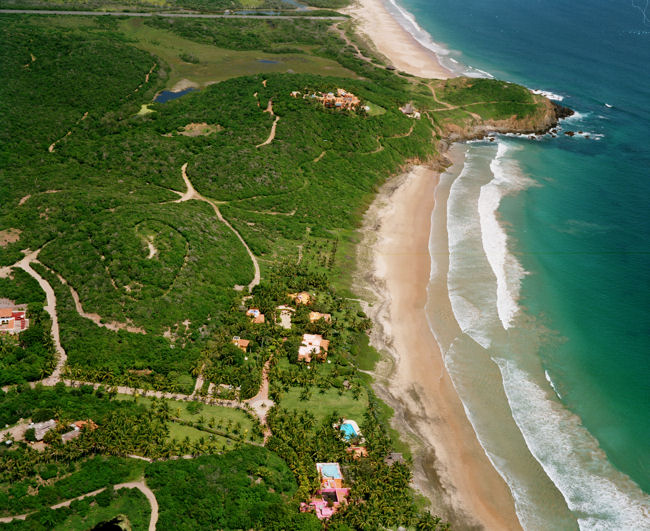 Private planes can touch down on the 3,300-foot airstrip right on the property (visible at top of photo)
The Costalegre is a remote, natural paradise that links Puerto Vallarta and Manzanillo. This 133 mile (212 km) stretch along the Mexican Pacific offers pristine nature, mountains, mango, papaya and coconut plantations, hidden beaches, bays, rivers and lagoons filled with exotic water birds, tiny fishing villages and the ultra-exclusive gem called Las Alamandas.
This secluded hideaway is reached by a two-hour drive from the airport that passes through the port city of Puerto Vallarta and then winds through Jalisco's Sierra Madre foothills and some small villages. The rural province of Jalisco is Tequila country where fields of cactus cover the arid landscape.
The drive is instantly forgotten as we pass through Las Alamandas' private gate into a tropical slice of heaven. This area enjoys an ideal "microclimate" where it is warm and sunny most of the time. June to October is considered the "green" season, but it usually rains overnight leaving you with sunny days. We're told that it can be raining in Puerto Vallarta and Manzanillo but in this pocket of paradise it will be sunny.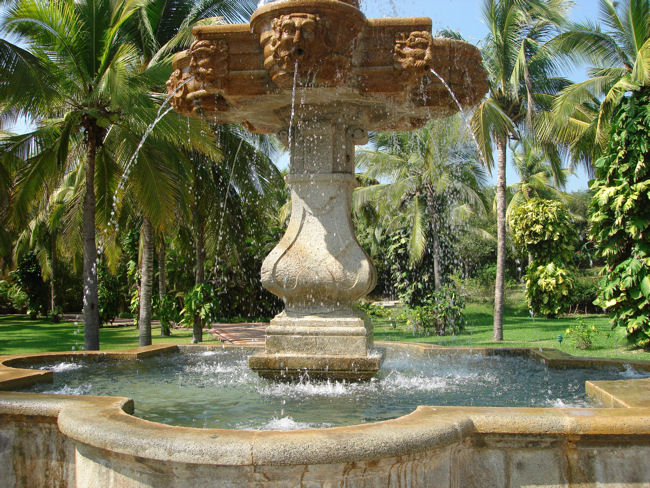 A mosaic paved pathway with a central fountain links the villas with the other
facilities of the resort
: massage palapa, hilltop gym, a charming office area, Media/Art Gallery with rooftop lounge and high-powered telescope for stargazing, boutique gift shop, tennis court, Oasis restaurant, main swimming pool and beachfront Palapa for dining and relaxing.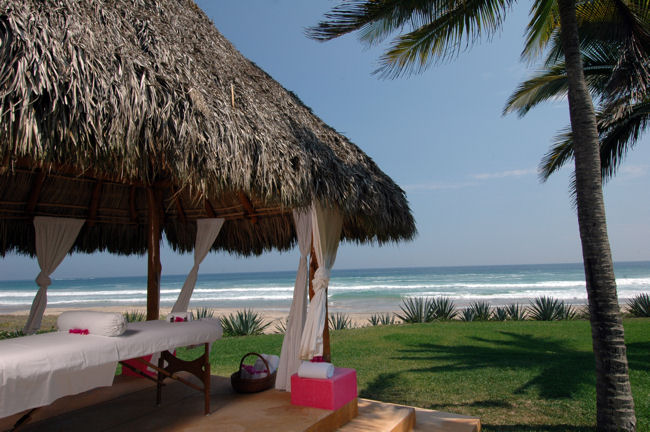 Oceanfront massage under a thatched Palapa.
We indulged in one blissful pleasure after another -- starting in the morning with coffee and breakfast delivered to our villa, then a long beach walk followed by a workout in the hilltop gym that was requested and equipped by Robert DeNiro, a frequent return guest. Then a dip in the pool before retreating to the shade of the oceanfront Palapa for lunch. After our delicious fresh meal, depending on the day, we went horseback riding on long stretches of beach or we played tennis on the court set in idyllic surroundings, followed by
oceanfront pampering
under the Massage Palapa. Late afternoons we hung out in the Media/Art Gallery checking our email or we perused the boutique for local crafts and then lazed in our villa's hammock and plunge pool until it was time for dinner.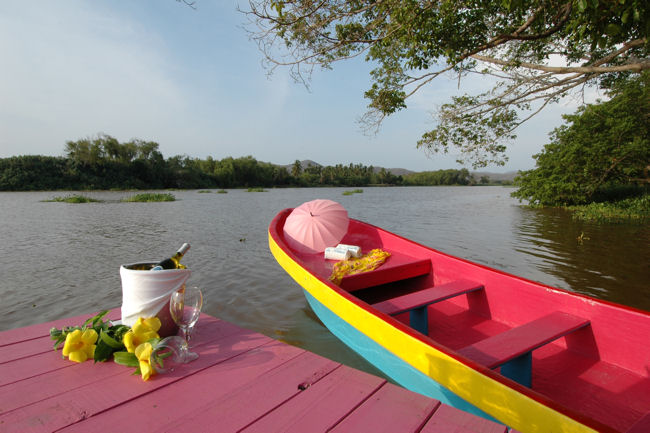 "Picture yourself in a boat on a river, with tangerine trees and marmalade skies..." - Beatles, Lucy in the Sky with Diamonds
Right on the property, you can take a boat trip on the Rio San Nicolas rich in bird life. The secluded Las Alamandas resort is surrounded by 1,500 acres (about 11 km across) of private protected land -- an
ecological preserve
where, depending on the time of year, you can view sea turtles (late summer/early fall), dolphins and whales (November to January), and migrating birds which we saw in June.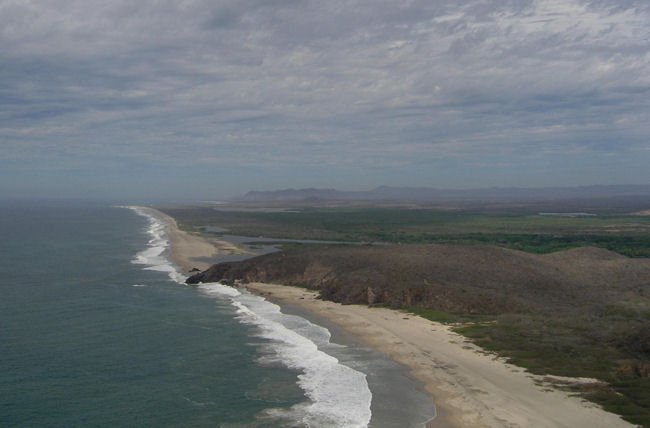 Horseback riding on long stretches of beach
Las Alamandas is not just another beach resort -- there is a palpable "power of place" here that allows you to connect with nature in untouched surroundings. The experience of Las Alamandas is not really about the activities, but rather about leisure time and re-connecting with yourself and with your partner. We felt like we had the entire estate all to ourselves and barely saw another soul.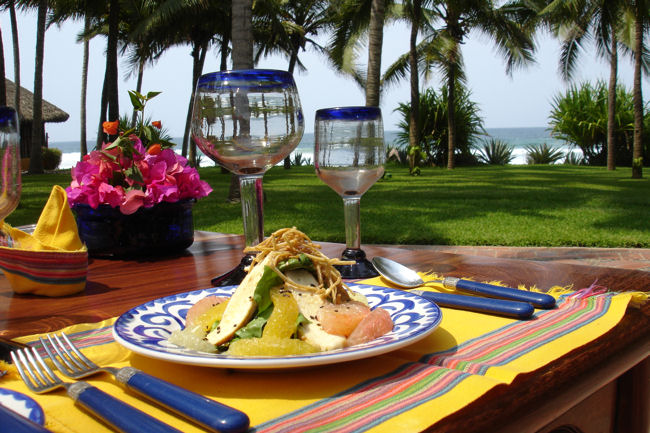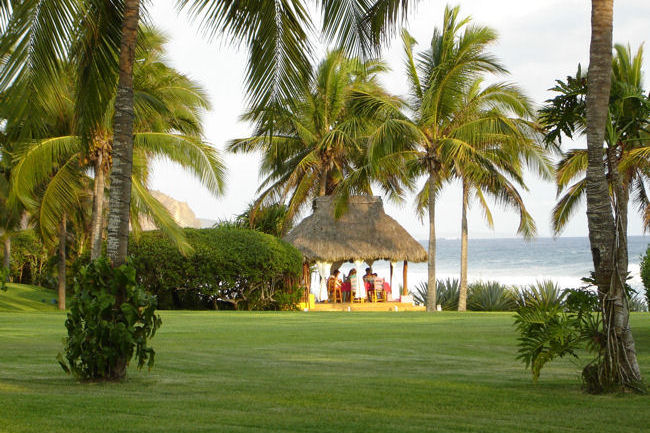 The yoga/massage palapa doubles as a private spot to share a meal.
The atmosphere is low-key, laid back with
genuine friendly service
and an "anything, anytime, anywhere" attitude. Eat under the shaded terrace of the Oasis Restaurant or oceanfront under the large thatched Palapa next to the pool. There are many secluded places to enjoy a meal such as a private picnic on an isolated beach, on the terrace of your villa or pretty much anywhere you wish.
The food is excellent, made from fresh organic ingredients grown right on the property -- succulent fruits, crisp vegetables, aromatic herbs, free-range chickens and fresh fish and seafood brought in daily from local fishermen. The menu included many Mexican specialties, as well as a selection of continental dishes. Pastries and desserts are prepared daily by the chef. On the day we arrived we were impressed when head chef Alejandro made it a point to introduce himself and discuss what we would like for dinner.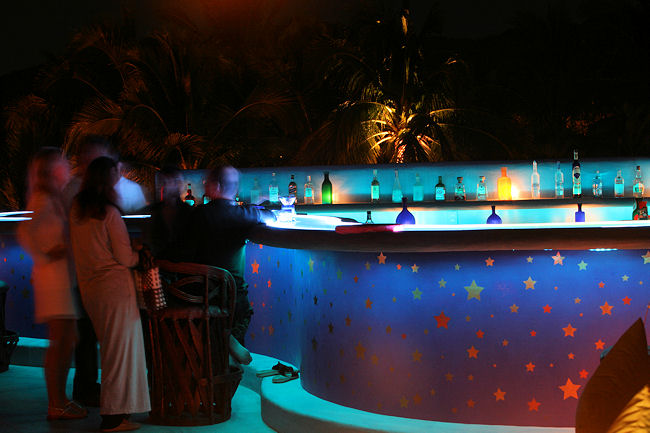 Sky with Diamonds - millions of stars come out at night
Nighttime at Las Alamandas is magical -- the dark sky lights up with millions of stars and the moonlight shines on the waves. While we were there, Mother Nature treated us to a lunar eclipse! You can have a beach bonfire or go up to the Estrella Azul ("Blue Star") Rooftop Lounge with its sexy, curvy bar that glows in a kaleidoscope of colors. The rooftop lounge merges with the sky as you lie back amongst oversized cushions with the sound of waves and an ocean breeze softly swaying the palms. There is a high-powered telescope to explore further -- we saw shooting stars!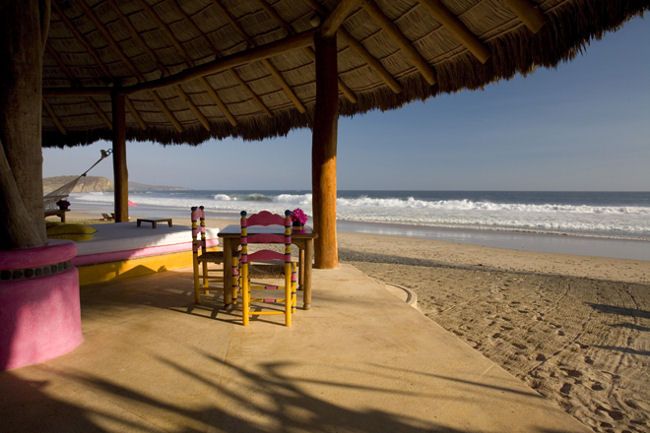 Hotel Profile:
Las Alamandas
Read our Blog entry about
Las Alamandas
Visit the
Las Alamandas
website