By definition, Napa Valley could well be described as an anachronism. The region's beloved liquid commodity is as old-school as it gets, but is now often made with state-of-the-art computerized equipment. Local chefs have re-discovered the simple appeal of freshly harvested vegetables and fruits in their inventive dishes and crafted cocktails. And a fusion of old and new is redefining luxury hospitality in the form of the Valley's newest resort hotel,
Las Alcobas
, a St. Helena gem fronted by an historic mansion that belies the contemporary touches found within.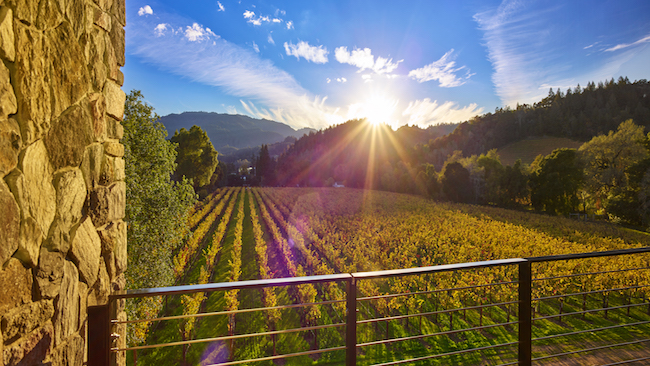 The three-acre Las Alcobas property, located just beyond Saint Helena's quaint downtown district, is anchored by the 100-year old Georgian-style Acacia House, a sparkling white grand dame mansion with wrap-around veranda that serves as the heart of the resort. But, most of Las Alcobas' 68 rooms are housed in three ultra modern buildings that surround the property to take advantage of vineyard and creek views. This marriage of old and new creates an enchanting aura where every stellar vantage point is purposefully framed. The Acacia House veranda commands a Valley view. A central lawn, small pool, and large fire pit face the Spring Mountain District AVA on the eastern slopes of the Mayacamas Mountain range, and a cutting-edge fitness center overlooks an Oak tree-studded creek.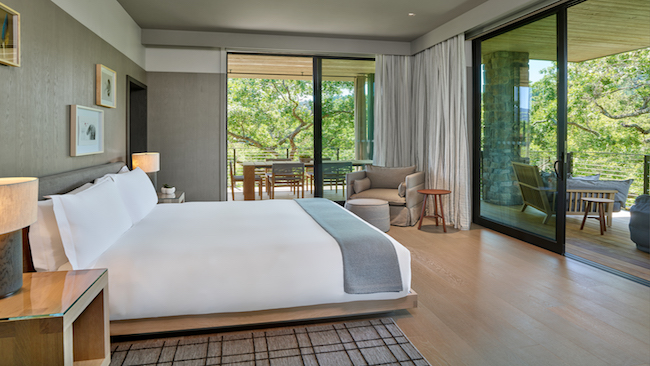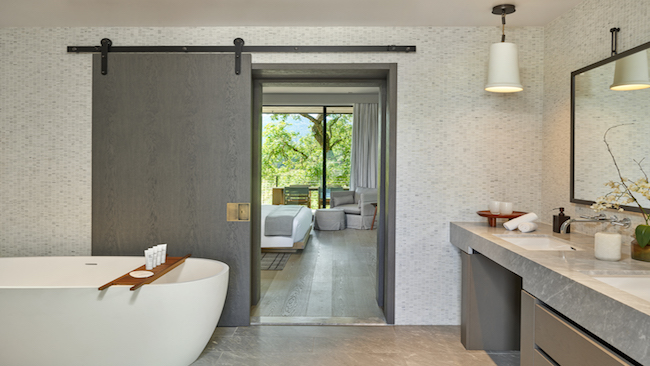 ROOMS:
The adults-only Luxury Collection Hotel - the first luxe resort to debut in the area in years - shares its location with historic Beringer Vineyard, and 40 of its sumptuous guest rooms are within arm's length of the vineyard vines. Rooms at Las Alcobas - each featuring Rivolta Carmignani Italian bedding and plush robes - are a spacious minimum of 450 sq. feet. Suites are an expansive 1,500 sq. feet with wrap-around verandas – some with outdoor soaking tubs. Every aspect, from linen upholstered headboards, birch ceilings and oak floors that integrate into the walls, is custom designed by international firm Yabu Pushelberg. Well more than 50 shades of gray have been harnessed in the overall aesthetic. Carbon, charcoal, dove, etc. are utilized in every aspect, from furnishings, to wall paint, to custom Heath ceramics serving ware. The hue variations are disarmingly soothing. Spa-like marble bathrooms feature large soaking tubs, stone carved sinks, and full sized local Napa Soap Company bars. The sodas, waters, and organic treats found in each mini-bar are complimentary; an in-room selection of wines (for purchase) is offered.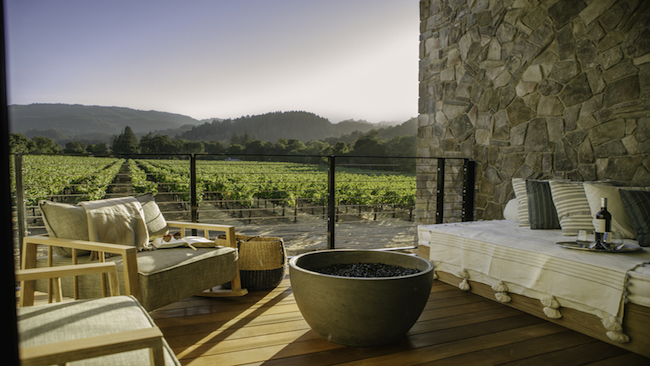 And though the rooms are indeed inviting, it's the private outdoor balconies that truly beckon. Every room boasts its own, and each features an easily operable gas-lit fire pit. Whether early morning or late at night, the glow and warmth of a flickering flame stirs the soul to create unmatched ambience. Cuddle up with a wool throw blanket and add a mimosa or glass of local cab to further elevate the experience.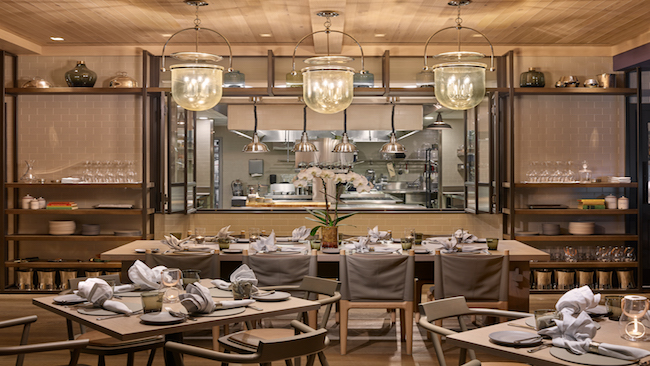 ACACIA HOUSE:
Celebrated Bay Area chef and
Top Chef Masters
winner Chris Cosentino oversees the resort's rustically elegant 50-seat
Acacia House
restaurant, a must-stop for tourists and a favored hangout for locals. The warm and welcoming dining room (also in hues of gray) is elegant yet casual. Every detail, from the steak knives to the antique etched bar ware, has been thoughtfully curated to once again fuse the traditional with the contemporary, a feat well illustrated by Cosentino's 'crudite' offering – a delightfully simple bowl of baby vegetables theatrically and dramatically spiked into a mound of crushed ice and served with a side of house made sunflower seed hummus.
Cosentino's menu changes regularly; he utilizes wine country's seasonal bounty to showcase a refined twist on classic beef, fish, and poultry dishes. Creative vegetable offerings more than satiate vegetarians. All flavors are bold and often unexpected - a dab of caviar here, a serrano chile slice there. Desserts, such as the éclair trio with differing fillings, are as beautiful as they are delicious. And though this is wine country (the wine list highlights local producers and provides a nice variety at varying prices) you'll want to kick off your meal with a Las Alcobas margarita – a lemon rather than lime based recipe borrowed from the hotel's sister property in Mexico City, topped with a fluffy salted foam that substitutes for a salted rim. And don't miss breakfast (a continental offering is complimentary with each stay) with bountiful house made pastries and a delectable Greek yogurt parfait.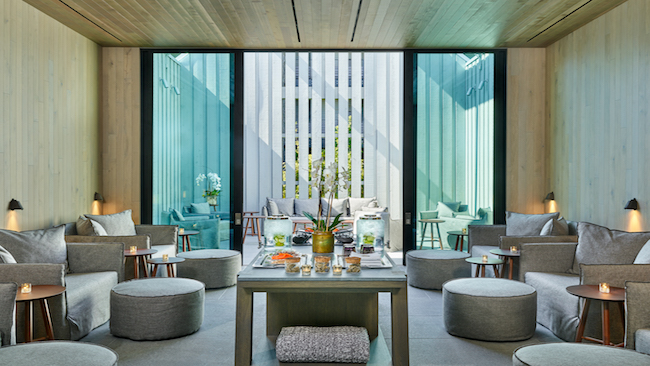 ATRIO SPA:
In keeping with the resort's fusion of contrasts, the exquisite
Atrio
spa features ancient treatments within its contemporary environ. Unique Asian healing therapies and techniques with roots in China, India, Indonesia, and Thailand, and for which therapists undergo intensive training, are menu highlights. These treatments, such as the shirodhara warm oil therapy and abhyanga massage, are found nowhere else in the Valley. Nor is Atrio's aroma blending experience, a highly personal indulgence led by an aromatherapy expert who guides guests towards a signature scent. The blend is then utilized during massage treatment and a small bottle is provided for take home – a wonderful way to extend your Las Alcobas experience. (Blends are kept on file and may be reordered in oil, cream, or lotion form at any time.) Atrio utilizes superlative Naturopathica organic skincare products inspired by nature and drawing from traditional healing practices.
Atrio's four votive-lit single treatment rooms and a couple's treatment suite are flanked by the central Sanctuary, an indoor/outdoor respite where hibiscus tea and healthful treats are offered. A co-ed steam room and outdoor showers are featured, and Atrio guests are also invited to utilize the 24-hour on site fitness center and adjacent fire pit and relaxation area.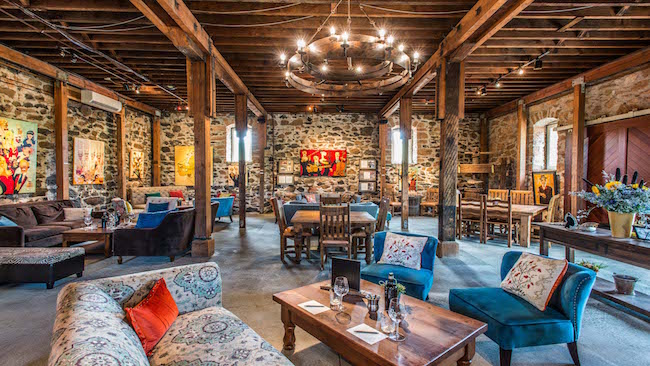 LOCAL ACTIVITIES:
No visit to Napa Valley is complete without a winery tour or two and once again, our recommendations merge venerable with modern. These two esteemed Saint Helena wineries present the best of Napa Valley history and ingenuity.
Ehlers Estate
, originally founded in 1886, continues to produce 100% estate grown, Bordeaux style varietals from its 42 historic acres. Offering one of the most welcoming and hospitable tasting room experiences in the Valley, Ehlers is a hidden gem. Enjoy a glass of their outstanding merlot or cabernet sauvignon while strolling amongst ancient olive trees. Peek in the windows of the original farm house, and take-in the sunshine from the large outdoor garden patio. Ehlers practices bio-dynamic farming and all of their wines are 100% organic. Winemaker Kevin Morrisey and vineyard and cellar master Francisco Vega use labor intensive, hand-on techniques to produce luscious wines beloved by those in the know. Tastings daily by appointment only.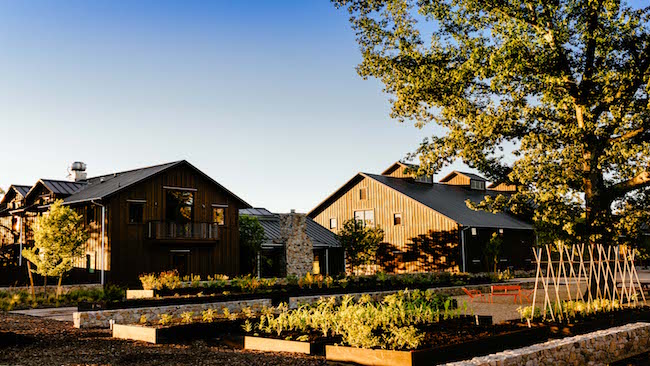 Wheeler Farms
is the newest venture from esteemed vintners Bart and Daphne Araujo. When they received an offer they simply couldn't refuse for their former prized Calistoga winery and vineyard, Eisele Estates, the Araujos sought a new project, and purchased the historic Wheeler Farms. Situated on 11.5 acres and framed by Mount St. Helena, the Mayacamas mountain range, and the Silverado Trail, Wheeler Farms, or "Araujo 2.0," to which it's playfully referred, features an organic and biodynamic farm with re-planted vineyards, orchards, gardens and chickens, and state-of-the-art custom crush winemaking machinery. In addition to producing their own Wheeler Farms and Accendo labels, the Araujos welcome a collaborative of winegrowers who utilize their facility and winemaking team to create meticulously designed, ultra premium wines. By appointment only tastings, held in the graciously appointed hospitality house and on the outdoor patio, are worth a little pre-planning.