Loving, affectionate, playful and delicate, Kléopatre was immediately adopted by Fa-Raon, the palace pasha himself. She has become the ideal mate for Fa-Raon, who had previously been the only feline at Le Bristol. Fa-Raon and Kléopatre enjoy lounging in the hotel's corridors and sumptuous lounges and strolling through the French gardens.
This friendly female cat plays along with the games of tiny toddlers and is happy to be stroked by everyone, purring all the while. Her arrival heralds an increase in the Le Bristol family and bears witness, once again, to the importance of family values generated by the palace hotel.
"I am delighted that Kléopatre will be keeping Fa-Raon company," said Didier Le Calvez, CEO of Le Bristol Paris. "Her gentleness and serenity will benefit him, as well as our guests and staff. From now on, both cats will watch over the exceptional destiny of leading Parisian palace hotel Le Bristol."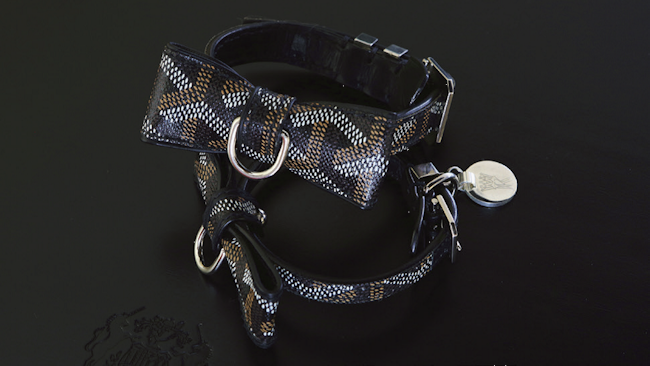 Prestigious gifts for Le Bristol's cats
For Fa-Raon's third birthday last year, Maison Goyard presented him with a sumptuous "Oscar" bow-tie collar in black leather and canvas, as well as a bowl-holder made of poplar wood covered with canvas sporting a herringbone motif and leather trimmings. It had been customized with his name in green lettering with fuchsia-colored shading to match the signature colors of Le Bristol.
As with Fa-Raon, this prestigious company will also give Kléopatre an "Oscar" bow-tie collar with a customized silver medal created by Christofle.
A trunk maker founded in 1853, Maison Goyard has developed a range of refined, customizable accessories for pets available in several colors, including collars, leashes and other accessories.
Christofle, the icon of the French art de vivre and a specialist in cutlery, the decorative arts and jewelry, embodies silversmith expertise. Christofle collaborates with such famous artists as Andrée Putman, Martin Szekely, Ora-Ito, Marcel Wanders, Jean-Marie Massaud and more recently the graphic designer duo Ich&Kar who created the "Royal" lettering used on the medal created for Kléopatre.
Finally, Kléopatre and Fa-Raon will have the immense pleasure of having their Le Bristol apartment decorated by the artist Renk. This world-renowned street artist will cover the walls with the word "cat", written in different languages, as well as the names of these two adorable cats.
Visit website:
http://www.lebristolparis.com/eng/welcome/