Le Meurice continues to capture the elegance of eighteenth century design, and designer, Charles Jouffre has risen to the challenge to create the look of a royal residence in the Pompadour Suite. Overlooking Rue de Rivoli, the Pompadour amalgates three suites and is dedicated to Madame de Pompadour, a patron of the arts and a symbol of femininity and passion, tying closely to the historic court of Louis XV and embodying all of the values which define Le Meurice's own identity.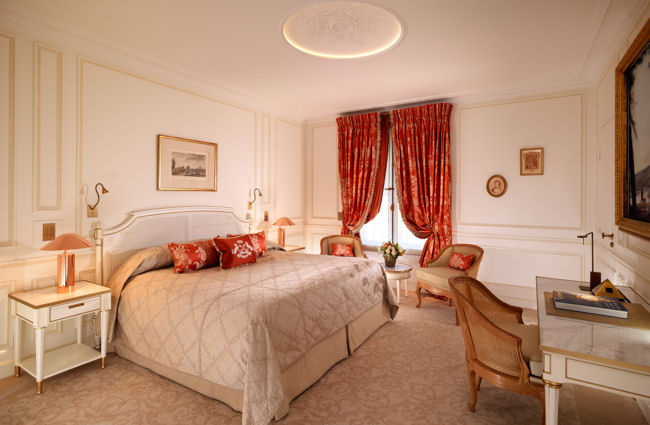 Design
Charles has focused on traveling back in time, while incorporating the history of that period into the structure of the furniture, the symmetry of the room and everything in between.
This style is epitomized by the collaboration with Prelle on the suite's silk textiles. Based in Lyon since 1752, its workshops have preserved the looms used at the time, which enabled the production of the stunning fabric surrounding the suite's windows. This sparkling damask defines the harmony of this private space and uses light to create a sublime interplay of reflections between its shades of gold and raspberry.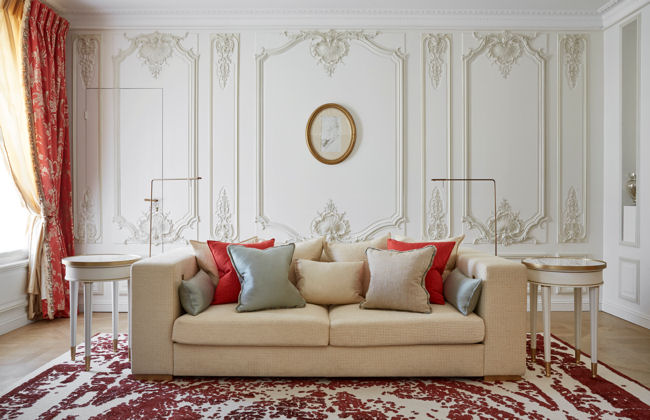 Le Salon
Le Salon is considered to be the suite's opening act, where Charles has incorporated solid oak Versailles parquet, Regency-style wood paneling, hidden doors, and sophisticated chandeliers all into a symmetric work of art that captures the attention of guests as soon as they enter the room. Curtains with colors of beige, rose, orange and fuchsia tones allow the natural light in the room to compliment the simplicity of the room's décor. The pastel tones alongside the luxurious fabrics bring all three rooms to come into harmony with one another. All three rooms in the Pompadour Suite are in harmony: the pastel tones of the paneling work with the luxurious fabrics, the rose copper bedside lamps form an unconscious link with the work of Philippe Starck and the ceiling rose reaffirms the character of the 18th century décor.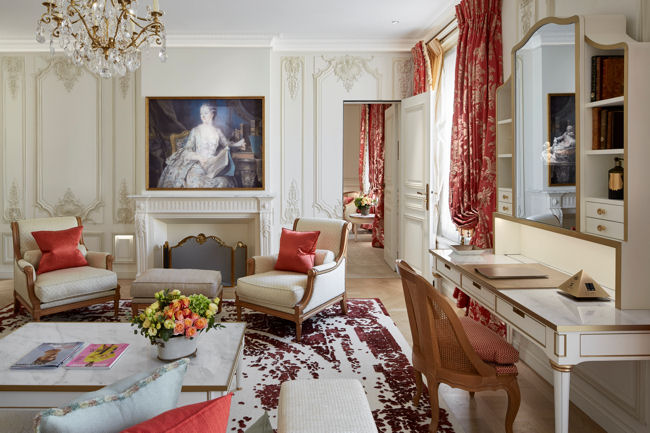 Artwork
The subtle dialogue between classic and modern eras is shown in the suite through eighteenth-century artwork. The notable pieces include a reproduction of the bisque porcelain titled Le Dejuner, and a portrait of Madame de Pompadour herself in front of her château. The incredible works of ark evoke magic lanterns, which were very popular at the time.
Technology
The Pompadour Suite's designers drew inspiration from a jewelry technique, which consists of hiding a piece's setting in order to show only the sparkle of its precious stones, when installing invisible, yet omnipresent, state-of-the-art technology. There is complete soundproofing, televisions are concealed behind reproductions of paintings, switches control lighting with maximum precision and complete darkness can be achieved with a remote control. The Pompadour Suite was created with a desire to offer a reinterpretation of eras, styles and expertise in order to showcase timeless elegance while delivering the ultimate in modern comfort.
Visit website:
https://www.dorchestercollection.com/en/paris/le-meurice/