A hiker's paradise - that's Liechtenstein. It nestles cozily between Austria and Switzerland, a principality that, in 2006, celebrated 200 years of sovereignty. It is one of the smallest countries in Europe, comprised of just 11 regions and 5,000 inhabitants. I had long harbored a desire to visit this tiny country with its astonishing landscape of mountains, gorges, Alpine forests, crystal streams surging down craggy hillsides and peaceful valleys below. Well, here I was and eager to get started seeing sights and experiencing the country I'd visited only in my imagination. So, why this feeling of anxiety and unease? Could it be that as I gazed skyward at the sheer height of the Alps surrounding me, a little voice inside said, can you do it? Sure, I'd hiked before, but these formidable-looking peaks that loomed above would be a challenge. To make matters worse, the group I was traveling with all looked fit as fiddles and ready to tackle any adventure. Would I be able to keep up? As it turned out, it was all good. Better than that – it was perfect. I may have lagged behind the group some of the time, but I came to realize that to just walk was a great form of enlightenment - of my surroundings, my emotions and my feelings - no matter the pace. After the first day's hike, all trepidation gone. Bring it on!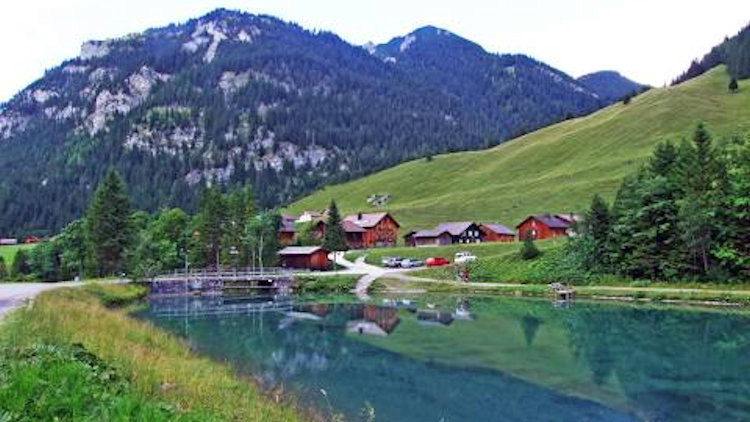 The Hike was Reward Enough
One special hike was from Vaduz, the country's capital, to Malbun from the flat tracks along the banks of the Rhine (the longest river in the country), through marked trails with thick pine forests and wild landscapes peppered with rare orchids. We stopped for lunch at the Galina Falconry Center whose specialty was a delicious Tyrolean dish called kasknopfle, a kind of spatzle made with flour, butter and cheese. After lunch there was a performance by falconer Norman Vogeli and his birds. A no-nonsense looking peregrine falcon took off, circled majestically just a few feet over our heads at 185 mph to land on the falconer's glove and happily begin munching on his very own lunch. Mr. Vogeli explained the art of falconry and its history, making this event informative as well as fun. In addition to the Birds of Prey show, the Center organizes Eagle Adventure Hikes with the "King of the Skies," the Golden Eagle. Back on the trail I was told that the tourist board rewards walkers with bronze, silver or gold pins when they clock up miles on these paths. As I completed my hike down the mountain to Triesenberg, I kept waiting for someone to hop out from the trees and pin one on me. No such luck.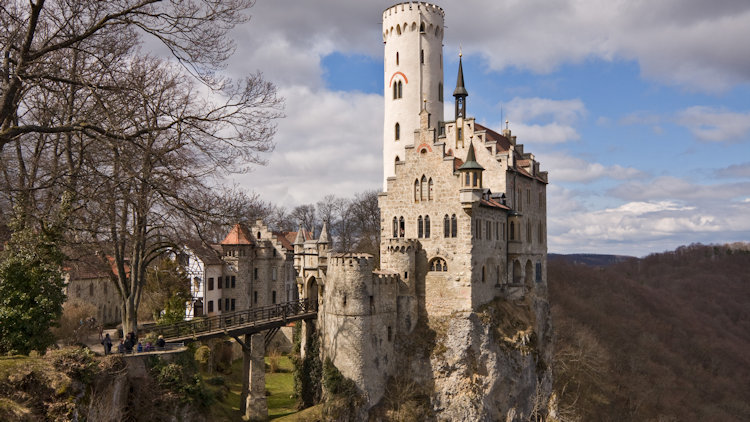 This Castle is a Home
Another day we hiked up to Vaduz Castle, which is actually a 12th-century medieval fortress and has been the residence of its Princely Family since 1938. The castle is the most prominent landmark of the town, a legendary pile that can be seen from all vantage points and certainly one of the few castles where a real prince actually resides.
A world of High Finance
Liechtenstein is, of course, known for superb hiking, but there's much more to the country. It is an attractive business location and over the course of the last many years, it has become a modern, innovative state. In the services sector, it is largely the country's banks and trusts that have helped it to achieve a high standard of living; when it comes to manufacturing and industry, Liechtenstein specializes in high-tech products. There's also a vibrant cultural scene in the center of Vaduz - impressive modern and traditional architecture as well as fine works of art and museums worthy of note.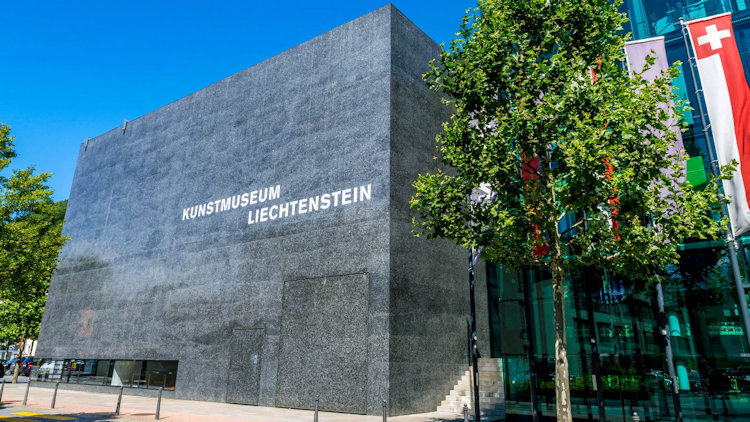 Home Is Where The Art Is
Imposing and striking, the Vaduz Parliament Building has been home to the MPs of this country since 2008. The Munich-based architect Hansjorg Goritz has designed a stone-roofed building as timeless archetype for the legislative assembly. Voila! A landmark was born. There's a three-storey long house with offices, conference rooms and a terrace; a two-storey, high house with a distinctive pitched roof and an ajoining house that has glazed brick outer skin (more than a million bricks were used in the project). These buildings are sited at the base of a steep slope in the very center of Peter Kaiser Platz. We were lucky to see the buildings at night when they were ablaze with light, shimmering and seeming to float.
We visited the Kunstmuseum with its world-class collection of art from the nineteenth century to the present. Particularly outstanding was its sculpture collection. As I wandered the museum's garden, I came upon one of my favorite artists, Fernando Botero and his bronze Reclining Woman. Known for his monumental-sized works meant to be displayed outdoors, this beauty was the epitome of sensuality and fertility. In a shaded alcove, Herbert Albrecht's bronze Standing Figure, a commanding female form, was a virtual corporal landscape in this pretty garden.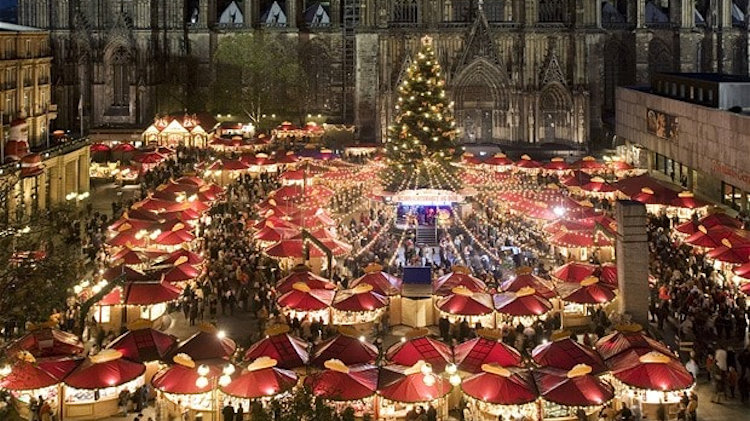 Holiday Time
Each December Vaduz hosts a splendid Christmas Market. It's held in the main square in front of Town Hall. This market is one of the largest in Europe with over 100 booths that give visitors the chance to stroll through pictursque Old Town and select from novel hand-made goods. And what Christmas Market would be complete without warmed mulled wine and traditional snacks, the cherry on top of this holiday festival!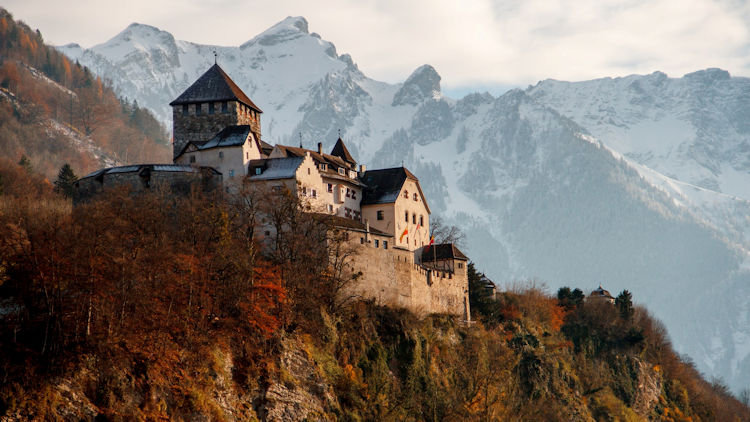 Fact or Fable
Liechtenstein has a long tradition of legends and fables which were passed on from generation to generation before being written down in the mid 19th Century. Based on themes traditional to Alpine countries, some dating back to the time when gnomes and witches roamed the land, I was told a particular favorite tale of the Guschg Herdsmen's Doll. It begins very sweetly but the ending is jarring to say the least. I'll leave that for you to find out from a local when you visit. And visit you shall because the kind and welcoming folks of Liechtenstein are waiting to introduce you to their charmed and captivating land.
If You Go:
Liechtenstein Tourist Board www.tourismus.li