The Vanderbilt, Auberge Resorts Collection, a former Newport, R.I. mansion turned storied 33-room luxury resort, is a vibrant social hub for guests near and far. Delivering revived glamour to all public spaces, including the lobby area and all food and beverage outlets, The Vanderbilt's reimagination keenly propels the mansion into a new era, bringing an entirely unique and lively atmosphere to downtown Newport's legendary setting. Redefining the concept of residential richness, the renovated property was conceived by design collective, SWOON, and celebrates the mansion's illustrious history and charm as well as its downtown sensibility, while simultaneously incorporating a sense of warmth, wit, and approachable elegance.
With a new gastronomy and mixology program at the forefront, The Vanderbilt unveils a fully reconceptualized signature restaurant alongside new menus and eye-catching designs at the resort's three additional dining destinations. Renowned beverage executive Maxwell Britten has joined the team as Chief Cocktail Curator, while James Beard award-winning chef April Bloomfield has bestowed her culinary expertise on New England's most stylish getaway, curating a selection of elevated pub-inspired dishes. Together, the artful redesign and exclusive offerings and amenities create an inspired interpretation of modern splendor that sets a new standard for luxury in the destination.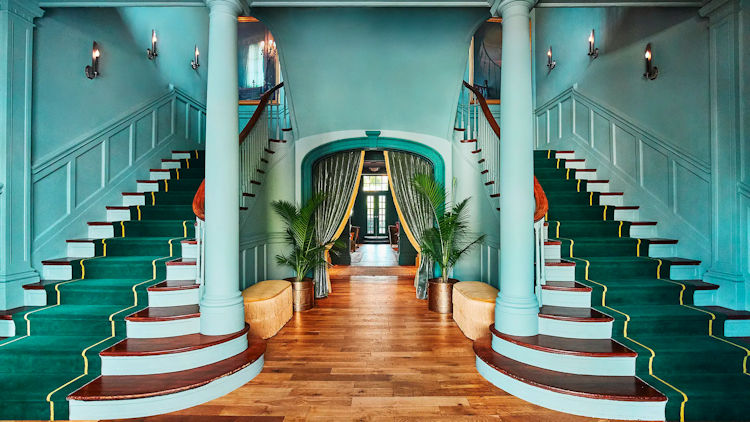 A Newport Jewel Reborn
Positioned as an unconventional Georgian-style home in downtown Newport, The Vanderbilt, Auberge Resorts Collection's transformation pays homage to its fascinating history and its original builder, owner and namesake, Alfred Vanderbilt. Expertly blending early American-era layers with a color-rich and witty spin, the revived aesthetic embraces the cinematic spirit of the mansion and creates a transportive destination with unexpected discovery at every turn. Elements of curiosity can be found throughout as a nod to Alfred's passion for exploration and travel. SWOON has reimagined the historic property with a commissioned series throughout the hotel by photographer and artist Maxine Helfman, while introducing new and vintage furnishings, a mix of woods, dramatic fabrics, custom hand-drawn wallpaper, and a rich, saturated color palette throughout – somewhere between a cinemascope movie set and a swanky private club. From the dramatic lobby area, which purposefully replicates a foyer of a private home, to the Library that showcases a spectacular gallery wall featuring antique portraits, travelers and Newport locals will be delighted by the resort's cool yet elegant sensibility.
Coastal Culinary Revamp
The property's beloved signature restaurant has been reborn as a brand-new culinary experience, The Dining Room at The Vanderbilt, which introduces a selection of seasonal dishes from acclaimed chef April Bloomfield. Leaning into Alfred Vanderbilt's love of outdoor pursuits, the restaurant has been transformed into a 1920's sportsman-inspired epicurean concept with an elevated tavern design and fare. A native of Birmingham, England, Bloomfield has owned and operated some of the country's most lauded restaurants, earning a James Beard Award for Best Chef in 2014, and also served as the the chef-in-residence at Mayflower Inn & Spa, Auberge Resorts Collection in Washington, Conn. Bloomfield crafts select dishes for the idyllic coastal retreat that tap into her former urban-pub days while simultaneously paying tribute to the seasonal, local bounty of Rhode Island. The forward-thinking menu of approachable, New England classics includes signature dishes such as smoked salmon with duck fat potatoes, rabbit braised with vermouth and Bloomfield's take on Rhode Island clam chowder.
Located near the lobby, The Library is a sumptuous Doris Duke-inspired parlor that has an urbane, cinematic feel, with walls saturated in a rich palette of muted greens and blues. The lounge, which serves light bites and refreshments, is filled with a clever mix of artful found objects, mysterious and moody old-world still lifes, custom sculptures, hand-drawn wallcoverings and classic patterns rendered in unexpected ways. Here, guests will also uncover the parlor's hidden honor bar, providing yet another whimsical moment for visitors to the mansion. Beneath the scenic wallpaper, a secret door can be found to a coral-coated liquor cabinet, stocked with thoughtful provisions. The Conservatory plays host to breakfast, lunch and afternoon tea in a stylish new setting. The eatery's interiors are verdant and feminine, featuring reclaimed European marble checkered floors, ample foliage, sculptural rattan furnishings and graphic textiles.
In the warmer months, the restaurant's beautiful Garden Terrace is surrounded by lush planting and is open to al fresco dining. The seasonal patio offers a new fire pit seating area with electrifying cocktails and boozy popsicles infused with fresh juices and botanicals, exclusively created by the resort's resident mixologist. Newport's best-kept secret, the acclaimed Roof Deck, has also been refreshed with a new bar and furnishings, offering the best viewing spot for year-round sunsets over the harbor. Visitors can now order from the deck menu, which features flavorful and approachable dishes, from a selection of local cheeses and homemade chips to oysters and lobster rolls.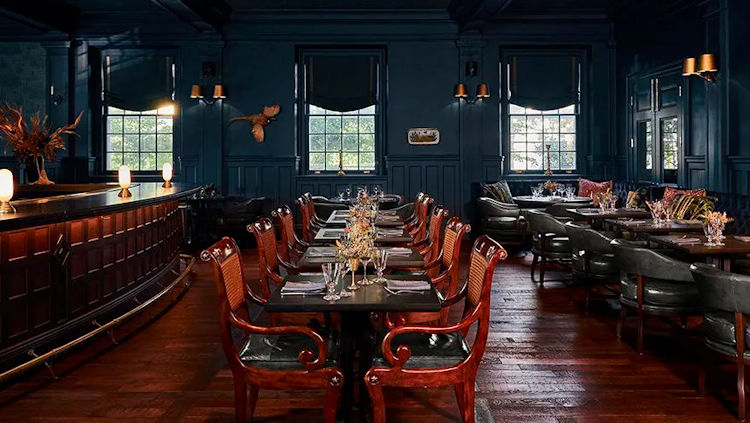 Sophisticated Libations
In tandem with the renovation, the resort's cocktail program has also been revitalized, transforming the Mansion into Newport's newest social hub. Chief Cocktail Curator, Maxwell Britten, has created a menu inspired by 19th century and modern-day Newport, including classic cocktails that have been influenced by the property's notable history and the destination's historic landmarks. Britten brings his wide-ranging capabilities, creativity and experience in the New York beverage industry to Newport, formerly holding the title of Bar Director at the James Beard award-winning restaurant Maison Premiere. The one-of-a-kind menu playfully alludes to the area's bygone days, when Newport's Gilded Age mansions played host to extravagant parties. Libations take inspiration from regional mainstays such as The Belcourt, an elevated take on the Greyhound cocktail, or the Turkish Espresso, which pays homage to the voracious local demand for a refreshed take on the classic Espresso Martini. Seasonal libations include The Hunterhouse Cooler, a whisky-based cocktail with manzanilla sherry, lemon, fresh pineapple and seltzer, and The Chepstow Tonic, a hibiscus and rhubarb infused gin featuring herbal liqueur, Peychaud's bitters, grapefruit and pink peppercorn.
Unexpected Guest Experiences
The Vanderbilt, Auberge Resorts Collection's new look is complemented by enhanced guest offerings influenced by modern-day life in Newport. From tea leaf and tarot card readings held in the resort's mezzanine, to bespoke hot ale flips, a popular American libation, by the new fire pits in the Garden Terrace, the mansion will provide new ways to reconnect and indulge in life's simple pleasures.
For those looking to immerse themselves in the local culture, the property has established an exclusive partnership with nearby artisan, Jonathan Glatt, renowned for his classic American furniture with a twist. Named by VOGUE as one of "ten contemporary designers to collect today," the local Rhode Island craftsman will offer guests an exclusive hands-on tour and a behind-the-scenes look at the art of furniture making in his 20,000-square-foot showroom in Warren, R.I.
Newport's rich history has always been tied to the sea, with trade and shipbuilding at the forefront of the region's economy and culture. As such, the property has introduced a new experience with a neighboring shipbuilder's workshop to provide guests with a glimpse into the craft of authentic antique boat restoration. Guests can join these restoration experts as they open their doors for a private glimpse into their ongoing projects, which could be anything from building a 68′ schooner to restoring a classic racing yacht. The resort has also forged a collaboration with local purveyor, Matunuck Oyster Farm, to provide guests with a private tour to learn about the process of cultivating this New England favorite while enjoying champagne and cooked oysters. Following the experience, participants are invited to relax on Matunuck's waterfront outdoor patio and enjoy their signature raw bar, which is fully stocked with a variety of Rhode Island oysters, crisp cherrystones, littleneck clams, and jumbo shrimp.
Experiential opportunities abound on property, from enchanting tarot card readings in the resort's Mezzanine to a 'Shuck Yea,' oyster shucking experience in The Conservatory, The Vanderbilt invites guests to rediscover the iconic coastal property through the newly launched programming.
Images credit: Auberge Resorts Collection