The old-world charms of Morocco and a modern lifestyle are perfectly compatible, as this stunning volume proves. Featured interiors showcase living areas that seamlessly flow, lush green courtyards, and richly ornamented décor. Despite the eclectic details, the rooms never seem too busy; they exude a peace and warmth that accommodate contemporary design elements as well. Photographers Andreas von Einsiedel and Julia Leeb have captured this unforgettable atmosphere in Living in Style Morocco.
Highlights:
• A coffee table book that shows the timeless elegance of Moroccan interiors.
• Discover the relaxing oases hidden behind these residences' walls.
• Traditional mosaics, carvings, and carpets complemented by modern design-a mix that will inspire you.
More information:
http://www.teneues.com/shop-int/living-in-style-morocco.html
By book on Amazon.com:
Living in Style: Morocco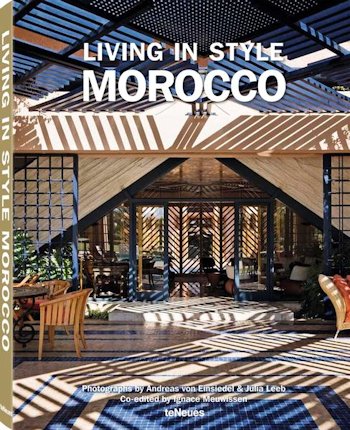 Photo credit © Living in Style Morocco, Photographs by Andreas von Einsiedel & Julia Leeb, published by teNeues, www.teneues.com. Palmeraie, Marrakech, Photo © 2015 Julia Leeb. All rights reserved.