2020 marks the 20th anniversary of the Loire Valley's listing as a UNESCO World Heritage Site, which spans 174 miles along the Loire River, starting from Sully-sur-Loire in the eastern part of the region and extending all the way to Chalonnes-sur-Loire in Anjou in the western part of the region. Here is some of the latest hotel news from the region:
Loire Valley Lodges - Opened July 1, 2020
With 18 luxurious treehouse lodges, each designed by a different contemporary artist, the Loire Valley Lodges boast privacy in an incredible setting, deep within 750 acres of forest. Located just a quick drive away from some of the region's most iconic chateaus, such as Château de Chenonceau and Château d'Amboise, the lodges offer guests a unique opportunity to fully immerse in nature, while enjoying the comforts of a top hotel. Each lodge offers full amenities and high-end contemporary design, with 375-square-feet of living space and a 270-square-foot terrace that includes a private spa. Offering a full-on digital detox, there's no WiFi or TVs in the Lodges. In addition to the lodges, a renovated farmhouse offers a pool, bar & lounge space, restaurant and room service, as well as WiFi connection. And a number of contemporary art sculptures can be found throughout the grounds. The design of each lodge is entirely unique: the Lucien is dedicated to Serge Gainsbourg, with a turntable available to play the artist's music; one lodge is dedicated to the colorful sixties; the Uzume, designed by Jacques Bosser, is decked in black and white.
Guests at the Loire Valley Lodges are encouraged to take part in a variety of activities, such as forest bathing, "lyrical hikes" led by a world-renowned tenor, biking, ballooning and more. Rates start at €285 per night.
More info: https://loirevalleylodges.com/en
New Floating Suite Overlooking Chateau de Chambord - Opened July 2020
Le Relais de Chambord opened in 2018, becoming the first hotel in the château's enormous private 5,440-hectare estate. This July, they've created another brand new experience: the opportunity to stay overnight on board a toue cabanée, a traditional flat-bottomed Loire River boat, right next to the iconic chateau. Inside, the boat features the same sleek contemporary luxury as the hotel, along with air conditioning, heating and Wi-Fi. Designed by Stefania di Petrillo, the interior features a large bedroom, with a kitchenette and a bathroom, elegantly dressed in wood and leather, creating an incredibly relaxing and restful atmosphere. In the morning, guests can watch the sunrise and enjoy breakfast delivered right to the boat's private deck, with France's famous château as the backdrop.
More information: https://relaisdechambord.com/en/rooms/toue-du-relais/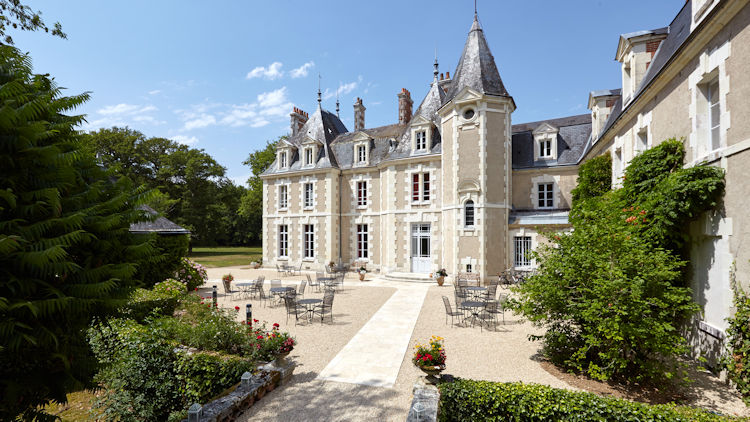 Les Sources de Cheverny - Opening September 2020
Twenty years after opening Les Sources de Caudalie in the Bordeaux vineyards, Les Sources de Cheverny will soon open in the heart of the Loire Valley vineyards. Set on 110-acres of woodlands, just two hours away from Paris, the property consists of 49 rooms and suites. Guest rooms will be located in either private wooden cabins, renovated traditional farmhouses, or in the historic 18th-century Château du Breuil. The rooms were designed to feel like a French country home, with furnishings sourced from local antique markets. In the Spa des Sources, guests will find Caudalie products and their signature treatments made of grape seed extracts. Nature lovers will discover the perfect environment for long forest strolls, on foot or by bike.
More info: https://www.sources-cheverny.com/en/
Image credit: Loire Valley Lodges