However, all take a backseat to afternoon tea, a quintessential English ritual that dates back to the early 19th Century when royalty would stave off hunger with a pot of tea, bread and butter, and cakes to be served in their rooms.
Today, afternoon tea has evolved into an elaborate social gathering for kings and queens, heads of states, celebrities, and commoners alike. From the tiniest tea rooms with modest accommodations to luxurious five-star hotels, afternoon tea is served to thousands of Brits and tourists alike each day. In fact, the entire city of London almost comes to a complete standstill at 3 p.m. daily. London's residents are quick to distinguish between afternoon tea and high tea, terms that are often confused by tourists. High tea is always served during dinner time with a hot meal, while afternoon tea is served between 3 and 6 p.m.
We decided to see what all the fuss is about, and combined a much anticipated trip to the Wimbledon Tennis Grand Slam with a brief respite for afternoon tea. Little did we know at the time just how captivating this ritual would become for us during our stay. In fact, it has led to an obsession with tea and a quest to find the world's perfect afternoon tea venue. We'll let you know when we do.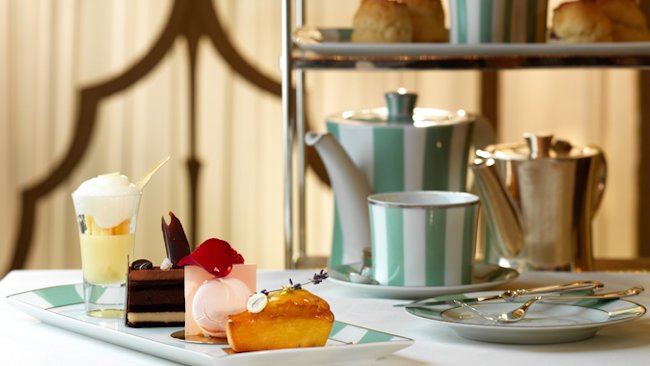 Our first London afternoon tea experience was at Claridge's. An acclaimed hotel with stunning design and exquisite attention to detail, it is London's art deco jewel. Designed to perfection in the 1920s, many of its original features remain impeccably in place. In 1996, Claridge's embarked on a major design restoration. Inspired by archive photographs from the 1930s, the Foyer was redesigned in modern art deco style. The centerpiece of the space is a stunning chandelier. Claridge's prides itself on exacting service, and for generations has catered to guests' every whim, both inside and outside the hotel, offering a unique, bespoke approach to meet the needs of the discerning traveler.
This is English afternoon tea of the highest caliber. Situated in the Foyer and Reading Room, everything is calculated, from the glamor of the art deco interior to the genuine English menu. A pianist and violinist help create a relaxing atmosphere and the grand setting ensures a truly memorable experience. It's little wonder the hotel has consecutively been given an Award of Excellence by the Tea Guild.
The quality of their tea and the deliciously delicate selection of cakes, pastries and sandwiches, and freshly baked raisin and apple scones are keys to their success. Served on fine china in bold jade and white stripes, this utterly English meal is a mouth-watering experience. There is a wide selection of 40 teas from regional English to rare blends and herbal infusions. The afternoon tea costs GBP 40.00 per person. A traditional English afternoon tea doesn't get more luxurious than when served with a chilled glass of champagne for an additional cost.
Claridge's employs a tea expert (tea aficionados do not embrace the term "sommelier" which is reserved for wine or coffee experts) to assist guests with their selections. Based on our experience, these tea experts take guests a little out of their comfort zone in order to have them sample teas they normally wouldn't try at home. They hope guests become somewhat adventurous with their selections by choosing such prized teas as Silver Needles, a very rare white tea which is rolled by hand and only harvested twice a year. However, according to the expert we entrusted our selection to, the majority of guests don't stray too far from traditional teas.
The hotel also has one full-time chef whose sole responsibility is to prepare the sandwiches and another chef to oversee the scones and pastries. While each aspect of afternoon tea must adhere to traditional English standards, the pastry chef does have some leeway to be creative.
Eighty percent of the Claridge's tea patrons are English, the remainder are tourists and hotel guests. The Claridge's tea experts often travel to the tea houses in Italy and Paris to personally inspect their prized product. They regularly review the tea list and will make changes based on personal preferences and comments from guests. The hotel follows trends and extended their green tea offerings several years ago when worldwide publicity first struck about the tea's health benefits.
The Four Seasons Hotel London at Park Lane welcomes the continuation of this time-honored ritual and offers a daily service of both English and Italian Afternoon Tea menus.
The classic English afternoon tea menu includes all the traditional ingredients that have come to be expected from this most favorite of British past times: a selection of finger sandwiches with seasonal fillings, raisin and cranberry scones with homemade jam, preserves and clotted cream and a delectable assortment of cakes and pastries.
To celebrate the cuisine of Amaranto, the hotel's Italian inspired restaurant, La Dolce Vita is an Afternoon Tea menu deliciously created to include Italian-flavored savories -- such as Tomato Mozzarella and Basil Bruschetta or Focaccia al Formaggio -- and sweetmeats with teatime delicacies. A vegetarian afternoon tea is also available and features Home Pickled Vegetable Bruschetta, Grilled Vegetables and Pesto on Brown Bread and Cucumber with Truffle Cream Cheese on Cranberry Bread.
The most integral part of any tea menu is the tea selection. At the Four Seasons there is a choice of 17 types of loose leaf teas ranging from the more well known Earl Grey, Assam and Darjeeling blends to the Organic Emperor's Jasmine and Chamomile flowering teas, Happy Forest and Lemon Verbena herbal infusions. Two unique vintage teas are also available - Vintage Silver Tips white tea from the northern province of Fujian in China, and the Gold Tchaba Rose white tea infused with 22 carat gold leaves and rose petals.
In addition, four made-to-order blends created from the Amaranth flower using lavender, chamomile and Rooibos have been especially made for Amaranto, the Italian namesake for the amaranth flower. The afternoon tea costs GBP 32.00 per person and is served on a daily basis between the hours of 3:00 and 6:00 pm in the sumptuous surroundings of the Amaranto restaurant, bar or lounge. In the winter there is comfortable seating by the fireside in the lounge and in the bar, and in the warmer summer months tea can be taken on the landscaped terrace under the maple trees. Afternoon tea maintains its popularity even on London's hottest days.
Because of the hectic pace of a London vacation, partaking in this most civilized tradition will be one of your most cherished memories. It gives everyone the chance to relax for awhile. It could even rival watching them hit a little white ball back and forth on the venerable green grass of the world's most famous tennis tournament.