Grand Hotel Kronenhof, Pontresina has come up with a solution to redress the balance. It has created an Alpine Hut Retreat package, which includes a night in a simple rustic chalet, without a bathroom, just big enough for two, and only cold running water from the chalet's private well. It is the perfect place for couples or a father and son, perhaps, to spend some quality time together, away from other people and life's many distractions, chatting, playing old-fashioned games and simply being.
Grand Hotel Kronenhof's typical Alpine hut is located high up in the mountains, at Bernina Suot, just 10kms from the hotel and close to the Bernina Pass. Surrounded by unspoilt wild pasture, it offers guests the chance to spend some time getting back to nature, running up hills, discovering wild flowers, breathing in fresh mountain air and admiring the stunning Alpine landscape.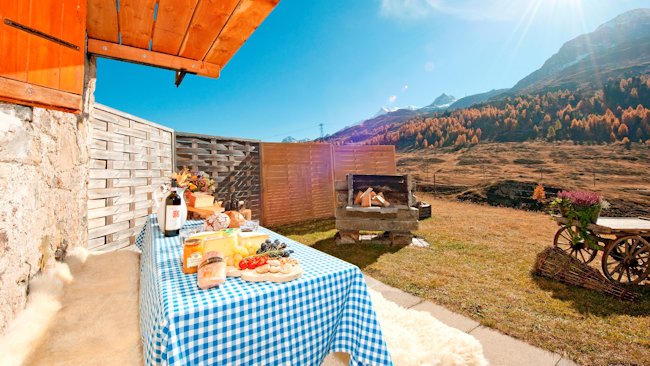 The first night of the Alpine Hut Retreat package is spent at Grand Hotel Kronenhof, where a room will be allocated for the duration of the guests' stay. On the second day, a day of adventure in the Val da Fain (meaning Valley of Hay in Romantsch), which is famous for its wonderful Alpine flowers and a plethora of marmots, awaits. Fortifying themselves with a sumptuous buffet breakfast at the hotel, guests can either hike or use the hotel's bikes to go up to Alp Stretta, where they can enjoy their pre-packed knapsack filled with a picnic lunch, as well as binoculars and a book to help them identify the local fauna and flora.
In the afternoon, it's on to Bernina Suot, where the Alpine hut butler will be waiting to greet guests with refreshments and cool towels after a day of exertions. While relaxing on the hut's terrace, the butler will prepare a three-course evening meal, including a traditional fondue, and then he will retire back to the hotel, to leave the guests alone to enjoy an Alpine evening kit – creams and balms to treat aching muscles, candles, torches, books of mountain tales, story books, a typical Swiss card game called "Jass", board games, warm bed socks and more.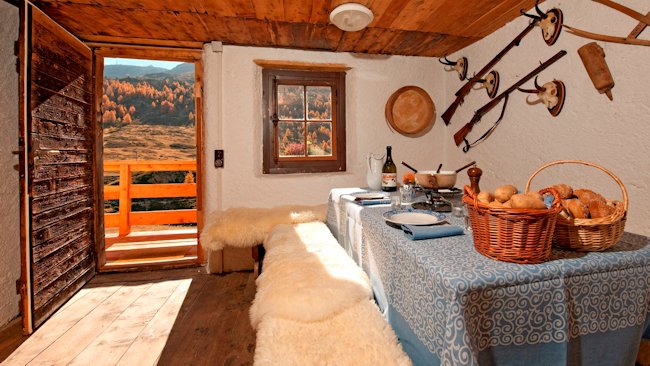 In the morning, the butler will return – at an agreed time – to serve a typical Alpine breakfast, before guests set off on another day of adventure in the Val da Fain: be it more hiking or biking (maps will be provided), a chance to simply enjoy the isolation of the Alpine hut or to help a local farmer in the milking of cows and the preparation of traditional mountain cheese. Keen mountain climbers might also want to climb up to Piz la Stretta, with its summit at 3,104m. At the end of the day, guests can either make their own way back to the hotel (on foot or by bike) or the hotel car will pick them up.
At Grand Hotel Kronenhof, a 50-minute Mountain Massage in the Kronenhof Spa comes as part of the package – and will help ease the small physical niggles that may come after a full two days of Alpine activities – but it will all have been worthwhile: the wonderful memories of this unique experience will linger much longer than any aches or pains.
The Alpine Hut Retreat package includes:
- 2 nights' accommodation in the Grand Hotel Kronenhof, including a sumptuous daily buffet breakfast (room allocated to guests for three nights)
- 1 night's accommodation in the Bernina Suot Alpine hut, including all food and drinks
- 1 dinner in the Kronenhof's Grand Restaurant (excluding drinks)
- 1 dinner in the Gourmet Restaurant Kronenstubli (excluding drinks)
- 1 50-minute Mountain Massage per adult
- a farewell gift to capture the memories of the guests' stay
Valid from 1 July to 20 October 2014, this package is subject to availability and weather conditions. Rates start from CHF840 (approx £560). To book, call the Grand Hotel Kronenhof on +41 81 830 3030 or email reservations@kronenhof.com.
Visit website:
kronenhof.com
About:
Grand Hotel Kronenhof