Japan is renowned as a nation steeped in rich history and traditions with a variety of unique customs and fascinating etiquette rituals.
With my fabulous itinerary chock-a-block full of bespoke adventure that included interviewing famous Kimono designer Jotaro Saito (I am pictured above wearing one of his beautiful designs), I arrived into Kyoto; the heartland of traditional Japanese culture with a mixture of excited anticipation mixed with mild trepidation.
Besides the obvious "two-handed-bowing-head" maneuver used while exchanging business cards, there are strict rules that govern much of your existence here; how you bath, where you can wear shoes and even how best to navigate getting in and out of a taxi or use the restroom while wearing a kimono.
With a veritable minefield of potential "cultural faux pas" to avoid, the pressure was constant as the majority of my Japanese etiquette lessons were given in "real time" which gave me further anxiety but I counted my blessings in knowing the accidental offenses would have increased tenfold had we been filming the destination for my travel show "Travel Time with Linda".
Welcomed warmly with exemplary hospitality I was put at ease in my serene contemporary surroundings of the Kyoto Tokyu Hotel.
The hotel's tranquil courtyards and water features create the perfect sense of calm and relaxation to every guest with its award-winning contemporary interpretation of modern architecture.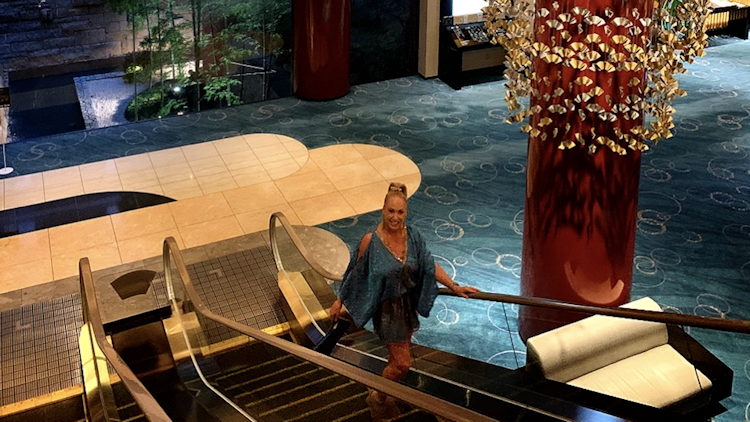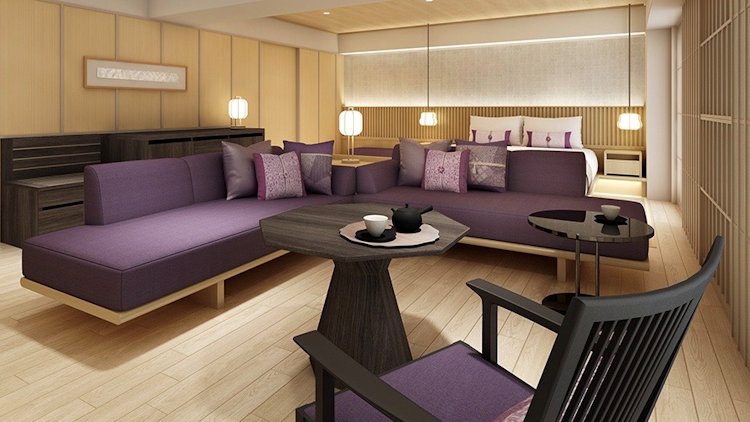 Our sleek sophisticated accommodations was an idyllic haven with its luxurious details including Japanese green tea, slippers and yukata nightwear and the hotel's new "adult hideaway" RoofTop Bar provided a free flow of Moët & Chandon after a busy day of touring the historical "must-see" cultural landmarks Toji Temple, the Fushimi Inari Shinto shrine, and the elegant Ni-jo Castle.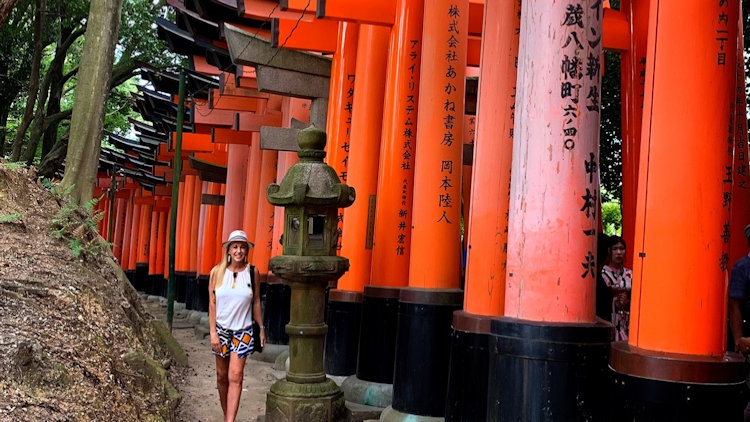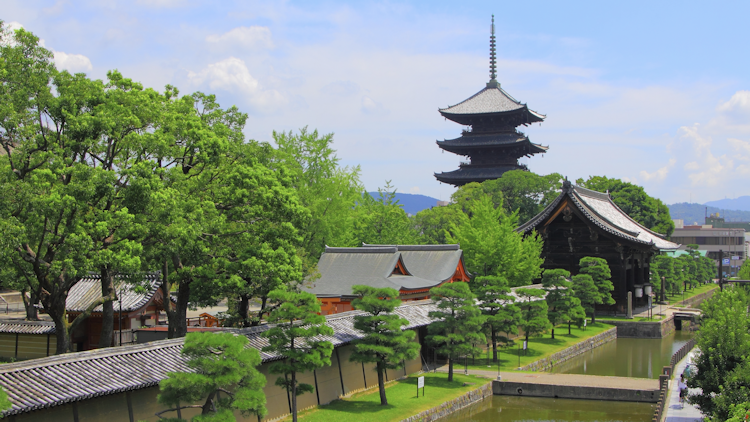 The center of the geisha world, then and now, is in Kyoto, and one of my fondest memories of our visit was the exquisite performance, tea ceremony and my rare interview with a Geiko (Geisha) and her Maiko apprentice.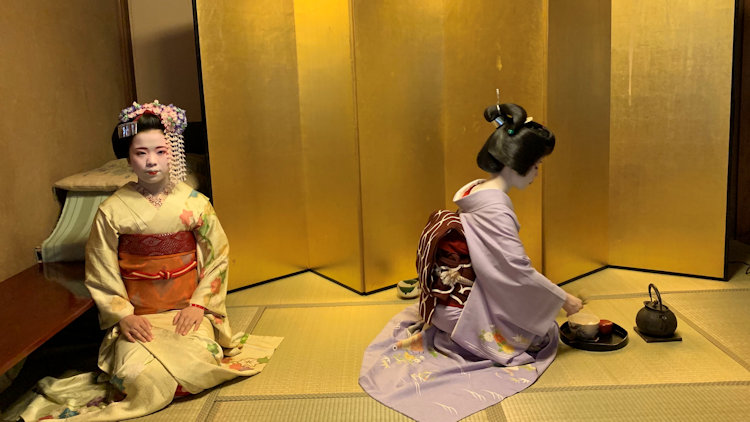 Around dusk in Gion, the entertainment district, we arrived to a little wooden building "boardinghouse" for mistresses of the classical arts, designated by black vertical plaques at their entrances; the blond wood sign above denotes the name of the Geiko and Maiko who live inside its quaint tea house.
Led upstairs by the "house mother" to a private room we were seated and I soon was captivated as our Geisha floated elegantly inside; red-lipped and doll-like dressed in elaborate kimonos, their faces artistically painted and powdered white.
Skilled in the Japanese arts such as dance, the lute and three-string shamisen, a trance-like tea ceremony and performance ensued followed by a rare interview and even an impromptu dance lesson!
Kyoto's Geiko begin their careers as maids after completing Japan's compulsory education at 15, soon becoming "Maiko" where they spend the next five years training in performing arts, gracious social etiquette and conversation skills, where usually at around 20 they assume the title of Geiko.
Contrary to the prostitution myth that is entirely false of this profession, Geisha's are highly respected and bound to lead a single life "not allowed to consort with boys" and live with their house mother under strict rules. Should they choose to marry they must retire from the profession.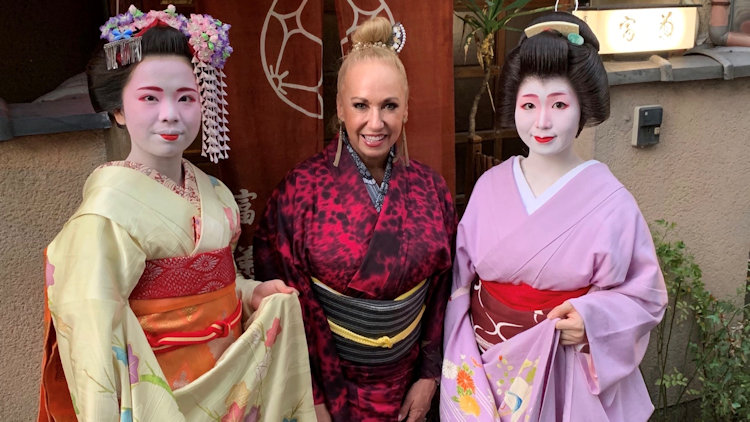 So grateful for my once-in-a-lifetime experience, I ended our interview saying a heartfelt "Okini", a phrase known only in Kyoto dialect meaning "thank you very much" as they escorted us out and waved good-bye from the teahouse entrance until we disappeared from sight.
Walking away I chuckled to myself reflecting on how our Geiko had gushed over my designer kimono, as earlier that day I had the incredible opportunity of interviewing Jotaro Saito, the famous designer who dressed Lady Gaga in one of his gorgeous kimono designs for her recent performance in Japan.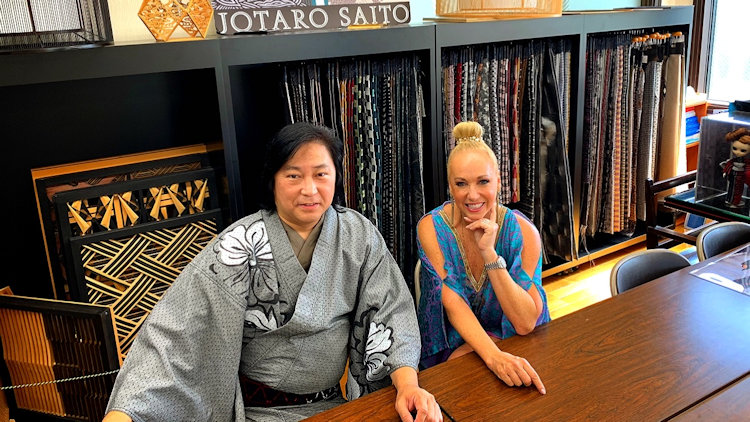 I applauded my decision to stand firm and wear his beautiful kimono for the day, especially since it took 40 minutes to accomplish this feat with two expert kimono dressers from his team assigned to the task.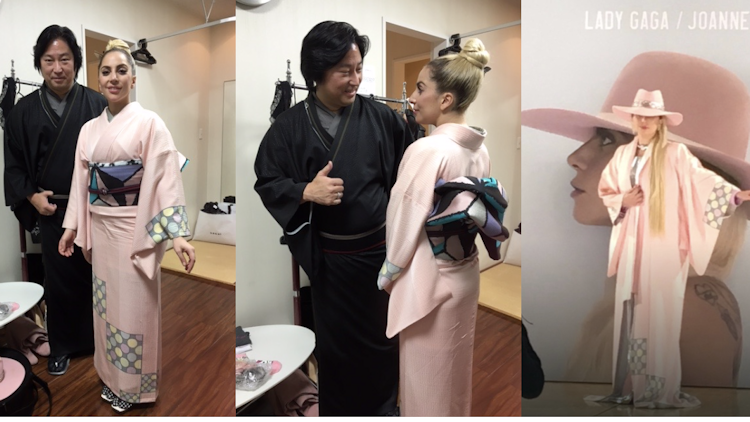 PHOTOS COURTESY OF JOTARO SAITO
Third generation kimono designer, Jotaro Saito made a name for himself with his classic and contemporary designs in the pursuit of creating Kimono as fashion promoting "a lifestyle of enjoying Japanese taste".
In addition to his sought-after kimonos he also produces beautiful home interiors and other design products you can drop some yen at his two retail store locations; in Kyoto and in Tokyo's acclaimed shopping district GinzaSix.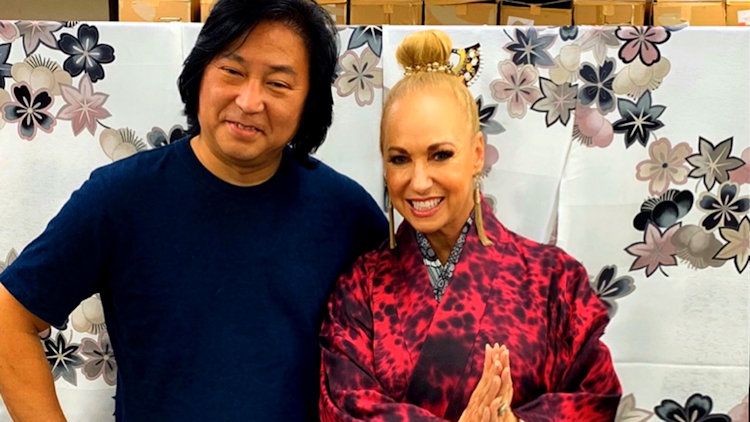 Back in Tokyo and staying at yet another fabulous Tokyu Hotel property The Capitol Tokyu, I had the opportunity to visit Jotaro Saito's GSix store and admire its beautiful aesthetic. Upon arriving back to the hotel's stunning lobby a lovely performer playing a traditional Japanese Koto instrument serenaded us.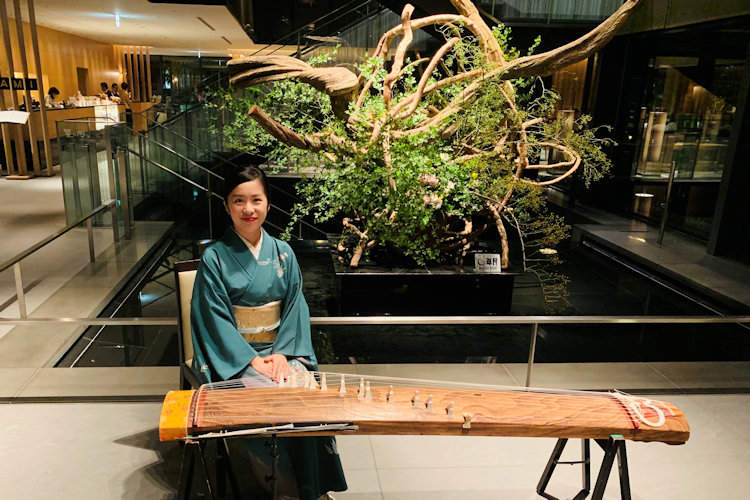 I stopped in my tracks to watch the performance and noted how lovely to see the constant "nod" reflecting old and new Japan that is clearly a conscious effort but blended so seamlessly into modern life.
The acclaimed Tokyu Hotels, Jotaro Saito's breathtaking kimono designs and our gorgeous Geisha like every other aspect I experienced so beautifully executed with incredible attention-to-detail, embracing new life into its rich folds of history, traditions and culture fueled by old rituals and modern discoveries.
I reflected on my kimono-clad adventures and felt an "aha-moment" of deeper understanding and appreciation for this wonderfully unique country. I found myself basking at its intersection of tradition and innovation and the mixture was a recipe of pure perfection.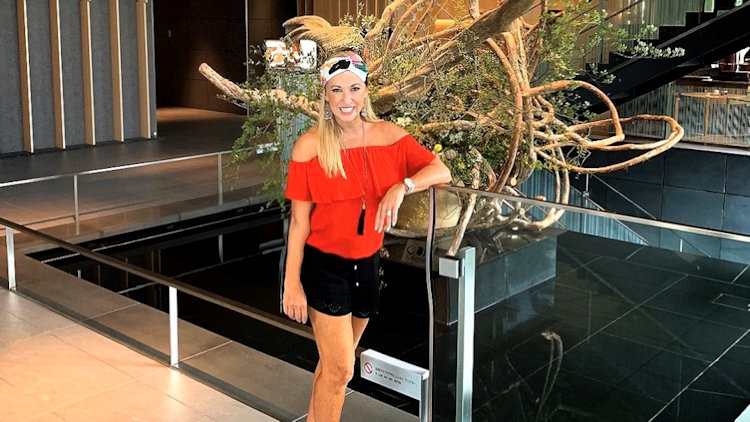 Contributing Writer
Linda Cooper is an award-winning TV Host, Producer and Writer serving as a brand ambassador to worldwide travel on her national luxury lifestyle series "Travel Time with Linda" and as a contributor to several lifestyle and travel publications. Her specialties include television and in lifestyle publications include the travel; lifestyle; luxury; tourism; hotels; restaurants; food/wine; fitness; spas; and retail shopping industries. Season One of 'Travel Time with Linda' aired nationally on AXS TV Network winning a 2018 Telly Award and is now available on Amazon Prime Video. Season Two featuring "Bucket-List Destinations" airs nationally Sunday mornings 8am ET on AXS TV Network and soon available on Amazon Prime.