A private villa vacation might seem like it's a getaway that only the high-net worth will be able to afford when this is over, but even these affordable luxury villa options are seeing an unexpected increase in requests and future reservations.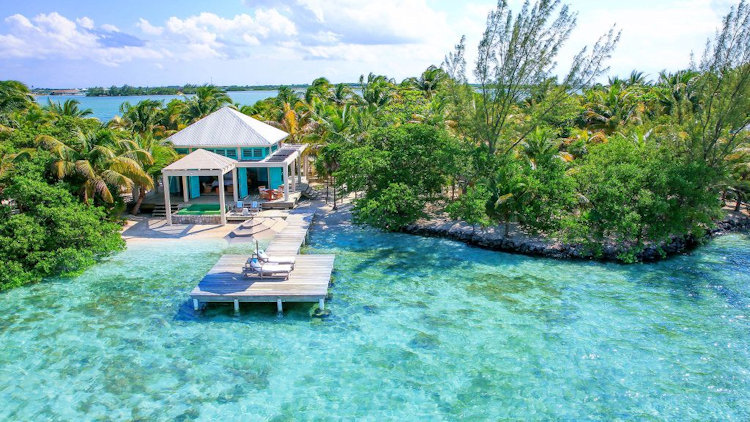 CAYO ESPANTO, Belize
Located three miles off the coast of Belize, Cayo Espanto is a private island resort that creates a sense of secluded paradise for every visitor. Each of the resort's seven villas includes a private dock, pool, a butler and personalized meal and concierge services. All the resort's villas are luxurious but the one that literally stands out a little bit above the rest is Casa Ventanas. Casa Ventanas is Cayo Espanto's exclusive over-the-water bungalow, the one-bedroom villa is the most intimate and requested accommodation on the island. As a bonus, a glass floor section of the villa provides guests with the unique experience of taking a glimpse at the Caribbean sea life below. The glass window to the ocean below also features a light that can be turned on in different colors to provide additional filters to the vast waters.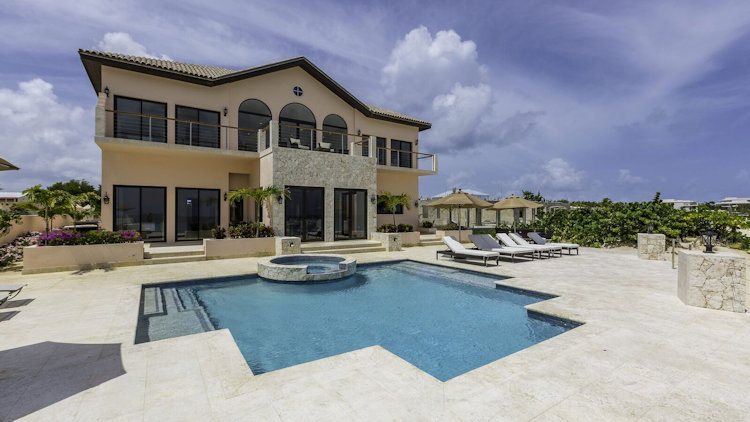 FRANGIPANI BEACH RESORT, Anguilla
Anguilla, ranked as one of the best beaches in the Caribbean, is home to Frangipani Beach Resort, a premier luxury boutique resort located on the soft white sands of Meads Bay. Offering an exquisite island getaway, the resort features an impressive 5,000 square feet beachfront villa, specially designed to host special beach escapes in a private sanctuary for families and groups. Separated from the resort, the private villa offers four ocean-facing bedrooms equipped with bathtub, indoor shower and outdoor shower. Occupying two floors, guests will find two bedrooms upstairs along with an entertainment area and second floor balcony with sweeping views of Meads Bay Beach. The kitchen located downstairs, is equipped with state of the art appliances and when guests are craving a delicious Anguillan feast they have the option of hiring a private chef for their stay. Additionally, the Villa includes a spacious living room, indoor dining area and two other oceanfront bedrooms. Once outside, guests can spot their own private pool and pool deck to lounge peacefully.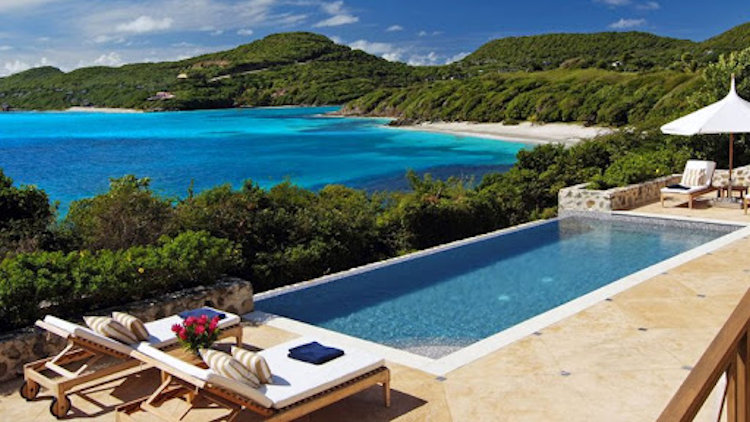 CANOUAN ESTATE VILLAS & RESIDENCES, Grenadines
Located on the secluded and unspoiled island of Canouan (ka-no-wan) in the chain of Grenadine islands of Saint Vincent and the Grenadines is Canouan Estate Villas and Residences. A member of the Leading Hotels of the World, the intimate resort is a quintessential example of five-star Caribbean luxury offering a wide selection of elegant accommodations that range from stylish, generously appointed one and two-bedroom suites to a unique collection of stately standalone villas and residences. Each villa comes with its own private butler who can arrange pre-stocking of food items, event and celebration planning, tours and excursions as well as offering panoramic views of the entire estate, golf course, beaches and coves. Great for groups, families, weddings and celebrations or just a relaxing romantic Caribbean escape, the resort also features indulgent spa services, four restaurants and bars as well as a complimentary kids and teens club and offers babysitting services, at an additional charge.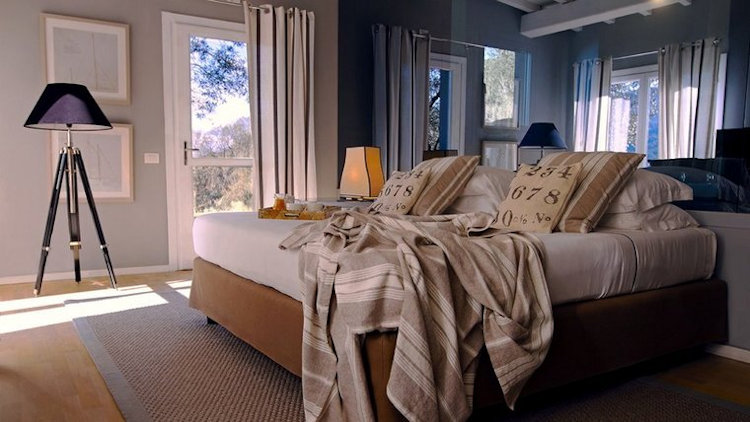 ARGENTARIO GOLF VILLAS, Tuscany
The luxurious Argentario Golf Resort & Spa, located in the Maremma region of Tuscany, is an ideal destination for those looking for villas in Tuscany and a relaxing holiday that combines sports, wellness and gastronomy. For families or small groups, Argentario Golf Villas offer 5 luxury vacation villas, independent hideaways sleeping six to ten that are located on the hillside near the main building, with guests benefitting from the use of all the facilities at the resort. These villas boast ground-breaking design and views of the lagoon, sea and golf course that blend seamlessly into the landscape.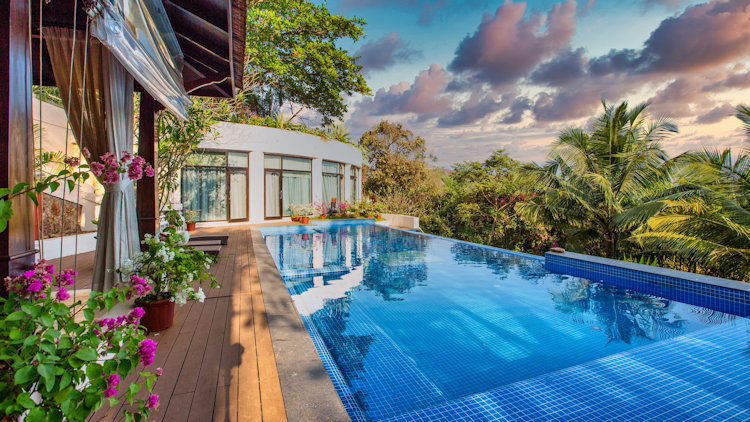 CYPRUS VILLAS
The eastern Mediterranean island of Cyprus has some of the best luxury villas for rent. They are located throughout the island – beachfront private properties, tugged away in cozy corners along the rugged coastline, up in the hills, within vineyards and citrus gardens, within award-winning golf course, and in medieval villages where you can see village squares and UNESCO World Heritage-listed chapels.
Many of these villas for rent are stone-cut properties in traditional designs, while the others are modern houses with chic interiors. The villas in Cyprus have private swimming pools, Jacuzzi, outdoor cinemas, manicured gardens, barbecue, games rooms, and 21st-century amenities and facilities. There are private terraces and balconies that offer stunning views of the Mediterranean Sea. Relax with your group while vacationing in Cyprus, at some of the most luxurious properties.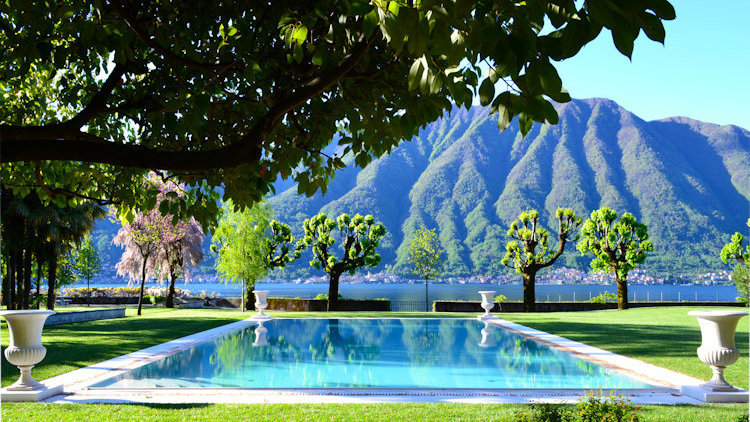 HOME IN ITALY: The Finest Collection of Luxury Villas Since 1994
What distinguishes Home in Italy is a careful and targeted selection of properties, chosen by precise guidelines and always keeping in mind what the customer expects from a Home In Italy villa: comfort, refinement, exclusivity and attention to details. At the moment there are more than 250 prestigious villas on offer and they are constantly expanding the portfolio and enriching the collection. Home in Italy personally visits all their villas and inspects them regularly to make sure that they meet the high standards required by discerning guests.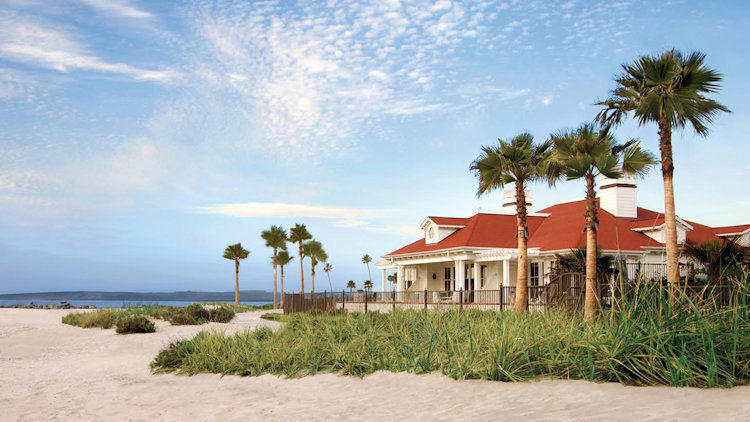 BEACH VILLAGE AT THE DEL, San Diego
Beach Village at The Del offers the ultimate in seaside charm, contemporary design and elevated service within the grounds of one of America's most iconic hotels. A private oceanfront enclave of residential cottages and villas, Beach Village offers sophisticated amenities just steps from the sparkling sands of Coronado beach – where the sand ends your private beachfront paradise begins. Lounge around the secluded pools in a private cabana, surf an early morning wave, enjoy sunset cocktails at the exclusive Windsor Cottage or savor a private dinner prepared by one of the master chefs in the comfort of your cottage or villa suite. The possibilities are endless...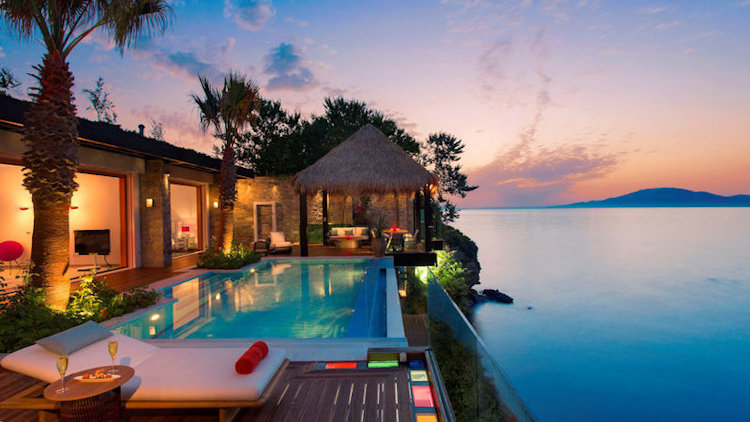 PORTO ZANTE VILLAS & SPA - Zakynthos, Greece
Porto Zante is the leading villa resort in Europe where guests enjoy the ultimate privacy of world class villas, located directly on the beachfront, and exceptional five-star hotel amenities & services. One of the "14 World's Best Family Hotels" by Condé Nast Traveller in the UK, "Top 100 Hotels of the World" by Hideaways and "Europe's Leading Beach Hotel" by the World Travel Awards, Porto Zante has been the choice of famous clientele, including political leaders, important business people and artists. A truly unique resort, decorated and furnished with selected pieces of Armani Casa and paintings of prominent Greek artists, it comprises world class luxury villas on the beach, all with private heated pools, 2 Restaurants serving Greek, Mediterranean and Asian Fusion cuisine, 2 Bars, an award-winning Private Waterfront Spa, a Kids Club and a state of the art Gym by Technogym.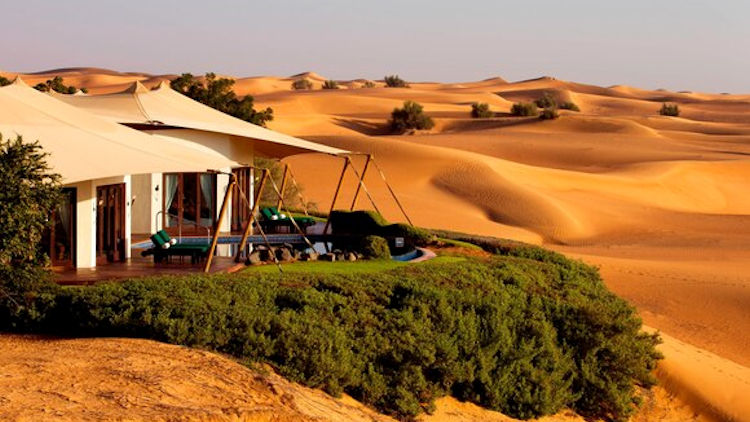 AL MAHA, a Luxury Collection Desert Resort & Spa, Dubai
The 3-bedroom Presidential Suite with Private Pool is the finest of all Suites at Al Maha. This Suite has three large bedrooms, each with a custom-made super king-size bed, handcrafted furnishings and an opulent bathroom. This Suite is designed for guests who want to experience the ultimate in sophistication and personalized service. The sound of gently running water from the decorative features in the inviting majlis creates a calming ambience throughout, enhanced by the beautiful Arabian antiques and artifacts on display. With every luxury and extravagance catered for, including quarters for your own staff, the Presidential Suite is the perfect place to relax or entertain in splendor. With every luxury and extravagance catered for, including quarters for your own staff, the Presidential Suite is the perfect place to relax or entertain in splendor.

Four Seasons Maldives Private Island at Voavah
Four Seasons opened their first exclusive-use private island, Voavah, in Baa Atoll. The zero-carbon, sustainable island retreat takes one reservation at a time. With seven bedrooms across two villas and a beach house, there is plenty of space for a multi-generational gathering or a reunion of friends. Four Seasons selects the staff, organizes the activities and menus according to the guest's desires. Voavah comes with Summer, a 62-foot yacht and crew. Four Seasons Resort at Landaa Giraavaru (20 minutes away by boat). Private jets can land at nearby Malé airport and Vovah is 35 minutes away by seaplane.