Cobbled streets, vintage buildings, an old town vibe, and picturesque landscapes are everything you have been dreaming of? Italy is the ideal place you should be heading to. Not just these, Italy is a dream come true if you are into exquisite vino (wine) and delectable food.
Italy's hotel business is rebounding stronger than ever after a long, hard time. In reality, new hotels are springing up throughout the country, from Piedmont in the north to Sicily in the south. The beautiful designs in a thousand-year-old castle on a private estate in Umbria to a contemporary new announcement by a micro-hotel business recognized for its communal areas are among the alternatives.
Picture-perfect beauty, fantastic eating options, must-see attractions, and warm Italian friendliness are all things they have in abundance. We have compiled a list of the top establishments in Italy, and each serves as an excellent base for wandering.
Best Boutique: Belmond Splendido Mare, Portofino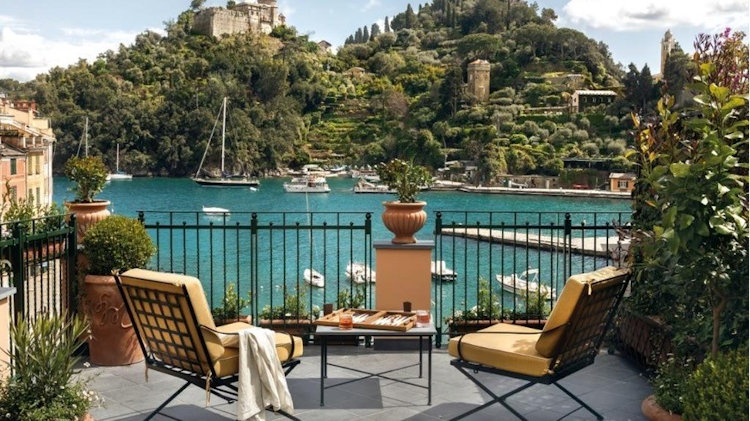 Venice's Hotel Cipriani, Florence's Villa San Michele, and Portofino's Hotel Splendido, which rises high above a bay along the Ligurian Riviera, are just a few of Belmond's notable hotels in Italy. The Splendido also has a smaller sister property in town, the 14-room Splendido Mare, which recently had a total refurbishment by Festen Architecture of Paris.
They leaned on the hotel's nautical history and location for inspiration, conjuring a sleek Italian fishing boat with elements like vibrant yellow-and-white striped tiles on the wall, wooden latticed floors, and handcrafted headboards.
The property is unique, glamorous, and vibrant. In addition, all the rooms bring individual personalities and charm to the table.
Located in Piazzetta Square in Portofino, the hotel has hosted many famous personalities like Sophia Lauren, Dean Martin, and Grace Kelley. When a visitor to Splendido Mare, you will be taking on a must-do complimentary excursion on the beautiful wooden gozzo. This classic fishing boat embodies Portofino's golden-era elegance.
Key Details
A one-hour boat cruise is included in the price of your stay.
Bicycles are provided on-site, and babysitting services are offered.
Best for Foodies: Il San Corrado di Noto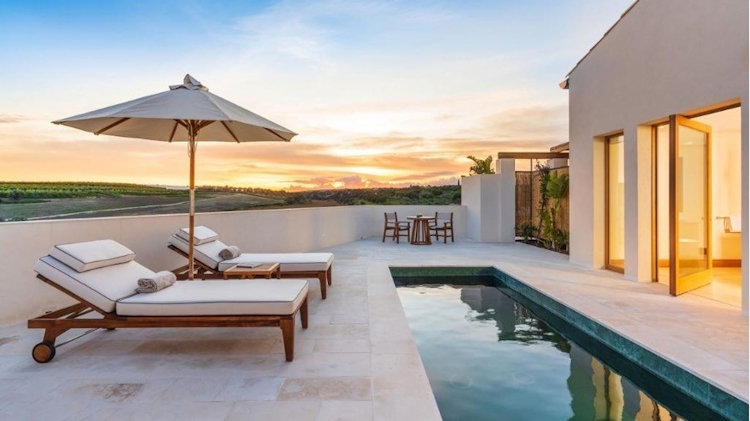 In Val di Noto, Sicily's famed UNESCO World Heritage site, Il San Corrado di Noto is the very first boutique resort of its type. Following a meticulous 3-year renovation, Il San Corrado di Noto, formerly a historic Masseria belonging to Prince Nicolaci, has been thoughtfully turned into a beautiful, all-suite hideaway. The property is a member of Relais & Chateaux and was also nominated for World Luxury Hotel Awards for 2022.
Furthermore, the Beach Club is the ideal spot to unwind, with a stunning perspective of one of the most spectacular landscapes on the Italian shoreline.
The hotel fills a void in this historic section of Sicily with a sophisticated, privately operated location for discriminating travelers. The new hotel with 26 suites and eight pool villas has so much to offer. Like the food is unfolded to reveal the Sicilian Experience. Their restaurants Principe Di Belludia and Osteria Casa Pasta will take you on a scrumptious journey with bursts of Sicilian Flavours.
You will enjoy solitude, excellent service, and location expertise, ensuring a genuine and customized experience.
Key Details:
Suites in World Heritage Sites
Villas with Swimming Pools
Magnificent Views and Unrivaled Privacy
Fitness Center with Heated Pool
Best Luxury: Hotel Castello di Reschio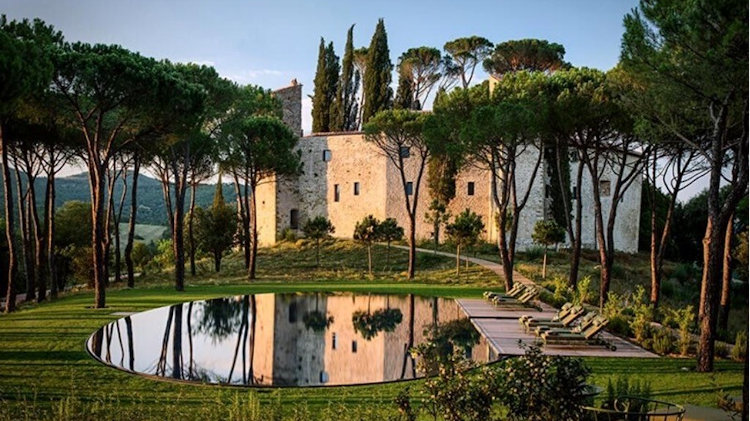 Picture-perfect Umbria lies Hotel Castello di Reschio, a beautiful stone-walled castle set against the backdrop of historic rolling green hills.
It was earlier a 10th-century love ruin which is now beautifully restored into one of the finest hotels in the world.
The Bolza family went to great efforts to ensure that visitors could get the most out of the surrounding estate, from comprehensive nature-based activities to offering estate-grown food in its numerous restaurants and bars. The hotel won the Tatler Award- Hotel of the year 2022 in the first year of reopening.
It feels like you are carried back when you visit the hotel through the courtyards, where antiques mingle with the Count's beautiful furniture in the huge open spaces.
Key Details:
Lessons in horseback riding
There are play areas and an outdoor pool.
On-site Roman bath and jacuzzi
Best for a Beach Vacation: Borgo Santandrea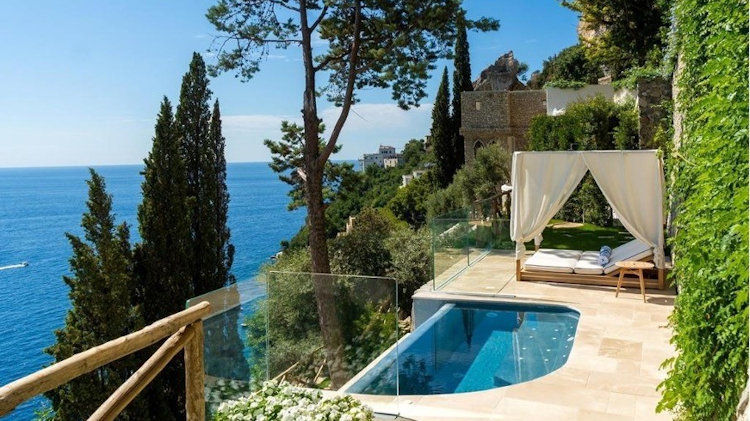 The Borgo Santandrea, a five-star hotel positioned high just above the Tyrrhenian Sea near Amalfi and Positano, is a magnificent cliffside getaway. The De Siano and Orlacchio dynasties, hoteliers with origins on the neighboring island of Ischia, have made the bold and beautiful move to Amalfi with this stunning resort. Classic Italian aesthetic accents, such as handcrafted local tiles, white Italian marble, bespoke furniture from Molteni and Tosconova, and hand-blown Venetian glass lights enhance its mid-century characteristics.
The property's mid-century characteristics are enhanced with Garden terraces with olive, lemon, and pomegranate trees, a panoramic pool house, and access to the private beach and pier on the rocky Amalfi Coast are available outside.
Key Details
Beach resort with a private entrance
Bath items by Acqua di Parma
Best Overall: Villa Igiea, a Rocco Forte Hotel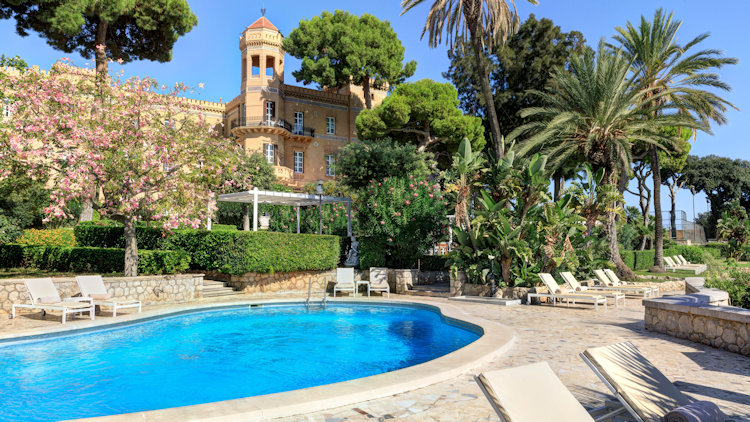 Opened in June 2021, Rocco Forte Villa Igiea is 2 kilometers from Palermo Harbour and offers magnificent views of the Bay of Palermo. It has an outdoor pool, a tennis court, and luxurious rooms and suites.
At Rocco Forte Villa Igiea, each room has its style and arrangement, and no two are the same. A careful repair in line with Rocco Forte's trademark design approach to retain its magnificent historical elements. The legendary Basile room, the frescoed bar, and the grand mirrored ballroom are restored to their former glory. At the same time, the bedrooms and villas represent a contemporary and traditional Sicilian refuge.
The vibe of the bar is a treat with the pianist, warm company, and a glass of your favorite G&T. The restaurant specializes in local Sicilian cuisine with a taste of Mediterranean. Their oven-baked fish and grilled catch of the day are a must-try.
This magnificent 5-star hotel also has a fitness center, solarium, and spa rooms. The spa is a paradise of tranquillity with hand-painted tile flooring by a local artist and body treatments using Irene Forte's natural skincare products.
Key Details
Boat vacations
Culinary activities
Sightseeing excursions
Tennis court
When you are in Italy, you will find plenty of options for your stay. To prepare you for the resumption of travel and your next luxury vacation Italy wasted no time ensuring to provide you with plenty of options. Whether you want Borgo Santandrea, San Corrado di Noto or a 10th-century romantic haven. You will have a splendid time. The slew of brand-new locations to stay would have even the most ardent travelers falling in love with them. The best five luxury hotels in Italy to visit just now are listed above. Learn more about world-class luxury endeavors here.
For more information and reservations please visit, luxoitalia.com, and follow us on Instagram: https://www.instagram.com/luxoitalia/