Following an extensive renovation and total rebranding under its new owners, The Dove Inn is now open in Golden, Colorado. Denver-based entrepreneurs Libby and Regan Foster updated the historic Victorian house, keeping the home's classic historic elements intact while introducing contemporary décor and modern-day amenities. The couple aims to provide an intimate visitor experience in the heart of the historic mountain town.
"Hospitality is something we are passionate about and we have always been committed to creating a welcoming atmosphere in our own home," said Libby Foster, co-owner of The Dove Inn. "We hope to bring that experience of personalized, at-home hospitality to the masses by revamping the fading concept of bed-and-breakfasts, into a self-service community approach, appealing to a new generation of travelers."
The home, built in 1866 by Golden politician and meat purveyor, Ebenezer T. Osborne, is one of the town's original structures. It's served a number of purposes – from a single-family home to a boarding house – before becoming the new Dove Inn:
Victorian-Meets-Modern Design
To create a new kind of Inn experience for their guests, the Fosters completely re-branded and renovated a 19th Century bed-and-breakfast to portray an updated, Victorian-meets-modern aesthetic. Design enthusiasts in their personal lives, as well, the Fosters first cut their teeth in the construction and design realms when they built their own home from shipping containers in 2016, which received attention and acclaim from noteworthy national media including Dwell Magazine and Good Morning America.
Throughout the common areas and 10 styles of rooms, guests see the Fosters' personal touches via a curated selection of antique and new pieces, including a handmade belt fan from Woolen Mill Fan Company; gold-finished hand lights; vintage soaking tubs, which date back to 1909; and more.
On a larger scale, barricading walls were removed on the main floor to create a spacious great room, and steel beams were installed to support the original, rustic brick walls from the 1800s. Bathrooms were re-tiled and renovated to feature marble countertops. Victorian-style trim and panel molding were added to the dining room, living room and staircase; and wood from vintage doorways has been repurposed into shelving in the dining and living room.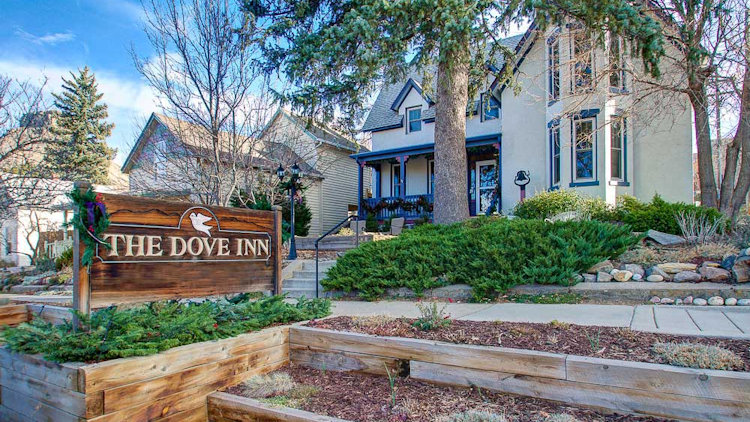 Today's Inn Experience
The new Dove Inn aims to accommodate all kinds of guests through a personalized, behind-the-scenes approach to service. Guests can cozy up in one of 10 rooms, including three suites, a studio, and several historic designs, offering varying layouts and amenities. For example, the Aspen Suite features an electric fireplace and cozy queen canopy bed; the Castle Rock Studio is an extra-large suite with a stylish kitchen for extended stays; and the Carriage House boasts a Chippendale desk from the 1700s and spectacular views of Golden from its outdoor entrance.
In lieu of limited breakfast hours, traditional of a bed-and-breakfast, a more independent experience will be available, with offerings such as local breakfast burritos; and Nitro cold-brew coffee and kombucha on-tap. A centerpiece of the great room area is a custom-built coffee bar, that encourages guests to slow down, come together and learn something new. For each of the several brewing methods available, video tutorials can be found on a tablet mounted right to the bar. Convenient grab-and-go breakfast options are also available for guests on the go.
In the Heart of Golden, Colorado
The property, located at 711 14th Street, Golden, CO, 80401, boasts an authentic mountain feel, true to the historic town. The inn's convenient location on Main Street offers a launch pad for its guests to the great outdoors and downtown areas. This includes access to renowned restaurants and breweries, as well as outdoor activities like hiking and biking; river tubing and kayaking; mountain climbing and skiing.
The Dove Inn strives to support local businesses and provide guests with a place where they feel like they are a part of the Golden community. To enhance the local feel, The Dove Inn serves Colorado-made foods to its guests, including Two Leaves Tea, EVOL burritos and gluten-free pastries from Crumbles Bakery. In addition to food, Colorado-made offerings make their way to the guest rooms, including local, natural bath products in 100 percent recyclable packaging.
"At the end of the day, the town is what sold us," Regan Foster, co-owner of The Dove Inn, said. "We decided to purchase The Dove Inn because of Golden's strong sense of community, easy access to the outdoors and its quaint, mountain-town feel, all just a few minutes from Denver. Our goal is to welcome guests from both near and far, and to show them a piece of what makes this such a special place."
The Dove Inn is now open at 711 14th Street, Golden, CO, 80401. For more information or to book a reservation, visit www.TheDoveInn.com.
Photo: The Aspen Suite