Luxury Camp offers impeccable high-end hospitality in nature with the relaxation of the pine forest and the healthiness of the sea, located in a protected area of the Venetian Coast. A dream vacation come true at Luxury Camp, an innovative suburb conceived and managed by Camping Management Srl inside the first 5-star campsite in Italy, Union Lido Park & Resort in Cavallino-Treporti (Venice), the European capital of 'Superplätze' campsites selected by the German AutomobilClub ADAC guide for the high level of services.
Passion for details, a personalized welcome, comfort and total privacy are the minimum common denominators of stays at Luxury Camp -- a type of vacation increasingly appreciated by business people, showbiz personalities, and sports champions who choose stays from 250 euros to 1.200 euros per night in Mirror Suites and extra-luxury Caravans surrounded by greenery.
"We recorded a 15 percent increase in bookings compared to 2021," explains Camping Management Srl's sole director, Mattia Ferro, "so much so that already at the beginning of the season all 180 days available for booking from April 8th to October 3rd were 90 percent booked. For my team this is a great result that was then consolidated in the following weeks with a total sell out".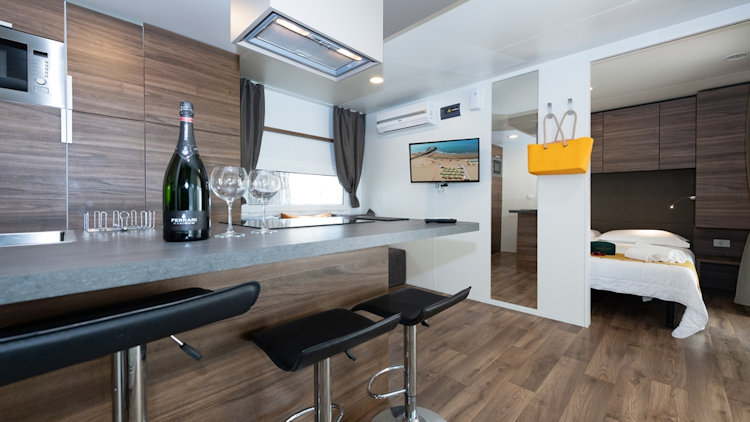 The real secret of the Luxury Camp's innovative vacation formula, however, is the "family experience" memories that guarantee tourists many leisure, health and wellness services ranging from water parks, to sports centers, to the spa immersing them in the flowery undergrowth of the seafront pine forest. "All of these services," Ferro points out, "for which we thank Union Lido, the prestigious facility that has been hosting us since 2018, guarantee the appropriate context for our vacation style". An atmosphere with attention to detail, pampered by the good taste, comfort and elegance of the extra-luxury mirrored suites, cradled by the helpfulness and discretion of an international hospitality concierge service coordinated by Luxury Camp director Nicola Finotto. "An idea of hospitality aimed to the sensitivity of the guest imagined and conceived taking into account first of all our needs and desires as travelers," explains Luxury Camp's strategic consultant, Jessica Zin "the Luxury Camp project saw the light after years of market research in the world's best hotels from 5-star superior to 7-star between Dubai, Las Vegas and Shanghai, to which we added our personal Italian touch of warmth and style. A bouquet of your favorite flowers in the room, surprise wishes with balloons under the beach umbrella or personalizing the suite with a giant picture of a family photo are just some of the pampering we surprise our guests with."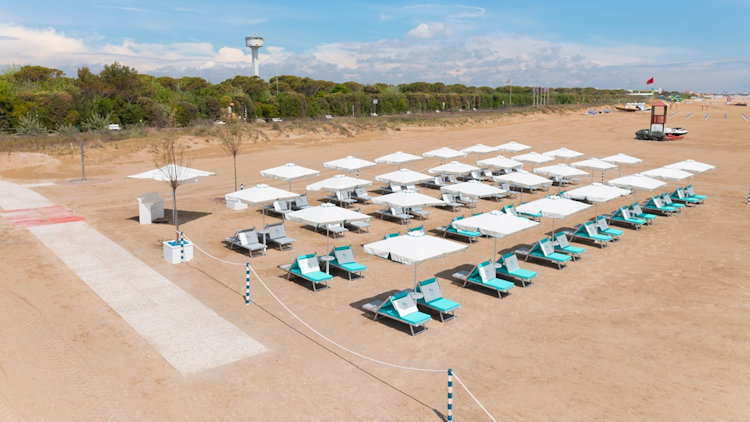 "Luxury Camp's beach tourism concept offers among its privileges the private and gated Luxury Beach," describes director Finotto, "as well as a cab transportation service to the beach aboard a Golfcart Limousine, all within a half-hour boat ride to St. Mark's Square in Venice by embarking on a private motor boat from the Punta Sabbioni terminal. The privileged tourist who chooses Luxury Camp is mostly foreign mainly from Germany and the United States, but also from Northern Europe and the United Arab Emirates. The staff welcomes guests to each of the 18 exclusive Mirror Suites, luxurious mobile homes on wheels with a mirrored side equipped with all amenities, plus 2 Luxury Caravans for those who wish to experience the thrill of staying in a caravan. The Mirror Suites, in South Florida style, decorated inside in shades of mahogany and light wood, are available in two- or three-bedroom, 4- to 6-person layouts". "Each lodging," Finotto points out, "consists of a minimum of 34 sq. m. indoors and 18 sq. m. outdoor veranda and offers privacy and maximum comfort according to 5-star standards: double toilet facilities, bedrooms with en-suite bathrooms, air conditioning, refrigerator, TV, living room with sofa, furnished veranda, change of clean sheets and towels, continuous rearrangement of the accommodations, kitchen with induction system, microwave oven, coffee maker, high quality pots, glasses and cutlery, private garden".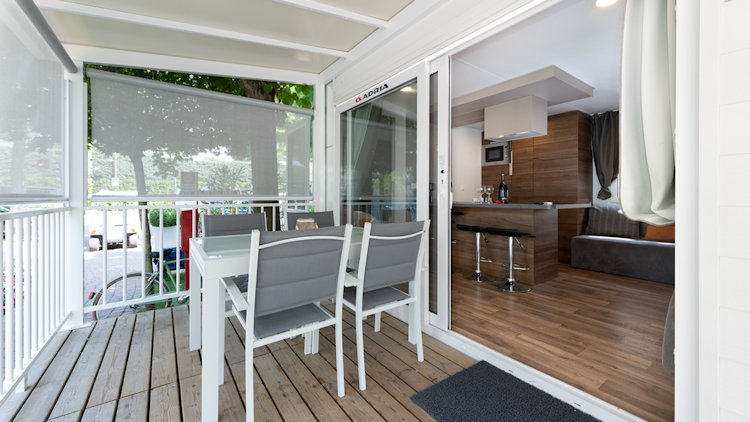 The services guaranteed by Luxury Camp, typical of the high-end hospitality of the large international hotel chains, range from priority check in and check out avoiding the longer waiting times of the campsite concierge, to parking open 24 hours a day throughout the season, to the logistics of cab transfers to Venice and surrounding area and luggage transport included throughout the vacation. "The availability of our concierge," explains Mattia Ferro, "extends even further, reaching out to all kinds of guest needs. There is not a wish that we do not try to satisfy. Philosophy of this hospitality was passed down by my uncle Roberto Senigaglia, Concierge Chiavi d'Oro among the best-known concierge of the high-end hospitality in Venice, for 30 years the first to welcome guests at the Belmond Hotel Cipriani, a figure of great professional prominence who encouraged me a lot in the realization of the Luxury Camp, to this day a source of inspiration and advice". "To meet any request that may arise in the private Luxury Beach under the 4-square-meter beach umbrellas with mattress beds," concludes director Nicola Finotto, "there is a reception desk with staff available on the beach throughout the day. The most special requests we have received over the years range from a heliport, to a butler, to a personal chef".
Open April 21 to October 2, 2023.