Ancient stone buildings with bright blue shutters, the countryside full of olive groves and lean cypress trees: these are just a few of the captivating sights that stole my attention while exploring the region of Messinia. Here I was surrounded by sandy coves and crumbling archeological sites – but I wasn't far from luxury. A jaunt to Costa Navarino was focused on the finer things in life, all with a distinctly Greek slant.
Costa Navarino is home to
The Romanos, a Luxury Collection Resort
that opened in May 2010. Located on a sunset-facing stretch of coastline in the southwest Peloponnese, the Romanos is about 3 hours from Athens (or 40 minutes from nearby Kalamata airport). The resort is made up of low-rise stone villas with infinity pools stretching towards the Ionian Sea. Inspired by local Messinian mansions, there are a total of 321 rooms and suites – including the magnificent Royal Villa Koroni and the Presidential Villa – but lush landscaping and arresting views make each villa feel like its own isolated slice of Greek bliss.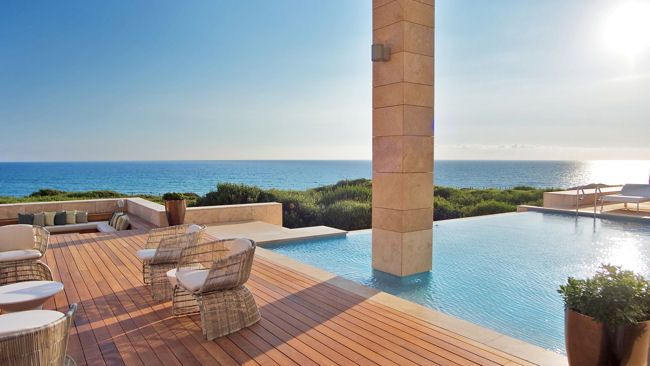 Royal Villa Koroni pool
Set against the backdrop of a peaceful olive grove, the Romanos offers an elegant getaway in a natural setting. I experienced this beauty firsthand entering the Presidential Villa, a sumptuous two-story villa complete with private beach access, a seductive infinity pool, an al fresco dining area, and 24-hour butler service. This is an intimate place I could happily gather with friends for a sunset glass of wine around the firepit. The Romanos opens for the season in April, tempting travelers with serene outdoor showers and indulgent bathtubs.
There are many wonderful villas in Europe, but what sets the Romanos apart is a distinct Greek stamp. Art adorning villa walls is the unique creation of up and coming Greek photographers and artists. In addition, Costa Navarino is seriously dedicated to eco-awareness. The building footprint will be only 10% of the total area, leaving 90% reserved for that signature Messinian landscape. In addition to preserving the environment, groundbreaking energy initiatives demonstrate Costa Navarino's green philosophy. All of this adds up to one thing for the luxury traveler: responsible jetsetting.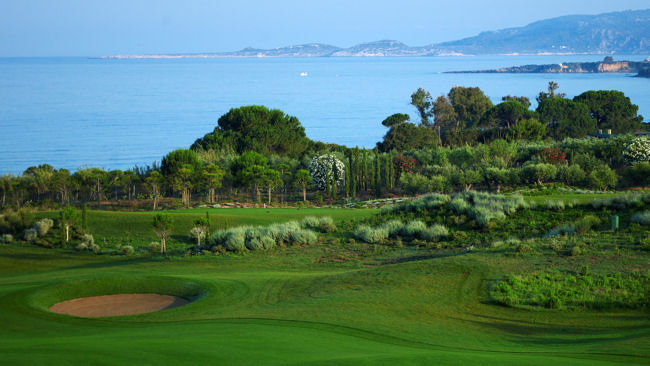 Beyond the threshold of the villa, Costa Navarino is also packed with activities. A championship 18-hole golf course, the Dunes Course, offers sea views in addition to a challenging round. There are two tennis courts and pros to help guests work on their game. Inside the Anazoe Spa, serene treatments, herbal saunas, and an ice-grotto room fulfill all cravings for pampering. Travelers curious about the local culture can engage in the Messinian Authenticity Program, connecting guests with local traditions such as the annual olive harvest every autumn.
The dining philosophy at Costa Navarino is unmistakably Greek as well. A wealth of fresh, organic ingredients form the foundation of authentic, upscale Greek cooking. I witnessed this commitment to local products one afternoon at the traditional café called Kafenio, as executive chef Doxis Bekris walked in with hands full of herbs and greens just-picked from the garden. These ingredients combine in dishes that deliver a sense of place, including Greek salad with Sfela cheese, local tomatoes, oregano, cucumber, and Kalamata olives, and grilled lamb chops marinated with rosemary and garlic.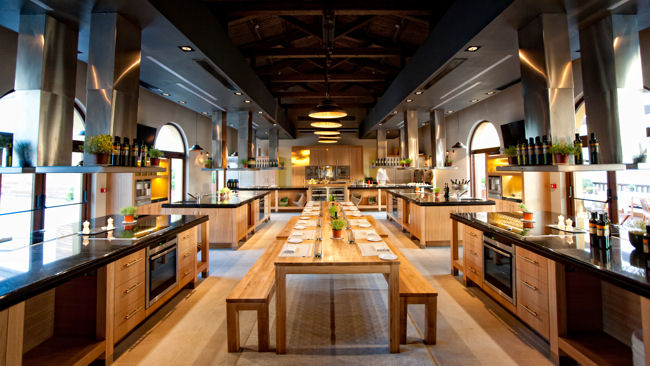 Omega
With such a rich variety of local ingredients, it should come as no surprise that Costa Navarino has launched its own product line, transporting the tastes of Messinia beyond Greek borders. Dean & Deluca is the exclusive retailer of the Navarino Icons products in the United States, available both in the store and via catalog. I quickly became addicted to the olive oil biscuits, a one-bite fragrant cookie made with only natural ingredients. Other ways to bring home a taste of Greece include estate grown olive oil, vinegar with rosemary and thyme, or traditional spoon sweets.
One particularly sunny day during my visit to Costa Navarino, I sampled these products over a picnic under the shade of an olive tree. Cracking open a bottle of cold white wine, nibbling on local cheeses and traditional spinach pie, spanakopita, I savored one of life's greatest luxuries: time. For all there is to do and see and learn in Costa Navarino, this is also a destination that delivers the essence of the Greek way of life, one filled with good company, laughter, and plates and glasses that are always more than half full.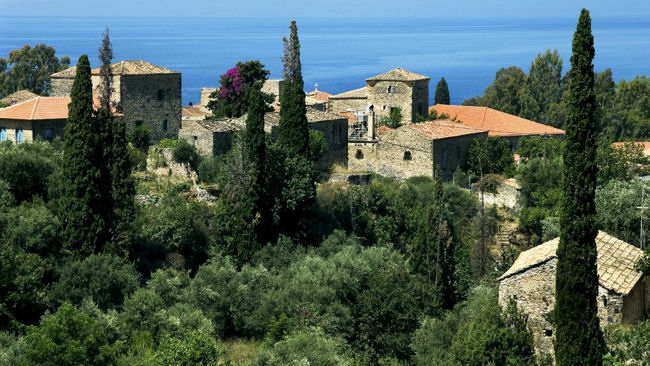 Jessica Colley is a freelance travel and food writer based in New York City. Follow her travels online at
www.thegreatamericantraveldream.com