That's because the ultra-modern Le Mount Stephen hotel was created behind a historic building – the George Stephen mansion. Upon approach, a doorman in tails and top hat signals the opulence you'll first step into.
A historic marker at the front steps notes: "This magnificent Renaissance-style mansion was begun in 1880 for George Stephen (later Lord Mount Stephen), president of the Bank of Montreal and of the Canadian Pacific Railway… Construction took three years and involved numerous craftsmen brought especially from Europe to work on its opulent interior. A fine reflection of the Victorian era, it was renowned in its days as one of Montreal's most lavishly elegant residences."
Stepping into the mansion, I'm met by beautifully restored 300-year-old stained glass windows and intricately carved Ceylon satinwood paneled walls surrounding a stately staircase, no doubt well-trod back in the day when the Mount Stephen Club met here.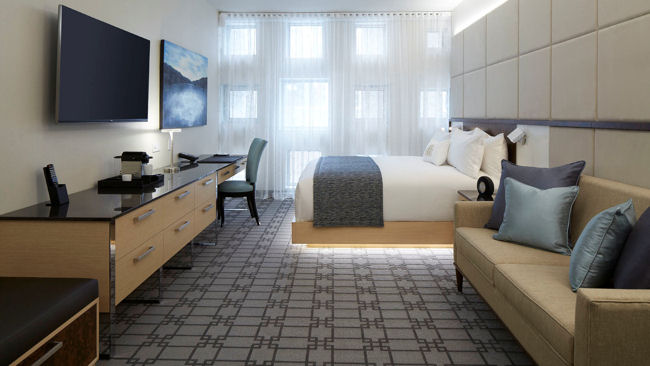 The property owes its survival to that organization, which purchased it in 1926. Upstairs are separate rooms for meetings or parties. It's easy to imagine the tony private gentleman's business club in the roaring '20s holding ribald court amid these elaborately wallpapered and paneled walls. But maybe that's just my imagination since the club hosted dignitaries, business leaders and politicians, Princess Margaret and Pierre Trudeau among them.
Just steps away, however, from touches like the restored 22-carat-gold fixtures, the modern side awaits — 90 ultra-contemporary rooms and sky-loft suites, all featuring floor-to-ceiling windows (and great views high-rising Montreal).
Most guests I met raved over the mansion side while I found the juxtaposition old to new half the fun.
After checking into my luscious junior suite, I popped back over to the mansion to check out the lively Bar George, popular with locals and visitors for its bar scene. Guests get a complimentary drink coupon upon check-in. The U-shaped bar sports chilling multiple wine bottles at one end and poshly-dressed bartenders working quickly beneath an Edison-bulb multi-lit chandelier. A cheeky portrait of Michelangelo's David graces one wall and museum quality art is on another. More of that ying and yang, old and new.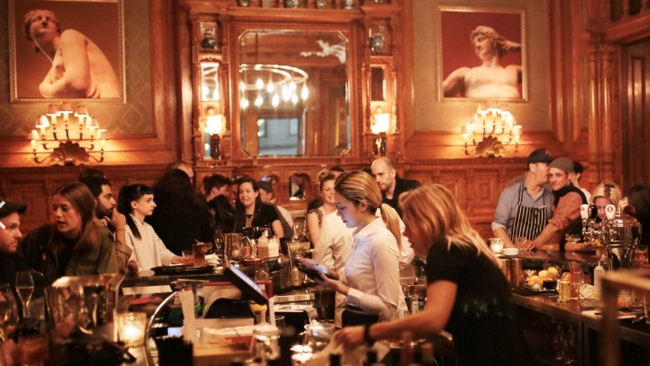 The bar/restaurant has a separate dining room where Full English Breakfast is served amid mod wallpaper of lively romping zebras. Beef Wellington and Cornish Hen are on the menu along with Black Pudding Agnolotti. The English/Scottish cuisine with a twist is a nod to George Stephen's homeland and his long philanthropy benefitting both countries as well as Canada.
By night, outdoor seating alongside the mansion is a romantic version of one of Montreal's favorite pastimes – dining al fresco. It's so popular that even restaurants and bistros on busy streets have carved out a portion of the roadway for curbside seating surrounded by half walls. It's perfect for watching the passing spectacle in warm weather. The outdoor dining at Mount Stephen is further enhanced by dramatic up lighting of the mansion plus a purple glow above the mansion's intricately carved double doors.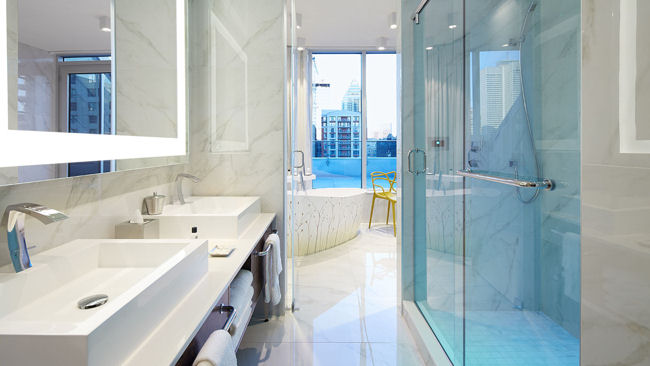 The glossy lobby of metal, marble, glass and steel, mirrors and fluorescence is shocking after the portal-to-the-past entrance, but it's here where my entry to modern conveniences begins. For instance, there are large-sheet printouts of newspapers on sleek black box coffee tables but also signage offering guests the service pressreader.com for unlimited access to thousands of magazines and newspapers online, viewable on any device.
I take in my surroundings: Orchids sprout amid light-colored, low-level couches in contrast to black-and-what wavy carpeting. Yet, an old style, lovely wooden piano is a centerpiece. One wall sports clocks showing the time in various world centers.
My room is a comfortable haven with hi-tech features from turning lights on and off and dimming them to a color-therapy glass-enclosed shower with hand wand plus overhead rain-shower head. With a touch of the button, I can change the light from any of several rainbow colors or leave it in auto-change mode, or turn it off.
Self-serve coffee and complimentary water are provided along with a must for me when working on the road – a writing desk with good lighting. Robe, slippers, in-room safe were also thoughtful touches.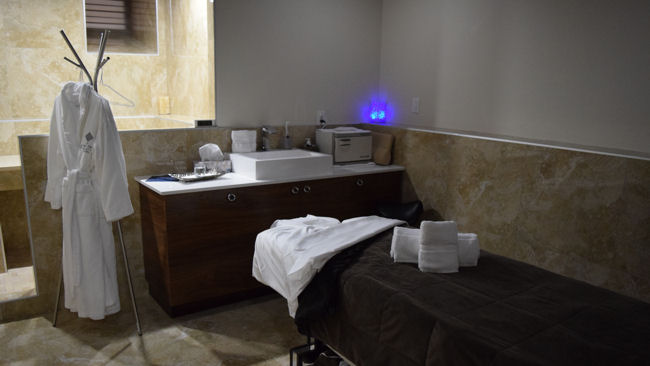 While I only had one night here, it was indeed memorable including my visit one level down from the lobby to the M Biospa Prestige. To help spread the word, the spa was offering $50 coupon off a $100 minimum treatment. Don't expect the type of lavish spa at upper-end properties. This is small with several treatment rooms, but what it lacks in space, it makes up for with a caring staff and an owner very knowledgeable and committed to the latest in scientific skin care. Next door is a fully equipped fitness center, as well.
Purpose of my quick trip, by the way was to see some of what's happening around Montreal for its 375
th
anniversary celebration (coinciding incidentally with Canada's 150
th
). Here are a few highlights:
Must-Sees for the City's 375th
• The show
Aura
inside historic Notre-Dame Basilica was scheduled to end in 2017 but has been renewed for an additional three years. The spectacular luminous, musical experience designed by Moment Factory pairs the 188-year-old basilica's architectural grandeur with new age digital multimedia. I'm considering a return visit just to share this with my husband.
•
The Museum of Fine Arts'
addition of the
Michal and Renata Hornstein Pavilion for Peace
further enhances the world-class facility with the ability to house 600 works of art from the museum's international collections. On my visit, 50,000 people had already viewed the museum's temporary exhibit
Revolution
(ends 10/9/17), which explores everything 1960s, including a half-surround wall projecting the iconic Woodstock concert, plus posters, concert costumes and groovy music played on vinyl LPs. Key connections are also made to Montreal's hosting of Expo 67. Mod fashions from that world's fair are featured at McCord Museum of Social History's
Fashioning Expo 67
(ends 10/1/17).
• A special 375th creation is the impressive
Montréal Avudo
multimedia presentation in Old Montreal, where images and are projected on rippling water walls to tell the story of those native to here, others who arrived on the St. Lawrence and who built and innovated to link Montreal to the rest of the world. (Ends 9/2/2017)
• Also mind-popping is the
Cité Mémoire
project inspired by Montreal's history. Visitors download a free phone app to hear historical narration (in French, English, Spanish or Mandarin) set to music as told by a host of characters who witnessed the city's evolution first-hand. Scenarios come to life as video projections around the city — on multi-story walls, the ground and even the trees.
• The city's glow can be experienced first-hand nightly through a key project for the celebrating both the 150th anniversary of Canadian Confederation and Montreal's 375th. The new, avant-garde illumination of the
Jacques-Cartier Bridge
changes according to the season and the mood of the city. Lights can turn 365 different shades of color, depending on what's happening at that very moment in Montreal.
Bottom line: There's so much to see and do in Montreal, known for its festivals in all seasons, but a perfect spot to launch —because of its city-center location — is the "old and new" Le Mount Stephen.
***
Kathy M. Newbern and husband J.S. Fletcher are award-winning freelance travel journalists based in Raleigh, NC, who have reported on 72 countries and 71 cruises. They often incorporate their travels into their other business, www.YourNovel.com, where they put you and your sweetie in your own personalized romance novel "wild" or "mild."
(Photos courtesy of Mount Stephen and Kathy M. Newbern)