Considered the largest among business hotel suites in India and perched at the highest reach of the hotel, the two-floor, Peacock Suite extends a truly regal experience through its stellar facilities and services and its own private helipad.
Its many glass facades, within and without, its large bay windows and the spectacular views it affords infuse the suite with a sense of spaciousness and unhindered commune with the open skies.
Every space here is an ode to the grandeur of the peacock.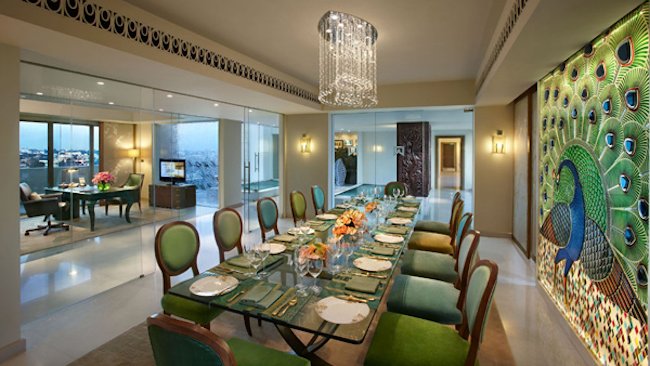 From the stunning glass mural that adorns an entire wall of the grand dining room, to the vibrant peacock feathers that stretch grandly across the softly piled beige carpet to dazzling effect in the living room, the exquisitely ornate white metal and silver leaf headrest in the master bedroom, color themes in each room and the aquamarine infinity pool on the top floor of the suite, every detail harks to the magnificence of this royal bird, and every service expresses an apt homage to its stateliness.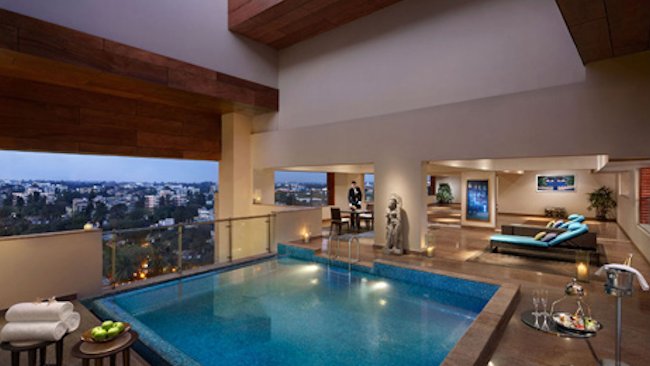 Presidential Suite privileges:
• Complimentary buffet breakfast in coffee shop
• Cocktails at Towers Lounge from 1800 - 2000 hours every evening
• Complimentary usage of board room at Towers Lounge for 3 hours (subject to availability)
• Butler Service
More information:
ITC Gardenia, Bengaluru