For exploring the Croatian coast, cruising is the best type of traveling you could choose. But then you have to pick the right boat for your private cruise and there are a few categories to choose from... Boats available for private charter in Croatia are quite diverse, so you can choose from booking a gulet, sailboat, motor sailor, luxury yacht.
The best gulets in Croatia
Corsario (pictured above) is an ideal choice for large groups since it is a 48 meters long yacht that can accommodate up to 12 guests in 6 luxurious cabins. No matter if you are groups of friends, seniors or families, an amazing cruise experience in style, luxury and comfort is an absolute guarantee! Interior and exterior are designed with guests to comfort in mind with all the modern guidelines. On the deck of this gorgeous yacht, you will find lots of space for enjoying under the sun and along with that many diverse recreational amenities. A professional crew of 8 will cater to all of your needs during the whole cruise.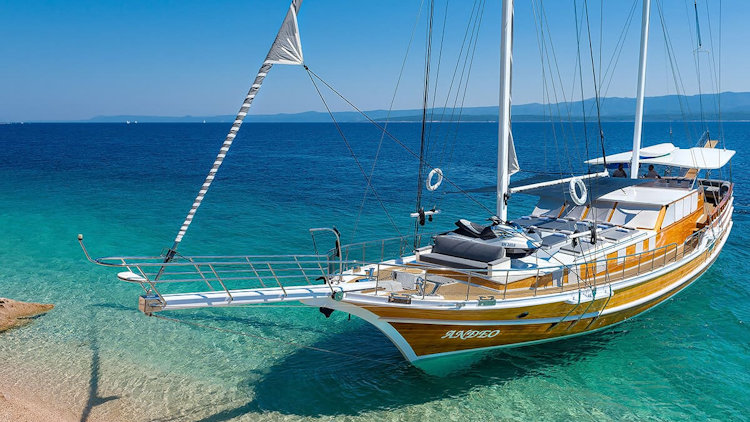 Andeo
Gulet Andeo with 27 meters is beautiful gulet that has 5 cabins that can accommodate up to 10 people on board looking for nice holidays in Croatia. The traditional looking gulet has all modern features that would secure an easy and safe cruising along the coast. The owner has truly given his heart and soul for gulet Anđeo to make sure all guests are pleased and he successfully keeps his standards high and for that reason has many repeat clients. Besides great looking interior and exterior, a superb cuisine and professional crew just add to the impeccable experience you will have when cruising.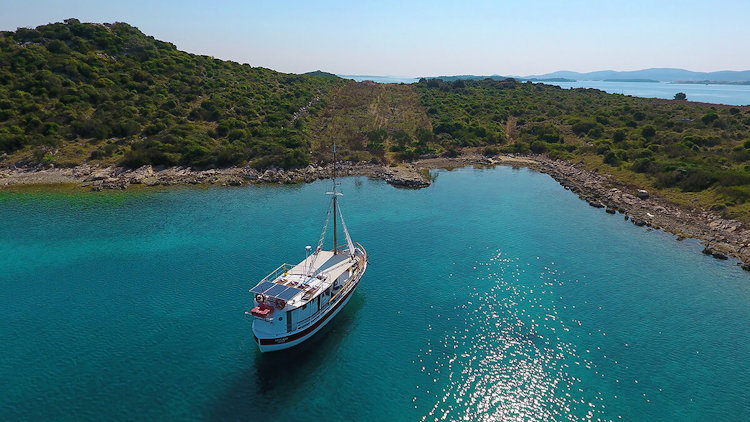 Nevijana
If you are looking for a more private type of cruising then gulet Nevijana is the perfect choice for you. Gulet Nevijana is an ideal choice for small group or 2 families who can enjoy in a 14-meter long gulet that can accommodate up to 7 guests in 3 comfortable cabins. Her captain is a professional but very friendly man with lots of knowledge about Croatian coast but he specialized for Kornati islands. You will be able to cruise in a nice ambiance and experience unique gulet cruise experience away from hassle fo everyday life.
Top sailboats in Croatia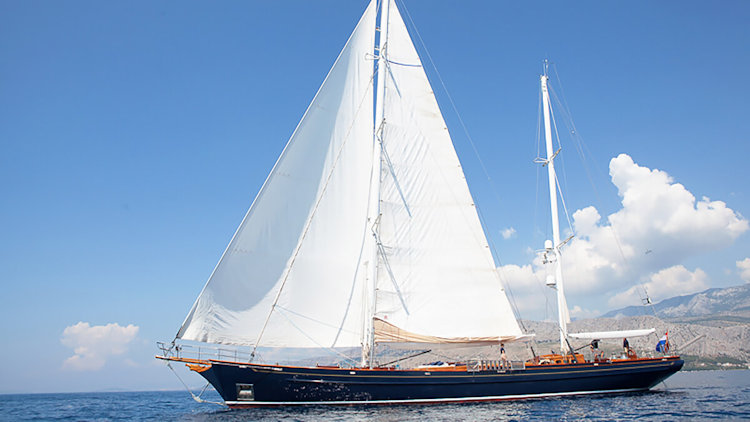 Lauran
Lauran is a modern beautifully designed 35-meter sailing yacht that has been built in Croatian shipyard. From the time it launched in Croatian waters it has won a number of prestigious awards for being one of the most beautiful gulets on the market. Interior of the boat is hand-made from mahogany and decorated with cleverly placed golden details. Lauran can accommodate 6 guests in 3 cabins spacious cabins that were designed with the comfort of guests in mind. On board, there will be 5 crew members at your disposal during the whole cruise who will make sure you don't miss a thing.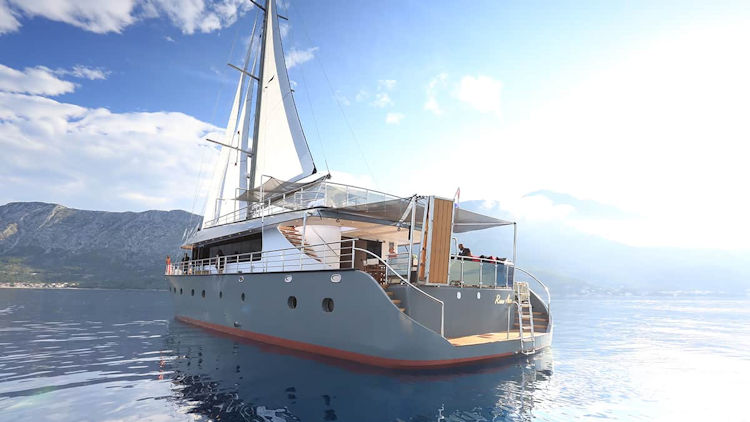 Rara Avis
Rara Avis is a motor sailing yacht that provides the highest standards of comfort, service, and design. It is one of the most luxurious newly built yachts in Croatia. This stunning motor sailing yacht was released in season 2018 and is run by a family business with more than 70 years in the nautical experience! The knowledge and skills of the owners show by just observing the yacht itself that 12 guests can enjoy.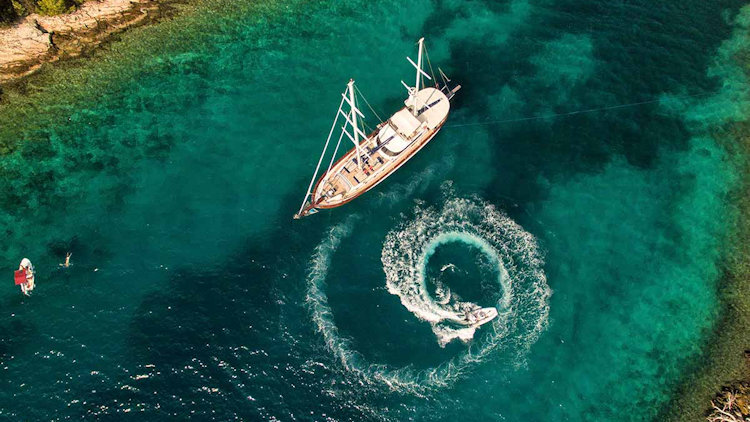 Lotus
Gulet Lotus is 26 meters 4 cabin luxury gulet that can accommodate 8 guests in 2 Master cabins, Double and Twin cabin. It has one of the most beautiful salons and spacious well-designed cabins that feature all you could need for nice sailing experience. One of the main features is spacious flybridge, cushioned area on Aft deck and sitting area on front deck.
Motor yachts in Croatia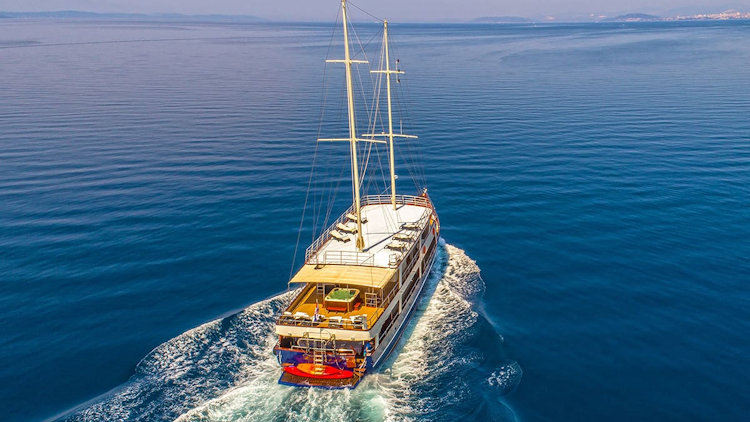 Luna
Motor Yacht Luna has 8 cabins so it can accommodate up to 16 guests on board. Modern design and her sleek lines will impress many. Spacious and stylishly furnished cabins and salon area provide all the guests with nice ambiance and high level of comfort. Moving to the exterior you will find two large decks that provide more than enough space for all guests to enjoy in sunbathing and relaxing under the shade.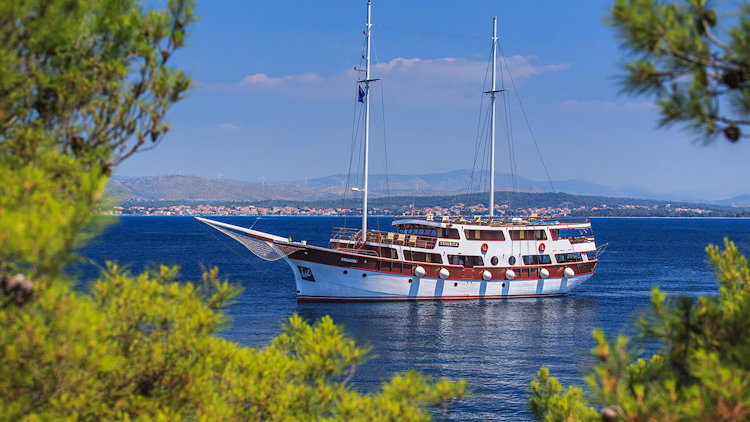 Cesarica
Cesarica is a deluxe all-wooden motor sailing boat that gives you the feel of a small boat but with the luxury of a yacht! It can accommodate 22 + 2 guests in 11 well-designed cabins. On the upper deck, there is a large Jacuzzi for daily relaxation or evening romance. The crew consists of 8 members who will go the extra mile if needed to make your holidays the best in your life!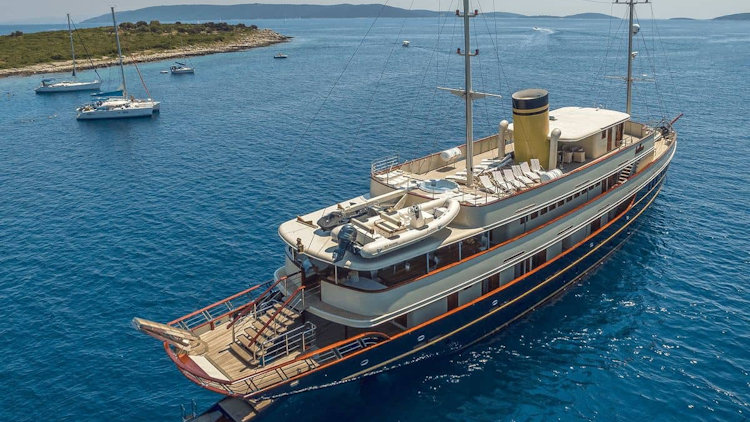 Casablanca
Casablanca is a luxury motor yacht built in 2017 and it is one of the most luxurious ships for larger groups available for charter in Croatia. Casablanca features incredible design and comfort through the whole interior that had been beautifully designed. The salon, lounge bar with piano, the open terrace will amaze you and you will be able to relax and unwind in this luxurious yet extremely comfortable ambiance. 19 extraordinary equipped cabins can accommodate up to 38 people on the boat. A crew of 7 and 1 masseuse will provide impeccable service that will satisfy the most demanding guests. Additionally, there is 250 square meters of open area for leisure and sunbathing, sauna, wellness zone with massage.