Croatia has many beautiful destinations worth visiting, but here are a few that are an absolute must to visit on your next cruise.
Dubrovnik
Dubrovnik is the absolute hot spot of Croatia and for all the good reasons! You will fall in love with this place no matter if you are visiting for the first time or you are coming back for the 6th time, the magic of this town amazes you each time with something new. Dubrovnik holds a rich cultural and historical heritage that is protected by UNESCO list and everything is very well kept so for that reason even more impressive to explore. But the beauty of that town doesn't stop there, along with historic sites and charming streets you will find pristine nature and gorgeous blue sea. Dubrovnik was also the main filming destination for world poplar series of Game of Thrones so you can easily join some tour and explore the filming scenes used along the city or visit popular and impressive Old City Walls where you can enjoy in beautiful views.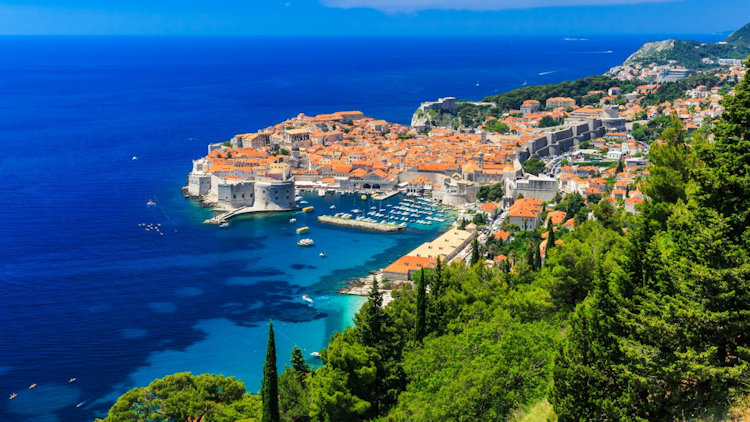 Dubrovnik
Split
Town Split is a well known coastal town and second-largest city with 1700 years-long history. This town is a must-visit not only because of his good location and good connection to a nearby island but also for its beauty and lively atmosphere. This town offers many attractions and activities to do from historic see sighting to entertainment, recreational and leisure points. However, an absolute do is an exploration of the Old Town, and Diocletian place and St. Duje's Cathedral (the patron saint). There are also numerous restaurants where you can enjoy high-quality food, museums and local galleries to visit. If you want to escape the crowds in the Old Town you can head to city park forest hill Marijan that is loved by locals and is a perfect place to relax in nature and stay active.
Mljet
Mljet is one of the most charming of all the Adriatic islands perfect for all nature lovers out there. This island among many other things is also known as the greenest island of Croatia since most of the island is covered by forests and vineyards. However, Mljet National Park! It is an ideal place for unwinding in perfect nature, where the vegetation, pine forests and spectacular saltwater lakes will take your breath away. It's an unspoiled oasis with two gorgeous saltwater lakes Malo Jezero (Little Lake) and Veliko Jezero (Big Lake). You can go hiking, enjoy in nature, swim, explore the island…
Brač Island
Brač is located very close to the town of Split it is best known for his beach Zlatni Rat (Golden Bay).This beautiful bay is just stunning to look down on to if you choose to hike instead of relaxing on the beach, or why not both?. This beach has clear waters and it is your typical postcard shot. Pebble beach is super nice to walk on and it is safe for families with kids too. There are a lot of cute bars on the beach and a lot of fun things to do so you can spend the whole day having a good time enjoying watersports or just relaxing.
Luxury sailing yachts in Croatia have different prices depending on the size, time of the year, features, how many people can be on board etc. But let's speak in general terms what are the standards for luxury sailing yachts in this region.
Prices:
Because gulets in Croatia are much less common than in Turkey, the prices are higher. A week in high season on a nice gulet including meals will cost around 13.500 €/week – 15.000 €/week.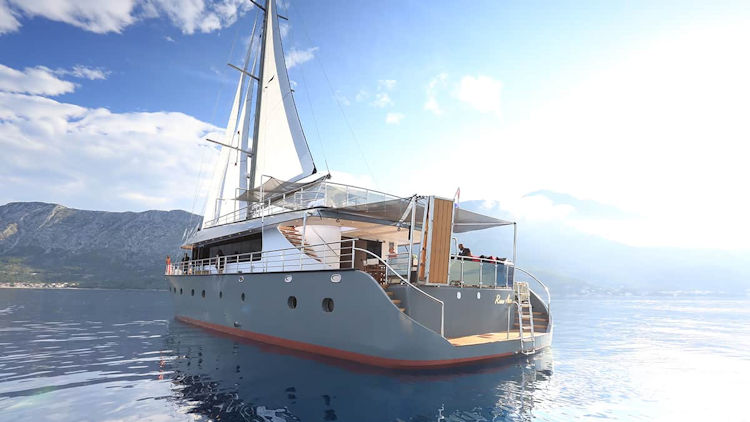 RARA AVIS yacht
Features:
Gulet offers different features depending on their category. The more luxury gulets usually have more features available during the cruise. On different gulet, you can find watersports like a dinghy, water skiing, jet-ski, Ringo ride, kayak, paddle board, sets of masks and flippers… But also other amenities such as sun mattresses, outdoor shower, DVD player, Wi-Fi, USB for multimedia devices, Laptop for clients, Board games, cards, Icemaker, Espresso machine, Air condition, etc. Overall you will have everything you might need during the cruise for comfortable and enjoyable sailing experience.
Size + how many people can be on board?
Size of the gulets can range from 14 meters which is more suitable for smaller groups looking for the private type of cruising, and up to over 50 meters yachts in length that are of course suitable for large groups or some special events like weddings or something similar. The number of people who can accommodate on the boat can range from 7 (or less) people up to 38 people.
Top 3 sailing yachts in Croatia
Rara Avis luxury yacht rarely leaves someone unimpressed or disappointed. Thos stunning motor sailing yacht was released in season 2018 and is run by a family business with more than 70 years in the nautical experience! The knowledge and skills of the owners show by just observing the yacht itself that 12 guests can enjoy. The yacht features 6 cabins with luxurious amenities and a nice selection of water sports on board. The experienced crew of 5 will make sure you have an unforgettable holiday and that you don't miss a thing.
Corsario is an ultra-luxury yacht that guarantees luxury, elegance, and adventures in the Adriatic sea. With its 48 meters and 6 cabins, it can accommodate up to 12 guests for unforgettable cruise holidays. This luxurious yacht was newly built for season 2019 with aims to provide the highest level of comfort and luxury to its guests. There will also be 8 crew members at your disposal during the cruise who will cater to all of your needs and go an extra mile if needed to secure that you have the best possible experience and holidays of your life.
Dalmatino is a newly built luxury sailing yacht for season 2019. Amazing luxury yacht Dalmatino offers a special price is available for a limited amount of time which for now makes him have the best value in the market. This astounding yacht is 44-meter long and 6 luxury spacious cabins for up to 12 guests who can enjoy in endless comfort and luxury. Along with beautiful interior, you will be provided with many amenities on board like a Jacuzzi on the flybridge which is the perfect way to relax during the sailing period. But also many watersports to keep you active, like a tender boat, water-skiing: 2 Jet-skis, Wakeboard, Canoe, and 2 paddle boards.