For the tropical adventure you've waited for all your life, Bali is the destination that delivers in every aspect. Right from providing luxurious accommodation in private beachfront villas, majestic sights such against ancient temples such as Tanah Lot and Uluwatu temple, bike rides along the emerald rice fields in Canggu or exploring the sleepy villages of Kerobokan and Layan, Bali has so much to offer. Whether you're traveling with family for a beach wedding or with your partner for a second honeymoon or even a babymoon, you are sure to find something that suits your needs.
Why should you stay in a villa in Bali
To experience the true essence of Bali, staying in a private villa, whether located amid coconut tree plantations, rice fields, or in the middle of Seminyak is the ideal way to spend your vacation. Having a home away from home will put all your worries to rest since the villa management takes care of most everything from the moment you arrive to the day of your departure! Massages in-house, child-friendly amenities if you're with children, a private chef to delight you with traditional and local flavors, as well as setting up a mouthwatering BBQ for a garden party in your own front yard, the possibilities are endless.
Here are some of the luxury villas you can consider for your upcoming trip to the 'island of the Gods' to make your trip all the more memorable replete with cherished memories and enriching moments.
Villa Purnati, Ubud (pictured at top)
A traditional Balinese home overlooking a river valley, the stunning Villa Purnati provides resplendent views, expansive gardens, and an almost Olympic-sized swimming pool to its guests. The spacious and tropically abundant villa is home to nine bedrooms; the ideal space to hold a private event such as a destination wedding! The architecture of the villa is intrinsic to Balinese culture as it features lumbungs, i.e. two-story alang-alang houses that hold the various living spaces of the villa. Lush greenery, spectacular views, and a serene ambience, Villa Purnati in the cultural hub of Bali, i.e. Ubud, is truly a tropical paradise.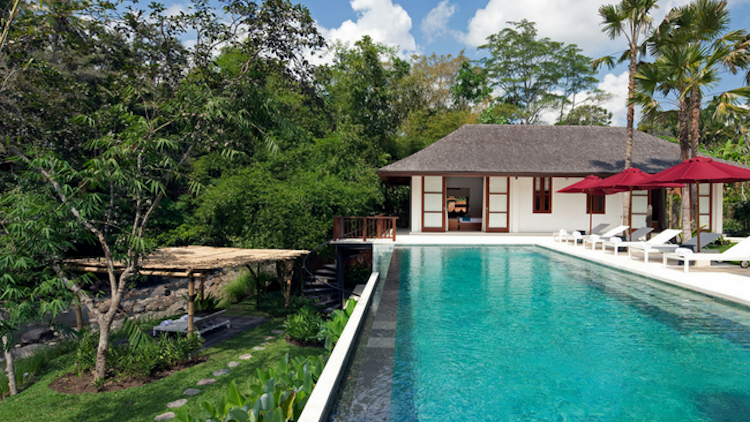 Villa Atacaya, Tabanan
The stunning Villa Atacaya is a five-bedroom marvel found in the midst of bamboo groves and luscious tropical forests in serene Tabanan. Just a short distance from the iconic Tanah Lot temple, an ancient structure perched on a cliff's edge that makes for spectacular sunset views, the villa features open-plan living and dining spaces to bring you ever closer to surrounding nature. The 15-metre swimming pool is enough to occupy your mornings and afternoons while you relax on the sun chairs with a freshly-brewed cocktail served cold!


Villa Sanook, Seminyak
If you're traveling to the lively and bustling streets of Seminyak, many family villas are located in the heart of town; close to many of the restaurants, cafes, and beach clubs. Villa Sanook is one such luxury home that offers a comfortable and modern space to guests where you can relax, unwind, and rejuvenate. Found on popular Jalan Drupadi, minutes away from beaches, 'eat-street', and beach clubs like Ku De Ta, the villa features contemporary design infused with traditional accents such as high-peaked alang-alang ceilings. Floor-to-ceiling glass doors allow a seamless transition from outdoors to indoor living as well!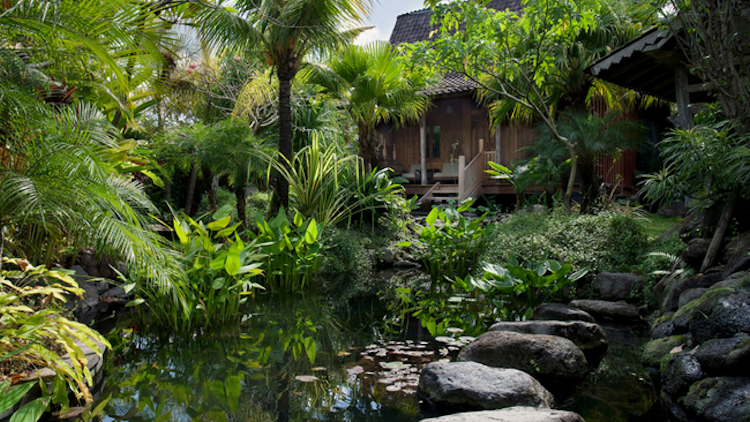 Villa Radha, Canggu
For a romantic getaway with your partner, Villa Radha in beautiful Canggu is the ultimate honeymoon villa with one bedroom, lush outdoors, and snuggle-worthy living spaces. The villa has been designed with a traditional Javanese style that involves wooden interiors including the walls and ceiling. Great for an intimate holiday, the cosy and soothing ambience is truly what you need when looking to find a place for relaxation. Guests of the villa even have access to the amenities of Canggu Club and find themselves within reach of Canggu's rice fields and beaches.


Villa Tirta Nila
Overlooking the turquoise waters of the dazzling ocean, Villa Tirta Nila along the eastern shores of Bali's seaside town, Candidasa, is a stunning beachfront home with direct access to the ocean waters and sandy shores out front. With the beach at your doorstep, your stay at Villa Tirta Nila is made all the more alluring. The gorgeous panoramas greet you from every corner of the house; from the large glass windows and private terraces in the four bedrooms; the infinity swimming pool; and, the open-plan living and dining areas. Oceanside luxe, Balinese bales or traditional gazebos provide the most relaxing and serene lounging spot in all of the villa. What more could you ask for than oceanside living in the lap of luxury!