As a new and up-coming tourist destination, the last 7 years or so has seen a sharp rise in luxury accommodations and services geared towards the more discerning traveler. In the past Peru might have been considered a destination only for hardened backpackers or roaming hippies, but nowadays things are very different and very much a destination for all types of travelers.
In 1911, the renowned explorer and Yale University professor Hiram Bingham stumbled upon one of Peru's most impressive hidden treasures. Lost to the world for more than 500 years, Hiram Bingham was led by local peasant farmers to the ancient city of Machu Picchu. Abandoned by the Inca's around the time of the Spanish conquest of Peru, Machu Picchu, a remote royal retreat, was consumed by dense Amazon Jungle and lost to the outside world for generations to come.
The discovery of Machu Picchu triggered huge international interest, and from that date forward, tourism in Peru has grown at a steady rate year on year. Nowadays, with continued political stability and a booming economy, Peru is a hotspot for luxury hotel developers and service providers. In the last 3 years alone, the City of Cusco and nearby Sacred Valley of the Inca's has seen the opening of 7 spectacular luxury hotels and resorts, including 2 additional orient Express Hotels (El Rio Sagrado & Palacio Nazarenas) and the J.W. Marriott Hotel rumored to have cost around US$ 80 million.
In northern Peru, South of the Jungle city of Iquitos is one of Peru's lesser known attributes – the start of the epic Amazon River. Delfin Amazon Cruises and Aqua Expeditions are two of the leading providers of luxury Amazon River Cruises in the region. Guests aboard their specially designed boats can enjoy expeditions deep into the Pacaya-Samiria National Reserve with all the comforts of a 5 star hotel. With limited availability, prices for this once-in-a-lifetime exclusive experience easily rival most Galapagos and Pacific cruises.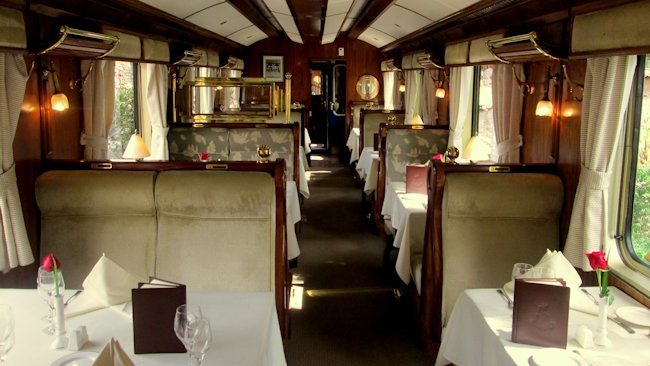 Hiram Bingham dining car
Peru also boasts 2 of the world's best luxury train journeys. The first and most famous is the Hiram Bingham Train that slowly winds its way from Cusco to Machu Picchu. Painted in deep blue with gold livery, its distinctive carriages offer the most luxurious way to get to Machu Picchu. The ticket includes gourmet meals, live on-board entertaining, the best local guides and afternoon tea at the Orient Express Sanctuary Lodge Hotel.
The second train journey and considered to be one of the top 25 train journeys in the world is the Andean Explorer Train.
Travelling from Cusco to Lake Titicaca, the Andean Explorer journey is a majestic ride that navigates through aw-inspiring Andean mountains to the flat Altiplano where wild alpaca, vicuña and llamas roam free. The 10 hours journey is the most comfortable way to travel between these 2 principle tourist destinations and offers plenty of time to get up-close and personal with some of the Andes finest landscapes.
To make Peru even more appealing, the capital Lima is also rapidly becoming known as one of the best culinary destinations on the continent. So much so, that at the 2012 World Travel Awards held in Delhi, Peru won "World's Leading Culinary Destination," beating off strong competition from culinary giants France, Japan, Italy and China to take home the coveted prize. With restaurants like Astrid & Gaston (voted within the top 50 best restaurants in the world), Central (by chef Virgilio Martinez) and Malabar (specializing in Amazonian flavors), it is easy to see why Lima is picking up so much acclaim.
Dubbed by the Peruvian Tourist Board as an Empire of Hidden Treasures, Peru really has a lot to offer in terms of attractions, nature, history, culture and cuisine. Although still a popular destination for young backpackers, it is now also a growing destination for luxury travelers too. Travel to Peru and experience the best of Peruvian hospitality and discover one of South America's best destinations.
###
Paul Jones is the Managing Director of Totally Latin America, experts in luxury Peru vacations and travel.