But how wrong they are.
Two months ago the pink city of Marrakech, itself lost in the sprawling expanse of the southern desert, gave birth to a hotel so grand and yet so understated that it almost defies description. Conceived and bankrolled by His Majesty the King of Morocco, The Royal Mansour gives new meaning to the word "opulent".
Located down a private road, reached through an arched gate set in the ancient honey-yellow city wall, the hotel's grounds cover eight acres, walking distance from Jma al Fna, Marrakech's main square.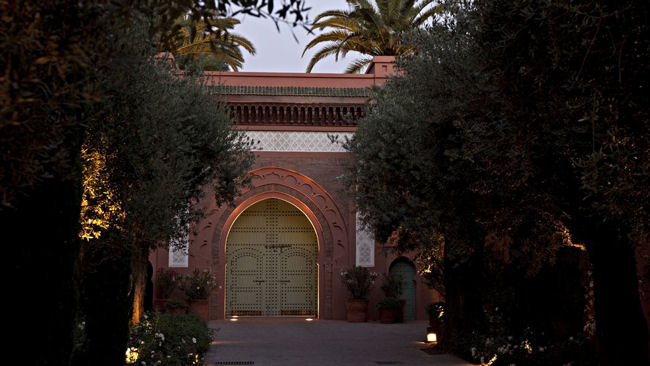 As you approach, the great beaten brass portals, inscribed with geometric designs, swing slowly inward, liveried guards standing to attention either side. Rather than a sense of the austere, there is a calmness, a tranquility, as if you have arrived at an oasis deep in the desert.
Throughout Morocco's history, almost every monarch has championed the artisanal crafts for which the kingdom is famed, by supporting grand architectural projects. Many of these have been palaces fit quite literally for a king, and many more medrassa, Qur'anic schools, and sublimely crafted mosques. Five years ago, King Mohammed VI turned his attention to constructing The Royal Mansour, a hotel which perfectly showcases the vast array of Moroccan crafts.
Nothing could ensure work of such a high standard as laboring for one's monarch. The 1200 "moualems", master craftsmen, who toiled both day and night for years, regard the Royal Mansour as the highlight of their careers.
No expense was spared in creating what is a real masterpiece of Arab and Moroccan art. Indeed, the budget for the project has never been made public, allowing for attention to be lavished on what was created and not the price tag alone.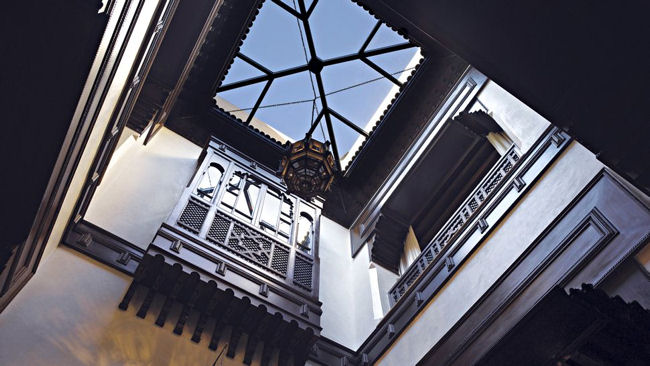 The Royal Mansour is not about over-the-top bling bling, but it is about a truly dedicated study in understated luxury. There are no cavernous salons, no rip-roaring entertainers, or even twee little gift shops. Instead, there's an intense and perfectly honed attention to the guest. Set in a city with an abundance of high-end hotels, the Royal Mansour stands apart because of its subdued obsession on getting it right.
From the moment you arrive, you are soothed by the pungent scent of jasmine flowers and fragrant orange blossom, your racing mind lulled by the sound of water trickling from mosaic fountains. The placid surroundings are a complete contrast to the wild hubbub of life outside the walls. Marrakech is after all a destination with a vibrant spirit all of its own.
A central courtyard serves as a welcoming area, the floors laid with glazed tiles crafted in Fez, the walls adorned with zellij mosaics and with intricately carved plasterwork. The corridors that surround it boast the very finest cedar-wood ceilings, their patterns expertly sculpted as they have been in the kingdom for a thousand years or more.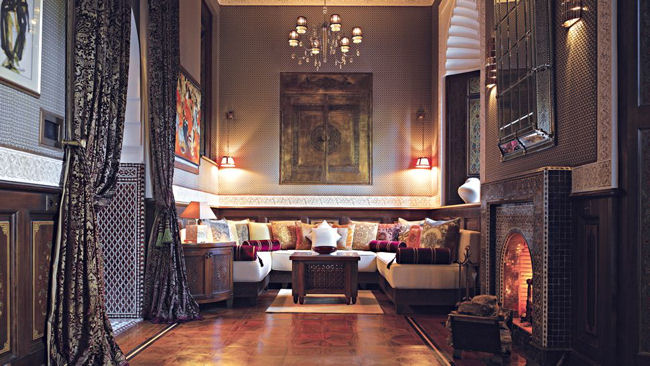 This being the Royal Mansour, you are not given the choice of a humble room or even a suite, but rather you are presented with your own house, known as a 'riad', a courtyard home. The hotel's accommodation is arranged around 53 riads, set in clusters, forming a medina (or, old city), which mirrors the ancient medieval heart of Marrakech.
As in the actual medina, there are twisting lanes and a real sense of wonder at what's around the next corner. And, all the while the air is alive with delicious scents, and with the sound of water running through open conduits set into the paving stones.
Arriving at your riad, you find a pleasure dome fit for royalty.
A central courtyard replete with exquisite marble fountain, forms the core to a style of home inspired by Andalucian style. The walls are adorned with silks and expertly-tanned suede, the floors laid with geometric mosaics, cut in a thousand shapes. Every inch of the place is a craftsman's showcase, all of it of the most breathtaking quality.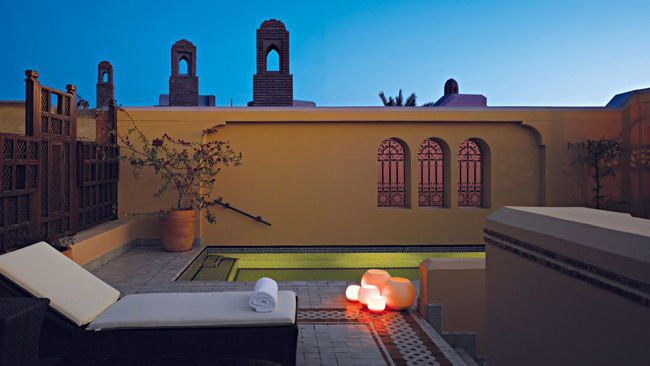 As if by magic, a manservant steps from the shadows, serves chilled Champagne, and offers a tour of your new home. Set on three levels, most of the riads have two or three bedrooms, and are equipped with every imaginable luxury, including their own roof terraces, complete with individual swimming pool. The butler prepares cocktails and small meals in the riad's own kitchen, and is on call 24 hours a day. Rather than being ever visible and under your feet, he melts into the background, sensing perfectly when you need him.
The magic doesn't stop with the genie-like service.
What I couldn't understand during my stay was how come I never saw any members of the staff – except those neatly positioned to welcome me. Everyone else – the janitors, electricians, caterers, handymen, they are all quite invisible.
Only later did I come to learn the secret.
Beneath the hotel is an entire city in itself, laid out in a labyrinthine network of tunnels. It's a vast and impressive place, the kind of thing you'd never quite imagine could exist right under your feet. Every time you order a sandwich to be brought to your riad, or breakfast in bed, or every time a cleaner needs to slip in or out unnoticed, they are transported through the subterranean world before popping up to the surface.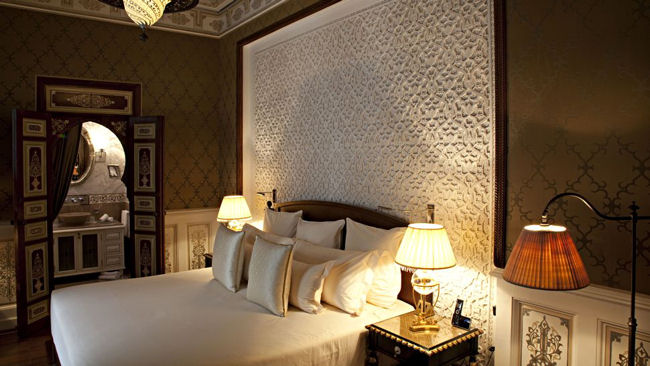 The Royal Mansour boasts two gastronimic restaurants, overseen by a Michelin-rated chef, serving both French and Moroccan cuisine. There's also an all-day restaurant where white-gloved waiters attend to your every need. All the plates are the finest Limoges, the silverware also imported from France, and the glasses carved crystal. There is a health spa, too, arranged to give the impression you are in a vast white wrought iron bird cage, offering all manner of treatments, from hammans to watsu baths, and from hydrotherapy to many forms of massage. There are ballrooms, as well, and business facilities, wine cellars, a Kids' Club, gymnasia and a cigar room, stocked with Cuban cigars and a supply of 1888 Armagnac.
As one would imagine, the hotel is already attracting the kind of clientele who yearn for true luxury and tranquility, but without nouveau riche froth on the top. Many visitors arrive by private jet from Europe and the Middle East, assured that their stay will guarantee them true seclusion and jaw-dropping luxury.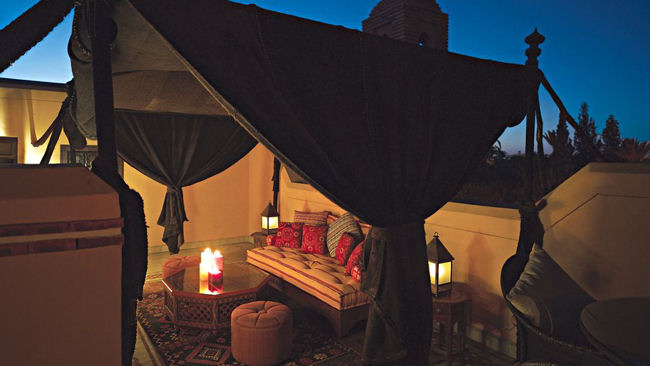 For guests seeking the ultimate privacy, there is a Riad d'Honneur, a small palace in its own right. The building has its own entrance, spa, pool, servants' quarters, kitchens and vast gardens. During my stay, the former President of France, Jacques Chirac, was in residence with his family.
The only hardship about the Royal Mansour is the moment when you have to leave. The great burnished brass door part somberly and you slip away into the frenetic reality of modern Marrakech.
But then, every dream must eventually come to an end.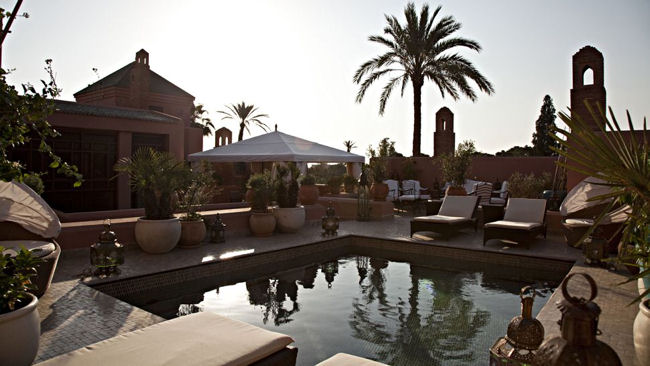 Royal Mansour
Rue Abou Abbas el Sebti
Marrakech 40000 Morocco
Tel: +212 (0) 5 24 37 83 39
Fax: +212 (0) 5 24 38 38 79
Email:
experience@royalmansour.ma
Website:
www.royalmansour.ma
About the author:
www.Tahirshah.com