The luxury travel consultant is big right now. Every discerning traveler should have someone who can offer them the best accommodations, unique amenities, and exclusive experiences. How do you do this for your clients?
KB: It all begins by knowing our clients and their specific needs. We begin by spending time identifying what's important to our clients in daily life and when they travel. From there, we can find the right supplier–hotels, tours, airline (and class of service), and transfers. And this can change all the time depending on the destination and who they are visiting.
So my job is to know the options available in the market and develop relationships with these suppliers in order to personalize our guests' experiences. It's a partnership in other words–where our ultimate goal is to insure our clients are treated like VIPs and offer them a unique experience. Not all five star properties are the same, so the ultimate goal is to make our clients feel at home while maximizing their budgets.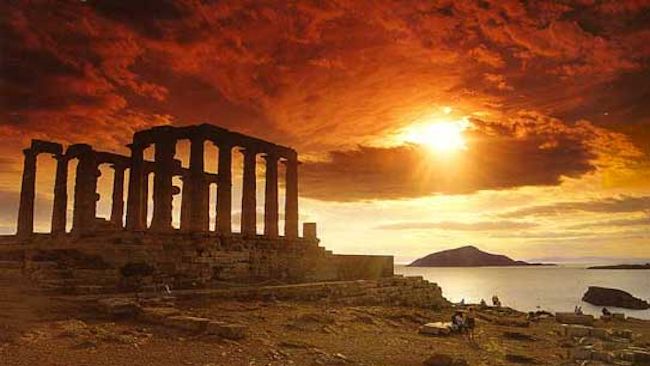 Temple of Poseidon, Sounion
So what was your most recent trip to scope out locations for your clients?
KB: I just recently returned from a 5-day visit to Greece where I went to the popular islands of Mykonos and Santorini. I also visited the new Aman Resort, Amazo'e in Kranidi, which is just two hours outside of Athens.
Why Greece?
KB: We have had a great deal of client interest for travel to Greece this year. Greece has always been a popular destination for honeymooners and romantics because it is known for its beautiful beaches and stunning landscapes. For someone travelling from the US, it has a certain mystique–a relaxing place to soak in history and culture. As I am of Greek descent, I know and understand the culture and lifestyle.
Over the past two years, there has been much concern regarding Greece's financial situation and the uncertainty of the country's social climate. Clients were somewhat concerned about the levels of service and accommodations. I wanted to see firsthand what this would mean for my clients for travel this summer. I am happy to say that country is ready and able to handle the needs of the luxury traveler.
What do you look for in a hotel for your clients?
KB: We personalize our client's travel experiences and therefore no two trips are alike. In general, I look for properties that have superior quality and excel with their service. It's not good enough for a hotel to say that it is a 4 ½ or 5-star hotel. I need to see updated amenities, high-end furnishings, plenty of space, and rooms in pristine condition–for a start. I also look for exceptional service (things like continuous housekeeping services, great spas and fitness centers with up to date offerings, and attentive food and beverage service at the pool and the beach) and a culture that is friendly and respectful. I also look at the overall atmosphere and identify which properties work best for families and best for honeymooners or couples.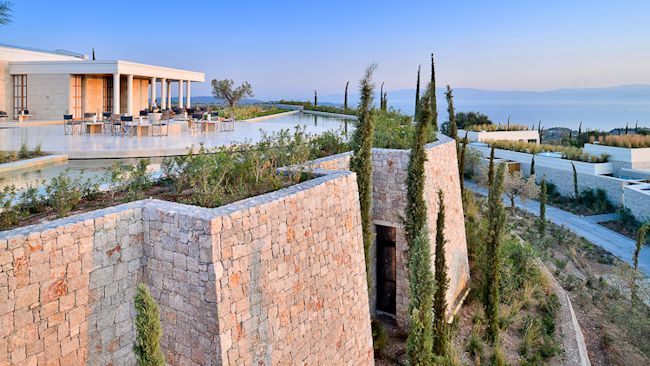 Amanzo'e
Which hotel was your favorite?
KB: I was blown away by the new Amanzo'e in Kranidi, Greece. Aman is a global brand that offers a personalized level of service, focusing on local culture and the guest experience (it's not a stuffy place at all – there is a big focus on well-being) They are all in unique destinations throughout the world.
Amanzo'e recently opened last August and is roughly two hours outside of Athens near Ancient Olympia. It is a 38-suite resort which means that no more than 60 to 70 people are there at once, even when the property is fully occupied. There is a 3 to 1 staff to guest ratio which means that there is always someone around to take care of your needs whether it is an extra towel at the pool or a late night snack at 3am. The staff are all locals, which really adds to the intimate feel of the property, and they strive to build a relationship with the guests. It doesn't take long before you feel like part of the family.
The property itself is the perfect place to escape and unwind. The focus is on personalizing the guest experience through wellness, luxury accommodations, and high service delivery. Villas are approximately 1,200 square feet each and built with the finest materials. The spa and fitness facilities are state-of-the-art with unique aqua therapy services. The unique location on a hilltop offers amazing views of the local valley, the Aegean Sea, and islands nearby. The private beach club is less than 10 minutes away from main resort and it offers 3 pools, a restaurant for lunch and dinner, and a private beach. From the open-air lobby you can see the ocean and there are reflection pools everywhere–the whole thing was built so you can really feel the positive energy. It's really breathtaking what they do; when you integrate passion and experience, you can provide a superior product, which is what Aman has done with all of their resorts.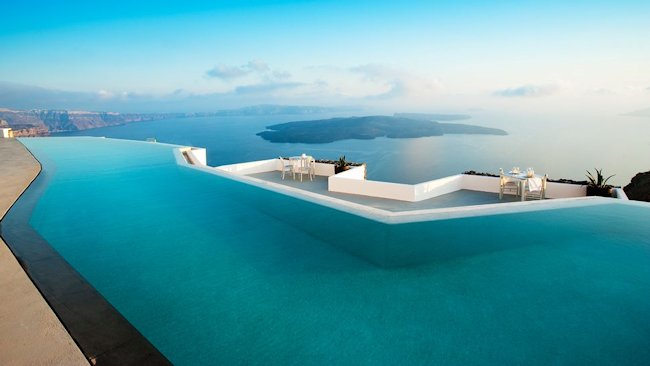 Grace Santorini
Tell us about the exciting things in Mykonos and Santorini that every luxury traveler should know about.
KB: Because of the economy, no new properties have been recently built; however, it's refreshing to see that investments are being made to maintain and update the great properties that are already on the islands. Grace Santorini blew my mind. It personalizes the guest experience by learning their preferences before arrival. The geographical location is integrated into all the rooms which have a modern, yet natural feel. I also loved the Cavo Tagoo in Mykonos, which is actually owned by an architect and also focuses on high level service and is furnished with unique furniture.
As far as activities go, I would suggest that everyone take a catamaran tour and sail around Santorini at sunset–it's breathtaking. There are also some great local vineyards to go do wine tastings. A great, romantic activity would be taking a cooking class at the infamous restaurant, Selene. The dishes are amazing, and it is just a great experience to have with a loved one.
I wouldn't forget to stop at Koukoumalvos for dinner overlooking the caldera. They take traditional Greek cuisine and add a modern gourmet "twist". It's definitely a favorite of mine.
In Mykonos, no one should miss taking a tour to the UNESCO heritage site at Delos. A private tour will give you an awesome the behind-the-scenes experience in a place that's steeped in history and mythological legend.
More information:
BastasTravelConsultants.com