It was admittedly a last minute decision. How do two workaholics with barely a minute to plan find indulgence and adventure? What sounds like the opening line of a joke is reality for so many professionals.
Regent Cruises
is ready with an easy answer.
"Two for one" prices, free airfare, free tours are Regent promotions but saving money is not the only, not even the primary, lure. A few clicks of the mouse or an easy phone call to an enthusiastic agent and a trip is organized. Regent even allows you to select the contents of your mini-bar and the number of pillows on your bed. International destinations include business class travel and Regent adds a pre-cruise night in an upscale hotel and transfers. It's no exaggeration to say you need only show up with your luggage.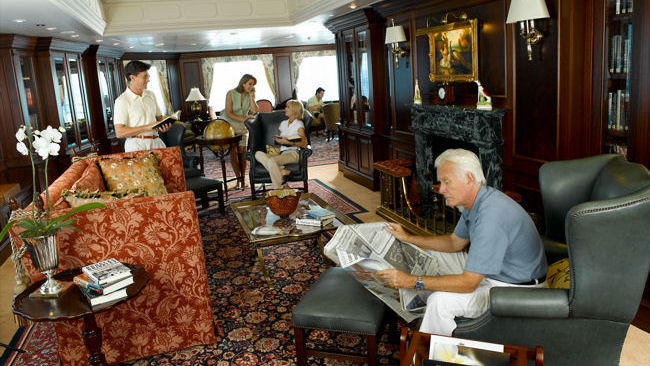 Our port of departure is Ft. Lauderdale, which gives us ample opportunity to consider the competition. Regent's stylish Navigator is flanked by several behemoths of the industry, floating cities carrying up to 5000 passengers. From force of habit we brace for endless lines and long waits for luggage -- only to be whisked effortlessly through the embarkation process. Our fellow cruisers (all 488 of them) sample a buffet lunch around the pool or in the air-conditioned Veranda restaurant. I am still poaching off my husband's dessert plate when we hear the announcement that the suites are ready.
There are only outside suites on the Regent Navigator. The choice is between large and larger, butler or no butler. Our butler is from the Philippines and his name is Felix. He offers to unpack for me but I already have. He offers to bring me something to eat but I've just finished. He is so genuinely eager to be of service that I assure him that I will be calling on him soon -- for what I can't yet imagine.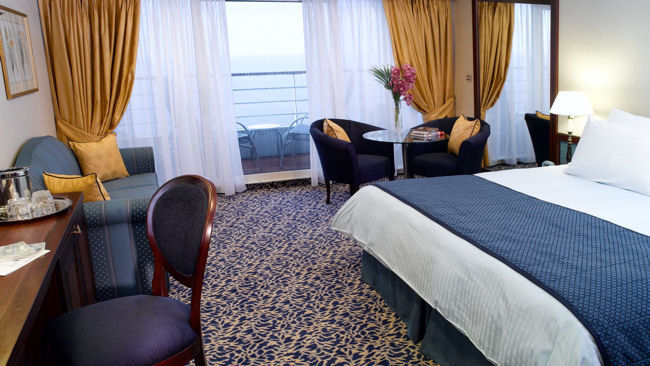 Our suite has a walk-in closet, a bathroom with a separate tub and shower. There is a sitting area, a flat screen T.V. and a private balcony. The room is stocked with my husband's favorite Scotch and the diet soda I've been meaning to give up, but not yet. Less passengers, more private space, and personalized service clearly factor into the luxury equation. I wonder what else Regent has in store?
The Navigator has three dining rooms: the Veranda which offers breakfast, lunch and dinner buffets; the Compass Rose where all three meals are served; and Prime 7, a steak house which requires a reservation and can only be visited once per cruise. For our first night at sea we decide to keep it simple and head for the Veranda. We are seated and our drink orders taken. Alcohol is included so there is no purchase of "drink packages." I choose a made-to-order pasta dish from the buffet and it is brought to my table when ready. The kitchen easily accommodates because there aren't that many of us to feed.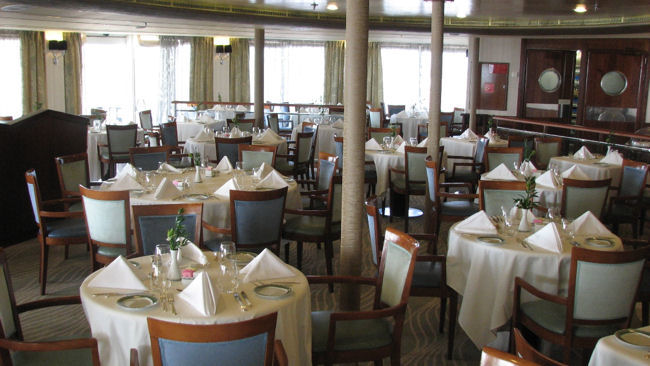 La Veranda
Life aboard the Navigator falls into a pleasurable routine. We like to exercise in the morning so a walk around the decks and a visit to the fitness room follow breakfast. My plan was to take the stairs to minimize time on the stationary bike but everything on this ship is just steps away. The price of convenience (for me, anyway) is extra time in the gym -- luckily it has state-of-the-art equipment and a great view off the bow!
Fellow cruisers take advantage of informal bridge games and meetings to highlight tour options but we are content with books and crossword puzzles. A few teens splash about in the pool and toddlers are supervised by attentive caretakers but most of us are best described as mature -- if still capable of cave tubing and eco-hiking (two tours with extra sections added to meet interest levels).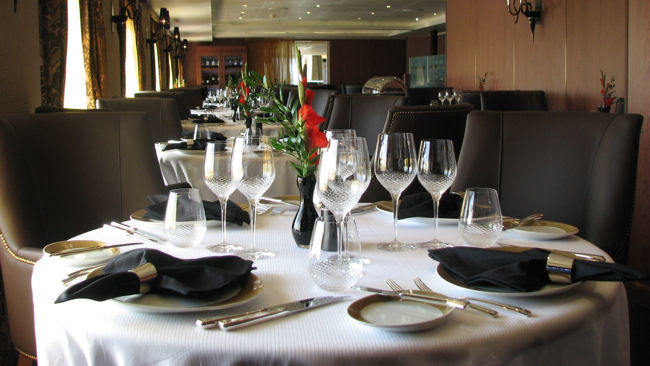 Prime 7
We plan our dinner at the Prime 7 to celebrate my husband's birthday. Our window table for two provides an intimate setting even as we contemplate the expanse of sea around us. The attentive wait staff assists us with wine and food selections and a delightful evening begins. A birthday cake -- both tasteful and tasty -- arrives and we are amazed that we finish it all. I suspect our waitress is not equally surprised.
The tours are a good way to meet other guests. I discover that many are repeat Regent cruisers who love the experience (though I do hear that the Caribbean destinations are not on a par with other Regent itineraries). One points out that there are no photographers maneuvering cruisers in front of life buoys or screens with painted-on island backgrounds...and then looking to sell photo packages. It's another example of the advantages of "less" and I realize how pleasant it is.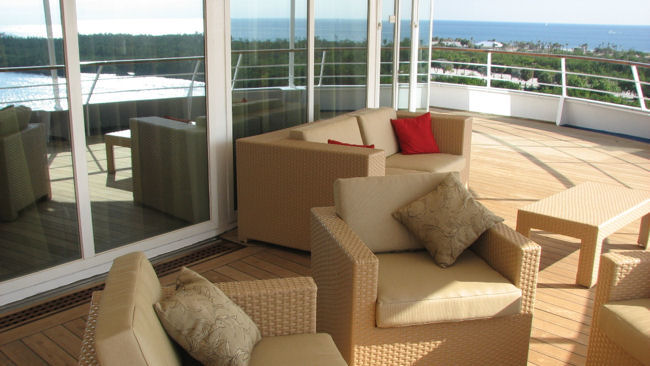 Galileo Outdoor Lounge
The Compass Rose is the Regent's main dining room and has an open seating policy. It's never crowded when we are there and the food is delicious. I'm able to get my fish cooked just the way I like it. Letting people show up when they are ready for dinner apparently works, at least when dealing with the number of passengers Regent ships carry.
One of the reasons we chose Regent is that its itineraries usually include days at sea. We find many like-minded individuals, some who even stay onboard during days at port to enjoy spa services or lounge by the pool. Today we decide to leave the privacy of our balcony for some sunbathing on an upper deck. Fresh air and warm breezes soon lure most guests into blissful relaxation (sometimes indistinguishable from a late morning nap). The intercom system offers a gentle reminder about not staking absentee claims to deck chairs -- it's hard to imagine incivility in such an idyllic setting.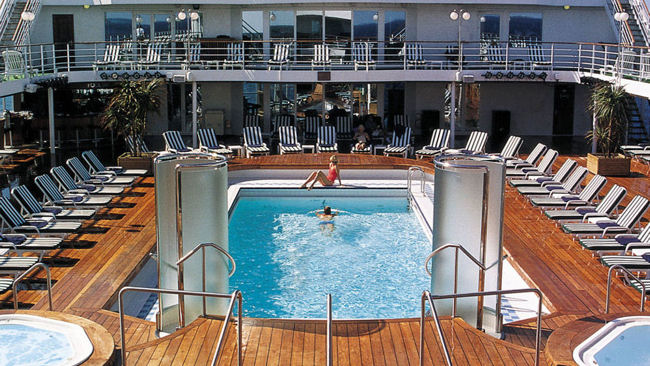 Felix our butler brings us appetizers of our choosing each evening but we can find little else to ask of him until the morning our safe doesn't open. He is at our door within minutes of our call -- which goes directly to his cell phone. Felix takes charge, someone arrives with a new battery and we are off for an excursion without missing a beat. In this case more (more service that is) is most welcome.
The day we disembark is a mirror reflection of our first day. An hour after breakfast, we are headed to the airport. It is such a quick, easy process; we could have booked an earlier return flight. I ask my husband his opinion of the Regent formula for luxury cruising. His answer: "It's a winner."