The itinerary immediately caught my eye. Chennai, India (also known as Madras) to Singapore with a three-day stop in Myanmar. The
Azamara Journey®
typically makes its way to Asia for the winter months, but the stop in the country "formerly known as Burma" is a first. The recent election of Nobel Peace Prize winner Aung San Suu Kyi to Myanmar's parliament and the even more recent visit by President Obama appears to be the first step in an opening for Western tourists. We will be among the first to go.
Azamara offers pre-cruise hotels and excursions but we decide to strike out on our own. I book us into the
Vivanta by Taj - Connemara
, the city's only heritage hotel built in 1854, that transports us back to the days of the British Raj. We also set up two tours with
Storytrails
, a company that offers walking tours that introduce the culture, legends and even the myths of Chennai.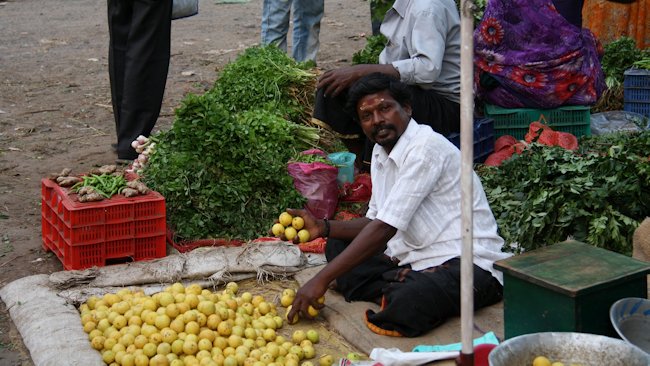 Chennai Bazaar
The Bazaar Tour led by Mr. Samarth takes us where few Westerners venture. Under his guidance, the previously unimagined opens before us. Baskets of spices and vegetables splash color. Cows wander the crowded alleys, fed by those anxious to gain merit. Everywhere we are greeted with smiles and acceptance. This India is virtually timeless.
Our second tour with Mrs. Raman includes a visit to a Hindu temple, the home of a local Brahmin priest, and the Basilica where the apostle Thomas is said to be buried. She is surprised by our skirts and shorts. In India, shoulders and abdomens can be bared but showing your legs is only short of going naked. Mrs. Raman finds a stall where we buy lengths of fabric to wrap around us -- and off we go! We are enchanted by her knowledge, her tales and her enthusiasm.
At mid-afternoon we head to the Hyatt to check-in for our voyage. No long lines or stifling terminals. In minutes we are done and on the comfortable air-conditioned coach for the quick ride to the ship. We step onboard, surrender our passports and head right to our cabin. Even by luxury cruise line standards the ease of the process is impressive.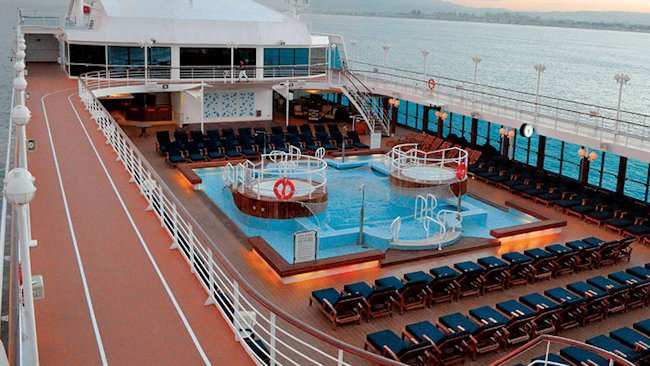 Azamara Journey pool area
The four of us meet up and start exploring. The fitness area is large and well equipped -- yay! A coffee bar, the Mosaic Café, serves specialty coffee drinks, tea and hot chocolate along with finger sandwiches and sweets. Our girls are impressed. The pool is well designed with deck chairs positioned in both shade and sun. We agree that the
Azamara Journey
is an ideal size: large enough to offer variety, small enough to provide great service.
The first two days are at sea. This offers a chance to recover from jet lag and get comfortable in our new "home away from home." We savor a wonderful meal in the specialty restaurant, Aqualina, and discover the mixed blessing of the gelato bar that makes an appearance at every lunch and dinner buffet. The staff is unfailingly friendly and helpful.
After two days at sea we arrive at Port Blair in the Andaman Islands. Far out in the Indian Ocean, these islands remain part of India (the reason a multi-entry Indian visa is required for this cruise). Azamara only offers one excursion. We decide instead to strike out on our own. The sun is blazing and we are barraged with drivers who want to "take us for a ride." I suspect that this is what many experience when they first arrive in India and I am once again thankful to Storytrails. Today we are glad to get off and even gladder to get back on.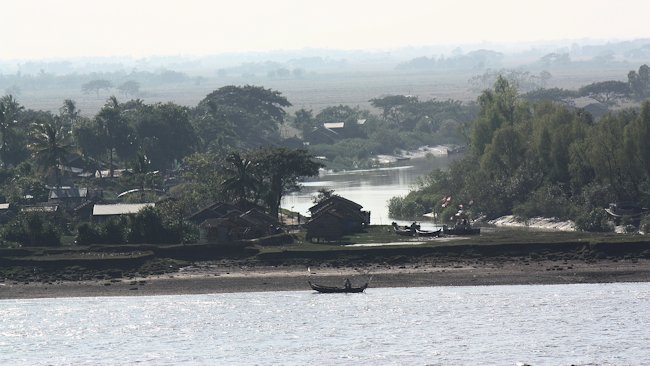 Irrawaddy River, Myanmar
The following afternoon we enter Myanmar waters and the ship turns up the Irrawaddy River toward Yangon. On either side are rice paddies and small villages untouched by modernity. What reception awaits us? The ship is unable to arrange for a currency exchange and we are warned that clearing the ship might take hours. Fortunately our personable and very laid-back Norwegian captain has come laden with gifts he presents to customs officials. Fifteen minutes later the ship is cleared and we are free to go ashore.
We have made arrangements with a local tour company called
Bikeworld
to pick us up in a private van for the hour ride into the capital. The plan is to take a bike tour the next morning that will provide a glimpse of rural Myanmar. Bikeworld was founded by an Australian, Jeff Parry and his Burmese wife Soesoe. Jeff is the cyclist. Soesoe does the rest. A few months ago they opened a B & B in their home. We decide to overnight there so we can get an early start.
Jeff and his Burmese assistant, Lance (nicknamed by other cyclists for reasons easily guessed) are packing up a truck with mountain bikes and helmets when we come down for breakfast the next morning. The truck ride that takes us outside downtown reveals a land whose isolation has left it far behind.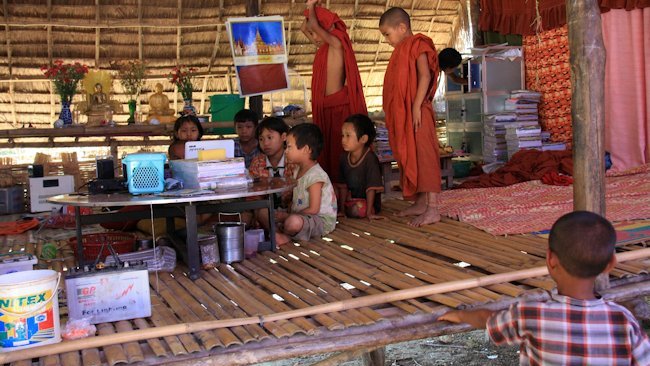 Myanmar: abandoned children cared for by Buddhist monk
Jeff incorporates several stops into our bike tour. We visit a one-room cottage where young girls are weaving cotton into gauze and a rubber plantation where extended families rent 10 acre plots of land. At an open-air school run by a monastery, children greet us with exuberance. Floor mats take the place of desks and chairs. Books are in short supply. Why didn't we think to bring pencils and erasers? Those small items would be a treasure trove to these children.
After the ride we return to the B & B for showers and more of Soesoe's hospitality. She has arranged for an English-speaking guide to take us on an evening tour of Yangon. We stop for pictures near the Royal Barge and then it's on to the city's most iconic sites, the Shwedagon Temple. Myanmar is still a Buddhist land even after 60 years of repressive military rule.
We return to the ship and compare notes with other guests. Those who took the Azamara excursions express satisfaction, but we believe we made the right choice for us.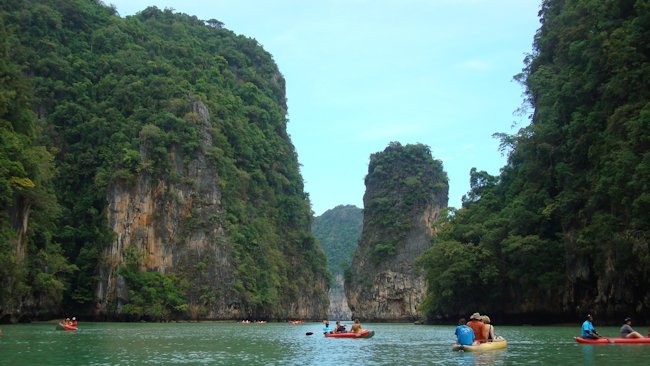 Canoeing in Phuket, Thailand
Phuket is our next port of call. We pre-booked the Sea Canoe tour that includes a Thai lunch and a visit to a private beach. My husband and I took a similar tour in Phuket on a different luxury cruise line last year and were very disappointed. Fortunately, Azamara comes through! Everything is well planned and goes off without a hitch. In fact, we wish for more time. My feedback card will suggest they drop the Andaman Island stop and replace it with a second day in Phuket.
This cruise ends in ultra modern Singapore, a remarkable contrast to the other ports we visited on this voyage. My sister-in-law suggests that we meet with the onboard agent who books future cruises. I'm thrilled. What better way to end an Azamara cruise than by planning another!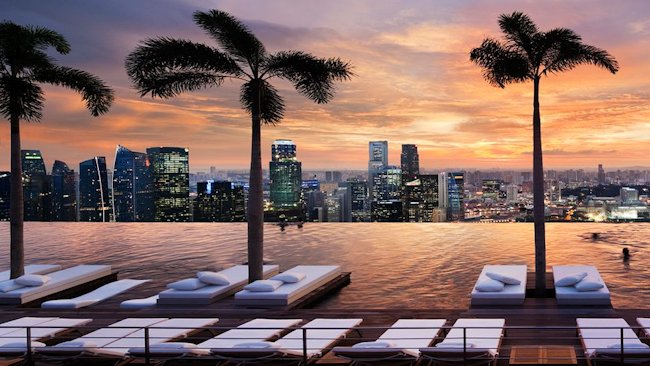 Singapore city view from Marina Bay Sands rooftop
Copyright © 2012 Luxury Travel Magazine. All rights reserved.