Drawing throngs of visitors to the bars and cafes that line its sides and the historic apartments that overlook it, the square is a traditional starting point for exploring the older parts of the Spanish capital.
Having checked in to the stylish Barceló Emperatriz hotel in the Salamanca district, we hopped aboard the Madrid metro at Gregorio Maranon for Caello and emerged into a jewel of an autumn day.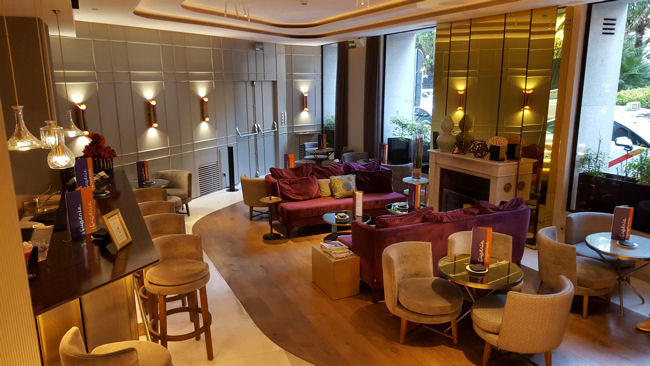 It's a short walk to Plaza Mayor where we gladly wandered before sitting in the sunshine with a coffee, watching street entertainers, eaves-dropping the drifting tones of tour guides to absorb morsels of history and then listened to a brass band play a medley of popular songs.
Above all, it is a place to sit, take time and absorb the atmosphere.
Designed in 1619 by Juan Gómez de Mora, it has seen bull fights, religious ceremonies, royal weddings and the ritual condemnations of heretics during the Spanish Inquisition, followed by gory executions – burnings at the stake and deaths by garrotte on the north side of the square, hangings to the south.
A major fire destroyed the original square in 1790 but it was rebuilt with the warm-textured apartments and wrought iron balconies we see today.
Streets lead off in different directions but a popular route – perhaps subconsciously luring us with aromas and flavors – draws us into the embrace of the temptations offered by the Mercado de San Miguel.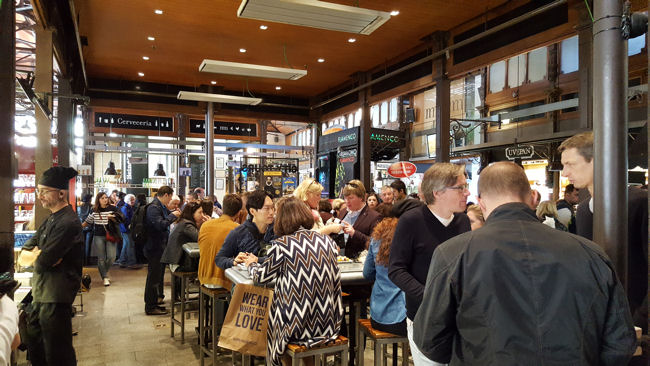 It is a sumptuous Aladdin's Cave of culinary treasure, a fabulous food market where you can find Spain's finest cuisine; from tapas and paella, sausage, seafood, fresh fruit, breads, cheeses and gourmet snacks to wines and soft drinks.
Feel free to wander its mesmerizing aisles and graze; tasting food from different vendors. Taste olives and oysters, or sit at a bar and watch the world go by with a glass of wine in hand as you take a break from savoring the old heart of the Spanish capital.
It's a place to shop, relax, snack and enjoy; amble past stalls selling smoothies, those with olives piled high, and then be faced with the dilemma of which paella to sample.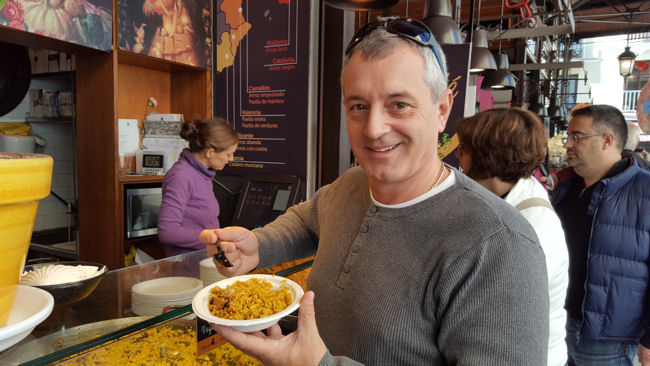 Before me were four grand platters: paella negra, a black paella with squid, shrimp, pepper and given its unmistakeable pallor with squid ink; paella costra, a meat paella with chorizo, sausage, and chicken; paella de verdure, the vegetable paella with green beans, carrots, peas and pepper; and my favorite, the arraz abarda.
This is the traditional seafood paella with squid, shrimp, red peppers, clams and peppers and was great value and wonderfully tasty at four euros for a small plate, or seven euros for a larger plate, which customers were queueing up for to take home for lunch.
Within the Mercado de San Miguel – a relatively small market but a place where you can easily spend the afternoon - you can sample all kinds of seafood from mini crab rolls, langoustines, whelks, sea urchins, prawns, shrimp, and oysters, and with or without a glass of Champagne or buy from the Mozarella bar.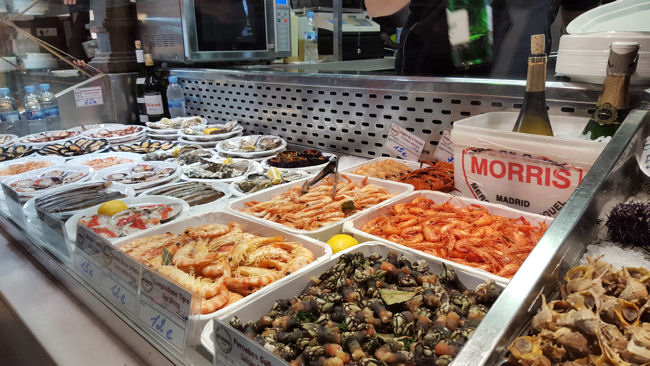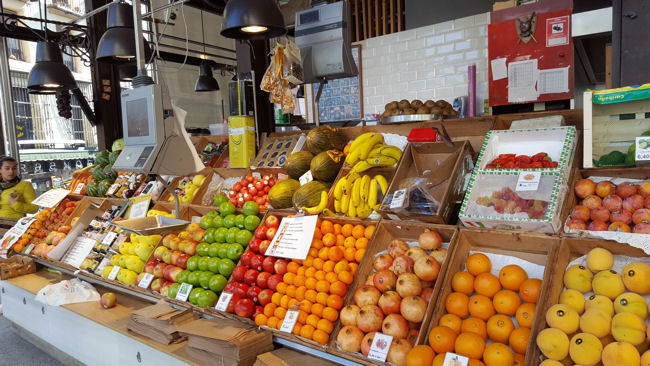 Central Madrid has many small squares, often with tables laid out with people eating tapas and an accordion player or classical guitarist wandering among the diners.
As a city of opera, you will also see string quartets or sopranos singing on street corners and a baritone voice echoing down an alleyway.
The walk from Plaza Mayor takes you down to the main Catholic cathedral. A relatively new building, Santa María la Real de La Almudena is the seat of the Roman Catholic Archdiocese of Madrid and construction only began in 1879. It was consecrated by Pope John Paul II in 1993.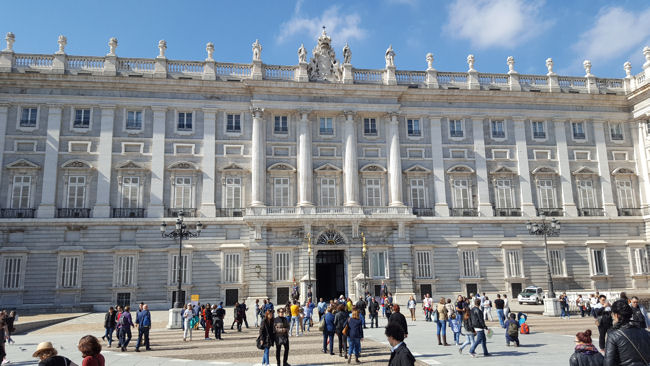 Opposite the cathedral is the Palacio Real, now used only occasionally for royal ceremonies but when it was built in the mid-18th century it was intended to be the biggest palace in Europe.
With some 2800 rooms - a quarter of the original plan - a tour will takes you past works by Goya, some 200-plus clocks and the main stairway, leading to the Halberdiers' rooms and Throne Room.
Just across the park, where you will find more musicians, street performers or artists capturing a flavor of the capital, is the imposing Opera house.
Of course, Madrid is more than its old heart with wonderful museums and galleries. Who can miss The Prado, Reina Sofia and Thyssen-Bornemisza museums have also had brilliant refurbishments?
The Museo del Prado holds 7000 paintings with around 1500 on display including works by Velázquez, Goya, and art from across Europe. It hosts Goya's El dos de mayo and El tres de mayo, Velázquez's Las meninas, as well as an outstanding collection of Flemish Art with paintings from Rubens, Bruegel, Rembrandt and Anton Van Dyck.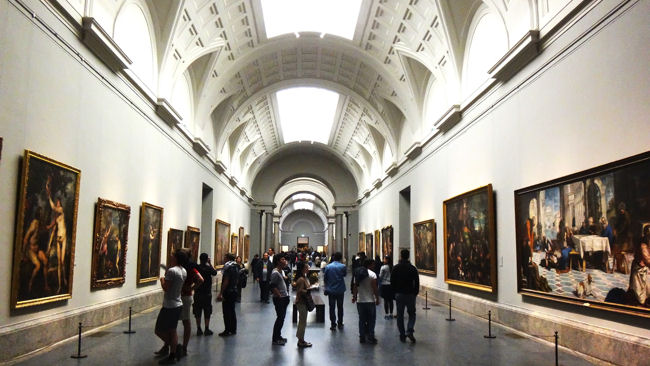 From the opera house, pedestrianized streets lined with shops take you back towards Sol. On our way, we sat in the autumn sunshine of a quiet square, enjoying a glass of wine before dipping into the Metro and returning to Salamanca and back to the five-star Barceló Emperatriz.
It opened in January 2016 in the 19th century building which blends into the chic surroundings of the small boutiques, embassies and elegant streets and is close to the tree-lined Paseo de la Castellana promenade and is inspired by the life of Eugenia de Montijo, the last Spanish empress.
Note the shades of violet throughout, her favorite color, with the hotel remodeled to match the character of this "cosmopolitan, intellectual and visionary personality", who was the wife of Napoleon III.
With 146 rooms fitted and decorated with avant-garde furniture and two suites, named after Napoleon and Eugenia, there is a bar and roof terrace with small pool and a gym.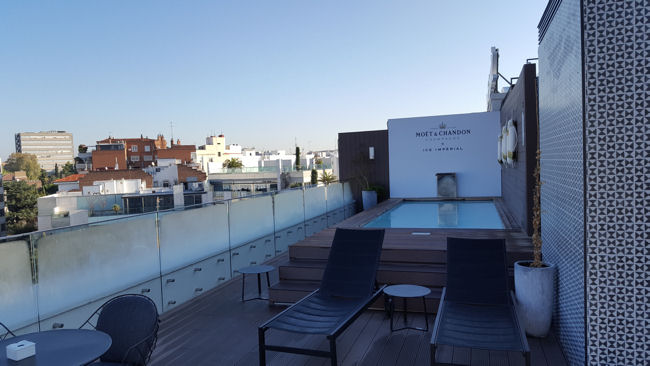 The hotel's Mutis restaurant – which is also popular with non-residents - offers an exquisite buffet breakfast and a select dinner menu reflective of the seasons. We enjoyed the chargrilled octopus with creamy avocado and Pico de Gallo sauce, the foie terrine with dried fruit tiles, goat's cheese and sun-dried tomato ravioli with a walnut cream and the veal fillet steak with courgette tagliatelle.
The Emperatriz has also created its own series of bespoke guides for guests, led by experts passionate in their specific areas of interest. Following carefully chosen routes, they take in themes of food; parks, flowers and gardens, lifestyle; and must-see places.
Whether you head off on your own, or with a guide, the ambience, attractions and wonderful cuisine of Madrid are there to savor and enjoy.
IF YOU GO:
Barceló Emperatriz
Calle Lopez de Hoyos, 4
Madrid, Spain 28006
tel. 0034 913 42 24 90
Website:
www.barcelo.com/barcelohotels/en_gb/hotels/spain/madrid/hotel-barcelo-emperatriz