A member of the Belmond chain of luxury boutique hotels, the hotel is located a half hour north of the capital Palma in forested hill country. Renowned for the beauty of its setting and the quality of its service, La Residencia is one of Mallorca's most popular luxury destinations.
Driving out of the
Palma de Mallorca Airport
, the car's headlights poked a hole in the darkness so I could just make out the agricultural fields on either side of the highway. Occasionally we passed an isolated house, its lights ablaze in the dark night.
After a few minutes we left the farmlands to travel on a narrow, two-lane road that traversed the edge of a sheer cliff. I rolled down the window, happy to enjoy the crisp, sea air after so many hours inside an airplane. I could hear the sound of waves crashing on the rocks below.
Driving through the village of
Deiá
, the car turned into a stone-walled compound, passed a small orchard of trees heavy with oranges and lemons and stopped in front of the lobby glowing with amber lighting.
Decorated in earth tones, comfortable leather upholstered chairs and tasteful art on the walls, the lobby of La Residencia feels like the entry hall to an affluent family home. Check in was easily accomplished. My bags were quickly dispatched to my room.
After traveling 16 hours from Los Angeles to the Palma de Mallorca airport, I was tired and needed a snack. Happily,
Café Miró
, the stylish restaurant close to the lobby, was open.
At La Residencia, even a small meal becomes a memorable experience. I ordered two small plates. Carpaccio with an arugula salad and octopus in the style of Galicia.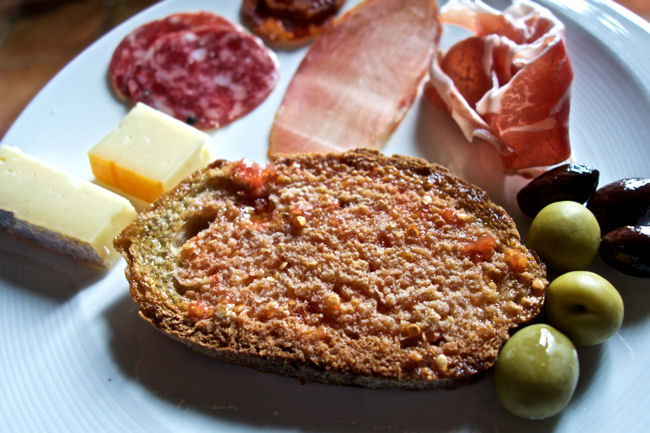 Complimentary freshly baked rolls, tapenade, a bowl of spiced olives and a quenelle of that very typical Mallorcan delicacy,
sobrasada
, a sausage made with fresh pork and spices, arrived at the table. Everything I was served was either produced on the hotel grounds or procured on the island.
A bite of a freshly baked roll with a generous helping of house-made tapenade was just what I needed. The roll was a perfect combination of chewy crust and soft inside. Very quickly my order arrived.
The salad was composed of arugula and thin sheets of Parmesan cheese on top of paper thin slices of dark red carpaccio. A drizzle of extra virgin olive oil and a squeeze of fresh lemon was all the dressing this light and delicious dish needed.
The octopus arrived in a tin, prepared in the
Galician style
with steamed
Esperanza potatoes
. For seasoning, sea salt flakes and ground pimento were streaked on a small plate. Dredging a piece of olive-oil-coated octopus across the sea salt and then into the pimento added the right amount of salt and heat.
After a lovely meal, it was time for rest. I stopped at reception to pick up my key. Since it was dark, I was told I needed to be guided to my room, which was on an upper level of the terraced hillside.
Keeping with the natural ethos that permeates all of La Residencia, the walk to my room took me on a tile walkway past solidly built stone walls. A final set of steps led to a patio with a seating area and a cold water Jacuzzi just outside my front door.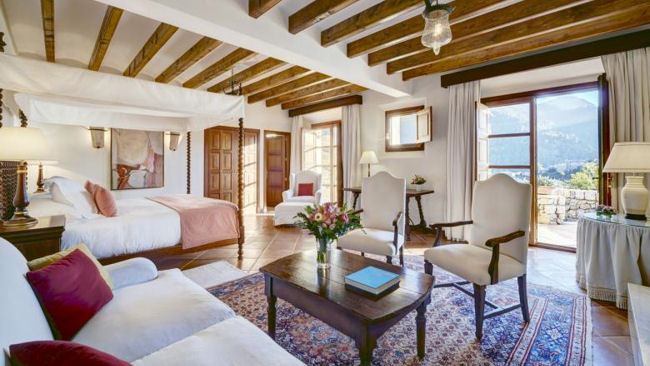 My room, called Tomir, was generously appointed with a four posted, king sized bed, three easy chairs, a large sofa and a coffee table. The marble tiled bathroom was large with two separate counters and sinks, an enclosed toilet, shower, a Jacuzzi bathtub and an expansive closet.
Original art and freshly cut flowers are a trademark of the hotel. Every wall of my room was decorated with paintings. Colorful flowers in full bloom filled vases in the living space and bathroom.
With a wet bar and mini-refrigerator, I could indulge in late night snacks and a cocktail. The only missing amenity was a television. Of course I had a novel with me and the playlist on my smart phone had hours of podcasts, but I always like to watch local television. Was it possible that La Residencia wanted me to go off-the-grid?
A call to the front desk relieved my concern. Of course, I was told, there is a television in your room. I was instructed to lie down on the bed and point the remote control toward my feet. With a click of the remote, sure enough, a 36" hi-definition TV rose like Venus from the sea in a Botticelli painting.
In the morning, I was eager to explore the hotel. I opened the double wooden doors and walked out onto the patio to discover what I had not seen last night. From the upper floor, I had an unobstructed view of the surrounding hills and valley below. In the morning chill, fog had settled along the tops of the buildings and hugged the hillsides. From the houses in Deiá threads of smoke reached up into the sky.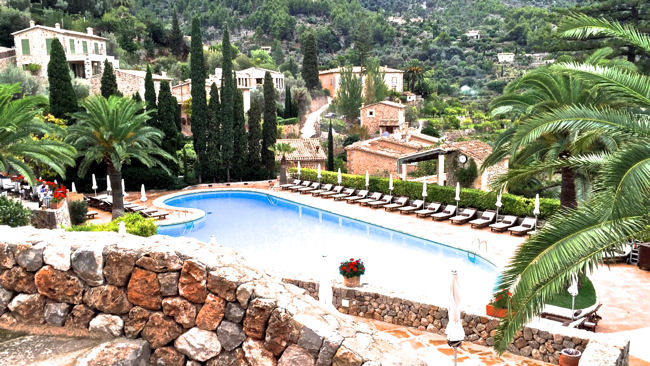 The hotel hugs the hillside with buildings constructed on terraces facing the Tramuntana mountain range to the east. The swimming pool anchors the property on the far end just below
Son Fony
, the restaurant serving the daily complimentary breakfast buffet.
First a home for Cistercian monks, then a farm and now a 5-Star luxury hotel
Before La Residencia was a hotel, it housed Cistercian monks who farmed the land, planted hundreds of olive and fruit trees and raised livestock. In the Nineteenth Century, the property was transformed into a private home. A second building was added. To create La Residencia, the original two residences were restored and incorporated into a main building with the lobby, restaurant, bar, private rooms and an intimate art gallery.
Behind the historic buildings, on the terraced hill where I stayed, a pool, spa and guest rooms were added during expansions that continue to this day. During 2017, six more rooms will be added to the sixty-seven already in use.
Honoring the history of the property, today there are more than 1,500 olive trees which produce olives and oil. There are also persimmon, lemon, mandarin orange, fig, almond, pomegranate, pear, peach and apricot trees that supply the kitchen. Sheep graze the open areas and donkeys are used to carry provisions for picnics to the upper reaches of the property.
For seasonal produce, the chefs created an herb and an organic garden on the front lawn. In the summer, ripe tomatoes, green and red peppers and herbs are harvested to make salads and the hotel's very popular gazpacho.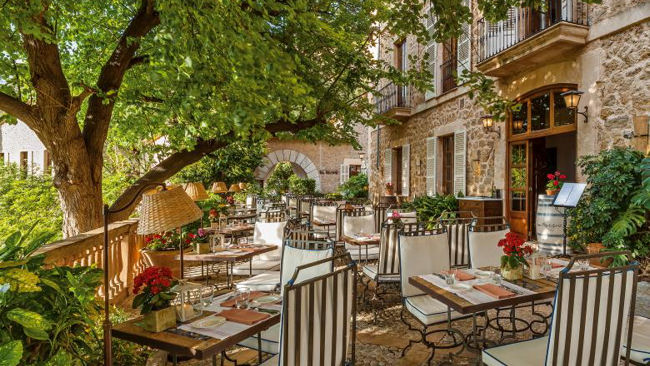 A lovely breakfast in a lovely setting
Breakfast can be enjoyed outside on the Son Fony terrace overlooking the pool or inside in a high-ceiled dining room facing the buffet tables. I enjoyed both spaces. When the sun was hidden by fog, I sat inside enjoying a room that features wrought-iron furniture and delicate metal chandeliers. On sunny days, I sought out tables with a view of the pool.
The buffet at La Residencia was an encyclopedic survey of
Mallorcan dishes
, savory and sweet as well as dishes familiar to any traveler in Europe. There were servings of charcuterie, fresh fruit, cheeses, pickles, yogurt, cereals, stewed fruit, breads, rolls and sweet pastries.
I enjoyed having a mix of local and familiar products. There were cheeses I knew like Edam, Maasdam, Cambozola, brie and Camembert. And, there were lovely Mallorcan and Spanish cheeses like
Manchego
,
Mahón
and
Burgos
. For meats, there were French style pates, Italian salamis and a "Mallorcan Corner" with cold cuts typically served in homes like sobrasada which I enjoyed at Café Miró, a blood sausage called
butifarron
and a hard sausage called
camaiot
. There were also local
ramellet tomatoes
which are always harvested still attached to the vine, olives seasoned with herbs, olive oil from the hotel's trees and a selection of Mallorcan salts, plain and flavored with herbs, citrus and dried olives.
As if the buffet were not enough, I could also order from the a la carte menu with lengthy lists of teas and coffees, eggs prepared a dozen ways with sides of ham, bacon, sausages, veal fillets, turkey, grilled mushrooms, charred tomatoes as well as French toast, porridge and crepes with fresh strawberries.
Needless to say, no guest goes hungry at La Residencia.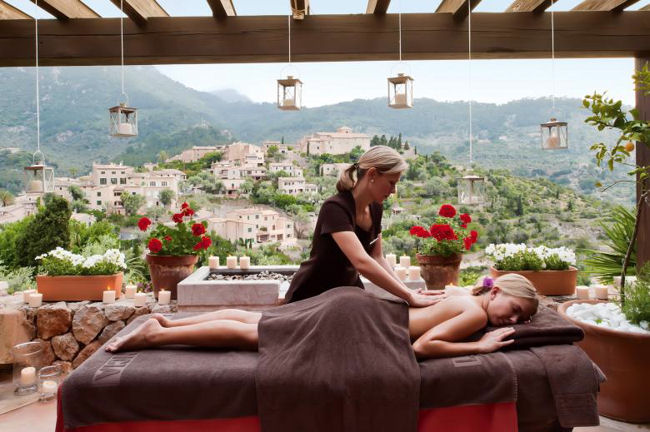 A Sensual Feast
When I arrived, my first order of business was to explore the hotel grounds. That is how I discovered the outdoor Jacuzzi on the upper terrace with a view of the hillsides above Deiá. Olive trees surround the Jacuzzi. I settled into the warm water, pressed the "on" button and surrendered to the aerated water coming from the bottom of the Jacuzzi. Relaxed to a state of mindfulness, I was stimulated to contemplate the state of the world and my own personal situation. When you visit, you might have a similar experience. Before you entered the Jacuzzi you might have been obsessing about work or perhaps a dispute with a family member, but after five minutes in the warm water, you will be centered and relaxed for the first time in days. And that is a good thing.
Taking that relaxation to the next level, you will want to schedule a treatment in the
Spa
. Besides full body massages of various intensities, you can choose to be nurtured with a hot stone back massage, an
Inner Strength
massage that treats your physical and emotional selves, an enriching body wrap, or a massage with detoxing creams and
Beauty & Go Vitamin
drinks. Men and women also benefit in the Spa from manicures, pedicures and facials. I especially enjoyed the massage room on the open-air, covered patio with a view of valley below. The clean, cool air sweeps across you as you lie on the massage table and disappear into the relaxation of the
De-Stress Muscle Release
.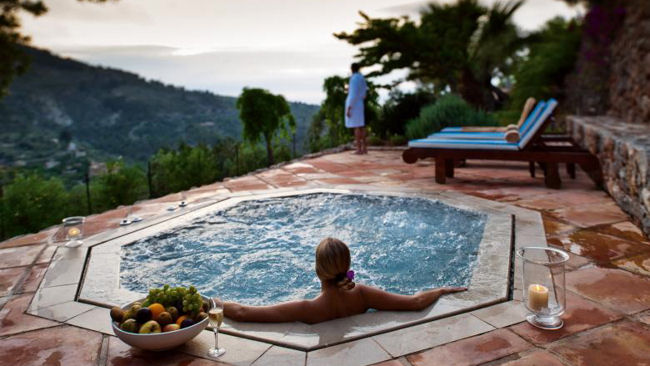 Walking around the hotel, I noticed that while there were some people at the pool, there weren't as many as I expected, given that the hotel was fully occupied. I asked and was told that the hotel offers a great many activities. Since La Residencia is a trail head for trekking and bicycling, many guests are outfitted with necessary gear and a lunch before they leave to explore the area.
The hotel offers a guided tour of the olive groves high on the hill above the residences. Accompanied by a donkey, guests enjoy a chef-prepared lunch in a stone shepherd's hut with a view of the mountains. For an even better view, the hotel will organize a hot air balloon or helicopter adventure or a complimentary summer boat trip from the nearby Port of Soller.
When I visited I was looking forward to the donkey picnic. Unfortunately, it rained that day so my activity was relocated to the dining room of upscale
El Olivo
where
chef Nicolas Cambón
gave a cooking lesson, another activity offered by the hotel. He demonstrated how to prepare
pa'mb oli
, a classic Mallorcan dish, simple to prepare but delicious with complex flavors and textures. Variously spelled pa amb tomàquet or pa amb oli, a slice of rough textured bread often grilled is rubbed with a garlic clove and a ripe tomato, preferably a Mallorcan ramellet tomato, then seasoned with olive oil, sea salt and pepper.
Cambón also explained that the green and black olives on our plates came from the hotel's olive trees. The difference in color was not because they came from different trees but because the green olives were harvested early in October and the black olives were harvested later in December. What a simple difference. What a delicious difference in taste.
As part of our cooking lesson, Cambón served a selection of charcutuerie and local cheeses, flatbreads called "cocas" and meat filled empanadas. The dessert was unique to the hotel. Ensaïmada pastry dough, made with pork fat, is filled with
crème brûlée
and baked to a golden brown.
Landscaping that is much more than ornamental
Having grown up in semi-arid Los Angeles, I found the olive trees on the property to be a natural wonder. Taking a walk around the hotel with Louise Davis, Public Relations Manager, she pointed to olive trees that had trunks as wide across as wine barrels. "That one is nine hundred years old and that one," she pointed to a taller tree with fat intertwining branches that stretched high in the air, "we think is over six hundred years old."
Those ancient olive trees planted by the monks and then the farming families that followed them are revered by the hotel.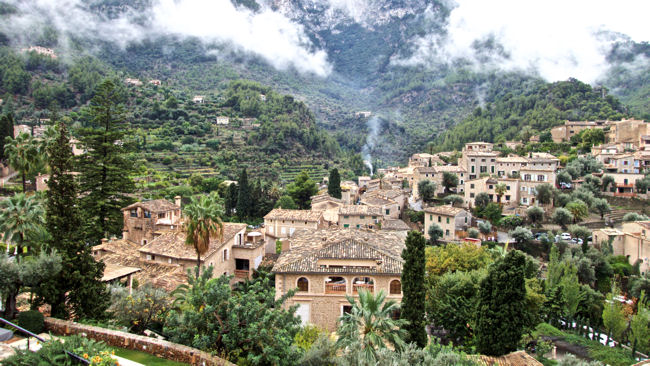 The hills around La Residencia are covered with pine trees. Picturesque in some settings, they are a scourge here. The fast growing pine trees sweep across the hills on their march to the sea, overwhelming olive groves that have survived for centuries.
La Residencia has injected itself into that battle. The hotel set up a
conservation campaign
in which supporters
Adopt an Olive Tree
for 200 € a year. In return their name is hand-carved into a wooden plaque that is placed on the olive tree they have chosen to sponsor and they receive a liter bottle of olive oil produced by La Residencia. The contributions pay for a staff of gardeners who clear out pine seedlings, trim the olive trees and restore protective stone walls during the winter when the hotel is closed.
5-Star Art in a 5-Star Destination
Walking around the grounds or sitting on my patio overlooking the hotel, it was easy to rhapsodize about the artful beauty of La Residencia. Flowers in full bloom, colored with brilliant reds, yellows and oranges fill the terra cotta pots that line the walkways. The carefully pruned olive trees are works of art themselves. But talking about "art" at La Residencia is not metaphoric. On the front lawn, sculptures share the open space with orange and lemon trees. Where I enjoyed my first meal when I arrived, every wall is adorned with one or many paintings. What is more, Café Miró is so named because a great many paintings by
Juan Miró
the famous Spanish painter are curated in that space.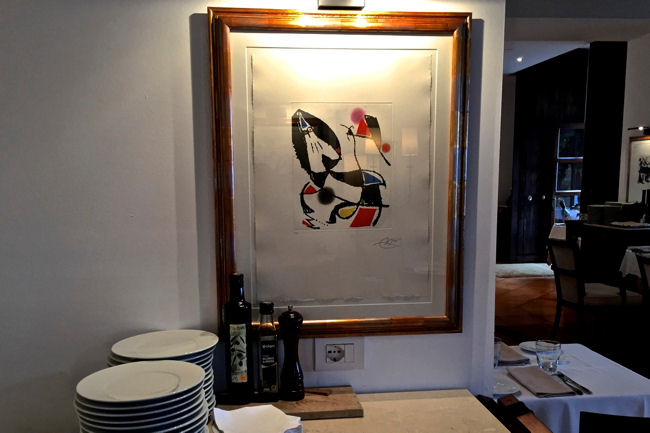 Miró made Mallorca his home and his family felt that the quiet beauty of La Residencia was a fitting location to celebrate his art and the community of artists who gathered in the village of Deiá. A total of 33 paintings and one sculpture are on private loan to La Residencia. Many of his paintings are exhibited in the cafe, but his work is not the only on display.
George Sheridan
, the American expatriate painter, was also drawn to Deiá and La Residencia. A collector as well as a painter, he cultivated a community of artists. His own work and many paintings from his and his wife's collection are on display throughout the hotel, in the main restaurant, El Olivo, and in
Sa Tafona
, the art gallery, behind the lobby. The work in Sa Tafona changes frequently and is for sale.
Appreciating art is a starting point at La Residencia. Guests can also pursue their own creative spirits working with an artist in residency.
Alan Hydes
teaches painting in an airy space near El Olivo. If your passion is ceramics,
Joanna Kuhne
will help you create a one-of-a-kind work of art.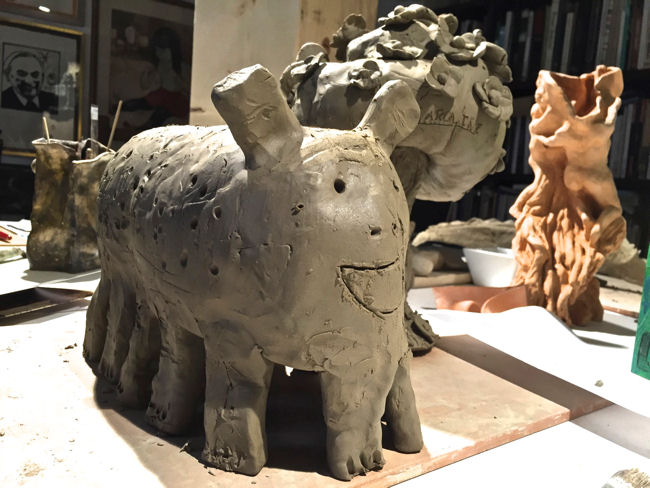 Walking into
Juan Waelder
's workshop is such fun. Every square inch of counter and wall space is covered with art books and sculptures. As he explained with a smile, "Kids and people who think they don't do art discover in themselves an idea or an image and I help them with technique to create a sculpture." After the class, the sculptures are fired by Waelder and shipped to the guest's home.
Looking beyond the hotel's boundaries
I would have happily spent my entire stay on the grounds of La Residencia but I was encouraged to explore the area, so rich in natural and cultural beauty. Rental cars are available as are cars with drivers to help travel on the narrow twisting roads.
The capital,
Palma de Mallorca
, is close by where you can enjoy two quintessential Mallorcan experiences within a few steps of one another.
First, visit the
Cathedral of Santa Maria of Palma
. The Gothic Roman Catholic church overlooks the Bay of Palma. Construction began in the Thirteenth Century on the site of a mosque and continued into the Eighteenth Century. The structure looks like a demasted Spanish galleon moored in the harbor. On the plaza outside the cathedral, vendors from around the world sell souvenirs, only a few of which are produced locally so caveat emptor. Take time to enjoy the massive interior with its stained glass windows and exceptionally large wall clock.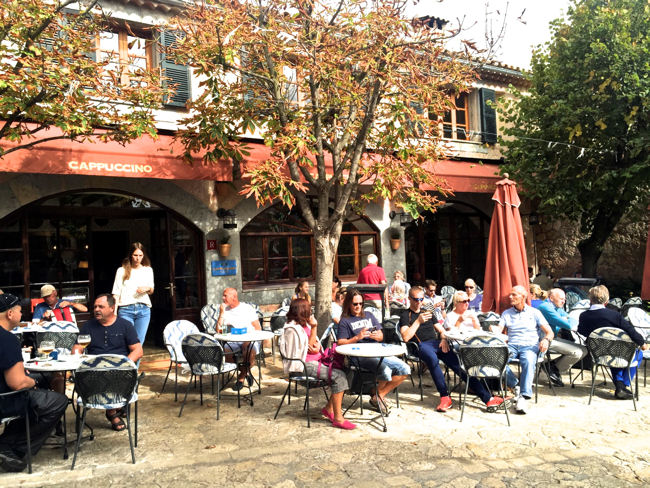 After you explore the Cathedral, stop next door at
Café Bar Almoina
(Plaça de la Seu, 4, 07001 Palma) with its wonderful dark wood interior typical of traditional Spanish bars. The friendly waiters speak enough English to help you order food and a beverage. Even though it was early in the day, I allowed myself an indulgence and ordered an espresso and what is called a "brandy normal." The strong coffee and the deliciously caramel Soberano brandy were the perfect refreshment.
While you are in Palma's old city, I would definitely recommend exploring the narrow side streets. I had no idea what I would discover and I was pleasantly surprised by
Fornet de la Soca
(Carrer de Sant Jaume, 23, 07012 Palma) only a few short blocks from the Cathedral.
Tomeu Arbona
owns the small bakery. The kitchen was open for all to see with a long table where the sweet and savory baked goods are prepared using traditional Mallorcan recipes. The display cases were filled with breads, cakes, cookies and pastries. He showed me the different kinds of coca he sold. Those are the flatbreads chef Cambón served during the cooking class. Arbona's were elaborate constructions, some sweet, some savory. I chose one topped with baked eggplant, garlic and tomatoes. I also chose a delicious cake stuffed with apples and raisins called a
quarto embetumat
.
Within a short drive of La Residencia there is also the charming
port city of
Sóller
with dozens of outdoor cafes, lovely cobblestone streets with small shops and the
Can Prunera Museum
located in an exquisite Art Nouveau building furnished with beautiful examples of furniture, paintings, wall treatments and lighting fixtures from the period (Sa Lluna street, 86 - 90 Sóller).
The hill top village,
Valldemossa
, is also close to La Residencia. Like Palma and Sóller, there are delightful narrow streets to explore with outdoor cafes and small shops selling local products. To share your Mallorcan experience with family and friends at home, you will definitely want to bring back containers of the
local salt
(flavored and unflavored), jars of jams and bottles of olive oil.
In the Nineteenth century Valldemossa attained a certain notoriety because the composer,
Frederick Chopin
and his lover Amantine-Lucile-Aurore Dupin spent time in the village when he was suffering from a variety of illnesses. Using her pseudonym
George Sand
, Dupin wrote an unflattering portrait of the island in
A Winter in Mallorca
.
For myself, I found Valldemossa charming. I walked around the village on a sunny afternoon in search of
Restaurant Hostal Can Marió
(8 Carrer de Uetam, Valldemossa) which I had been told served traditional Mallorcan dishes in a homey setting.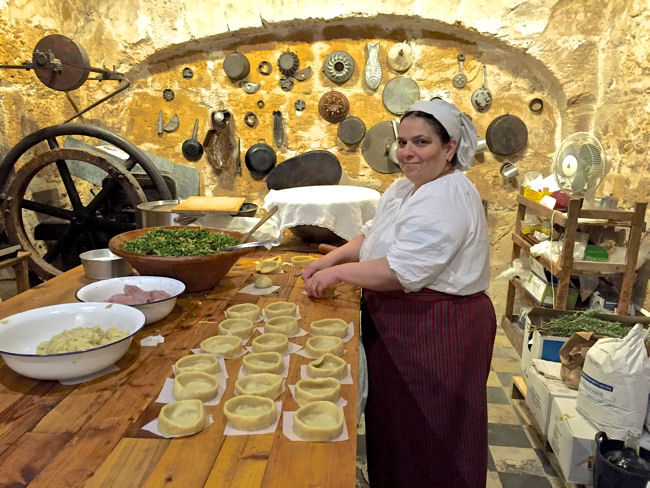 With a guide, we walked on the pedestrian Carrer de Uetam with shops and houses behind high stone walls and massive metal gates. At first we couldn't find the restaurant. Perhaps the concierge gave us the wrong address.
We stopped in front of what appeared to be a hotel in an old building. The double glass doors were pasted with notices as if the hotel had closed some time ago. We asked a woman who was walking by if she knew Can Marió. As if that were a Valldemossa-joke, she laughed and pointed to the second story where there was a small sign. This must happen a lot.
Walking upstairs I barely avoided bumping my head on the low header at the top of the stairs. At the entrance to the restaurant, before entering the dining room, the kitchen, the size of a large closet, was open to the hallway. Cooks moved quickly between a large stove and counters covered with fresh vegetables, cuts of meat and bowls of spices as they checked their sautés, sauces and soups.
A few more steps and we entered the dining room. I was struck immediately by a similarity to Cuban paladares, restaurants created inside private homes. Can Marió felt like a family had cleared out their home to create space for tables and chairs. While the sofa and coffee table had been removed, the family's bric-a-brac was still very much in evidence. Ancient family photographs and paintings that appeared to have been created in an children's art class were hung on the walls above shelves lined with porcelain pots, antique children's dolls, commemorative plates, plastic flowers in cut glass vases, clocks and pitchers.
The menu features local dishes. Along with our menus, a black t-shirted waiter carried over an enormous platter of whole sardines, bream, sea bass and red mullet to show us what had been caught that morning in local waters.
We ordered several typical dishes.
Escaldums C'an Mario
, a casserole with chicken, prunes raisins and pine nuts,
Lomo con Col
, a loin of pork casserole with cabbage, raisins, and
butifarró sausage
, and
Arroz Brut
, a thick soup with rice, meat and vegetables. We also ordered eggplant stuffed with ground veal and pork covered in a tomato sauce.
We came early at 11:30 when only one other table was taken. As our dishes arrived, the room filled up. Soon every seat was filled by men, women and children eating and talking together. Can Marió had the wonderful feeling of a family gathered together for a holiday feast.
Our food was delicious and even though we were full, we still looked enviously at the plates one table over as the waiter served platters of baked fish in tomato sauce and whole grilled fish with lemon wedges.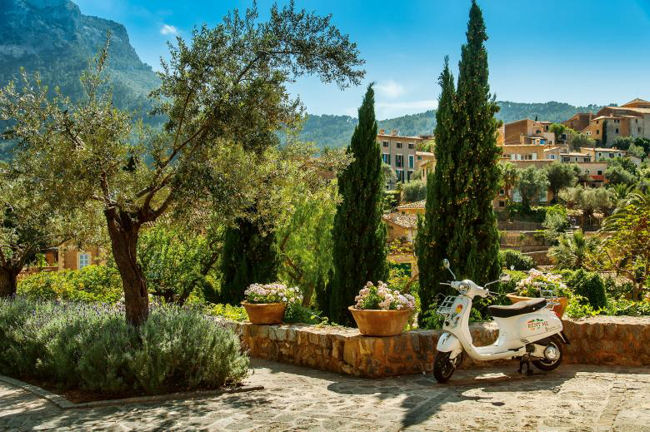 Saying goodbye
For my last morning at La Residencia, I ate breakfast on the Son Fony terrace, not rushing, taking my time to enjoy a second espresso with a plate of fresh fruit and a selection of local cheeses. The sun was out. Kids were already in the pool. People at other tables talked quietly with one another or read newspapers and novels as they ate. I stayed a long while, wanting to hold on to that relaxed, happy feeling. Then it was time to leave. I knew I would remember La Residencia fondly. And, I also knew that like so many guests who have stayed there over the years, I will definitely return.
WHEN YOU GO:
Hotel website:
https://www.belmond.com/la-residencia-mallorca/
Reservations:
reservations.lrs@belmond.com
or call toll free 1-800-2371236.
The hotel is closed for the winter season, from early November to the end of March.
For more information, contact the Tourist Office of Spain in Los Angeles, losangeles@tourspain.es, 1-323 658 7195,
www.spain.info