While Maltese celebrations take place year-round, activities spike in the spring when the weather is most ideal.
Fireworks
Malta's 16
th
Annual International Fireworks Festival
will take place on
April 16 at Marsaxlokk
,
April 23 at Xaghra Gozo
, and
April 30that Valletta
. During those nights, the best pyrotechnics from all over the globe will be on display and open to the public. While beginning as a local event, the festival has earned the title of international over the past few years. The Festival now attracts the participation from pyrotechnic businesses worldwide, including from countries such as Australia, Spain, Italy and Canada, who look to the festival as an opportunity to show off their firework creations.
Food
The
Malta Food Festival
will take place
May 5 through May 7
and is a complete foodie paradise. Delicacies from places like Brazil, China, and Greece are featured along with chef demonstrations, live cooking shows, and specialty cocktails. Drawing in over 17,000 people in 2015, it's sure to be a must-taste for foodies. Admission is free and tokens are available to purchase for food.
Malta boasts some of the most fertile land in the Mediterranean. To celebrate the high quality produce, events take place each year in the spring to highlight specialty crops like festivals celebrating strawberries and figs.
Feasts
April
also begins
festa
season in Malta. Almost every week until September, you will find a different village celebrating their patron saints with day or week- long festivities. Festas are of the most traditional type of celebration in Malta with over 60 taking place each year. The culture-rich events are organized by local parishes and feature street food, fireworks, brass bands, and lots of decorations. Many homeowners will even repaint their houses in preparation for these annual events!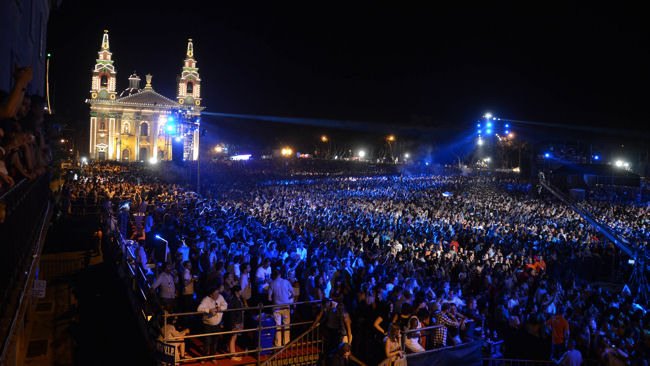 Art and Music
The
Isle of MTV
is a huge event hosting the biggest names in the music industry since 2007. This year the concert will be held on
June 28 at the Granaries in Floriana
during Malta Music Week. Jess Glynn, UK pop sensation, will be a headliner at this year's festival. Past performers include Lady Gaga, Jason Derulo, Martin Garrix, Enrique Iglesias, and Snoop Dogg, to name a few.
Malta Music Week
is
June 24 through 29
and bases itself around the Isle of MTV. It provides musical events consisting of club nights and sunset beach parties over the five day celebration. The events take place in picturesque locales such as La Grotta in Gozo, Gianpula, and Cafe del Mar.
The
Malta International Jazz Festival
is one of the most highly anticipated events each year in Malta and will take place
July 21 through 23 at the Grand Harbour in Ta' Liesse, Valletta
. Since 1990, the festival has hosted all-star line-ups of Maltese and international jazz musicians such as Wayne Shorter, Natalie Cole, and Richard Bona. The location has been described by many as being "truly magical" and "tremendously evocative."
Malta is home to Għana, a Maltese-style of folk singing. Because of the prevalence within the culture, Malta holds
Għanafest
, a three-day music festival taking place
June 10 through June 12 in Valletta
, which now welcomes music from all over the world. People come out for this event to enjoy the specialized art, as well as featured craft demonstrations and vendors.
The annual
Horticulture Spring Show
takes place on
May 14 at the San Anton Gardens
and offers visitors insight on local horticulture and floral décor. Local floral designers will compete in design and arrangements pertaining to different themes. The show will also include demonstrations by local farmers and craftsmen and entertainment by dance and band troops.
For more information, visit:
www.visitmalta.com
Photos credits: International Fireworks Festival in Valletta, Malta, Photo Credit, Clive Vella; Isle of MTV in Malta, Photo Credit, Mario Galea/MTV)