In the center of the Mediterranean, there is an island full of ancient temples and impressive yachts that isn't on the radar of many American travelers. As I peered down into the Grand Harbor from the capital city of Valletta, I wondered how Malta could possibly be such a well-kept secret. This view of the glistening water below was only the beginning of a trip filled with surprises from sophisticated cuisine to a medieval walled city. My eyes darted from baroque buildings to 17th century arches to historic forts and I realized that I had struck gold: Malta was the perfect blend of authentic, old Europe with a dash of luxury.
The appeal of Malta is its size, culture, and history. A former British colony, Malta has two official languages: Maltese and English. This island has all the charms of Europe and none of the language barriers. Intrigued by the island's past I wanted to see it all: historical monuments, award-winning restaurants, crumbling medieval buildings and golden beaches. Instead of attempting this daunting task myself, culture3sixty, a bespoke tour company rose to the challenge of helping me plan the ultimate luxury getaway in Malta.
My personally-tailored itinerary included attractions across the island, but my serene retreat was the
Radisson Blu Resort & Spa, Malta Golden Sands
. This 5-star hotel with 329 rooms is located on a picturesque cove, and since opening in 2005, has attracted celebrities and European royalty. Stepping onto the balcony of my spacious suite, I understood the hotel's appeal despite its large size. Personal touches in the chic Heavenly Suite make the hotel feel intimate, including a butler, availability of private chefs, and an espresso machine. While I was anxious to dive into the history and culture of Malta, the spa at the Golden Sands first tempted me into a little pampering.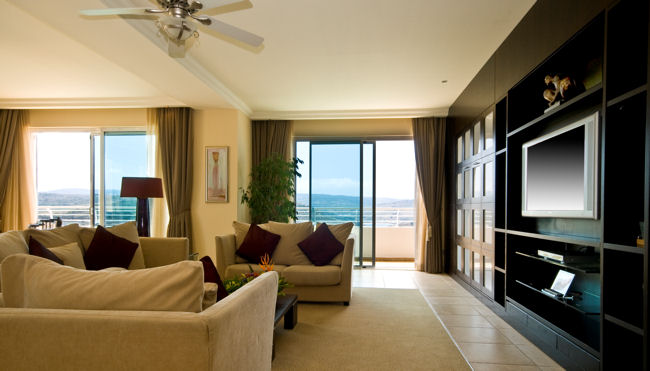 Radisson Blu Resort & Spa, Malta Golden Sands - Suite
A fragrant cup of tea welcomed me to the 1,000-square-meter Myoka Spa. Completely entranced by heavenly hands during our couples massage, we considered spending the night in and ordering room service, but were lured downstairs by the 'Best Fine Dining Restaurant in Malta', Essence. The bartender mixed me a cocktail of the day while we glanced over the menu. Tempting fish options and artistic presentations were accompanied by local Maltese wines. With a décor that matched the elegant ease of Malta, it was simple to see how Essence has become a local favorite.
Refreshed after the spa and an exquisite meal, we set out the following morning with a private driver to discover Malta's culture. Our first stop was the fishing village of Marsaxlokk for a stroll through the lively market. Colorful fishing boats, called Luzzu, dotted the harbor and locals spoke in their native Maltese. The market was an explosion of color, from the pots of strawberries and glistening eggplants to a wide variety of fish. Malta is an island of delightful contrasts: after exploring the traditional market we drove to a harbor full of luxurious yachts and completed the morning with a coffee on the golden waterfront of Vittoriosa.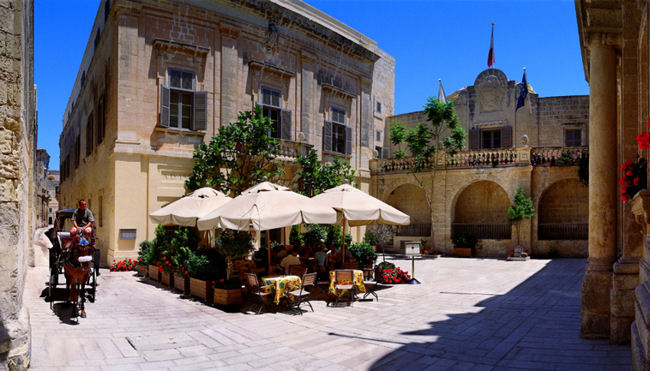 Xara Palace Relais & Chateaux, Mdina, Malta
The compact nature of the island made it a breeze to spend the afternoon on the beach. After a short drive back to the Golden Sands I was sipping a cocktail listening to the surf. And yet, the history of Malta has a way of tempting you away from the beaches, and when the sun began to set, I was eager to leave the resort behind and explore the former capital city of Mdina. We had driven past this hilltop medieval walled city and I was excited to walk through its mysterious gate and down its narrow cobbled streets. Beyond the stunning central square, church, and quaint alleyways Mdina is also home to a boutique luxury hotel,
The Xara Palace Relais & Châteaux
. This hotel offers the chance to become a temporary resident of a medieval village and also to sample some of the best cuisine on the island.
Foodies planning a trip to Malta should make a pilgrimage to The Xara Palace Relais & Châteaux. The hotel has two dining options, a traditional Trattoria, AD 1530, where guests soak up the sunshine of the piazza, and a rooftop fine-dining restaurant. In de Mondion, it is difficult to decide which is more stunning: the views or the food. I knew I was in for a treat the moment I laid eyes on the divine breadbasket. Seared scallop with local meagre, roasted local rabbit loin, and delicate desserts were all flawless. As if I wasn't already planning a return trip to the hotel, after dinner I took a tour of the historic palace. Passing reception on the way out I thought of reserving the room with a private Jacuzzi perched on the rooftop.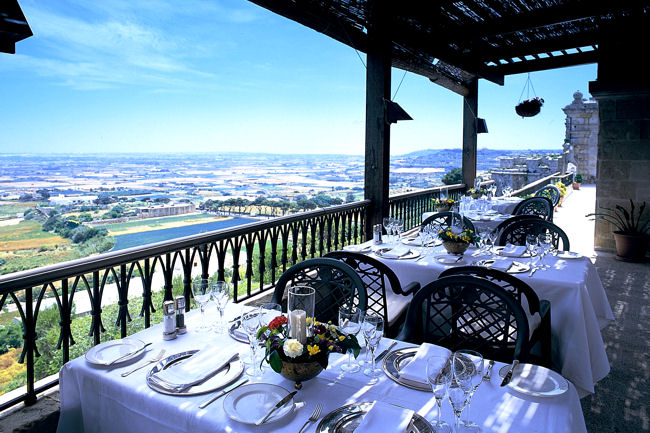 Xara Palace de Mondion Restaurant
For the cultural traveler, there is much more to see in Malta beyond Mdina. The following morning culture3sixty arranged for a tour guide to accompany us on a tour of Valletta. On the drive May provided a brief history, discussed cultural influences and pointed out architectural landmarks. Moments later we were standing in front of a dazzling, large-scale painting by Caravaggio in St John's Co-Cathedral. Seeing how this Italian master portrays light is impressive in reproduction, but is simply awe-inspiring in reality. Interestingly, we learned the 'Beheading of St John the Baptist' was one of the only pieces where Caravaggio signed his name.
Our tour of Valetta was complete by sampling a local pastry, pastizzi, where phyllo pastry is stuffed with ricotta cheese and baked. With our minds and stomachs satisfied, we next visited a local winery. Marsovin Wine Estate & Cellars was founded in 1919, but the history goes back much further; the 350-year-old wine cellars were built in the 17th century by the Knights of St John. This family-owned winery is led by passionate winemaker Jeremy who not only gave us the tour of the cellars but also opened up a bottle of his boutique wine, Grand Maitre, for us to sample along with traditional Maltese snacks.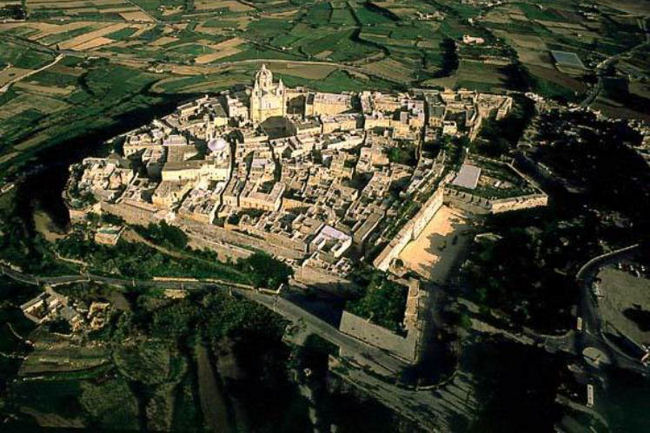 Mdina, Malta aerial view
After an action-filled day we sat down for a relaxing meal overlooking a twinkling harbor. Zeri's is the type of rare restaurant that manages to be sophisticated without being stuffy. Instead of white tablecloths, this laid-back restaurant offered quality service from the charismatic owner Mark, and food without the fuss. We happily spent hours gazing out over the bobbing sailboats as the courses arrived: a fresh lobster risotto to start, followed by a perfectly seared steak, and balsamic braised strawberries for dessert. There is plenty of nightlife nearby in St Julians, and we finished our evening with an island-inspired cocktail.
Few travelers have experienced the pleasures of Malta. This island won't be a secret to Americans for long; the World Heritage sites, culture, and cuisine are too good. Leaving all of the planning in the expert hands of
culture3sixty
, I was able to relax and unwind for every minute of my trip. I left Malta with the best possible sensation: wanting more. There were still beaches, historical sites, and restaurants I didn't have the time to try. I just may have found my new favorite Mediterranean escape.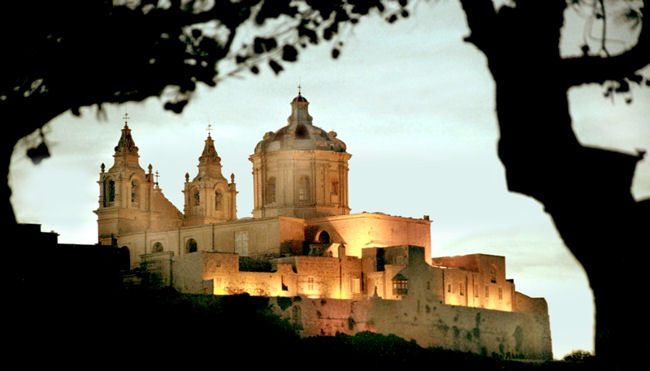 Mdina, Malta
When to Go:
The Mediterranean Island of Malta is most popular during the summer months of July and August. However, temperatures can soar during these months. For the most pleasant experience, plan your adventure to Malta between April and June, or September and November. Temperatures will be more enjoyable and crowds will be few and far between.
How to Get There:
Malta has its own international airport. From the US, frequent connections are available from London.
Exclusive Offer from culture3sixty:
Contact Trevor Zahra at
trevor@culture3sixty.com
for exclusive packages for Luxury Travel Magazine readers.
Xara Palace exclusive for Luxury Travel Magazine readers:
Special offer for LUXURY TRAVEL MAGAZINE readers, June-August 2011:
• Book 5 nights and Pay for 4
• Book 7 nights and Pay for 6
For further information and assistance please contact Claire Camilleri. Email
claire@xarapalace.com.mt
WHERE TO EAT
• Essence: The fine-dining option at the Radisson Golden Sands, this restaurant deservedly is the winner of many awards. Ask about the fresh fish and don't miss local Maltese wines.
• de Mondion: The roof-top restaurant of Xara Palace Relais & Chateaux is the ideal place for a romantic meal.
• Trattoria AD 1570: The relaxed trattoria of Xara Palace Relais & Chateaux allows you to enjoy the picturesque piazza of this stunning hotel with traditional Mediterranean fare.
• Zeri's: For a sophisticated restaurant without all the fuss, choose Zeri's. Be sure to ask friendly owner Mark about the catch of the day and don't skip his creative desserts.
• Room Service: Skip breakfast downstairs at the Radisson Golden Sands and start the day in the privacy of the chic Heavenly Suite.
WHAT TO SEE/DO
• Explore the capital, baroque city of Valletta. See art by Caravaggio and stunning landmarks including St John's Co-Cathedral and the Palace of the Grand Masters.
• Witness ancient history at the Tarxien Temples or Ghar Dalam Caves.
• Charter a yacht for the day and sail from one of Malta's incredible harbors.
• Board a boat along the dramatic coastline for a glimpse of the Blue Grotto.
• Take the ferry or a seaplane to Malta's smaller sibling, the island of Gozo.
• Enjoy the nightlife of St Julians.
Jessica Colley is a published poet, freelance travel writer, and the European Correspondent for Luxury Travel Magazine. She currently spends 10 months a year exploring the culture, cuisine, and history of Europe. Read more about her travels at
www.thegreatamericantraveldream.com
.