When my daughter and I arrive for our Mother's Day celebration, we find no wristbands, no mega-buffets, no conga lines around the pool. Instead we discover a pineapple plantation that became a private estate and is today an intimate retreat with the capacity to welcome 120 guests.
Greta from guest services starts us with a tour of the property. "Rustic" is the description used by Maroma's parent company,
Orient-Express
, but "authentic" strikes me as more apt. The original structure houses a restaurant, cigar bar, and observation platform. The three pools were built before swim-up bars and attached jacuzzis became standard but the trade-off is mature landscaping that enfolds the property in verdant shades and hushed tones.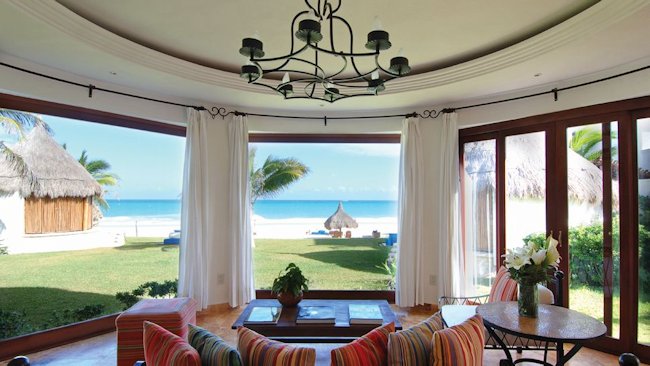 Check-in takes place in our suite that includes a generous living area, an enormous tiled bathroom (with two separate sink areas, walk-in shower, and jacuzzi tub), and a king-size bedroom with gauze canopy. Air-conditioning, fans and slatted windows create a haven from beach scorch and jungle humidity. There is also a private porch with chairs and hammock. Here coffee, fruit and the newspaper will be waiting each morning. Here we can watch beach strollers or be lulled by the surf. We tell Greta we are delighted.
My daughter wants to head immediately for the beach and there we find sand so soft it deserves to be called talcum. A beach attendant appears immediately to help us get settled. There are chairs under permanent thatched covers and double lounges with movable umbrellas. We opt for the latter and request a shade side for me and sun side for Caitlin. No problem! Lunch or drinks can be ordered. Complimentary sorbet is offered.
The breeze off the water is equally refreshing.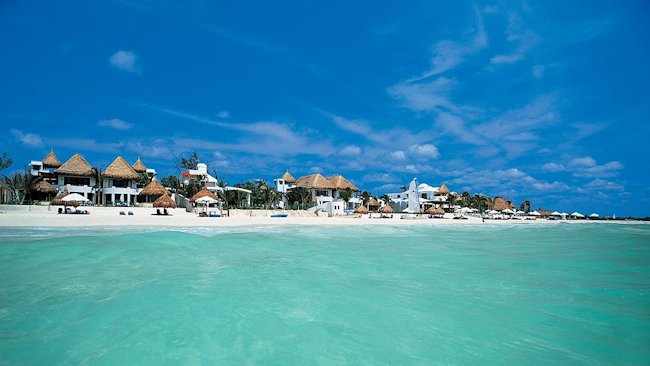 Most people come to relax and the temptation to stay on property is strong. We decide to eat on site our first evening and arrive when the restaurant opens at 7pm (late for us given the time zone difference but early by Mexican standards). Our table is inches from the beach. Colors fade as the sun sets and we are treated to a tastefully presented dinner of salad and red snapper. We linger over dessert to watch the rise of the full moon on a tranquil sea.
The next morning we decide to attend the complimentary yoga class at 9am. We head to Maroma's Kinan Spa, an ideal setting for our practice. To reach the yoga room, we climb two flights of stairs and find ourselves surrounding by jungle foliage. The room is mostly windows open to cross breezes. Its thatched roof funnels 30 feet up toward the sky. Our instructor, Alejandra Caso, has recently opened her own studio in Puerto Aventuras and it is immediately clear we are in experienced hands. Alejandra tailors the class, simultaneously challenging and nurturing the six of us. When the class ends 75 minutes later, we depart reluctantly, promising to be back.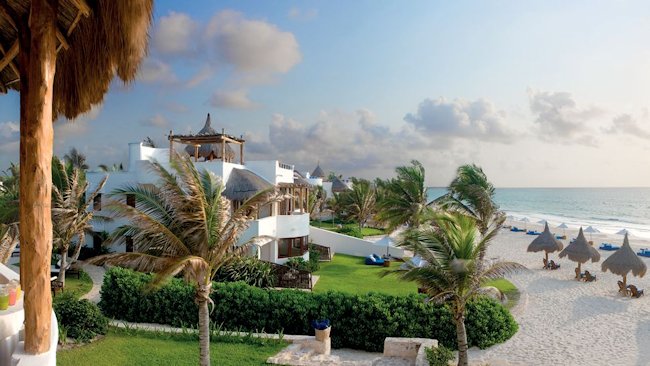 We fall into a new routine. Early morning coffee and a walk on the beach are followed by yoga and breakfast on the outdoor patio. Reading on the beach, a swim in the ocean, and a late lunch fill the afternoon. The biggest decision is where to have dinner and on our second evening (which also turns out to be Cinco de Mayo) we decide to head into Playa del Carmen.
Greta arranges a cab and makes a reservation at a Mayan restaurant called Yaxche. It is located on Playa del Carman's pedestrian 5th Avenue which gives us the option of shopping before or after dining (or both!). We sample Mayan specialties at our second floor balcony table. I'm not a convert to Mayan cuisine but enjoy the ambiance and the warm evening. The wait staff is attentive and arranges a taxi for our trip back. This was to be our big night out but after a day of sun and fresh air we gladly trade an evening of nightclubbing for a stroll through Maroma's candle lit grounds.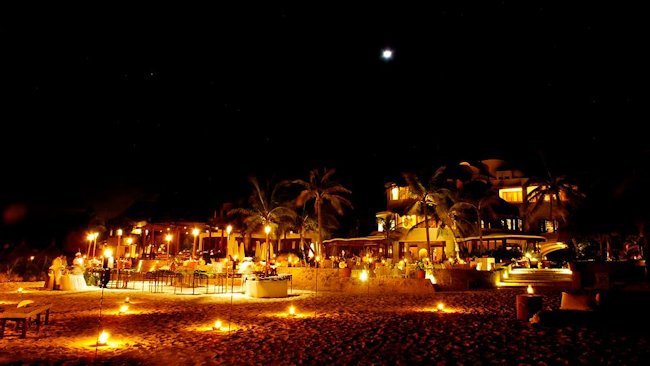 The next day is Sunday -- the only day yoga is not offered -- so we sign up for a snorkeling trip. It involves walking a few hundred yards down the beach to a hut where we are handed fins, snorkel and masks. The Maroma beach is protected by a large, coral reef and it's a short ten-minute boat ride to a site inside the reef. A longer trip can be arranged outside the reef where there is more to see but the water is less calm. A couple from San Diego joins us and together we follow a guide who finds a puffer fish and an eel we would have missed if left to our own devices.
Maroma offers a number of specialty dinners in addition to its restaurant offerings. We are disappointed to have missed the Mexican cuisine night and opt out of the beach grill dinner which is largely meat based. On Monday night local fisherman arrive with their fresh catches. Guests choose and bid on what strikes their fancy and the Maroma chef prepares the fish on the beach grill. The night we are there, only a few guests take advantage but during high season there are often lively auctions and a portion of the proceeds support the local community.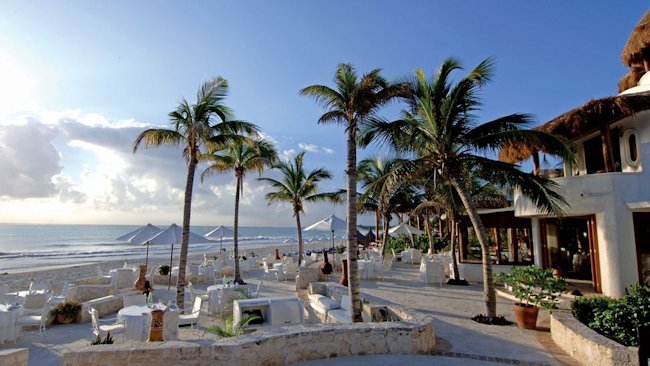 On Tuesday morning before yoga I decide to wander into one of the all-inclusives down the beach. It is clean, efficiently designed, and has a pool intended to evoke a meandering river. Beach chairs are lined up in rows and in a few hours shade will be in short supply. There is value to be had there but no Greta, no Alejandra, no authenticity. My one request of Maroma would be some less expensive beach food options. But at
Maroma
, I know I have found a resort that makes luxury travel worth the splurge.
Hotel Profile, more photos:
Maroma Resort and Spa