Take another turn and the lush hillside beckons, with plenty of trails to climb and get a view for yourself of the premier property nestled on a private estate, with 85 cottages so comfortable, pretty and private that you'll forget you're a paying guest, and fancy yourself instead as a member of an exclusive house party.
Napa Valley's delights are well known–legendary food, luxurious lodging, beautiful weather–and everywhere, a lifestyle built on the abiding pleasures of the grape. Even when it's crowded, when State Route 29 slows to a crawl on sun-soaked days, there's a giddiness about the region that even the crustiest Valley denizen can't help but appreciate.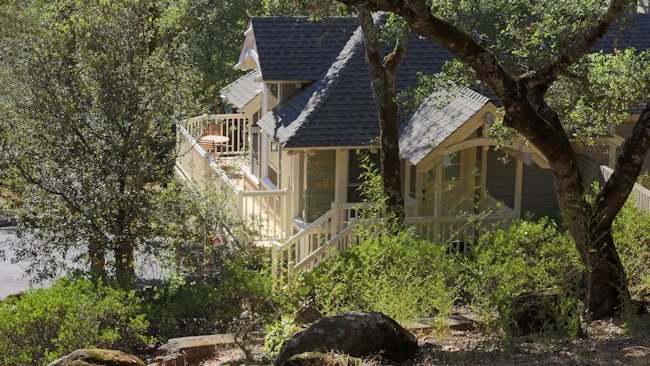 And if Napa Valley is an adult Disneyland, then Meadowood is its castle.
The property, which celebrates its 50th birthday this year, is located 2 miles east of St. Helena, and was founded as a private country club in 1964. Some 15 years later, H. William Harlan bought the property with the intention of building both a gathering place for locals and an international luxury destination. Over the years, it has undergone a series of renovations to its preeminence today as a stomping ground for celebrities and locals alike. It is home to one of only two Napa Valley restaurants with a 3-star Michelin rating, and is also the site of the renowned Auction Napa Valley. Today, Harlan owns two cult wineries nearby, Bond and Harlan Estate, plus the private Napa Valley Reserve wine club. It is a member of Relais & Chateau.
As easily as Meadowood lays claim to an upper crust lifestyle, so too does its demeanor suggest inclusiveness. Dress is refined casual. Common spaces invite guests to sit and sip, mingle and munch on afternoon treats. Spa guests sip their tea and await their treatments on a sunny porch, burrowed in robes and blankets on chilly mornings. With seven tennis courts, two heated swimming pools, 4.5 miles of hiking trails, bicycle rentals, a nine-hole walking golf course, two croquet lawns and an 11,000-square-foot fitness center and spa, Meadowood takes its resort identity seriously. After all, guests need their stamina for days of winery tours, shopping and the myriad of culinary delights of the valley.
It is also the kind of place where simply staying in the room is a vacation. Plush beds with Frette linens create a deliriously restful night's sleep. Light up the in-room fireplace in a snap by yourself or with assistance from the bell staff. Choose a bottle of wine from the bar stocked with local labels from some of the finest wineries just a short drive away. Marble-accented, handsome bath suites outfitted with soaking tubs, rain showerheads, heated floors, thirsty towels and Molton Brown amenities elevate relaxation to an art.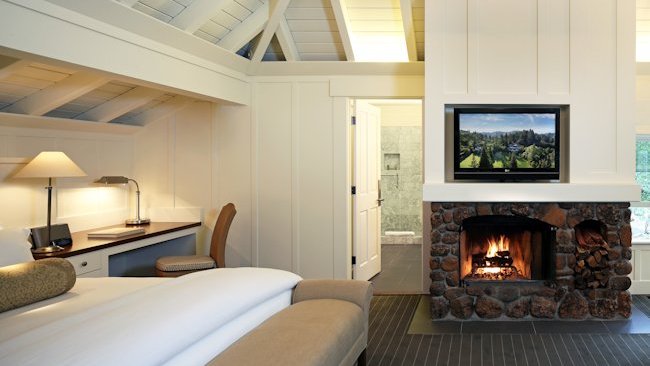 In-room dining is a 24/7 option, but do take advantage of Meadowood's two restaurants: The Grill and The Restaurant. The Grill is Meadowood's three-squares-a-day spot, and occupies the distinctively shaped hexagon visible from an aerial view, with a patio made for enjoying views of the croquet lawn and beyond. Dining is relaxed, served on sturdy English ceramic dishes. The food takes full advantage of famously fresh and flavorful California produce and the skill of chef Victoria Acosta. A holiday visit found us enjoying a four-course dinner paired with wines, including Maine lobster risotto and roasted rib eye–not too shabby for the hotel's more casual restaurant!
Once you book a stay, don't lose any time securing a spot at The Restaurant at Meadowood, the resort's fixed-price culinary adventure. The experience begins upon making a reservation, where you'll have a chance to discuss food preferences and dietary guidelines. Then a special menu will be created for your table. With a touch more akin to a wand than a human hand (this is Disneyland after all), Executive Chef Christopher Kostow, winner of the James Beard Foundation's Best Chef: West moniker, not only cooks delicious food, but also tells stories with it. Witness perfectly constructed morsels served on pillows or in the pages of a 1971 cookbook by Craig Claiborne. From inventive tastes such as grit chips with buttermilk powder, pretzel rounds filled with cheddar cheese and the "evolution of a grape" served on, what else, a grapevine, you won't forget a single bite. And for nights when you can't get a reservation, the next best thing is a seat in front of the fireplace in the bar, with a parade of petite snacks providing a sneak preview of the night's menu. Indeed, a cocktail hour of bites and drinks proved so fun and satisfying that we canceled our dinner reservations down Valley.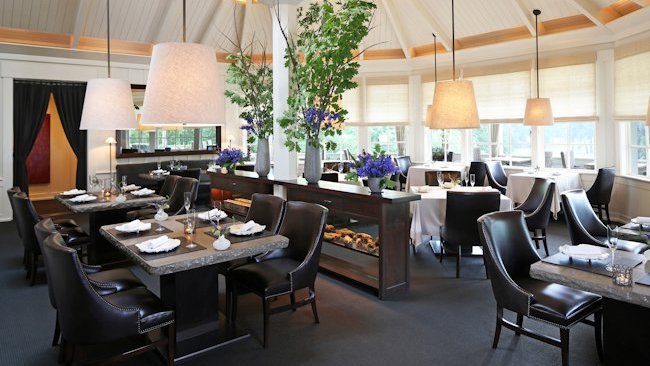 Nearly 15 years have passed between our first visit and this one, and the years have been more than good here. In addition to property improvements that over the years have yielded additional guestrooms, a second pool and a kitchen overhaul for the restaurant and catering facilities, the next frontier is the spa. The hotel has broken ground on a foundation for a new spa, and plans are under way. Until then, the current spa, which shares space with the fitness center overlooking the tennis courts, stays its course with invigorating massages, softening scrubs and glow-enhancing facials.
Whether your visit is a getaway weekend or several days more, there is plenty to do, even if that involves doing nothing at all. It's the kind of place where the magic lies simply in taking it all in. In a region of the country where it's not enough to be merely special, Meadowood delights even the most demanding of dreamers. Disney would be so proud.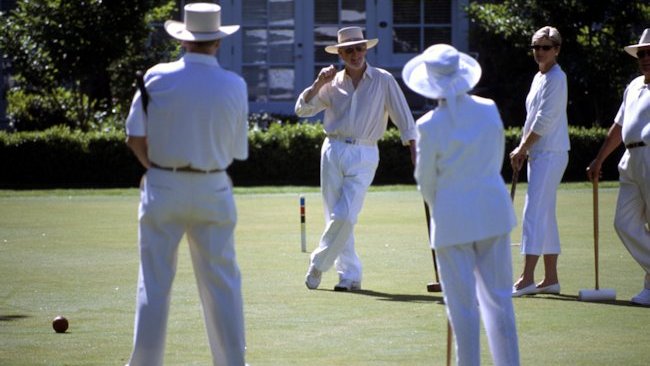 Meadowood Napa Valley, 900 Meadowood Lane, St. Helena, CA 94574, 877.963.3646, meadowood.com

Located 65 miles from San Francisco, Meadowood is within two hours driving distance to five airports.