As if Napa Valley's Meadowood Resort was not already posh enough, the recently completed renovation of three new swimming pools and remodel of the state-of-the-art fitness studio sends the resort's luxe quotient soaring. If you haven't been to the Forbes Five Star property lately (15 stars total when counting The Restaurant and Meadowood Spa), or have never been at all, now is the time to check out Napa's gold standard resort. Tucked into the hillside off of the famed Silverado Trail, Meadowood blends seamlessly and sublimely into its 250 acres of oak and redwood tree-studded terrain. You'll not find any place quite as effortlessly elegant within Northern California wine country.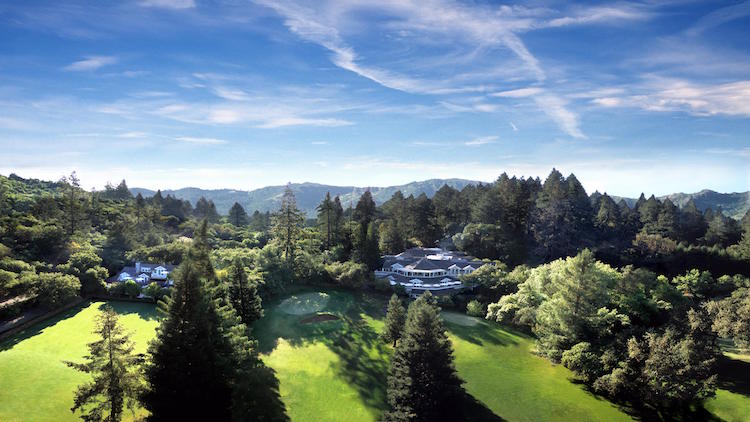 The pampering begins upon entry when the gatehouse attendant alerts the reception staff of your arrival and you are greeted at check-in by name. Hot cider and freshly baked cookies await; friendly bell staff escort you to one of the 85 sumptuously appointed New England-style bungalows and cottages that dot the hillsides; each provides unparalleled privacy. Settle-in while contemplating your activity choices. Will you set-out for wine tasting adventures? Hike the hillside trails? Play a round of croquet, or a set of tennis? Swim a few laps, or indulge in a massage? The choices are plenty, and there is no 'right' way to enjoy a Meadowood respite, except to ensure that your stay allows for plenty of time to simply enjoy the bucolic surroundings. Here's what you'll find at Meadowood: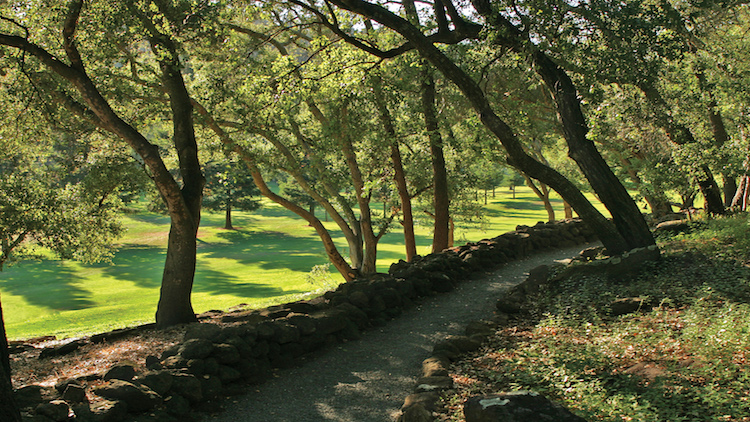 The Lobby: A massive stone fireplace takes center stage in this communal spot where you'll find coffee, tea, and a selection of newspapers in the morning, wine tasting every afternoon from 4:30 – 5:30 with pours of local reds, whites, and bubbles, hot cider and cookies throughout the day and evening during colder months, and ice tea and lemonade when the temps soar. A comfy couch, high back chairs, and a small alcove provide plenty of spots in which to read, work, or chat with other guests.
Accommodations: The 85 bungalows and cottages come in a variety of sizes and layouts (ranging from 400 sq. ft. to 2,000 sq. ft.) and are spread throughout the large property. Interested in enjoying the new pools? Consider a room near the water. Seeking the utmost in privacy? Choose the northern most rooms for exceptionally exclusive quarters. Each has been redesigned by Napa Valley's premier architect Howard Backen, the creator of some of Napa's most distinguished homes and wine tasting rooms and known for his casually chic designs. Vaulted, open beam ceilings are complemented by neutral textile shades. Wood burning or gas fireplaces provide warmth on chilly nights and mornings. Stocked mini-bars, espresso machines, daily refilled dishes of house made caramels, and nightly turndown treats from the kitchen gratify sweet cravings.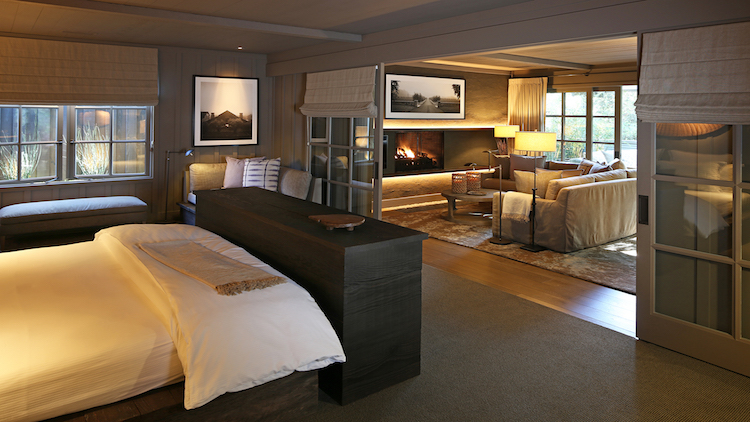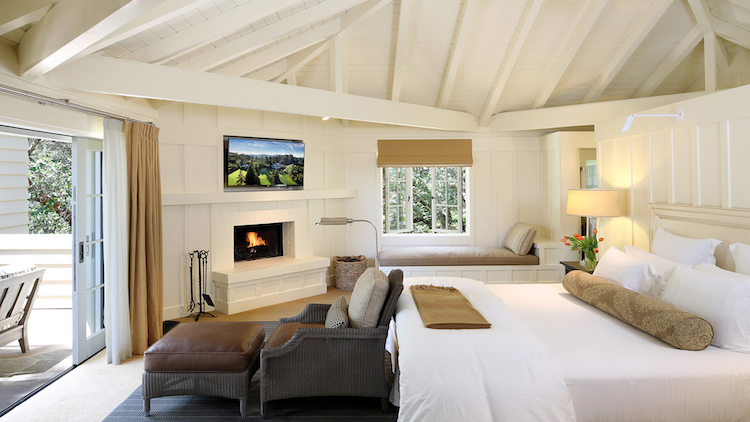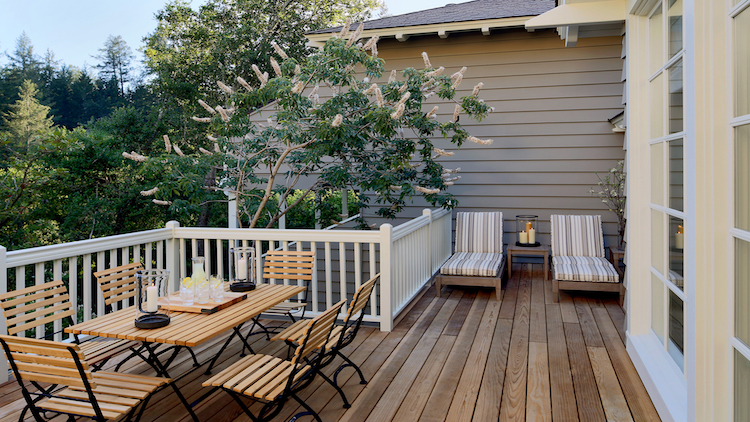 Dining: Three Michelin-starred The Restaurant at Meadowood (below) is a destination unto itself. Executive Chef Christopher Kostow's celebration of Napa cuisine makes dinner so much more than a meal; dining here is an event. Every delicious dish surprises and delights, the service is sublime, and the low-lit, sultry environ inspires romance. For a more casual atmosphere and fare to match, choose The Grill at Meadowood for breakfast, lunch, or dinner. During warmer months, the new Pool Terrace Bar & Restaurant offers a care-free, adults-only dining area and bar with table seating under the shade of six tall palm trees.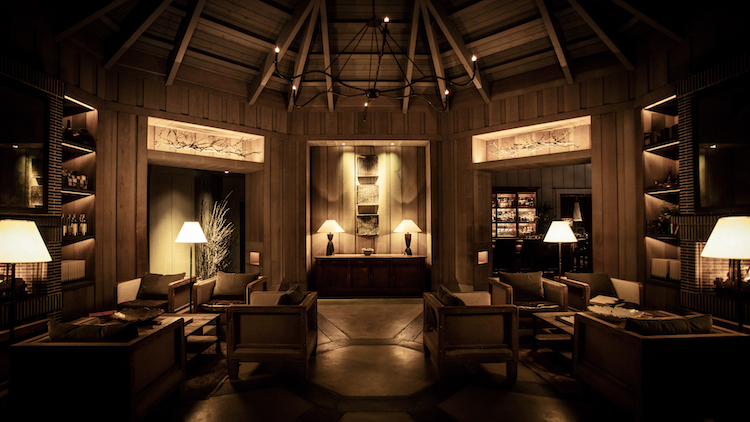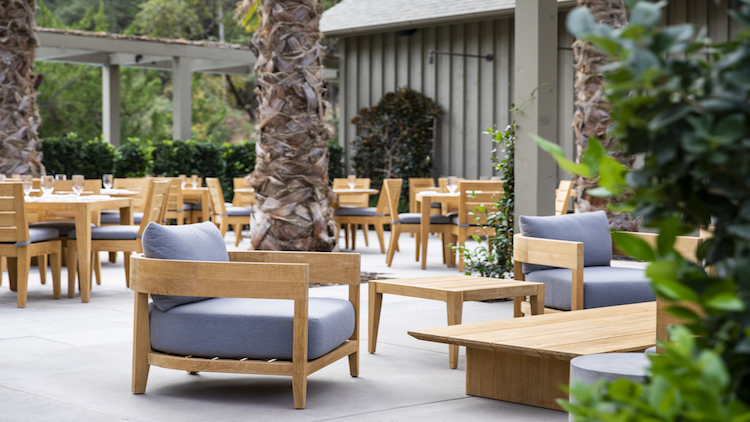 The Spa: The spectacularly serene and rustically-modern Meadowood Spa (another Howard Backen project) offers customizable holistic treatments within spacious individual suites featuring soothing color palettes of warm greys, creams, fresh greens, and natural teak. Pre or post treatment, lounge in the relaxation garden and sample house-dried fruits, nuts, grains, and nourishing elixirs.
New to the Spa is the Pietro Simone Skincare line from Italy. Meadowood is the first west coast spa to carry the line. Says Michael Conte, Director of Spa and Wellness for Meadowood Spa, "I have been in the spa industry for 13 years and my team and I were so impressed with the innovation, efficacy, and luxury of Pietro Simone Skincare. We knew it was the perfect fit for The Meadowood Spa His unique treatment techniques and powerful products provide our guests with superior results for all skin types -- and the improvements I have seen are incredible."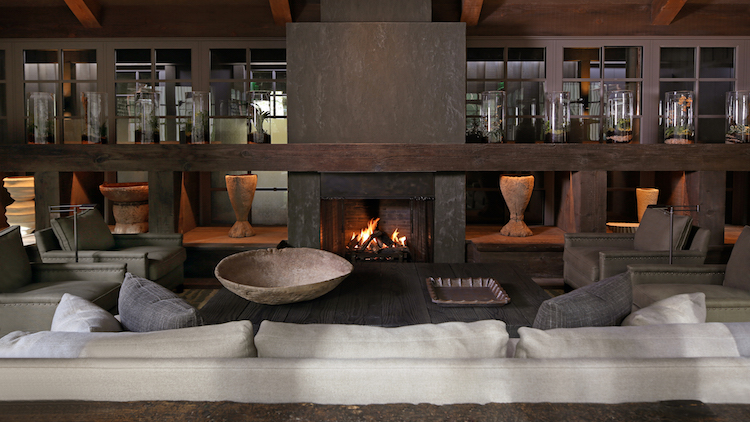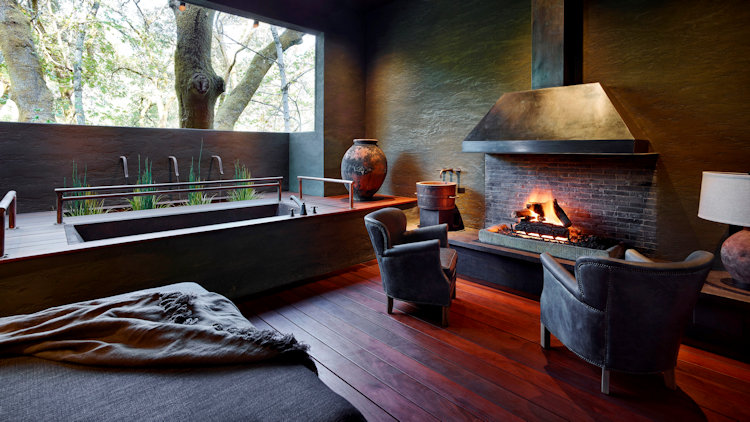 The Pools: At the new adults-only Hotel Pool (age 21 and above, pictured below), a series of adjacent lounges are complemented by four private cabanas, each accommo­dating up to six guests and featuring deep, cushioned lounge seating with comfortable throw pillows and teak coffee tables. Each affords guests the flexibility of a retractable, natu­ral canvas awning and four-sided soft draperies. Elevated services are offered in the cabanas daily. A large hot tub rests on the western side of the Hotel Pool between the western cabanas. The Club Pool (age 16 and above) has been relocated to the center of the pool environment and provides for lap swimming in the mornings and quiet relaxation the rest of the day, complete with poolside lounges.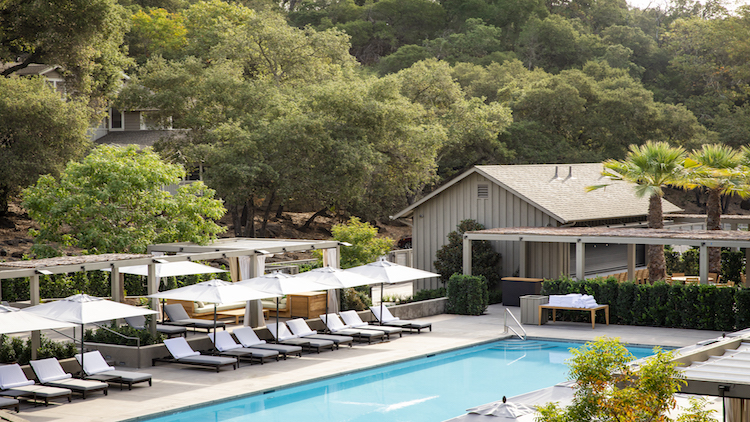 The existing Family Pool was resurfaced and continues to pro­vide a fun environment for families with children. Next to the Family Pool is a new, expanded and more functional building, which includes the Snack Bar and Bath House with showers and changing rooms. Just south of the Bath House, a new Kids Play Area with activity lawns help to make the pool areas a bit more peaceful.
Fitness Center: The men's and women's locker rooms feature new saunas and steam rooms. Spaces dedicated to daily fitness classes, weight training, and cardio workouts have been improved and expanded to create a more open and light-filled environment, allowing more space for stretching and functional training.
State of the art weight training and cardio equipment from Precor includes two Peloton bikes, Concept 2 Skierg a TRX station, Stairmaster StepMill and Board 30s that utilize resistance bands from all sides of the board for a full body and varied workout. The newly rebranded Strength & Spirit Studio, complete with new floor­ing and calming cream-colored walls, offers a variety of daily fitness classes including yoga, cardio weight training, cycle/sculpt as well as the newest addition of Board 30 classes.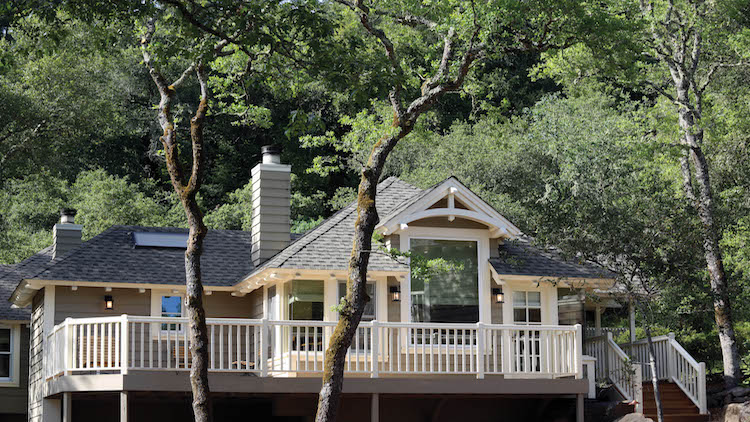 Additionally: Still need more recreation ideas? Meadowood's concierge can schedule for you wine tours, restaurant reservations, picnics, and even hot-air balloon rides. But truly, the best way to experience Meadowood is to simply retreat and relax within the peaceful setting.
Photos courtesy of Meadowood Resort. The Restaurant at Meadowood rotunda photo courtesy of The Restaurant at Meadowood, photography by Kelly Puleio.