Founded by third-generation watchmakers,
LAPIZTA
was created to convey and share their personal passion for sports with others. Honing in on a passion of extreme lifestyles, LAPIZTA offers luxury watches that infuse elements of extreme sports with a luxury design.
Lapizta has launched eight different watch collections, each inspired by an extreme sport or vehicle; racing, automobiles, motorcycles, two lines for diving airplanes, boats and a women's line. Each timepiece uniquely embodies elements from these extreme endeavors, from tire treads to nautical materials, which ultimately brings life and movement to the watches. These custom made pieces provide not only the function of a watch, but the opportunity for all those who sport the Lapizta brand to tell a story. People feel a personal connection to Lapizta.
LAPIZTA recently brought one of IndyCar's most accomplished race car drivers on board, Helio Castroneves. This three-time Indy 500 winner is recognized globally for his charisma and success both on and off the track. Known commonly among race car enthusiast as Spiderman, Helio will help Lapizta show the world, how Lapizta captures the thrilling and limitless elements of extreme sports and life!
The collection is priced between $295 and $695; each style is offered in various colors.
Visit website:
http://www.lapizta.com/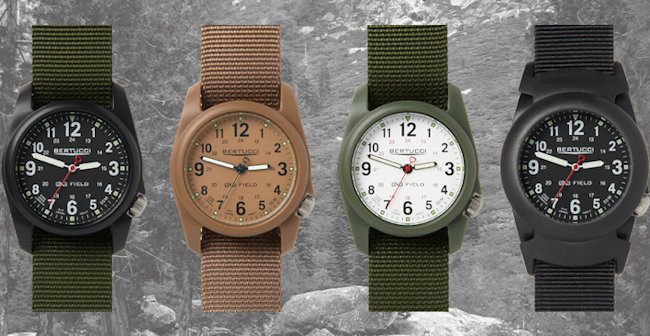 Bertucci Watches
is the market leader in the watch industry. Over the years, the brand has offered one of the widest arrays of solid styles in a variety of case shapes, designs, sizes, and finishes.
The newest addition to Bertucci, is the AcquaX™ collection - a nautical and water sports theme collection that combines extreme durability and lightweight titanium comfort of only 2.3 oz. This performance level is derived from Bertucci's US patented solid titanium 44 mm wrist balanced case and wider 1"/25mm band, providing unmatched comfort and long lasting durability.
The striking, yet functional, gloss finish dial features authentic colors, large easy to read super luminous hands and markers that are complimented by high polished or blue ION finished titanium case.
The AcquaX™ is loaded with premium features, and is offered in three high performance bands... DX3® Field Nylon, Tridura™, and water resistance leathers.
For more information please visit
www.bertucciwatches.com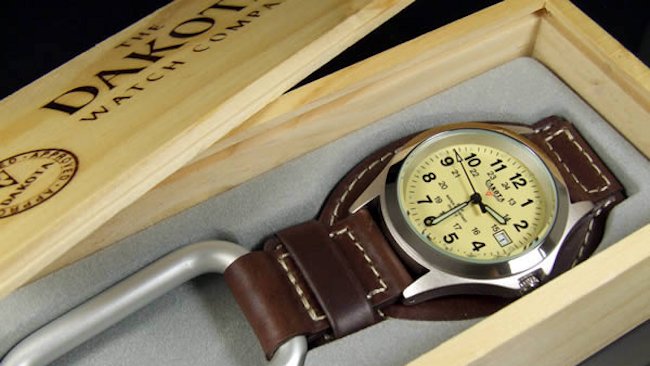 Dakota Watches
Dakota Watch Company
is known for their extensive collection of trendy, functional timepieces. Ranging from a sport watch to an elegant timepiece, Dakota Watch Company offers a watch for every personality type. Offering a unique collection for men, women and children that ranges in material, structure, and color palette; this brand hones in on exceptional wrist wear.
Embracing the importance of customer service, Dakota Watch Company offers battery replacement, band replacement, water testing watches, minor repairs, and watch repair. Dakota Watch Company resembles high-end pieces at an affordable price point and offering exceptional service and guarantee.
For more information please visit
www.dakotawatch.com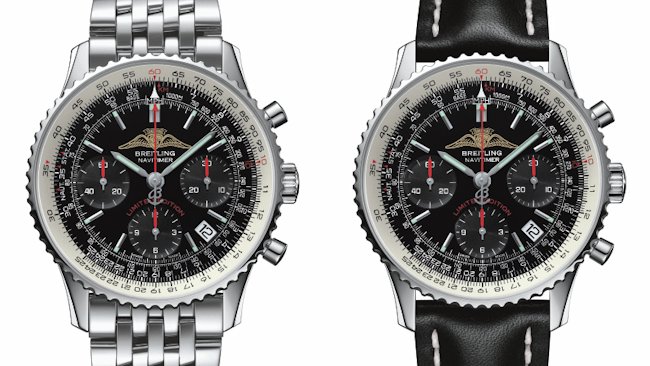 Breitling Introduces Timepiece Honoring General Aviation
Breitling has a rich tradition of supporting aviation beginning with manufacturing on board chronographs for fighter planes in World War II. Today, Breitling demonstrates their commitment to aviation through their sponsorship of precision flying teams, air races, stunt flyers and JetMan, Yves Rossy.
Available with either a black leather strap for $6,500 or steel bracelet for $7,655, the Breitling Navitimer AOPA 75th Anniversary timepiece is based on their original 1954 Navitimer and like the original features a circular slide rule which allows it to perform all the calculations a pilot might need in flight.
More information:
http://www.aopa.org/Landing-Pages/breitling-aopa-navitimer