If you are a tea drinker or if you know one who likes to keep their tea organized in a neat, yet stylish way, this is the solution for you.
These beautiful tea boxes are the perfect addition to your kitchen or make a perfect gift for any occasion: Valentine's, birthday, wedding, anniversary, Mother's/Father's Day, Christmas…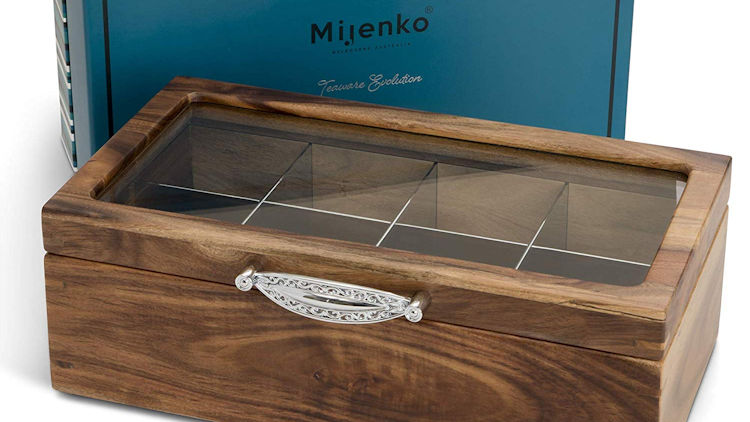 With a sleek and sophisticated design, they meet both a functional need, as well as an aesthetic one. They even double as beautiful jewelry boxes! Because of the unique wood grain, no two pieces are the same and are stunningly unique.
The tea boxes are carefully handcrafted out of high quality timber sourced from different global locations, ethically grown and harvested, giving you the ideal solution to your tea storage needs. (each box weighs approx. 8.8 pounds or almost 4 kgs)


Made with top quality slow release hinges to stop the lid from slamming shut and tempered glass to minimize risk of breakage. The dividers are strong removable stainless steel and have extra-large tea storage compartments of over 3"x3" inches, suitable to store family size tea bags or double the average of other tea boxes. There are stainless steel feet to keep it slightly elevated off the counter which prevents moisture from spills and general kitchen wiping.
The tea boxes can double as jewelry boxes and feature rose gold or silver stainless steel, two materials that complement each other perfectly to give the designs a beautiful and sophisticated look.
Buy product on Amazon.com ($129): Mijenko Wooden Tea Box Chest

More information: www.mijenko.melbourne