Travelers overnight in a yurt camp near a 15th-century caravanserai, drive over the 12,000 ft. spine of the Silk Road into Western China, feast in a traditional Uzbek homes, visit the workshops of a silk master and renowned ceramic artist, observe exciting Kyrgyz horse games, and absorb ancient Persian architecture. For more information on the 17-day "Central Overland Adventure", visit
http://www.mircorp.com/tour_caeoa.asp
or call 800-424-7289. The trip starts at $5,495.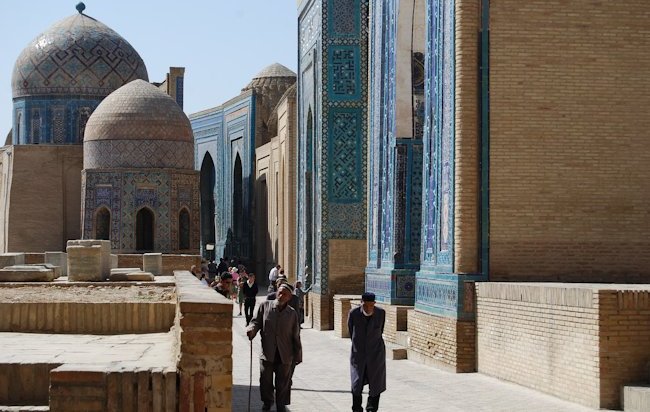 Full itinerary:
Days 1-2: Bishkek
In Kyrgyzstan's capital, experience a haunting performance of selections from the Epic of Manas, listed by UNESCO as a part of the Intangible Cultural Heritage of Humanity.
Days 3-4: Naryn, Kochkor Village, Tash Rabat
Observe exciting Kyrgyz horse games near Burana Tower, one of the only remaining Silk Road watchtowers in Kyrgyzstan. Pay a visit to Altyn Kol (Golden Hands) Women's Cooperative, where Kyrgyz women learn to produce high quality traditional goods. Enjoy a hike in the alpine scenery around a yurt camp near Tash Rabat, a massive stone fortress and ancient caravanserai.
Day 5: Torugart Pass
Drive over dramatic Torugart Pass, a 12,000-foot+ pass through the Tien Shan Mountains that separate the green mountain pastures of Kyrgyzstan from the red sand deserts of Western China.
Days 6-7: Kashgar
Browse the famous Kashgar Market animal section, where you can find anything from a herd of fat-tailed sheep to a single camel ready for a test drive. Explore the remains of the Old Town, walking up winding lanes between Uighur houses with old mosques tucked in among them.
Day 8: Irkeshtam Pass, Sary Tash
Follow the Silk Road up the switchbacks of Irkeshtam Pass, stopping for the night at a yurt camp near Sary Tash, where the Pamir Highway begins.
Days 9-10: Osh, Fergana, Margilan, Rishtan, Kokand
In the agricultural Fergana Valley, admire Kyrgyzstan's only UNESCO Site, Suleiman's Throne with its sacred mountain. In the Uzbek portion of the valley, learn about the life and work of local artisans during visits to both ceramics and silk workshops and enjoy a meal in the home of a local family.
Day 11: Tashkent
In the Uzbek capital/, admire the Uthman Koran, thought to be the oldest Koran in the world, inscribed onto the UNESCO Memory of the World Register. Visit the studio of a master Uzbek miniature painter.
Days 12-14: Tashkent, Samarkand, Urgut
Hop the fast, new day train to UNESCO-listed Samarkand to see the classic sites, the majestic Registan, the Bibi-Khanum Mosque and Ulug Bek's medieval observatory. Wander the labyrinthine Urgut Market, the best place to find sumptuous suzani, the finely embroidered coverlets that Uzbek women have designed and created for hundreds of years.
Days 15-17: Bukhara, Tashkent
Drive to the UNESCO-listed Silk Road oasis of Bukhara to admire its gorgeous Persian architecture. Celebrate your epic Silk Road exploration at a farewell dinner.
For more information on the 17-day "Central Overland Adventure," visit
http://www.mircorp.com/tour_caeoa.asp
or call 800-424-7289.