Lambert created the inn in a historic 1901 brownstone in her adopted hometown of Tishomingo, about two hours south of Oklahoma City. The inn is just across the street from her popular gift store, The Pink Pistol.
The eight-bedroom establishment aims to offer guests a "taste of southern hospitality." That means being welcomed by the 'innkeeper' with freshly baked chocolate chip cookies upon check-in, and a hot, country-style breakfast every morning. The hotel also features a lounge, New Orleans-style bar, tea room and dining room.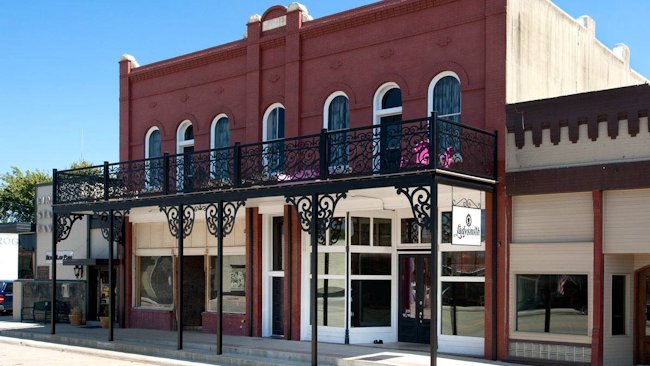 In keeping with its century-old heritage, Lambert preserved certain details including vintage photographs and furnished the inn with repurposed materials and antique pieces she's collected in her travels throughout the US.
Rooms are given playful names like 'Knaughty Pine', 'Flutterby' and 'The Sun Never Sets', while the decor sets off masculine elements like exposed brick, wood paneling, cowhide and even a Chevrolet tailgate headboard, against softer elements like pink chandeliers, angel wings, damask drapery and floral cushions.
Room rates range from $200 to $320 a night. And Lambert has said she hopes to host weddings, birthday parties and other events in the B&B's ballroom, which can hold 60-80 guests.
Activities in the area include shopping on the city's Main Street, nearby casinos and Lake Texoma.
Lambert is the latest celebrity to add hotelier to her resume. Other hotels owned by celebrities include:
Richard Gere owns the Bedford Post Inn; Elizabeth Hurley owns
No.11 Cadogan Gardens
in London; Bono and The Edge own The Clarence in Dublin; Robert Redford owns Sundance Resort in Utah; Clint Eastwood owns Mission Ranch Hotel in Carmel, California; Robert De Niro owns The Greenwich hotel in New York; Hugh Jackman owns Gwinganna Lifestyle Retreat in Australia; Olivia Newton-John owns Gaia Retreat & Spa in Australia, Gloria Estefan owns the Costa d'Este Beach Resort in Vero Beach, FL; Jason Priestley owns the Terrace Beach Resort, Ucluelet in British Columbia; Doris Day owns Cypress Inn in Carmel, CA; and Francis Ford Coppola owns several hotels in Belize and Italy.
Visit website:
http://theladysmith.us/
Related article:
http://www.people.com/article/miranda-lambert-bed-and-breakfast-oklahoma