In 1869, founder Albert Smiley purchased a ten-room inn on Lake Mohonk and 150 years later it has expanded into Mohonk Mountain House, the renowned sprawling property you see today. The resort is now in its fourth and fifth generations of Smiley family proprietorship and the founder's vision to preserve a natural paradise for guests, and a place to rejuvenate away from the stress of work and city life has been realized royally.
We are Family
I recently visited this wonderful Victorian castle in the Hudson Valley in New Paltz, New York that is a National Historic Landmark and a member of Historic Hotels of America. I discovered an ideal place for all manner of celebratory events and family reunions. There's even an on-site Family Reunion Coordinator who will reserve a social room and customize activities for your gathering.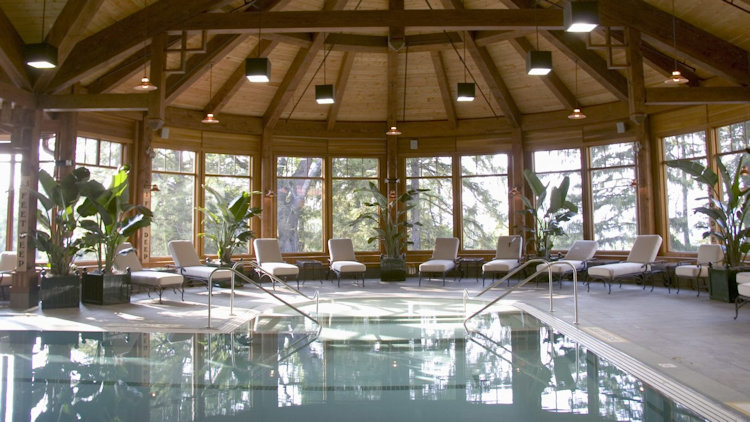 Open Wide and Say Spahhhhh
The Spa here has been named one of the top 25 resort spas in North America by Conde Nast Traveler magazine, and they offer some effective treatments to escape from the world, if only for a little while. There's the Eagle Cliff Deep Tissue Massage assisted by warm packs placed on specific areas of the body and the Mohonk Red Massage begins with inhalation of calming Evergreen essences. I opted for the Fragrant Earth treatment which incorporated the many medicinal herbs found in the surrounding region. First I was "polished" with rosemary salts, then my scalp and body were massaged with extracts of pine, fir and oakmoss, and finally, I was "awakened" with a stimulating peppermint foot massage
Zippity DO Dah
There's a wealth of engaging activities at Mohonk. A great way to start the day is with the "5 Voices of Birds" hike on forest trails. If you have a black thumb like me, you'll find enlightenment with a tour through the greenhouse and a chance to hear the history of their Victorian gardens. Feeling Victorian? Why not dress like one and get your picture taken in full 19th century regalia. Depending on the season, there's rock climbing, skating, cycling, boating….the list goes on. For kids, the Tykes and Children's program keeps them busy for hours. There's also an Evening Children's Program so mom and dad can enjoy their evening cocktail in peace. From early morning, throughout the day, up to a Victorian Gala Dance at
9:00 pm, there's a whole lotta fun going on here. Fireplaces blaze in winter, and rocking chairs on pretty porches overlooking the lake calm frazzled nerves in warm weather. So if you want to loll about and do nothing, it's perfectly ok. In fact, it's a capital idea, and one that I chose for much of my stay.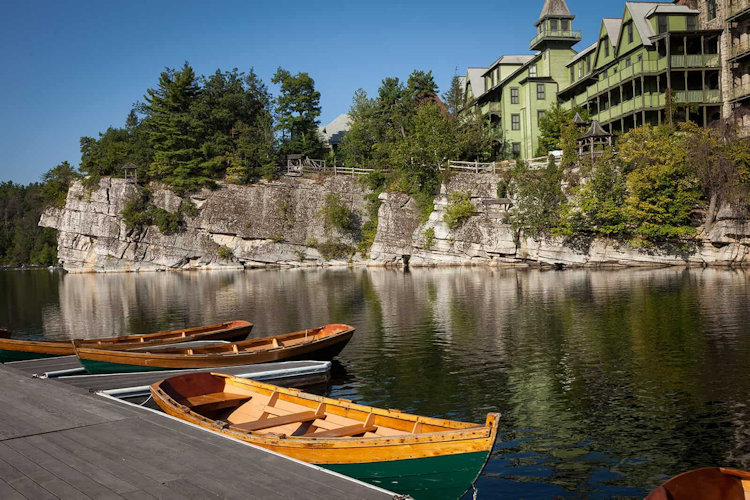 All together now: Ohmmm
A blissful offering, unique to this resort, is the Three Minute Meditator. Nina Smiley, Ph.D, and co-author of the book by the same name, teaches meditating skills which can be done in three minutes. No, seriously! You come away from this charming 19th century resort with a skill that can be practiced whenever needed. I personally "three-minute meditate" several times throughout my day and, surprise! It works!
Right now MMH has a Midweek Winter Getaway that is quite appealing. You can renew yourself in a winter wonderland while enjoying crisp mountain air, cozy fireplaces, and an outdoor ice-skating pavilion. You'll dine at Surrey, the property's fine dining restaurant and breakfast the next morning. Weather permitting, you can snowshoe and cross-country ski; also offered, daily "House History" tours of the resort. There are guided nature hikes, yoga, meditation, and fitness classes. Of course you won't want to miss afternoon tea and cookies in the Lake Lounge and later, nightly evening entertainment.
Over the decades, distinguished visitors to the Mountain House have included five U.S. presidents, naturalists, theologians, business leaders, actors, artists, and musicians. Each embraced many of the same activities that you'll enjoy on your visit. As a guest, you'll become a part of Smiley family history – and Mohonk Mountain House will become a part of yours, as well!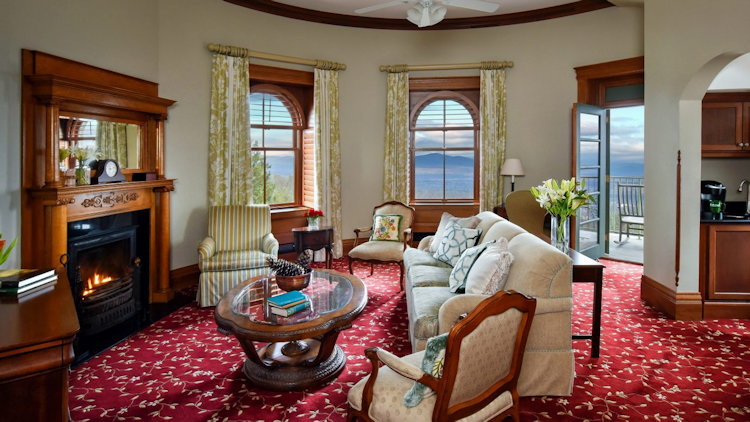 If You Go:
Mohonk Mountain House www.mohonk.com