Walking toward Yangon's art galleries the majestic colonial buildings line the streets. Some have been converted into luxury hotels a sign of Myanmar's renewal. Yet most have been left untouched since British rule. Faded green paint peeling off the walls over markets that are filled with fruit as bright as traditional women's clothing. "Myanmar has a long history filled with rich cultural traditions, that's reflected in a distinctive emerging art movement," said Gill Pattison, River Gallery.
The nation is evolving from a turbulent history into a vibrant democracy that has given a new voice to talented local artists. "Art currently reflects an intense transition in Myanmar," said Nathalie Johnston, Myanm/Art. "With pillars of religion and history."
On arriving in Yangon in 2002, Pattison, an art enthusiast, saw the enormous untapped potential in the creative arts and established the River Gallery. At the time there was one not-for-profit gallery, the Lokanat. Today the city is flush with stunning galleries showcasing a new moment in art.
The River Gallery, since those early days has presented and promoted artists including Htein Lin whose work is sought for exhibitions in the UK, USA and Japan.
International awareness is also growing in the work of Yangon based artist,Chuu Wai Nyein who explores women's identity and empowerment.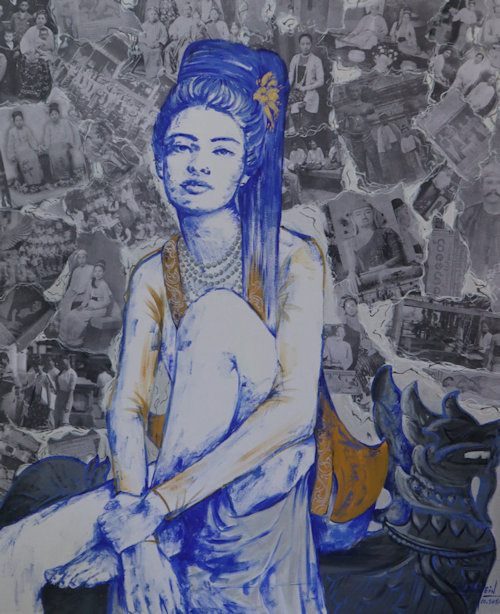 PHOTO: "A-Pyar (blue)" Chuu Wai Nyein
"She will be written into the country's future art history books," said Pattison with her work catching worldwide attention with exhibits in New York, Paris and London.
There are many others. At Myanm/Art, Johnston exhibits extraordinary work. "Yangon's most exciting artists include Nge Lay, Po Po, Sow Yu Nwe, and Bart Was Not Here, with their work reflecting change".
Myanm/Art exhibits have included Mayco Naing, one of Southeast Asia's most influential photographers.
In 1988 Mayco Naing was denied education, as all students were, when the Military Government shut down universities. For survival she found work as a photographer in a quiet studio.
As political hope emerged with the democracy movement, so did Mayco Naing's desire to document the plight of financially struggling women of ethnic minorities.
In ancient times this nation held untold wealth. Kingdoms grew from the trade of natural resources including gold and rubies.
Monarchs and religion defined this country with resources poured into magnificent temples, and fabulous architecture, that still stand today as monuments of art and for art. To explore this astonishing country, Indian nationals need a Myanmar visa. You should check the details about Myanmar visa for Indian nationals before traveling.
Emerging painter, Than Kyaw Htay, took inspiration from his home in the Rakhine state. His work depicts modern life for villagers against the ancient temples similar to those at the proposed UNESCO heritage site, Mrauk-U.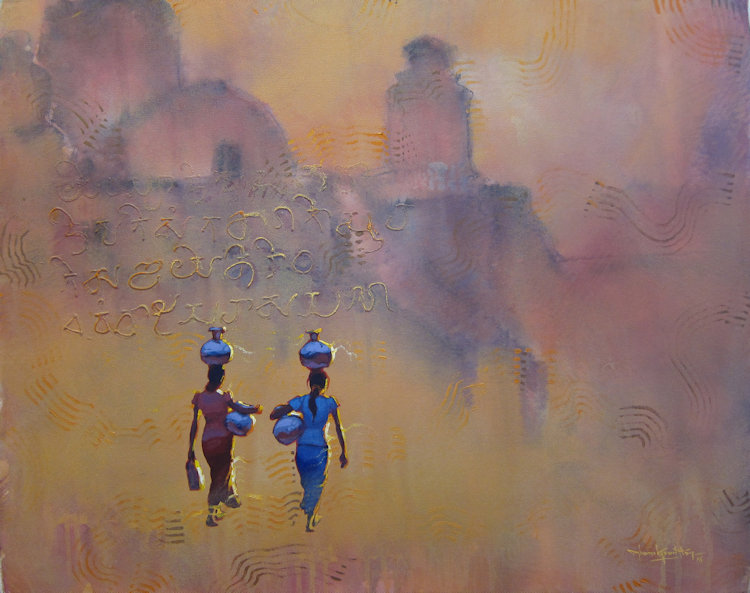 PHOTO: Than Kyaw Htay 'Silent Sweat'
In his work 'Silent Sweat' ancient temples are lost in the mist, as village women carry metal water pots on their heads, their faces not visible. Yet surrounding each figure there a slither of light.
This nation is unusual with a diversity of ethnic groups, landscapes and traditions. "Myanmar is full of color and Myanmar people love that color. This is reflected in the works of many of the country's artists," said Pattison.
The royal blues of the Mergui archipelago, the deep orange of the temples of Bagan, each color intensified by tropical sunlight.
Myanmar's 135 ethnic tribes have maintained their deep beliefs and a traditional life.
Moe Myint Zaw's painting are focused on the traditions of the Pa'O ethnic group.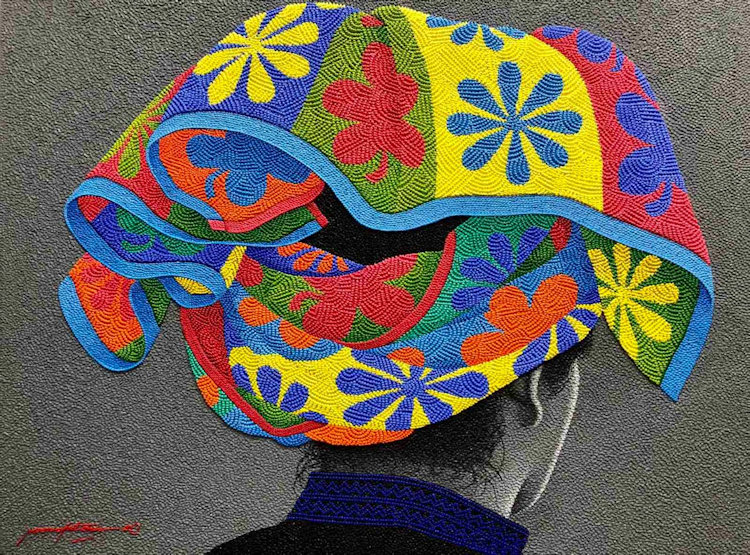 PHOTO: Moe Myint Zaw

His work highlights the traditional headscarves and dresses of the brightest colors that are still worn in the villages of Inle Lake, known as 'Southeast Asia's Venice'. His work is included in the Taw Win Art, a Gallery that sits within the famous Bogyoke markets.
While painting has not been a tradition in village life, creativity was often expressed in jewelry, music and fashion.
Traditional Myanmar clothing designs are unique and rarely dull. Local designers draw inspiration from the customary full length tight dresses of vibrant pink, lime green, blue and are setting the fashion world alight.
Award winning fashion designer, May Myat Waso, uses "Modernized Traditional Myanmar designs, many filled with tapestry" that's part of the cultural heritage.
Her work has been exhibited on runways throughout Southeast Asia, with costumes adorned by gold embroidery, a craft that originated in Myanmar over 2000 years ago.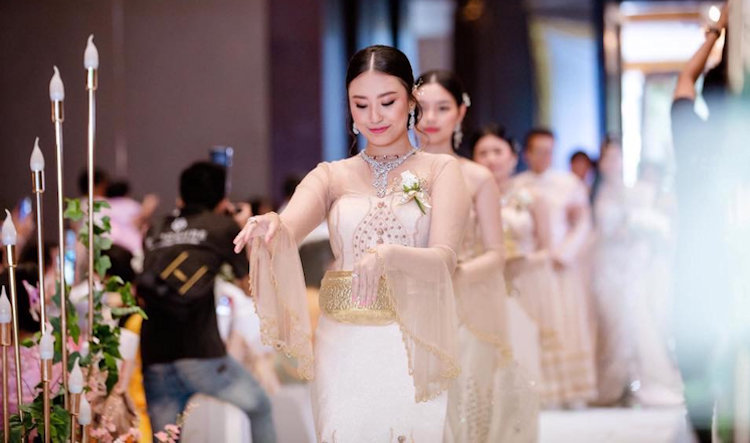 PHOTO: May Myat Waso

Gold historically fed this country's enormous wealth in which the performing arts were nurtured by the great Monarchs.
During the 11th century Pagan dynasty puppet theatre flowered in the palaces. "'A Myint Thabin'" is traditional Marionette theatre and literally means, 'Performance on the high level'" said MaMa Naing, Myanmar Marionettes. Their shows still travel the country and perform in the Mandalay Theatre.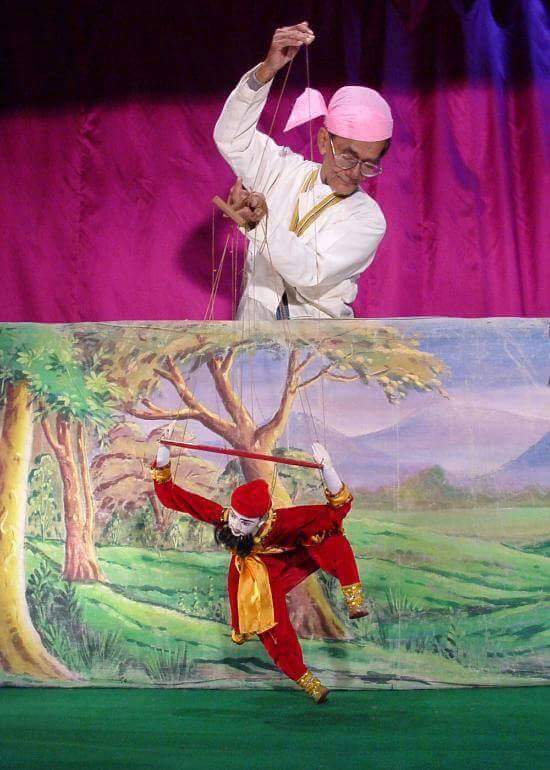 PHOTO: Myanmar Marionettes
In the time of the great Monarchs puppetry became a connection between the city and rural villages. "Marionettes were a means of making people aware of current events, a medium for educating the audience in literature," said MaMa Naing.
That message is still being delivered, now through painting, photography, fashion and the performing arts.
A selection of Yangon's finest Galleries:
The Pansodan
The Yangon Gallery
Ok Art Gallery
New Treasure Art Gallery
River Gallery
Myanm/Art
Taw Win Art Gallery
May Myat Waso HappyHeart
Myanmar Marionettes
Lead Photo Aung Kway Htet
Article by Mary Banfield in association with Myanmar Tourism Marketing