Farming and fishing here are largely done by hand with the aid of oxen, cows and water buffalo. The average wage is only $2 a day. In the small villages, families value living and working together in a simple life, often without running water and electricity, but they're always smiling.
Riding from Bagan's airport to the luxurious
Thiripyitsaya Sanctuary Resort
, we soon found ourselves in a magical land. Light from the setting sun illuminates red-hued temples of all sizes in every direction - dozens and dozens of them.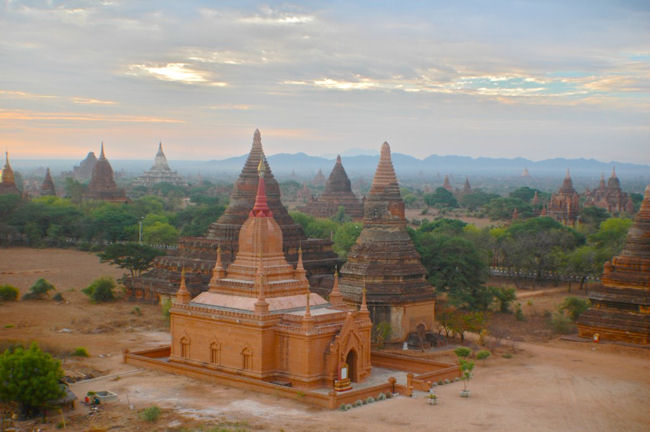 We gasp at this view of just some of the 2,217 temples, pagodas and stupas dating to the 11th-13th centuries - many still intact and all within 16 square miles. Who knew Bagan was the Machu Picchu of Buddhist temples? This archaeological zone is best viewed by horse-cart ride at dawn. To reserve a driver, just inquire at hotel reception.
Our favorite, Ananda Temple, built about 1105, is a Mon architectural masterpiece symbolizing the endless wisdom of Buddha. Of the four mammoth Buddhas inside, two are original.
Wrote one author: "Pagan (Bagan), in many respects, is the most remarkable religious city in the world...none of them can boast the multitude of temples (here)...the lavishness of design and ornament."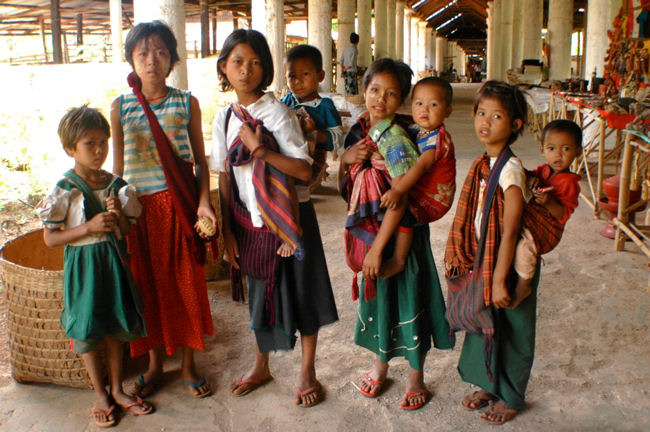 We had the chance to interact with two families: First, when our guide arranged lunch in a small village where one family cooked the vegetables and fish she'd purchased during our morning market tour; the second during a tour of a family's palm farm, where they make and sell palm oil, candy and alcohol (heady stuff, like moonshine).
Poets and playwrights have romanticized the "Road to Mandalay." (The road is actually the Irrawaddy River as outlined in Rudyard Kipling's poem.) We saw the "road" during dinner aboard
Ayravata Cruises'
RV Paukan, a beautifully crafted, wooden vessel that sails from Bagan to Mandalay offering glimpses of temples, farmland and life on the river, including late-day bathing and clothes washing. A cruise on this or the
Orient-Express's Road to Mandalay
can be added on any Myanmar itinerary.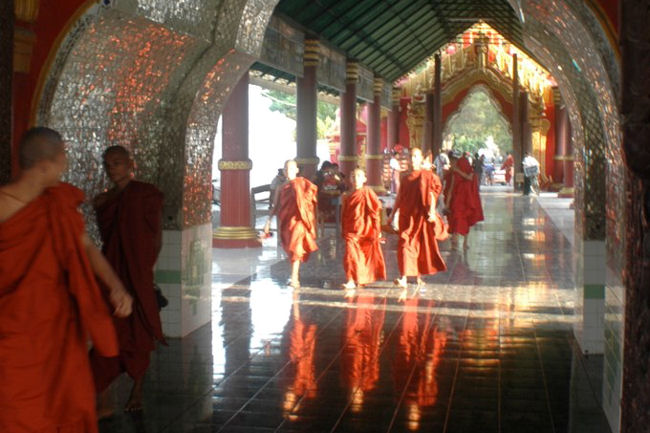 Near Mandalay, we visit the picturesque U Bein teak bridge on our way to a monastery, where 1,000 monks line up mid-morning with their alms bowls for a meal provided by a benefactor at $2 a head, or $2,000. They wait and eat in total silence.
Visitors flock to the "world's largest book" at Mandalay's Kuthodaw Pagoda where 729 separate marble tablets erected inside individual stupas are inscribed with the entire Buddhist canon. It took 2,400 monks to complete the task.
Another unsuspected discovery is the resplendent Inle Lake. We arrive at the tranquil
Inle Princess Resort
, with its stand-alone cottages and lovely spa, via longboat. Along the way, we pass floating tomato "fields," blooming water hyacinths and homes and monasteries on stilts in the water like the The Jumping Cat Monastery.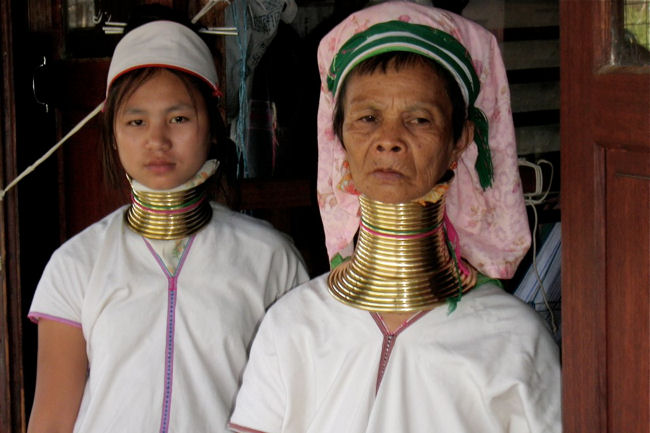 Fishermen here, draped in sarongs called longhis, have developed a unique rowing syle, using one extended leg to maneuver the oar so both hands are free to cast their nets.
Another excursion lets us greet the famed "long-neck women" of Padaung. Believing they descended from dragons, these women wear brass-coil rings on their necks, adding more each year until their necks become elongated, "like giraffes" wrote George Orwell in "Burmese Days" (1934).
Must-sees in Myanmar's captial, Yangon, are the Shwedagon Pagoda, the equivalent of Mecca for Buddhists, and The Scott Market, with over 1,600 stalls and shops in an open-air hall and along alleyways.
The luxury hotel here is
The Strand
, which reflects the British Colonial period that helped define what was then Rangoon. It sits near the current British Embassy and has a new American chef.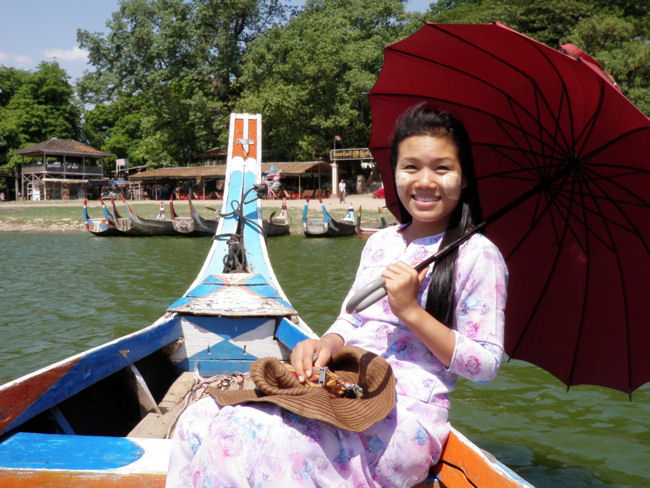 If You're Going:
Abercrombie & Kent offers luxury tours in Myanmar. They specialize in authentic travel with an emphasis on luxury, so you can view Myanmar's almost-forgotten lifestyle in air-conditioned comfort and retire to four- and five-star accommodations.
Note: The United States has trade sanctions against Myanmar, but travel there is legal. You'll need a visa (soon available upon airport arrival). Myanmar is ruled by a military regime. Pro-democracy leader Aung San Suu Kyi has been under house arrest a long time. The head of A&K's Myanmar office noted, however: "Not going won't hurt the military government in the least, but going definitely will help the people."
Photos by Fletcher/Newbern ©2010
By Kathy M. Newbern and J.S. Fletcher. Award-winning freelance travel journalists, Newbern and Fletcher often incorporate their romantic travels into their other business, www.YourNovel.com, where they put you and your sweetie in your own personalized romance novel "wild" or "mild." They are also the creators of the award-winning travel blog/podcast/radio report, www.YourSpaReport.com.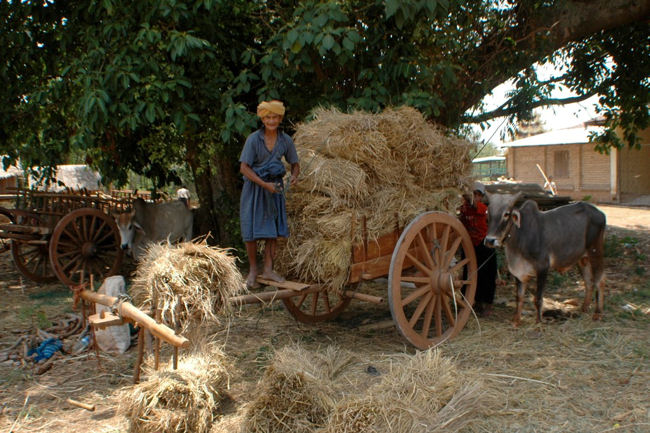 This article won "Best Online Consumer-Oriented Travel Article, Third Place" - 2011 Society of American Travel Writers, Atlantic-Caribbean Chapter