Seen from a distance, the island chain of the Cyclades resembles a jeweled necklace nestled in deep blue satin. With its stylish nautical decor, sumptuous accommodations, and dazzling views over the Tourlos Marina, the Mykonos Riviera Hotel & Spa is a sparkling gem that offers an unparalleled guest experience. From its exceptional dining experiences in the hotel's two restaurants to a wellness sanctuary and showstopping infinity pool, at every angle the hotel impresses from sunup to sundown when a magical glow is cast over your stay.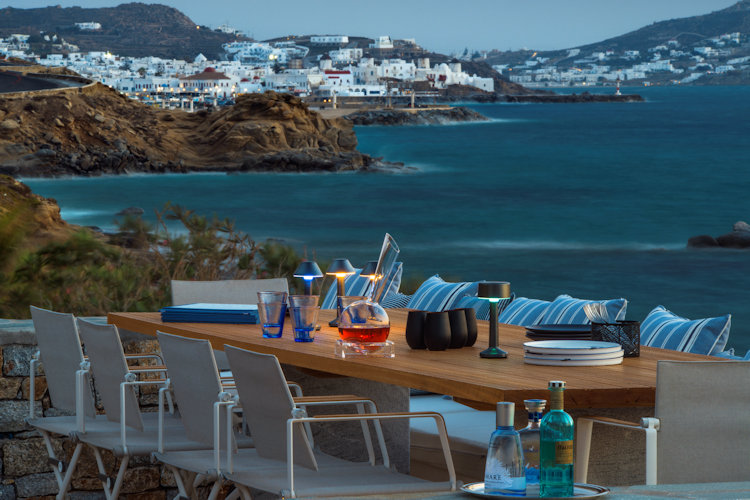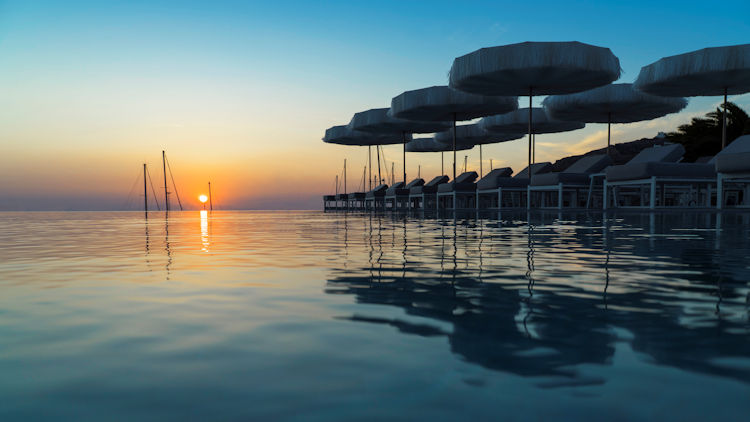 Created from a series of whitewashed structures set against the landscape of centuries-old Aegean cliffs, the Mykonos Riviera Hotel & Spa –which opened in 2018 –offers a relaxed and effortless stay on this cosmopolitan island. A pathway ribbons through the resort, leading to relaxed, open spaces, two restaurants, an exquisite spa, and a dreamy infinity pool. Showcasing five-star luxury, the hotel is perfectly situated, close to the sandy shores of Agios Stefanos Beach, and just a short walk to the island's world-famous capital with its lively shops and colorful boutiques. When ensconced in your room, enjoy luxurious appointments and modern design, the perfect retreat that is rooted in antiquity but decidedly modern and island chic.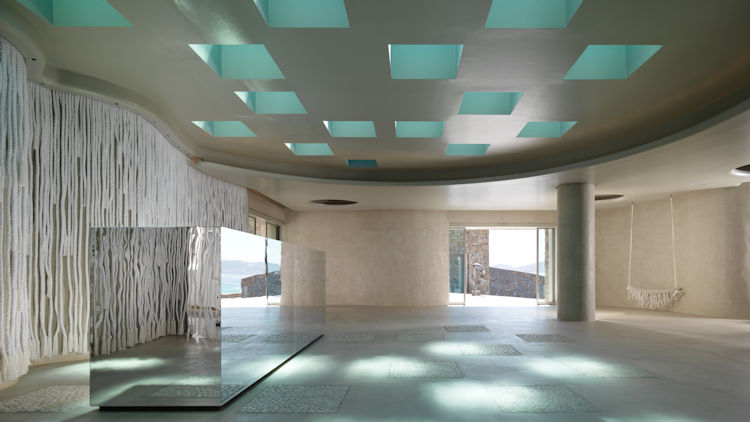 Lobby: A series of white Cycladic buildings terraced down the jagged terrain give way to a sunken pathway, an elegant starting point for your journey. Making use of the natural landscapes and gaining inspiration for centuries-old Greek architectural characteristics, the Mykonos Riviera Hotel & Spa resembles a village of quaint houses, anchored by coastal décor and refined luxury.
When you enter the reception lobby, with its abundance of polished natural surfaces and maritime accents, you'll be tempted to look around, but instead you should look up. The hotel's elevated infinity pool can be seen through the glazed windows punctuating the ceiling. The water's movement casts wavy, shimmery reflections against the walls and floor, and a sculpture of a diver splashing into the lobby is the finishing touch to this dramatic underwater-themed experience.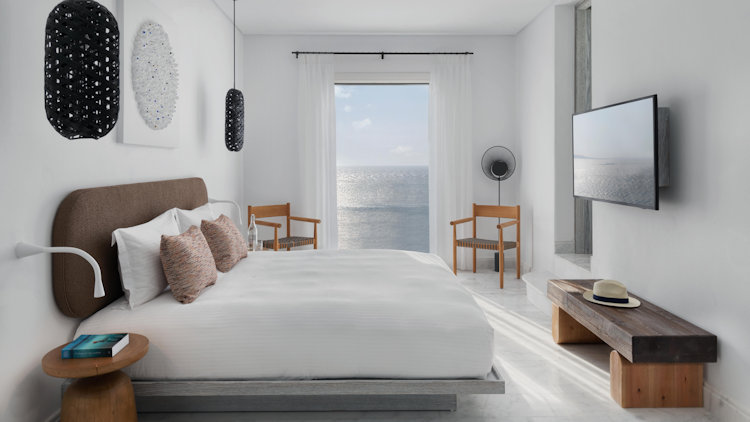 Accommodations: With 74 superbly appointed and spacious rooms, villa suites, and ultra-private maisonettes, everything about the Mykonos Riviera Hotel & Spa exceeds expectation. Nautical décor, sea blue design accents, designer marble bathrooms, flat-screen TVs, Nespresso coffee machines, ambiance lighting, and so much more make each home away from home a wonderfully enveloping experience. Suites feature such additional options as a heated Jacuzzi, in-room spa and fitness amenities, or private plunge pools. The three-bedroom maisonette comes complete with a fully furnished terrace and private infinity pool. After a day of play on the island, open the terrace doors at night and fall asleep to the sounds of the waves lapping the shores under the blanket of a starry sky.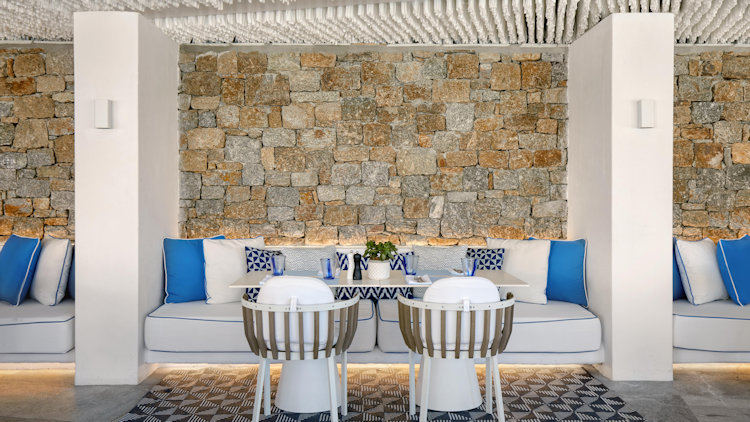 Dining: Greet each morning with a complimentary breakfast and feast on a tempting selection of à la carte eggs, pancakes, smoothies, and coffee plus a fresh buffet of Mykonos specialties, local cheeses, meats, fruits, yogurt, bread, pastries.

The Pool Club, located right next to the glistening infinity pool, serves a casual all-day menu inspired by Greek-Mediterranean cuisine. In the evening, the "sunset" crowd makes the most of the golden vibes and mezzo platters, as a live DJ spins the latest grooves.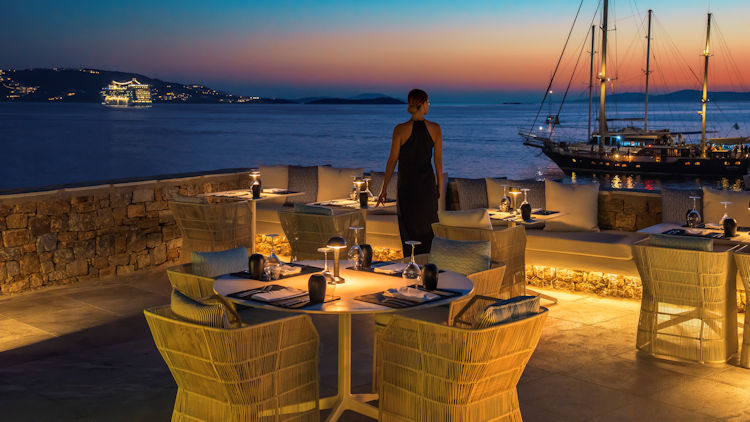 For a special evening, the hotel's signature Lafs Restaurant serves sumptuous Mediterranean, Greek, and Lebanese-inspired meals in both an elegant dining room and an al fresco patio surrounded by dramatic vistas. It's open in the evening only, but the creative offerings draw guests and locals alike for an exciting menu that mixes regional gastronomic traditions with contemporary style and artistic presentation. The executive chef is known for his penchant for seafood-based cuisine, serving a reinterpretation of time-honored recipes with a contemporary flair.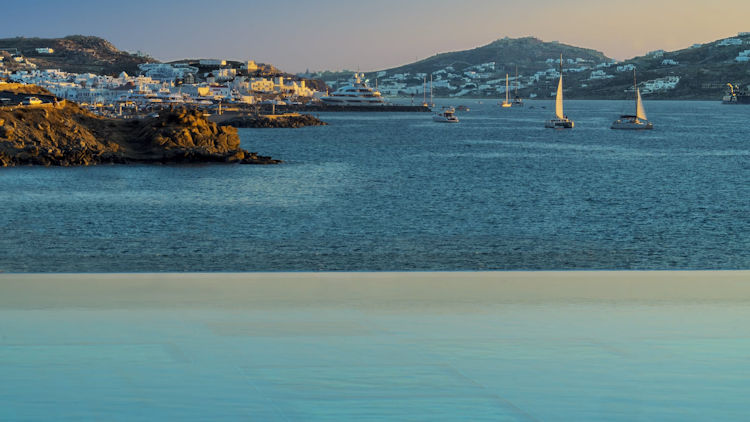 Pool: The focal point of the hotel is its saltwater infinity pool. Make a splash in the silk warm waters, or lounge on a chaise with the latest best-seller. By day, views abound, and the sun sparkles over water that seamlessly blends with the azure horizon. Come night, twinkling fiber-optics dance on the pool's glassine surface, mirroring the beauty of the star-filled sky.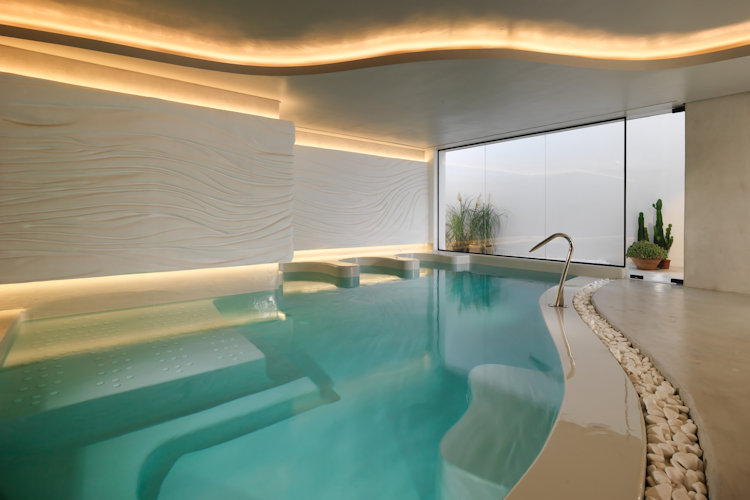 Spa: With its polished finishes, natural lights and elegantly sculptured walls, the 500 square-meter (5,381 square foot) Oqua Spa is a haven of tranquility and calm. The perfect place to realign, re-energize and rejuvenate body, mind, and spirit, this beautifully designed sanctuary features a naturally lit indoor heated thalassotherapy pool, sauna, steam room and six treatment rooms, focusing on traditional massage, exfoliation and cleansing techniques.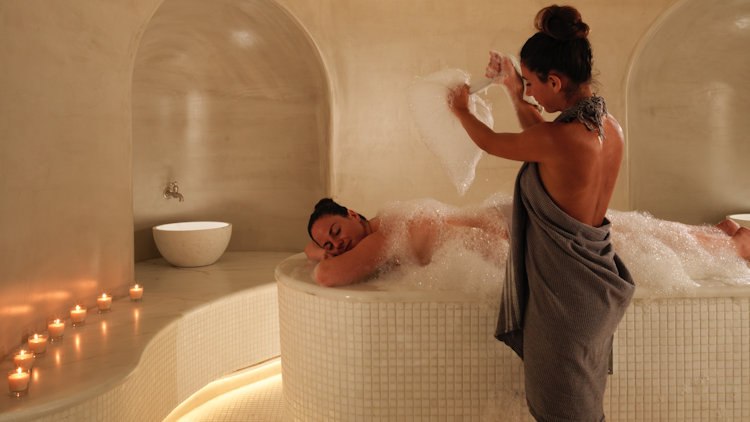 The spa's showpiece is a classic Greek hammam, a multisensory escape of time-honored customs and practices. This ancient steam bath ritual restores body and soul, with signature body treatments such as sea mud body masks and warm candle massages.The spa'sexclusive collaboration with international skincare brands promises specialized therapies and treatments for all skin types. No matter how you choose to pamper yourself, the Oqua Spa offers a sublime experience.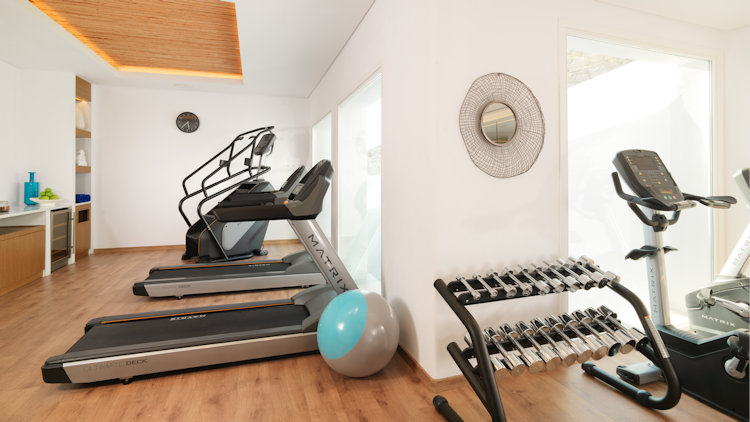 On-site Fitness Center: For those who desire to continue their fitness routine, the hotel features a fully equipped, state-of-the art gym facility. Open 24 hours, it has a full range of strength training, cardio, stretching machines, free weights and TRX equipment. Follow it up with a relaxing soak in the spa's heated thalassotherapy pool or take a dip in the salt-water infinity pool.
From sun-kissed days to star-filled nights, the Mykonos Riviera Hotel & Spa entices and nourishes both body and soul. Designed to surpass all your expectations, this cosmopolitan and chic enclave on the hill maintains a sense of timelessness, evoking the history, culture and mythical charms of a classic Greek Isle adventure.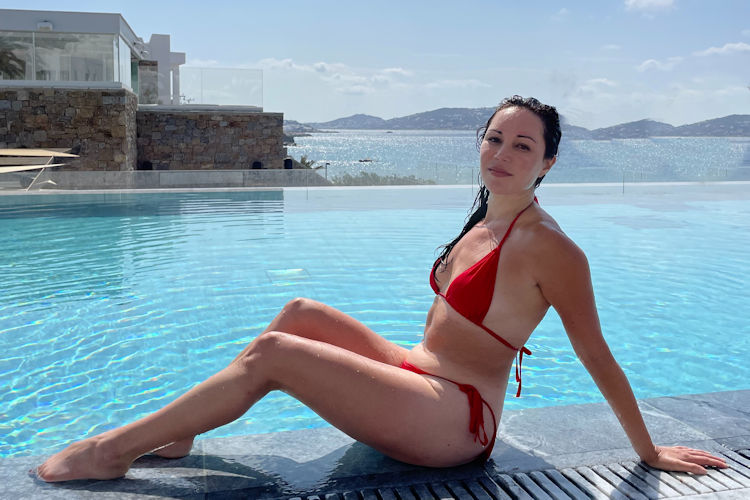 Article by Raquel Baldelomar. She is an entrepreneur, author, and journalist. She is co-author of Sugar Crush (HarperCollins, 2015). Her journalism focuses on how travel leads to a unique kind of productivity, creativity, and wellness. She can be found at https://www.instagram.com/rbaldelomar/.