A recent visit took me to a region reminiscent of Tuscany with undulating, lush green hillsides crisscrossed with vines and awash in wildflowers – a dramatic landscape sprinkled with appealing small towns, world-class restaurants and 600 wineries and tasting rooms. Wine, wine everywhere and many drops to drink!
Glen Ellen, in the heart of
Sonoma Valley
, is a sweet little hamlet of less than 1,000 people. It is steeped in a blend of inspiring libations, local dining delights, and the region's noble, natural beauty. Here the Benziger Family Winery is an 85-acre estate that has become a research and teaching center for the cultivation of grapes with more flavor and aroma. For more than thirty years the family has been singularly dedicated to three things: family, great wine and healthy vineyards. I hopped aboard a tram which took me through the farm's vineyards, caves, and factories. The guide explained that Benziger wines are certified sustainable and organic - not because they want to be known as "the green winery," but because their experience has shown that great wine has green values. My tour ended in the Benziger tasting room. Did the wines I tasted have more flavor, more aroma? I can only tell you that I left the winery a very happy camper.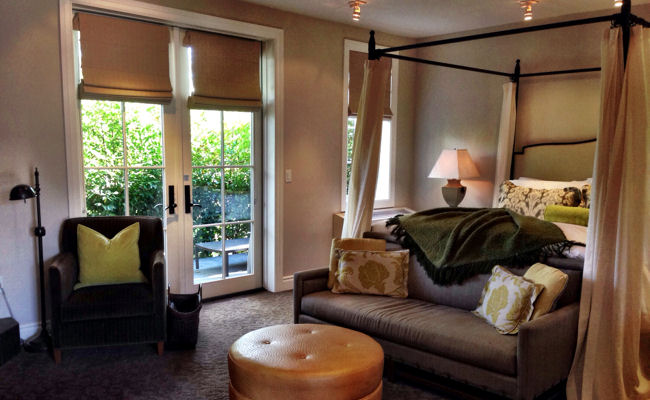 Hotel Yountville room, courtesy of the hotel
Veni, Vidi, Vino!
While wine may be the main attraction, this region's supporting cast - land imbued with dazzling beauty, a line-up of acclaimed restaurants, and a multitude of recreational and cultural activities -make nearby
Napa Valley
a most desirable destination. In Yountville, I checked into the first of my two hotels, the Hotel Yountville, a 5-star gem nestled cozily beneath towering black oaks and coast redwoods. The property partners with many of the leading wineries in the Valley and each Thursday, Friday and Saturday evening one of the partners provides a complimentary wine tasting in the Y Bar and Lobby Lounge. My room had a four poster bed, a rain shower, an oversized sunken tub and a stone fireplace that was most welcome later when the evening's coolness crept in. Quickly settling in, I set out to discover this town that's saddled with a rather unfortunate name. Actually, to give credit where credit is due, when one George Calvert Yount first saw the Napa Valley, he said, "In such a place I should love to live and die." How's that for a glowing stamp-of-approval? Mr. Yount settled here in 1836 and planted the very first vineyard in the valley. Today, wineries in Yountville include such well-known producers as Domaine Chandon and Robert Mondavi. And only in Napa Valley could a tiny rural village boast more Michelin-starred restaurants per capita than any other place in North America. Yountville. The name sounds better already!
The town's compact layout makes it great for wandering on foot or bike. To quote Michael Chiarello, chef at Bottega, "For those of us that have to commute or run to the airport and back, it's nice to come home to a community that has almost everything you need within 300 yards." I explored upscale, deluxe boutiques and checked out the Napa Valley Museum with its Warhols, Manets and the lively, off-beat diRosa collection.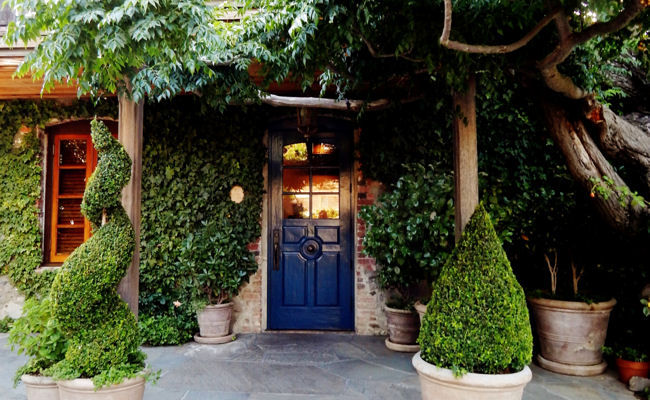 French Laundry Exterior courtesy of Sloane Travel Photography
Before returning to the hotel, I just
had
to see the holy grail of gourmet dining – Thomas Keller's
French Laundry
where, lucky me, I would be dining in a few hours.
It's situated down a side street – a lane, really. The restaurant is sited on what looks like an abandoned lot. I made my way to the front door (Frenchly painted navy-blue) flanked with pretty topiary. Expecting grandeur, this citadel of haut cuisine was, instead, cozy, comfy, and unprepossessing. The restaurant building dates from1900 and is in the National Register of Historic Places. Honored by many restaurant associations,
Restaurant Magazine
lists it as one of the top 50 restaurants of the world. My choice for dinner was the Chef's Tasting Menu consisting of no less than 10 "tastings," including Alaskan King Crab and a memorable Wild Scottish Sea Trout. As you can imagine, the cost for this formidable repast was not cheap; however, after being presented with the bill and trying to wrap my head around the bottom line, I saw listed "service included."
Little things mean a lot
(I guess).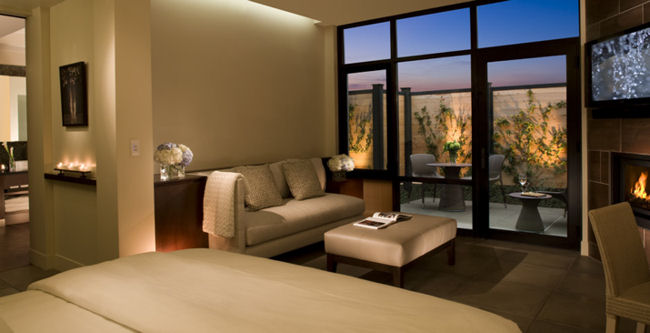 Bardessono room, courtesy of hotel
The next day I bid Hotel Yountville
adieu
only to check into another fabulous 5-star property, the Bardessono, within walking distance to a couple of the top wineries. My 750 sq.ft. suite was light-filled and included a gas fireplace, an expanded private courtyard, and a spacious bathroom featuring dual shower-steam rooms; designed as a private spa, the bathroom also featured a soaking tub and a massage table, were I in the mood to have a treatment in my room. Lovely, but I preferred visiting the sanctuary-like spa and allowing myself to be pampered in that special atmosphere. I enjoyed the rooftop pool and later took advantage of Bardessono's free bike rental to tool around town. And, of course, there's wine-tasting every Friday night. No surprise there - you're in wine country!
We're all familiar with the saying
"In Vino Veritas."
It is a Greek expression tracing back to a poem by Aleaeus. It asserts that if one makes a decision while drunk, it has to be reconsidered when sober. Whether imbibing in some dim corner with a wonderful Pinot Noir or in the cold light of the next day, the decision I've made is unchanging: California wine country, wondrous and wonderful - I
will
return!
If You Go:
Visit Sonoma Wine Country
www.sonomacounty.com
Napa County
www.napavalley.org
Hotel Yountville
www.hotelyountville.com
Bardessono
www.bardessono.com