This idyllic South Sea jewel with its swaying palm trees, powdery sand beaches and translucent turquoise waters has something else in mind for newlyweds seeking the experience of a lifetime.
Couples can now add action and excitement to their magical time together, with a wide range of exhilarating sports, and other memorable experiences – in what Laucala Island is calling its 'action-moon' experience.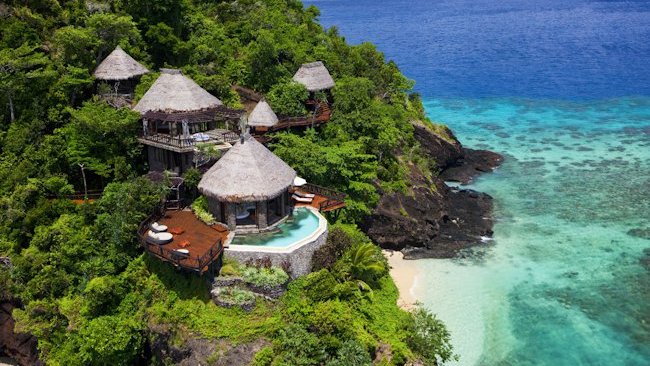 Research shows that Gen Y honeymooners don't just want to relax in indulgent luxury, they also want to enjoy more active sports and leisure pursuits, adding a memorable experiential element to their once-in-a- lifetime romantic celebration.
Laucala Island's 'Action-Moon' experiences include world-class water sports such as sailing, diving and snorkeling, as well as state-of-the-art jet skis, kite-surfing, sport-fishing, paddle-boarding and even horse riding across the private island. Visitors can also play golf on a private 18-hole championship course.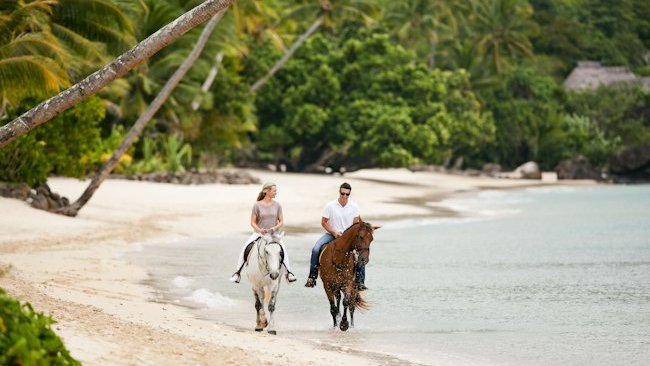 Once the private island retreat of billionaire publisher Malcolm Forbes, Laucala is now operated by Red Bull magnate Dietrich Mateschitz as quite simply the most exclusive retreat in the world.
No other private island in the world offers such an extensive range of leisure facilities, and the more than 350 staff, which for just 25 villas means the highest staff-to-guest ratio in the world, includes professional equestrian, golf, diving and fishing experts.
Romantic activities include a sunset sail aboard the resort's wooden sailboat, a private dinner under the moonlight, or speed boating to a private beach to enjoy a couple's massage in seclusion. There is also the option of game fishing aboard the resort's Riviera Open Flybridge sports boat.
The 18-hole championship golf course meanders through a tropical plantation against a heavenly backdrop of mountains and the South Pacific Sea. Horseback riding takes place along the island's sugar-white beaches and through curling rainforests, plantations and coconut groves – a truly magical sunrise or sundown interlude for newlyweds.
For those honeymooners who want even more action, a flotilla of 14 sports boats beckons – whether they're experienced scuba-divers or beginner snorkelers, allowing them to explore captivating coral reefs escorted by expert PADI dive instructors. Scuba certification courses are available, as are underwater photography classes.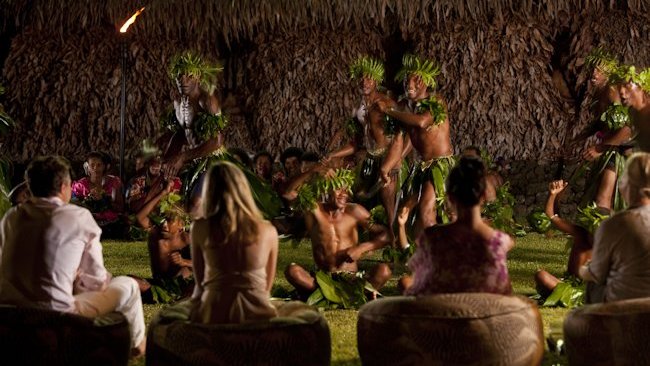 'Action-mooners' can also experience Laucala's very own 'Cultural Village' - one of the few traditional villages left in Fiji. Here, couples can discover the bure kalou spirit house, meet the Village Chief and join a 'Lovo Night' party, discovering the mildly euphoric drink kava, listening to traditional music and learning about Fijian arts and crafts such as weaving, carving and Masi art.
Accommodation consists of 25 luxurious villas which are discreetly dotted around the island, each with their own pool. Most exclusive of all is the Peninsula Villa, reached by a twisted private jungle walkway and perched on the side of cliff, which has been the paradise retreat for celebrities including Oprah Winfrey and Elle Macpherson.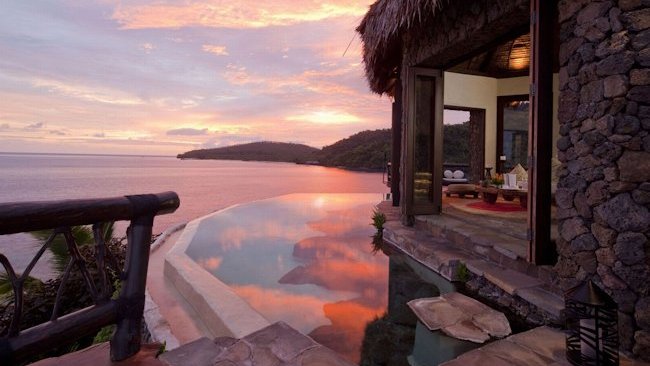 Laucala Island offers another level of dining with all restaurants and bars using produce from the islands very own 250 acre farm. Organically grown crops sustain the island's 'paddock-to-plate' concept with diners enjoying only the most premium quality ingredients cultivated fresh from the farm that day. For the 25 villas there are no less than five different restaurants and bars to choose from, as well as the choice of in-villa dining for all guests. Thanks to the resort's unique all-inclusive concept, you can eat and drink as much as you like and it's already included in the room rates.
Dining options include the colonial-style Plantation House, a cliff-top Thai restaurant, the Rock Bar overlooking crashing waves, and traditional Fijian restaurant complete with native dancing and singing. Picnics and beach barbecues can also be arranged.
Laucala is truly the perfect 'paradise' retreat – for a unique 'action-moon' without a care in the world
*Rates start at US$ 4,200 per night for 2 adults, one bedroom in the Plantation, Seagrass and Plateau villas. For the stunning views from the Peninsula "Udu" villa, rates are US$ 6,000 per night for 2 adults. Deep sea fishing or excursions on-board the Riviera Yacht for a half day trip at US$ 2,000 or a full day trip at US$ 3,500.
*Rate is subject to local government tax of 15% VAT and 5% service turnover tax.
Visit website:
www.laucala.com