Each executive profile includes bite-size insights, stunning photography and real-life examples on recruiting, culture, technology, marketing, branding, personalization, authenticity, anticipation, design, partnerships and more.
Hoteliers also detail the most significant trends impacting the sector today, and how those trends will shape the future of luxury hospitality. The sheer scale and scope of this effort--to distill industry wisdom across two dozen countries--is unprecedented.
For aspiring and current general managers of luxury hotels, for hospitality executives in search of a practical guide on how best to deliver a world-class guest experience, and for the modern luxury traveler eager to go behind the scenes, A Wealth of Insight is the holy grail of five-star leadership and management.
At just over 350 pages in hardcover, it is an 8.5" x 8.5" square publication.
Buy book on Amazon.com:
A Wealth of Insight: The World's Best Luxury Hoteliers on Leadership, Management, and the Future of 5-Star Hospitality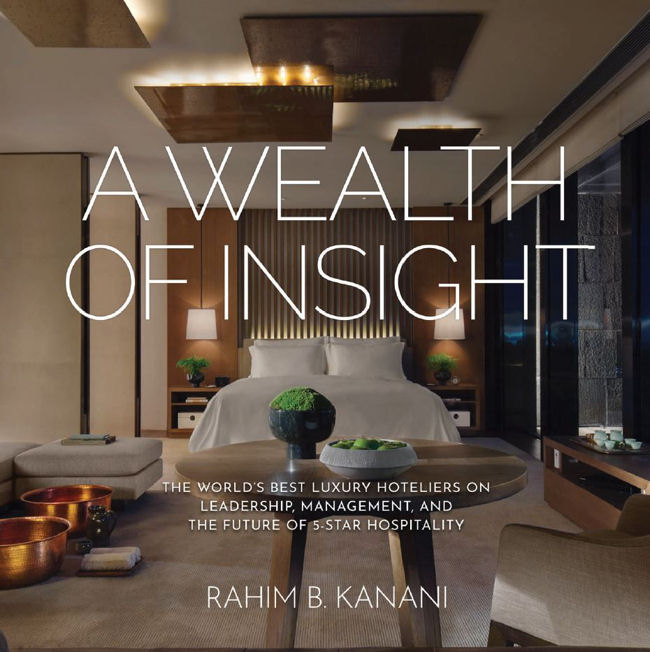 Chapter profiles:
Aaron Kaupp--Le Royal Monceau, Raffles Paris (France)
Adrian Gray--Lotte Hotel Moscow (Russian Federation)
Alexander Pichel--Hotel Indonesia Kempinski Jakarta (Indonesia)
Alexander van Gastel--Pulitzer Amsterdam (The Netherlands)
Amit Majumder--Jumeirah Vittaveli (Maldives)
Anneke Brown--COMO The Treasury (Perth, Australia)
Axel Bethke--Qasr Al Sarab Desert Resort by Anantara (Abu Dhabi, United Arab Emirates)
Ayman Gharib--Raffles Dubai and Sofitel Dubai Wafi (United Arab Emirates)
Brian Gullbrants--Wynn Las Vegas and Encore (Las Vegas, United States)
Christian A. Hassing--Mandarin Oriental, Singapore (Singapore)
Damien Bastiat--Ballyfin Demesne (Ireland)
George Cozonis--The Plaza Hotel (New York, United States)
Gerrit Graef--The Ritz-Carlton, Riyadh (Kingdom of Saudi Arabia)
Graham Ledger--Singita Serengeti (South Africa and Zimbabwe)
James Low--COMO Uma Paro and COMO Uma Punakha (Bhutan)
Kai Speth--The Reverie Saigon (Vietnam)
Krister Svensson--St. Regis Hotel and Residences (Bangkok, Thailand)
Luc Delafosse--Waldorf Astoria Beverly Hills (United States)
Mahmoud Skaf--The Ritz-Carlton, Kuala Lumpur (Malaysia)
Marc C. Brugger--Rosewood Hong Kong and Rosewood Beijing (China)
Marc von Arnim--Park Hyatt Sydney (Australia)
Mariano Silvestri--Park Hyatt Maldives Hadahaa (Maldives)
Michael Ziemer--Mandarin Oriental, Taipei (Taiwan)
Nicholas Yarnell--Six Senses Douro Valley (Portugal)
Patrizio Cipollini--Four Seasons Hotel (Florence, Italy)
Pedro Dias--The Surrey (New York, United States)
Peter Hopgood--Outrigger Fiji Beach Resort (Fiji)
Philip Barnes--The Savoy Hotel (London, United Kingdom)
Pinar Timer--Pera Palace Hotel Jumeirah (Istanbul, Turkey)
Ralph Radtke--Ciragan Palace Kempinski (Istanbul, Turkey)
Sjefke Jansen--Belmond Grand Hotel Europe (St. Petersburg, Russian Federation)
Stephen Ansell--Ararat Park Hyatt Moscow (Russian Federation)
Susanne Hatje--Mandarin Oriental, New York (United States)
Taljinder Singh--The Taj Mahal Palace, Mumbai (India)
Tom Roelens--Four Seasons Resorts Lana'i (Hawaii, United States)
Torsten van Dullemen--The Landmark Mandarin Oriental (Hong Kong)
Photo at top: Qasr Al Sarab Desert Resort by Anantara