This week, the Crescent City bellies up to the 10-year-anniversary of Hurricane Katrina on Aug. 29. The luxury landscape is stronger than ever, with tourism at pre-Katrina highs, visitor spending nearing $7 billion and the entrepreneurial spirit thriving. Here's a dozen experiences for visits both long and short that retain the classic elegance of the city and put a new spin on life in NOLA.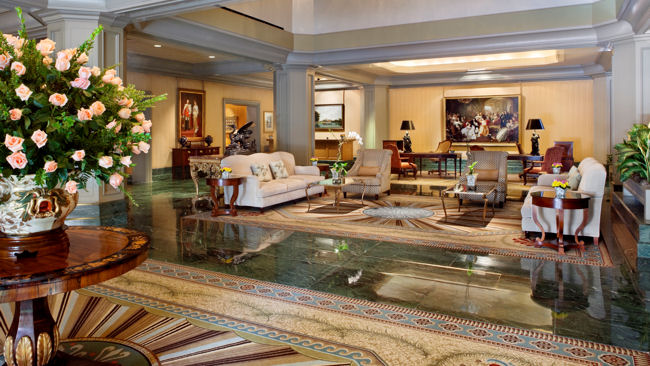 Windsor Court Hotel lobby
OvernightWindsor Court Hotel:
Setting a standard for Old World luxury since 1984, the hotel recently underwent a major renovation to its 316 accommodations, of which the majority are roomy suites. Enjoy a beautiful sunrise (or stay up for it!) over the Mississippi river from your balcony, escape from the heat and hustle in the relaxing spa or sip afternoon tea in La Salon. And what's a trip to New Orleans without a killer cocktail? For the month of August, Windsor Court has donated 50 percent of the proceeds from its Elysian Fields Forever cocktail, created by mixologist Kent Westmoreland, to the St. Bernard (rebuilding) Project in observance of the hurricane's 10th anniversary. The cocktail of gin and lime juice with muddled blueberries and strawberries is named after a major street that sustained heavy damage in the storm.
windsorcourthotel.com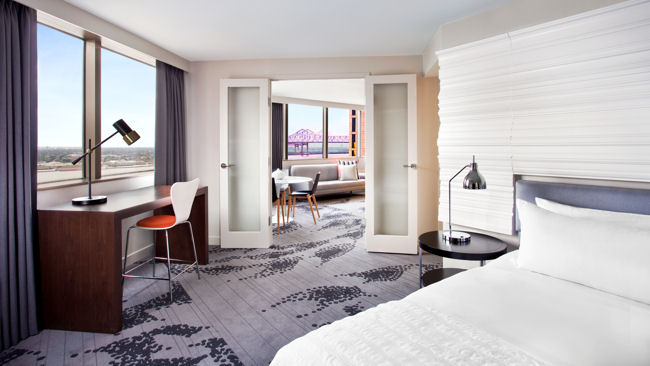 Le Méridién New Orleans luxury suite
Le Méridién New Orleans:
Just down the street from Windsor Court and sharing the same amazing view, the Le Méridién is a contemporary retreat with cool tones enhanced by splashes of color. The hotel completed a $29 million renovation in March of this year, with an energetic lobby that emphasizes playful modern art and plenty of space for informal gathering, impromptu meetings and, since it is New Orleans, great coffee and even a specialty éclair. Art lovers, you're in luck. The hotel has partnered with three museums for Unlock Art, a partnership that provides vouchers for guests to visit the museums. Enjoy a meal in LMNO and ponder the acronym. (Hint: it's the hotel's name!)
lemeridienneworleanshotel.com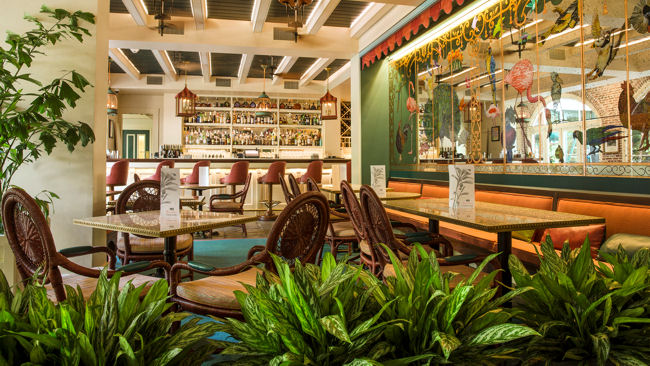 Brennan's The Roost Bar
DiningBreakfast:
Named for the yearning of its owners to come home after Katrina, Ruby Slipper is a casual breakfast spot packs in the crowds for a hearty New Orleans meal, with plenty of emphasis on letting the good times roll early. Now with four locations, it's a great stop for breakfast after an early morning flight–and after an all-nighter in the French Quarter!
therubyslippercafe.netBrunch:
Brennan's, the nearly 70-year-old restaurant at 417 Royal Street reopened magnificently in November 2014 after an $18 million renovation. (Owner Ralph Brennan, known for his family's dedication to New Orleans, was the first restaurateur to get a license to reopen his Red Fish Grill after the hurricane.) The old favorites are still there–bananas foster, eggs Sardou and Hussarde, turtle soup–all updated with Chef Slade Rushing's innovative modern takes.
brennansneworleans.comLunch:
A new favorite is Coquette, a cozy bistro that opened in 2008 in a late 1880s building. We loved the sharable plates, innovative Southern cuisine and house made desserts. coquettenola.com For a classic unforgettable experience, get in line early Friday morning at Galatoire's for the 11 a.m. lunch opening. Make a day of it. You'll need to.
galatoires.comDinner:
Restaurant August is the flagship fine dining restaurant of Chef John Besh's empire. This contemporary French kitchen promises a divine meal in elegant surroundings. (It's the most formal restaurant; gents will feel at home in a jacket, but some diners opt for more casual attire). We loved the vegetarian tasting–multiple courses of fresh, inventively cooked and seasonally inspired. Before Katrina, the James Beard award winning chef had two restaurants: August and Besh Steak inside Harrah's casino. Since Katrina, his roster has grown to 10 New Orleans restaurants employing 1,000 people.
restaurantaugust.com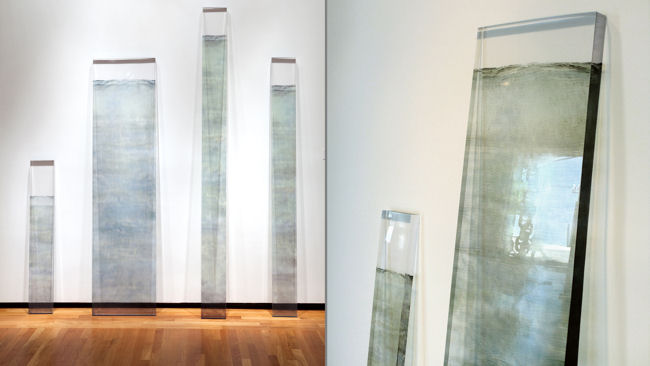 Water Markers by Dedeaux
Visit:Art:
The New Orleans Museum of Art is holding an exhibit timed to coincide with the anniversary, "Ten Years Gone," through Sept. 7, with the works of six contemporary artists.
noma.orgHistory:
The World War II Museum, one of the city's biggest tourist attactions, launched "The Road to Berlin" exhibit in the new "Campaigns of Courage" Pavilion. "The Road to Tokyo" is expected to open this fall. New Orleans was the site of Higgins Industries, manufacturers of the boats known as amphibious landing crafts and used in the D-Day invasion of Normandy. The late American historian Stephen Ambrose was a longtime professor at University of New Orleans and inspired the development of the museum.
nationalww2museum.org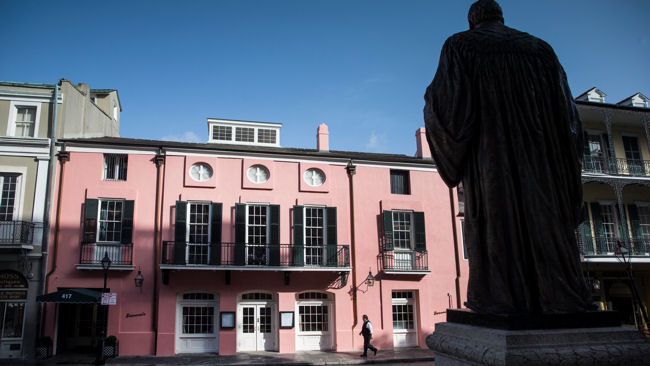 Brennan's: A New Orleans Tradition Since 1946
StrollBourbon Street:
There's no other street like it in America. Be prepared for anything. For the faint-hearted it's not.
Magazine Street:
Make a day of it with shopping, dining and browsing in everything from high-end boutiques to quirky resale shops. Get your sugar fix at Sucre, known for epicurean macarons, homemade gelato and more.
shopsucre.comRoyal Street:
Traversing the French Quarter, the street is known for its plentiful antique shops and unique boutiques. If you're not into antiques but like the idea of a timeless gift, a favorite stop is Papier Plume, with all manner of writing utensils, papers, inks and seals.
papierplumeneworleans.comJulia Street:
An up-and-coming area for art galleries and shops in the New Orleans Arts District. A cool spot for contemporary crafts is Ariodante.
ariodantegallery.comSt. Charles Ave.:
Hop a streetcar and take a ride through New Orleans' living history, where you'll see mansions, Tulane University, the Garden District and more. Stay on until it turns on Carrollton Street, and for a classic New Orleans treat, head to Camellia Grill to be charmed by charismatic waiters and divine pecan waffles.