Per this rise in demand, hotels and resorts all over the world have recently introduced lavish wedding arrival and departure packages, from underwater arrivals via scuba diving in Monte-Carlo and jet skis in the Caribbean to descending from the sky by way of parachutes in Mexico and helicopters and seaplanes in Florida.
Arrival by Helicopter
: Available only to those who book a wedding at
The Westin Cape Coral Resort at Marina Village
, couples can wow guests with a dramatic arrival or departure for up to two on a private helicopter. The exclusive package includes arrival or departure by helicopter at the property's own helipad and a ceremony and reception for 100 guests.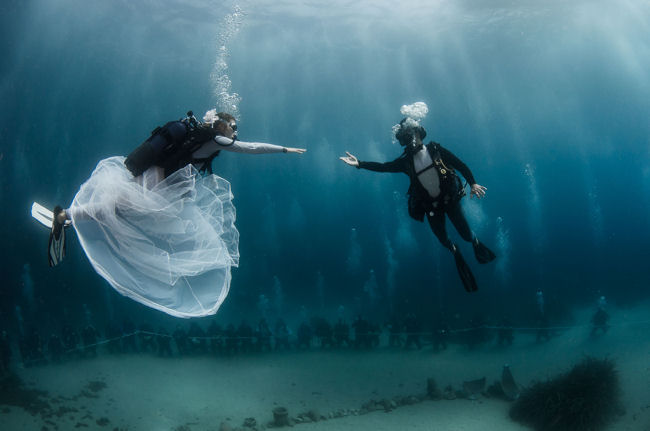 Scubadiving in Monte Carlo - Hotel Metropole Monte-Carlo
Arrival by Scuba Diving
: At
Hotel Metropole Monte-Carlo
, adventurous couples can tie the knot 40 feet below sea at Monaco's Lavartto Beach. The ceremony, directed by
Pierre Frolla
, world-famous free diving champion, features transportation to and from the beach by boat, professional divers, priest and allows up to 22 guests to witness the underwater ceremony.
Arrival by Parachute:
Couples who begin their new lives together at the
Sandos Playacar Beach Resort
or
Sandos Finisterra Los Cabos
astonish guests by dropping in on parachutes. After the big day, couples receive a complimentary honeymoon room package courtesy of the resort.
Arrival by Horse
: One of the most memorable extravagant bridal entrances at
W Retreat & Spa – Vieques Island
, eight miles off the coast of Puerto Rico, was where a bride from New York arrived on a unique appaloosa spotted horse in an Oscar de la Renta gown. The bride rode up right to the fire pit ceremony on the horse.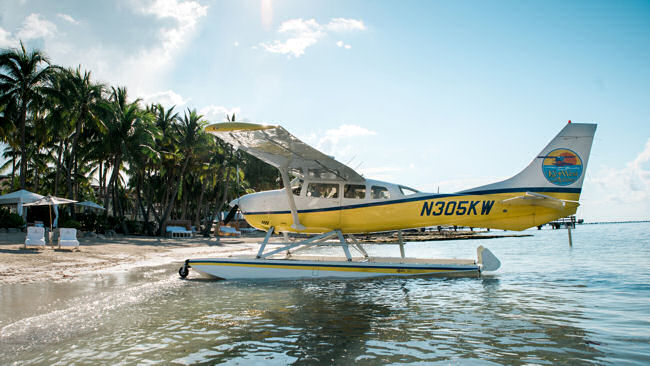 Seaplane in Key West - Casa Marina
Arrival by Seaplane
: In an exclusive partnership with Key West Seaplanes, couples travel by seaplane from their preferred airport to
Casa Marina
's pier. Upon landing, couples are greeted on the beach and showered with luxuries from an oceanfront suite to Ray Ban Aviator Sunglasses.
Arrival by Canal Boat
: Couples can arrive to their wedding ceremony in a mahogany canal boat via the resort's waterways at
Hilton Waikoloa Village
. Nestled amid swaying palms and flora on the sunny Kohala coast of Hawaii Island, prior to the big day, friends and families will enjoy cultural entertainment such as ukulele lessons and traditional luaus.