The judgement isn't made lightly as I've played the ancient game in 50 or so countries, including 22 different lands during a year of roaming with clubs in tow for my book "
Around the World in 80 Rounds
."
Simply put, Northwest Ireland has everything a true golf explorer desires: joyously dramatic seaside links-style courses playing through incredible duneland; comfortable accommodations for all budgets to recharge in nightly along the way; and gracious Irish hospitality that's as prevalent as the myriad green pastures dotting the terra firma of this magical land. It's tough to beat.
Where to Play
Enniscrone Golf Club
(pictured above)
On several previous visits to Ireland, I'd somehow overlooked playing Enniscrone Golf Club in County Sligo. What a mistake! I could happily tee it up there on the Dunes Course for rest of my golfing life and be as happy as a leprechaun finding the proverbial pot of gold at the end of the rainbow. It well deserves to be put in the same conversation with Royal County Down, Ballybunion and Royal Portrush as a "must play" when visiting Ireland.
Why so good? Well, the seaside layout is routed through as fine an example of duneland as you'll find. The original layout first took shape in 1918, but it took several decades before the expertise of famed (and ubiquitous) Irish course designer Eddie Hackett fashioned this marvelous swath of turbulent topography along the beaches of Killala Bay into an absolute gem. The holes are never less than first-rate, several are extraordinary.
Case in point, at perhaps the farthest point from the welcoming clubhouse, the 9
th
hole is all the par 4 you'll ever want. At 395 yards from the back tees, the hole parallels Scurmore Beach and is accented with a mesmerizing view out to sea as the ever changing sky and cobalt ocean form a tranquil tapestry. Flat lies are rare on the rippling fairway. Three unforgiving front bunkers must be negotiated successfully on the approach. The tricky elevated green is enticingly perched into a craggy sandhill. The whole endeavor is natural and perfect and really, really good.
My scorecard notes are redundant with superlatives. "Marvelous" is the accolade for No. 10 as the par 4 also plays alongside the eye-catching beach. The inland turning par-4 12
th
earns "joyous." The 542-yard par-5 14
th
wends through towering dunes that may be the biggest and most perfectly shaped I've seen. I could go on and on, but my plea is clear. Play Enniscrone when in Ireland.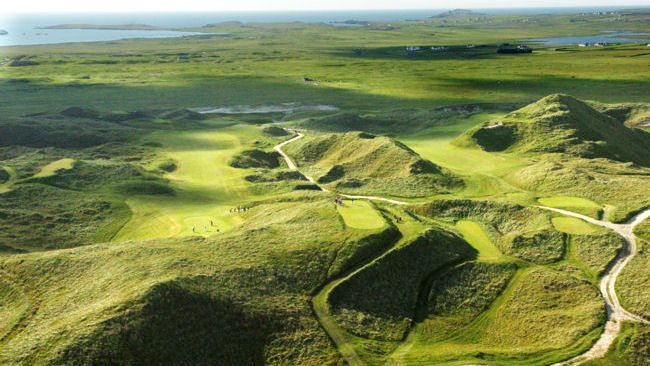 Carne Golf Links
I've been raving about Carne Golf Links for years. Situated just outside the sleepy seaside village of Belmullet tucked away in the upper northwest corner of Ireland, the Eddie Hackett-design is big, bold and an absolute blast to play. The 18 plays through enormous sandhills sculpted through the ages by the steady winds and elements coming in hard and vociferous off the near Atlantic. Many of the dunes are so majestically steep, hoofs rather than soft spikes are better suited should one attempt to hike up to retrieve a wayward ball. Thankfully, the firm fast fairways provide plenty of room to have a lash at it.
Few courses are more natural looking. The routing constantly surprises with greens dramatically set in hillocks and fairways careening to and fro amid dune-flanked alleyways and dells. My favorite hole, if I had to pick from the bounty of Carne's wonders, is the stout 17
th
. Playing at 435 yards (usually into a stiff wind), two strong pokes are required to reach the Promised Land in regulation. There are no fairway bunkers and plenty of room for the tee shot, but the undulating fairway doesn't seem to have a level bit of turf anywhere. An insidious greenside bunker lurks on the left exactly where your second shot seems to want to go. It must be avoided at all costs or you might be raking for a spell.
The excellent new Kilmore nine plays adjacent to its older mate and is cut through the same rolling geography and gigantic dunes. Carne Golf Links never fails to excite and surprise.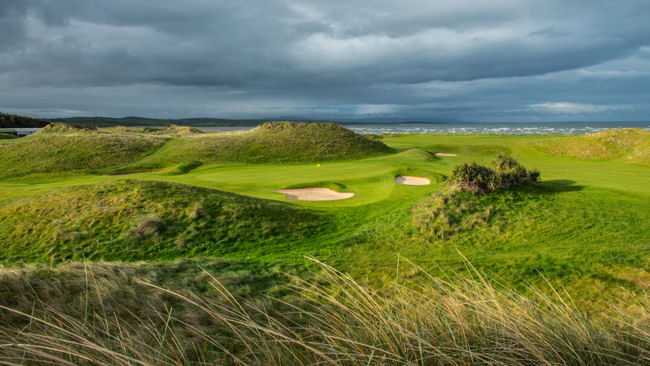 Donegal Golf Club
Just a short drive from the charming town of Donegal (my favorite in Ireland), the Donegal Golf Club, also called Murvagh, is outstanding. No less an expert than Irish golfing great Darren Clarke calls it "one of my favorite courses in the world." I wholeheartedly agree.
A sense of splendid remoteness prevails at Murvagh as you drive along a tree-lined backroad for a mile or so before reaching a vast clearing of handsome golfing ground venturing off toward the sea. Is there anything better in golf travel than that feeling of being away from it all with 18 to play and nowhere to be after? Not for me.
First off on a cheerful sunny morning as the sun peeked through puffy white clouds holding little threat of rain, I had the course to myself as the vivid beauty of the rugged Murvagh Peninsula gave way to the Bluestack Mountains on the horizon. I set off with my clubs on my shoulder, a song in my heart, and gratitude to be on another Eddie Hackett gem.
While the dunes aren't as dramatic and the topography a bit flatter than Enniscrone and Carne, this is true championship golf providing a stern test as it plays to almost 7,400 yards from the tips. Thankfully, there are several sets of tees for we mere mortal golfers to have an easier time of it, but you still need your thinking cap on and golf shoes tied tight. The front side runs counter clockwise around the perimeter, the inward half proceeds in the opposite fashion as every bit of land is used perfectly. This is 18 holes of the highest order.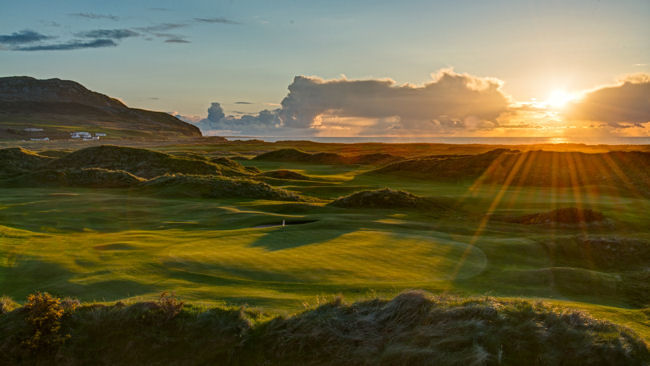 Ballyliffin Golf Club
As a lover of golf in out of the way locales, the fact that County Donegal's Ballyliffin Golf Club is the northernmost in Ireland merely adds to its alluring charms. The Old Links layout there has long been underrated; thankfully traveling golfers have begun including it on itineraries. And with the splendid accompanying Glashedy Links (designed by Pat Ruddy and Tom Craddock in 1995), this marvelously violent golfing terrain has 36 holes to play on to your heart's content.
What I love most about Ballyliffin is how wonderfully wild and wooly it looks. Before teeing off, venture up to the second floor of the modern clubhouse and take in the view of the two courses from the balcony near the bar. You'll see the ground's ripples and bumps and swales spreading off to the shoreline as fairways tumble along amid camelback-shaped dunes before giving way to greens looking like they are exactly where they need to be. It's a visual primer on how links golf looks at its best.
My advice is to camp out in Ballyliffin for a few days and play both the Old Links and Glashedy course several times each. It's one of those places on Earth I'm reluctant to leave. I just want to go around one more time.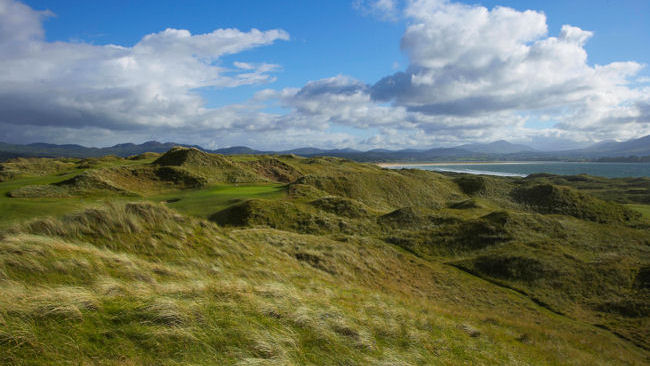 5th Hole - Rosapenna Golf Links (Sandy Hills)
Rosapenna Hotel & Golf Resort
On previous visits to Northwest Ireland, I'd played (and loved) the Old Tom Morris Links at Rosapenna. In 1893, Old Tom ventured out from his beloved St. Andrews to lend his design expertise on this enticing linksland bordering idyllic Sheephaven Bay. The layout features exceptional seaside golf that's wholly natural and requires every club in the bag to be hit throughout the round. Old Tom sure knew what the heck he was doing.
On this trip, I was fortunate to play the "new" Sandy Hills Links at Rosapenna which opened in 2003. Pat Ruddy, the esteemed golf writer turned esteemed course architect, created a layout permeated with a timeless feel as if it had been residing alongside the older course since Old Tom trod there over a century ago.
Most every hole travels through corridors framed by hefty sandhills creating an atmosphere of peaceful tranquility from the outside world. Many feature elevated tee shots hit down to serpentine fairways that pinball your drive with reckless abandon. The par-4 420-yard 6
th
hole at the far end of the course is a treasure. The drive plays over a crest atop which offers a mesmerizing vista of the bay, bucolic farmland across the way, and imposing Muckish Mountain straight ahead in the distance. It's one of those holes you just want to savor, but that's the way I feel about all 36 at Rosapenna.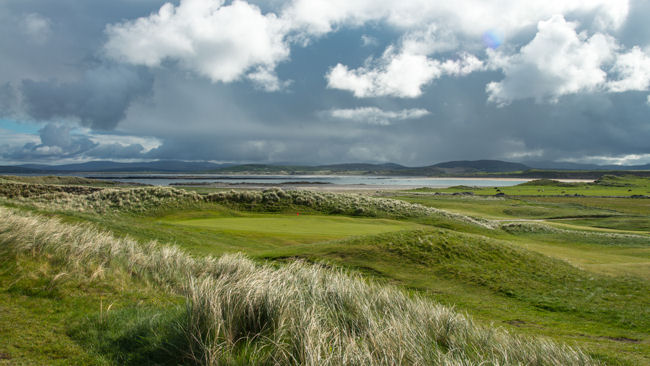 Narin & Portnoo Golf Club
Smackdab on the rugged, weather-beaten Atlantic coastline with dramatic views of the endless whitecaps of Gweebarra Bay, Narin & Portnoo Golf Club is nothing but fun to play. This is as authentic a golf experience as you'll find with its old-fashion ambience reminiscent of classic old Scottish gems like Brora Golf Club and Crail's Balcomie Links. The course plays hard and fast through sandhill mesas and fiercely undulating turf. Run-up plays closer to the ground are the better option as the blustery sea winds will smack high shots out of the sky like a Roger Federer overhead.
Similar to the Old Course at St. Andrews, the routing classically plays "out and back" with the green of the superb par-4 9
th
as far from the clubhouse as it's possible to get. Many of the tee-boxes are built into the dune pinnacles or the tiptoe edge of seaside cliffs, so jaw-dropping views are the norm.
Similar to most of the great links courses in the world, and Narin & Portnoo is certainly in that category, the layout looks like Mother Nature knew a spectacular course was there through the ages and was just waiting for the ancient game to come along in the mid-1500s. This is golf exactly the way it should be: natural, pure and thrilling.
Where to Stay
Mount Falcon Estate
Within easy driving distance from Enniscrone Golf Club and Carne Golf Links, County Sligo's Mount Falcon Estate is about as good as it gets accommodations wise. The elegant Victorian manor house features 32 guestrooms and resides peacefully amid 100 wooded acres along the banks of the River Moy – one of the great salmon fishing waterways in the world. Tiger Woods has stayed at Mount Falcon and plied his fly fishing skills there.
Originally a baronial lodge completed in 1876, the estate went through an extensive renovation and reopened in 2006 to wide acclaim. Though thoroughly modern with all the amenities one would expect –first-rate spa, gym, sauna, steam room and heated indoor pool where I spent a ton of quality time – the property nonetheless maintains a rustic aura of life lived at a slower pace.
Other than venturing out to play golf, I recommend getting back to Mouth Falcon pronto and enjoy the comfortable luxury. Have a drink in the cozy Boathouse Bar with its bistro style menu perfect for a late lunch après the round. Have dinner in the terrific chef-driven Kitchen Restaurant. I had a rack of lamb so tasty I still think about it every couple of days.
The property also highlights 45 luxury lodges for rent fully-equipped with three- or four-bedrooms. An array of golf packages through the hotel is available. Mount Falcon Estate is worth a visit to Northwest Ireland even if you've ever held a golf club in your life.
Harvey's Point
Set of the shores of tranquil Lough Eske 10 minutes out of town from cheerful Donegal, Harvey's Point is the place to stay when playing nearby Donegal Golf Club and Narin & Portnoo Golf Club just up the road a spell. One of the pleasures of a Northwest Ireland golf adventure is the feeling of being away from the hustle and bustle. Harvey's Point offers that in spades with its splendid seclusion and incredible views of the lake, surrounding forests and stately mountains.
I bellied up to the friendly hotel bar after my round on Murvagh and relished a delicious repast of a Guinness (or two) and fish and chips. By the way, in my experience, the fish and chips served at most every bar and pub in Northwest Ireland is the way to go. When combined with the ever-present amiable bartenders armed with that prevailing Irish gift of gab, it's a delightful way to spend time.
My comfy room was huge and even featured a hot tub in the cavernous bathroom where I joyously soaked my slightly aching golf muscles. A full Irish breakfast the next morning in the sunny hotel restaurant had me ready for a scenic drive up to Rosapenna for more golf. Harvey's Point was just what the doctor ordered.
Rosapenna Hotel
Set alongside the resort's 36 holes, the Rosapenna Hotel is charming and ideal to rejuvenate in especially with the soothing room views of Downings Beach and Sheephaven Bay. The staff there is welcoming, attentive, and as friendly as could be, but I guess that's just how things roll in this neck of the woods up at the top of County Donegal.
When visiting, be sure to visit the James Braid Bar. Located just off the lobby, the watering hole is named after James Braid, winner of five Open Championships. Braid and fellow golfing legend Harry Vardon both retouched Tom Morris's original Old Links design by adding a bit of length and strategic bunkers. Acting on the theory "if it ain't broke, don't fix it" I again opted for the pint of Guinness and dinner of fish and chips. It was a good call as was bunking overnight at Rosapenna Hotel.
Ballyliffin TownHouse
Quaint and charming, the Ballyliffin TownHouse is an ideal spot for accommodations when up at the top of Ireland to play the Ballyliffin courses. Situated not far from the famed Wild Atlantic Way and its world-class fishing, guests can now enjoy the results of a recent extensive renovation. The rooms are well-equipped for all a traveler's needs and the bed was so comfortable I could have slept peacefully for a week. The courses are a quick five-minute drive away. Plus, the Bar & Bistro pub in the lobby is welcoming. What more does a golf wanderer need?
Conrad Dublin
When visiting Ireland, I urge you to spend a night or two in Dublin and enjoy one of the great European cities with its thriving spirt, historic Celtic culture and unending charm. Before flying back to the U.S. from the Dublin Airport, I camped out in style at the Conrad Dublin which is ideally located in the heart of the city near St. Stephens Green. Dublin possesses a captivating vibe of enjoying life no matter what it throws at you. Its pubs, many featuring wonderful Irish music, are everywhere and are not to be missed.
How to Book
While travelers can certainly book an incredible golf adventure of the courses and accommodations above on their own, the good folks at Galway-based North & West Coast Links Golf Ireland (
www.northandwestcoastlinks.com
) are experts on the subject and can make booking an Ireland golf excursion as easy as pie. They offer a plethora of stay-and-play packages that include transportation. The incredible golf of Northwest Ireland waits with open arms.
David Wood is the author of the acclaimed book "Around the World in 80 Rounds." A longtime writer, standup comedian and event speaker, he resides in New York City.