Discover the rich cultural history, abundant wildlife, and quiet sandy beaches of Indonesia. Sail among 17,000 emerald islands on a private superyacht and experience the tranquility of unspoiled natural wonders. Home to over 3,000 species of fish, and the world's largest amalgamation of coral, this region is truly a diver's paradise.
DAY 1
After arriving a day or two before your yacht departs, you'll join the captain and crew in Sorong. They'll give you a tour of your private oasis before the yacht sets sail for Misool. Quickly you'll discover why the cruising around here is second to none. Sparkling blue waters, and lush green islands are the only thing you see. Lunch is served alfresco by your private chef with a cold glass of white wine. A perfect start!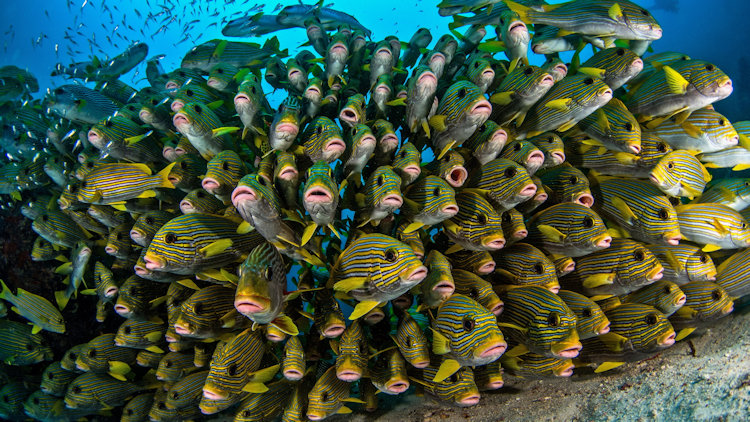 DAY 2
You wake in Misool and it's already time to hit the water. Grab your diving equipment and get up close and personal with the amazing range of sealife that calls this region home. Not PADI certified? That's ok, most yachts offer the option of bringing an instructor onboard, or keep a dive instructor on board full time!
After a day playing in the sea, dinner will be ready and waiting for you when you get back onboard. Get changed and head for the foredeck where cold cocktails greet you!
DAY 3
Today you have the option of heading for another dive or snorkel with the local green turtles in Sayang before taking the water toys for a spin after lunch. Another great day spent on the water!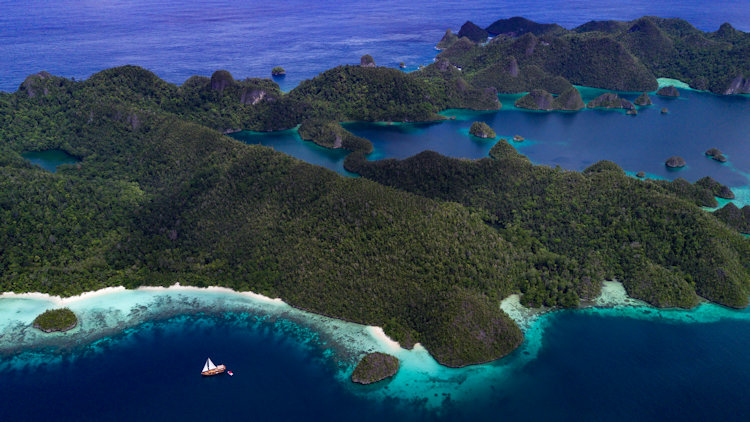 DAY 4
No trip to this region is complete without a hike in Wayag to get that infamous photo of the islands below you. A great opportunity to stretch your legs and explore the wildlife on land. From above you can see your crew preparing another exquisite meal, this time in the formal dining room to make it a truly special evening.
DAY 5
Today you'll head to the infamous "Passage" near Waigeo island where giant limestone cliffs tower above you and the water sparkles below you. Keep an eye out for the epaulette sharks that call this place home!
DAY 6
Today you'll head back on land at the Arborek Village in Waisai to go bird watching. Not much of a birder? There's always the chance to jump back in the water, play on the jetskis, paddleboard along the little islands, or deep dive and play with the local marine life. Tonight dinner is served privately on the beach for you and your guests – enjoy the sunset with a crisp glass of rosé or cold beer.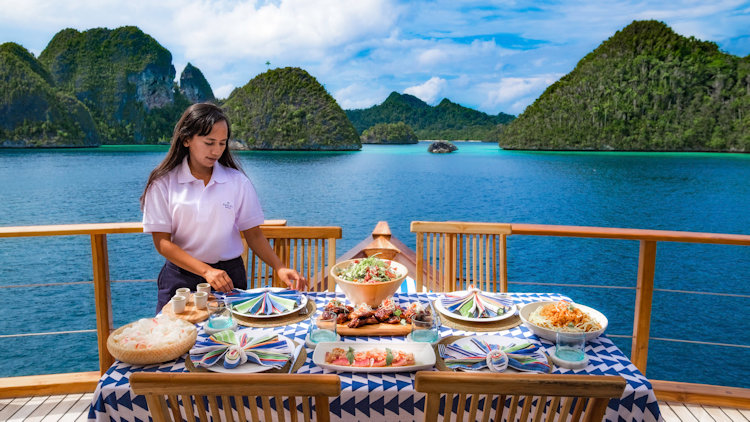 DAY 7
Your last full day onboard will be spent near Jerief Island. If you want to fit in a little more diving, there's a Japanese bomber sunk nearby you can spend the morning exploring. But maybe you'd like to take your final day, catching up on a little reading, laying in the sun on the aftdeck. Before you know it, your chef has prepared something extra special for your last dinner!
DAY 8
After arriving back in Sorong, it's time to say goodbye to your captain and crew and head back home feeling relaxed and refreshed.
The travel ambassadors of OceanScape Yachts are standing by to help you make this dream vacation a reality. Click here to start the booking process.
Lead photo credit Tim Browning